This Summer Vegetable Ratatouille is an easy to make hearty and healthy feel good meal made from eggplant, peppers, onion, zucchini and tomatoes.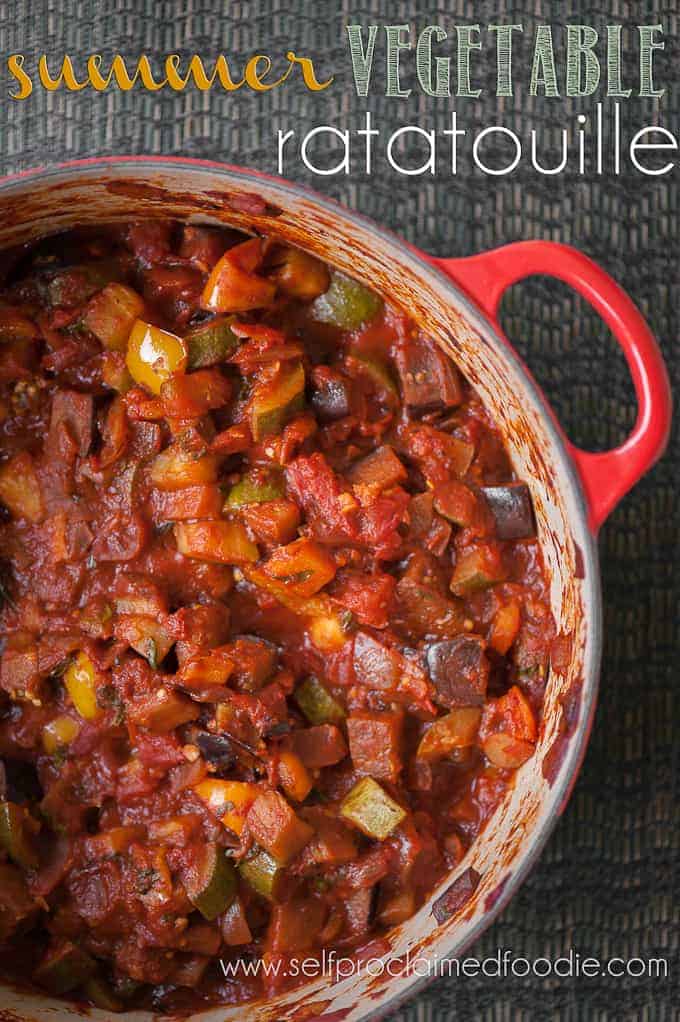 I love ratatouille. And like most things I make, I have a story to share. The first time I made a ratatouille like this was for my daughter's kindergarten class. She was in a great school where there was always at least one parent helper in the school. Instead of packing each kid's lunch, the parents would take turns cooking lunch for the entire class. The school focused a lot on building a sense of community (hence we all ate together around the table) as well as eating green light foods. It was one of my favorite aspects of the school. Well, it was one of the first days of school and I had a ton of leftover veggies in my CSA box that I hadn't used yet. I didn't want them to go to waste and I didn't want to run to the store to buy kid friendly ingredients I knew they would love (i.e. cheese and pasta). So, I went out on a limb and brought in my eggplant, zucchini, peppers, onions, tomatoes, and of course, parmesan. I threw together my first batch of homemade ratatouille. I was certain it was going to be served up and promptly thrown in the garbage, leaving a classroom of hungry kids, but I was delighted to see that not only did the kids eat what I had served them, but they continued to go back for additional helpings until there was nothing left! This made me so happy.
Most kids wouldn't eat something that looked like this ratatouille. They would decide with their eyes that they didn't like it far before they let their mouth make the decision. Don't get me wrong. There were definitely some kids that were hesitant to even try it. But the veteran kids who had gone to preschool there already for a couple years and were experts on trying new healthy foods dug right in and the other kids quickly followed suit. One of my biggest pet peeves (warning: pretentious foodie alert) are parents who constantly cater to their picky kids, always serving them hot dogs and mac n cheese. I've seen parents make a decent homemade family dinner and still give their kids something like a PB&J instead of what they made for the rest of the family. People always comment on how good my foodie-in-training kids eat. Maybe they were just born that way. After all, both of their parents love to eat so maybe there's a diverse appetite gene. But I also believe my kids share their love of food and appetite for all things simply because they've been introduced to a wide range of foods and have never been forced to eat any of it.
Wow, I haven't stood on my Self Proclaimed Foodie soapbox for awhile. Not sure why I'm feeling so feisty! I'm obviously very passionate about food.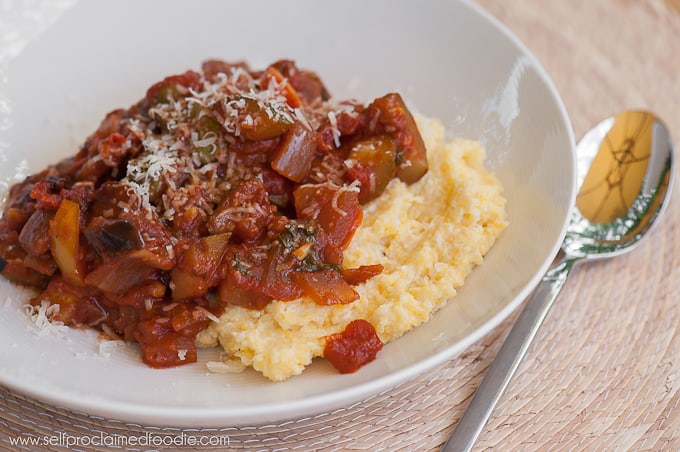 On with the ratatouille talk. I absolutely love this stuff. I crave it. This was the first time I served it up on top of some goat cheese polenta and, oh my, did it take it to a whole new level. I not only finished my portion but I finished what my sister couldn't fit in her belly. You see, I've been training my poor stomach to stretch in order to accommodate the wants of my mouth. My thighs don't appreciate this talent, but its what I do. When you make this ratatouille, keep in mind that you can modify the recipe based on what you have. Its one of those throw-it-together-and-see-how-it-turns-out kind of recipes. If you want to make it exactly the way I did, however, you won't be disappointed. Just follow the recipe.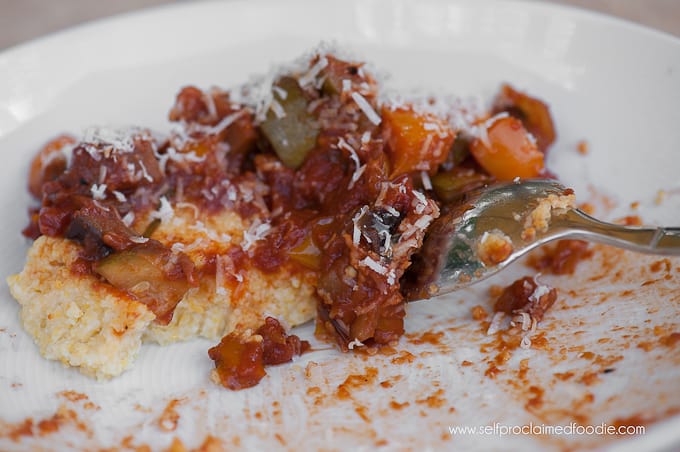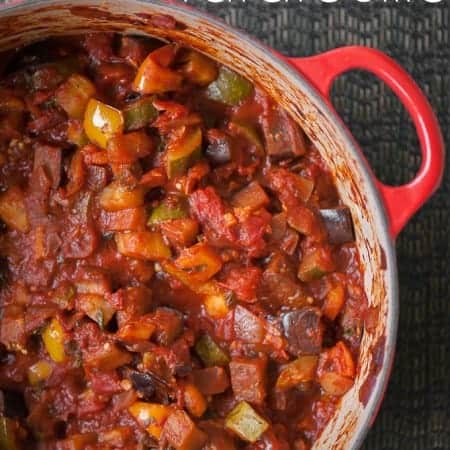 Summer Vegetable Ratatouille
This Summer Vegetable Ratatouille is an easy to make hearty and healthy feel good meal made from eggplant, peppers, onion, zucchini and tomatoes.
Print
Pin
Rate
Total Time:
1
hour
20
minutes
Ingredients
6

tablespoons

olive oil

1

eggplant

chopped

2

medium red onions

chopped

1

yellow bell pepper

chopped

1

orange bell pepper

chopped

5

cloves

garlic

minced

4

small zucchini or summer squash

chopped

28

ounce

can crushed tomatoes

1

tablespoon

fresh thyme leaves

minced

1/2

cup

basil

about 20 leaves, minced

2

tablespoons

salt

Fresh ground pepper

Parmesan

grated
Instructions
To prepare, roughly chop or mince all vegetables according to ingredient list, but do not mix, keep separate.

In large heavy bottom dutch oven, heat on medium high. Add 3 tablespoons of oil. Add eggplant and cook until tender, stirring only occasionally to allow color to form, about 5 minutes. Remove from pot and allow to rest in separate bowl.

Add remaining 3 tablespoons of oil to pot. Saute onion 3-5 minutes until tender and color forms. Add bell pepper and cook another 5 minutes, stirring occasionally. Add garlic and zucchini and cook another 5 minutes, only stirring every couple of minutes.

Turn heat to low. Add cooked eggplant, tomatoes, basil, thyme, salt and pepper. Stir and increase salt, if desired. Continue to simmer, uncovered, for 30 minutes to an hour.

Top with grated parmesan and serve with a hot crusty bread and/or goat cheese polenta