Start your kids' sushi addiction at an early age with this fun and tasty FRUSHI – Fruit Sushi, made from coconut rice, fruit leathers and fresh fruit.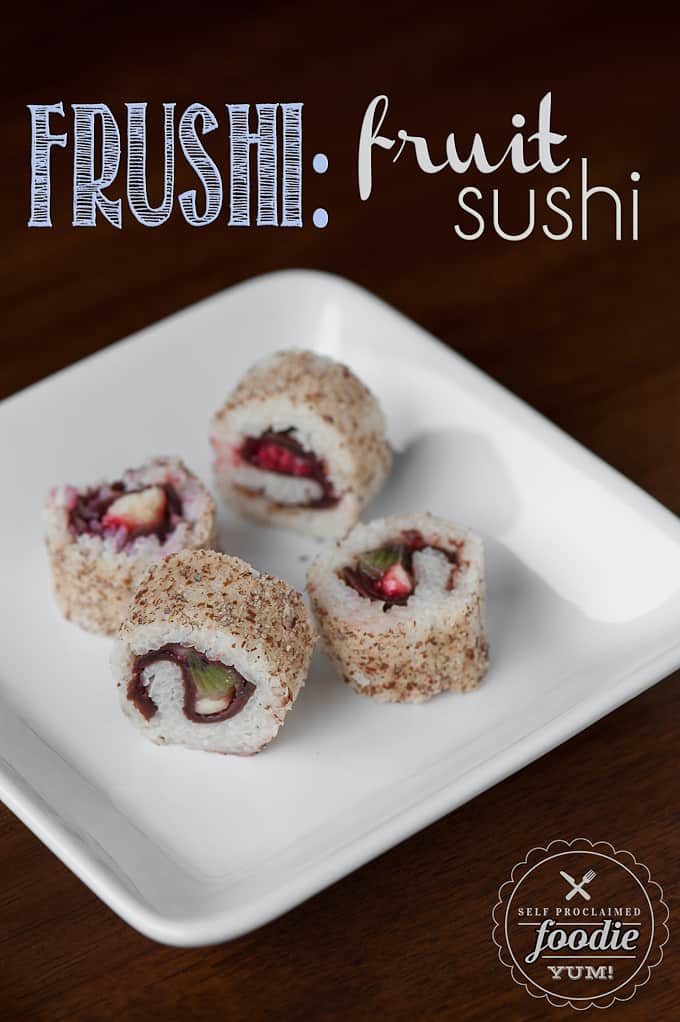 Okay, here's the scoop. I'm not one of those mom's that goes all overboard with her kids' school lunches. I've looked into dropping some serious cash on one of those expensive compartmentalized eco-friendly stainless steal lunch boxes for each of my kids, but settled for barely insulated lunch boxes that I got 50% off and fill with basic PB&Js, a string cheese, and small tupperware container of fresh fruit. Epic mom failure, right?
Well, one day I got inspired to make one of those supermom treats. I guess you can say I wanted to "check the supermom box" for the year. Don't expect me to do this often. This self proclaimed foodie maintains the following priorities, listed in order, when it comes to food: taste, quality, local, healthy, easy, pretty. That being said, I made this frushi to have a visually interesting treat for my kids (under the pretty category), but in true foodie style, my desire for it to taste good took top priority (taste category). That's why I made coconut rice instead of plain rice (plain rice with fruit? yuck) and threw in a couple fruit leathers to sweeten it up. I'm the first person to admit I suck at rolling sushi, so no need to tell me unless you'd like to reinforce my sushi-rolling-ability-insecurities. I can handle it.
And because I'm an engineer at heart, a flow chart for your viewing pleasure:

I found it to be a little tricky to cut the roll, so after I made the first cut below, I stuck it in the freezer for about 15 minutes to firm it up. That did the trick.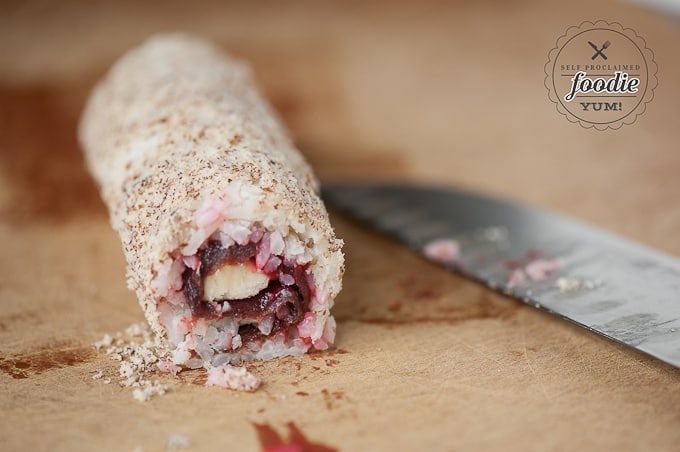 And there you have it: FRUISHI. My son asked me "Did you make an 'S' in the middle for sushi?" My reply: "No, but that would've been cool. There's an 'S' in the middle because mom doesn't properly know how to roll sushi. But it tastes good, right? Okay, good."
Just think… you would be the coolest mom ever if you served this stuff for a play date or, dare I say, a birthday party?
I believe its never too early to get your kids on sushi so that you can skip the mac n cheese joints they like and go strait to the restaurants mom and dad prefer. Get 'em hooked on this stuff and before you know it, they'll be asking for raw fish and wasabi for dinner.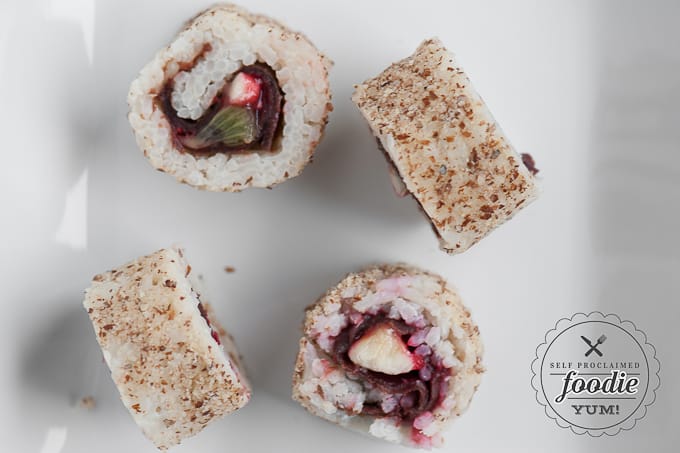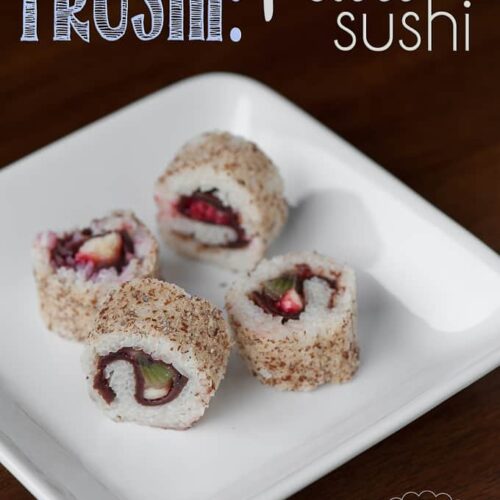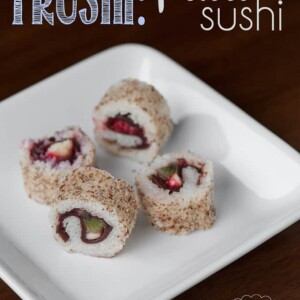 Start your kids' sushi addiction at an early age with this fun and tasty FRUSHI, Fruit Sushi, made from coconut rice, fruit leathers and fresh fruit.
Ingredients
14

ounce

can lite coconut milk

3/4

cup

water

1 1/2

cups

jasmine rice

rinsed and drained

1

tablespoon

brown sugar

8

fruit leathers*

1

tablespoon

sugar or honey

optional

fruit of your choosing

kiwi, banana, berries, sliced into thin strips

ground nuts

optional
Instructions
In medium saucepan, bring coconut milk and water to a boil.

Reduce heat to low. Add rice, sugar and cinnamon stick. Cover and simmer with lid on for 20-25 minutes or until all liquid is absorbed.

Transfer to bowl and chill in refrigerator.

Lay a piece of plastic wrap on top of a sushi roll mat. Spoon the rice onto the plastic wrap and use your fingers to press into a square shape. Dip fingers in water if rice sticks.

Microwave fruit leather for 15 seconds and gently stretch to make more thin. Be careful not to tear it. Lay down two fruit leathers onto rice.

Lay out fruit in a single line.

Wrap the rice around the fruit leather and fruit, squeezing the sushi mat to create a tight log. Remove roll from plastic wrap.

If preferred, roll log in ground nuts.

Slice with a sharp knife. If the roll wants to fall apart, freeze for 15 minutes before slicing.
Notes
*I used Stretch Island Fruit Co. fruit leathers. The Trader Joe's ones were too sticky.
Nutrition information is automatically calculated, so should only be used as an approximation.