I can't think of a better lunch than this Caprese Grilled Cheese made with crisp bacon, soft mozzarella, tomatoes, basil, and super soft bread!
If you love that mouthwatering caprese combination, you'll also want to make my Caprese Bruschetta and my Caprese Burgers!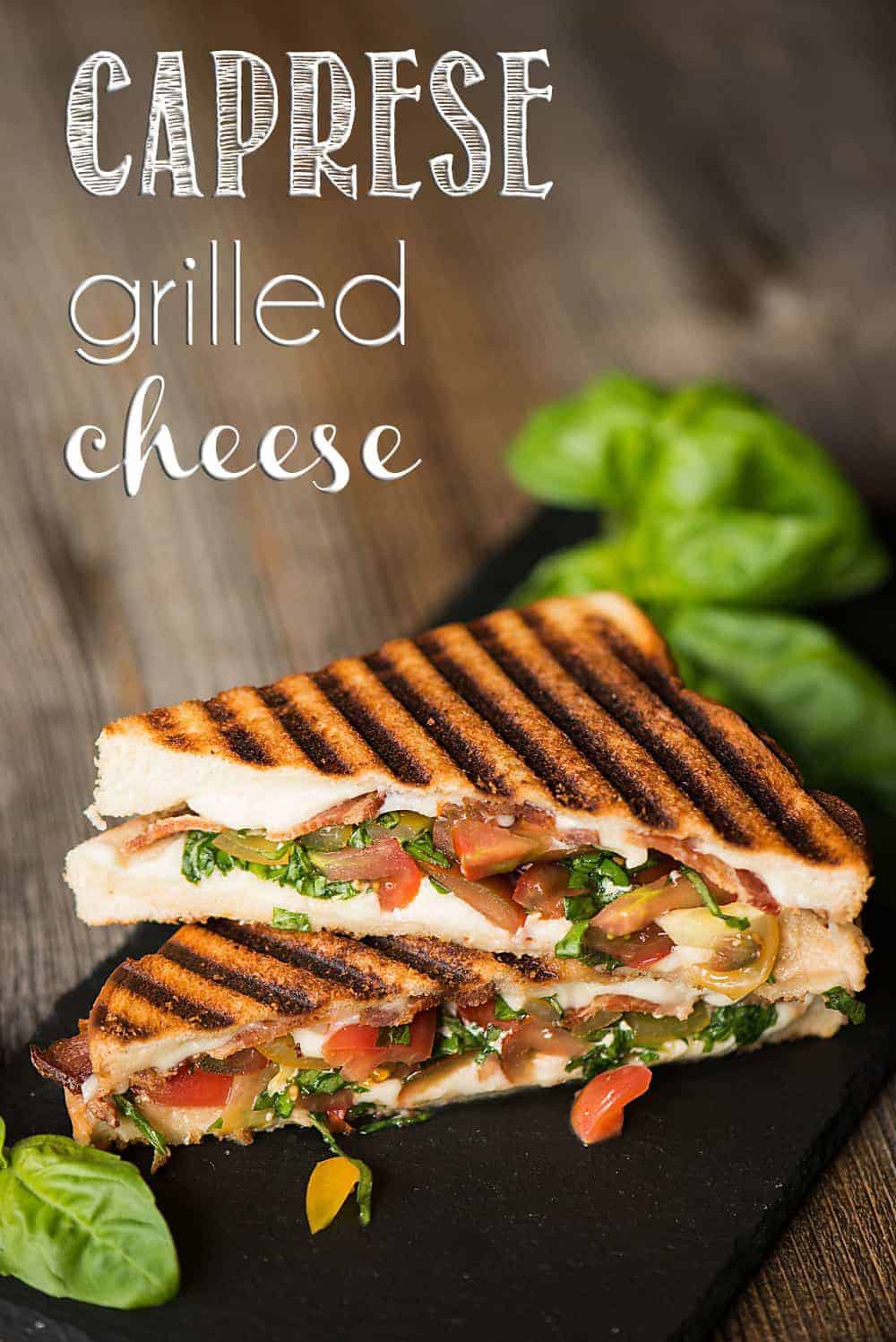 Today's recipe is sponsored by our friends at Martin's Famous Potato Rolls and Bread.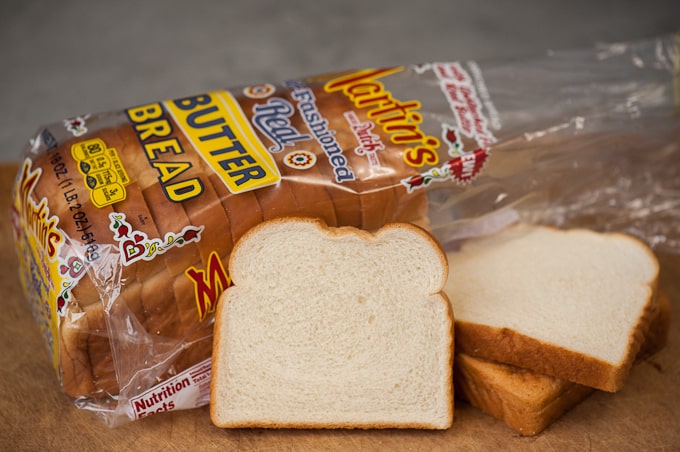 Who doesn't love a good grilled cheese? My entire cheese loving family would classify grilled cheeses as one of our top five favorite foods. But let me tell you – you've never really enjoyed a grilled cheese unless Martin's brand new Old-Fashioned Real Butter Bread is what's holding that melty goodness together. We were so excited when we got some more of this soft pillowy buttery bread and I immediately had to put rules and conditions onto how much each family member could eat. These rules were purely to ensure that I would get my fair share. Yes – that's how much we love it. How can we be so obsessed with this bread? Well, let me tell you more about it.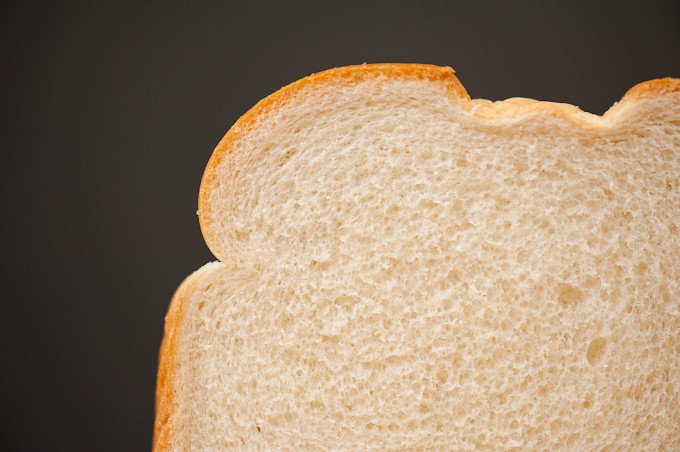 Martin's Famous Pastry Shoppe is located in central Pennsylvania. Sadly for me, that's all the way across the country! Martin's Famous Potato Rolls and Bread are so wonderful that their Potato Rolls are the "#1 Branded Hamburger Bun in America." Martin's products are delivered fresh to Eastern and Mid-West stores daily and are exported internationally to a growing number of countries. I'm still waiting on Portland, Oregon to be added to their list. We are obsessed. Just yesterday my husband made himself a sandwich for lunch and sent me a photo of what he made purely to tease me and let me know that another couple slices of my favorite bread were destined for his belly and not mine.
One of my favorite parts of their Old-Fashioned Real Butter Bread is that it's just that – made with 100% real butter without any additional oils. No high fructose corn syrup either! Only the real stuff that you'd use to make bread the same way 100 years ago.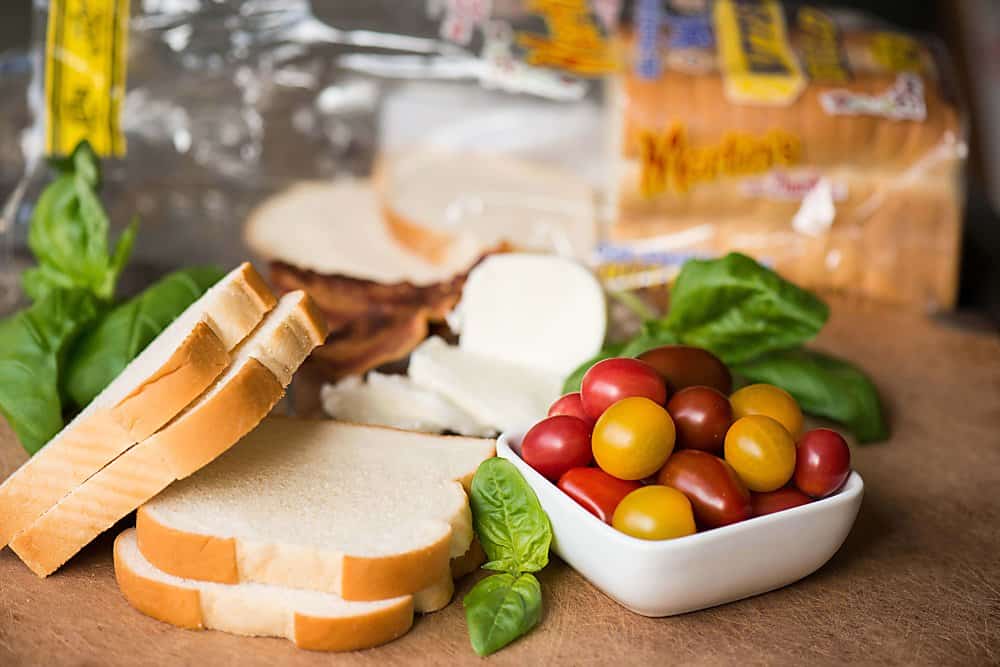 I wanted to make one of my most favorite grilled cheese combinations with this bread. Every summer, I eat caprese-something almost every day. I can't get enough of the tomato/mozzarella/basil combination. A few years back I combined these flavors with bacon – because… its BACON – and created the ultimate caprese grilled cheese.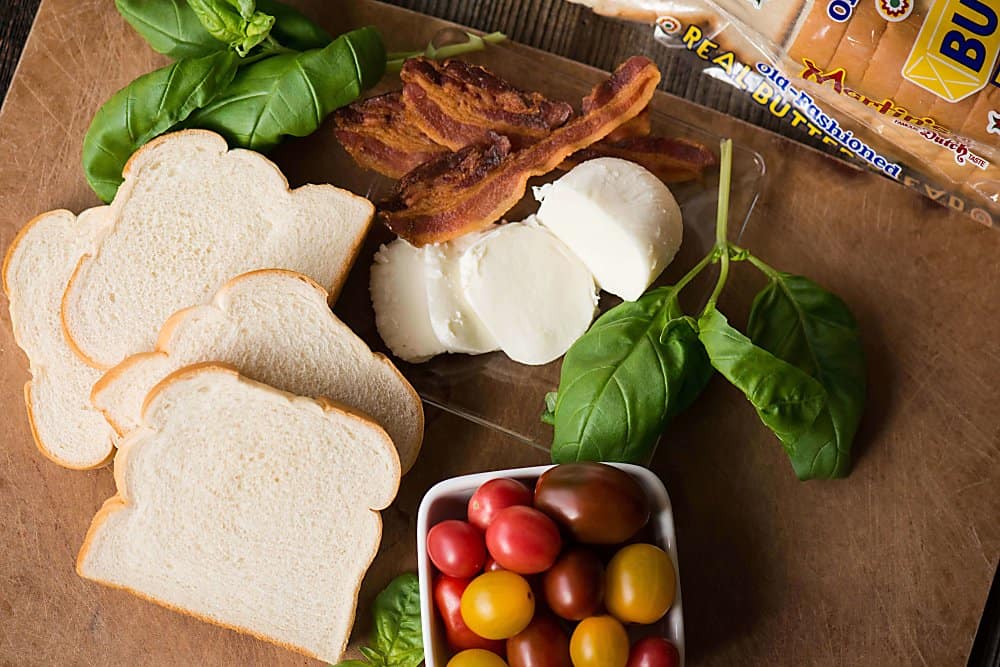 You can certainly do this with large heirloom tomatoes, but considering its not quite yet summer time, I opted to go with the cherry variety. I'm a lover of basil, so I use a lot. Sprinkle a bit of balsamic on top and let that mixture sit for a bit.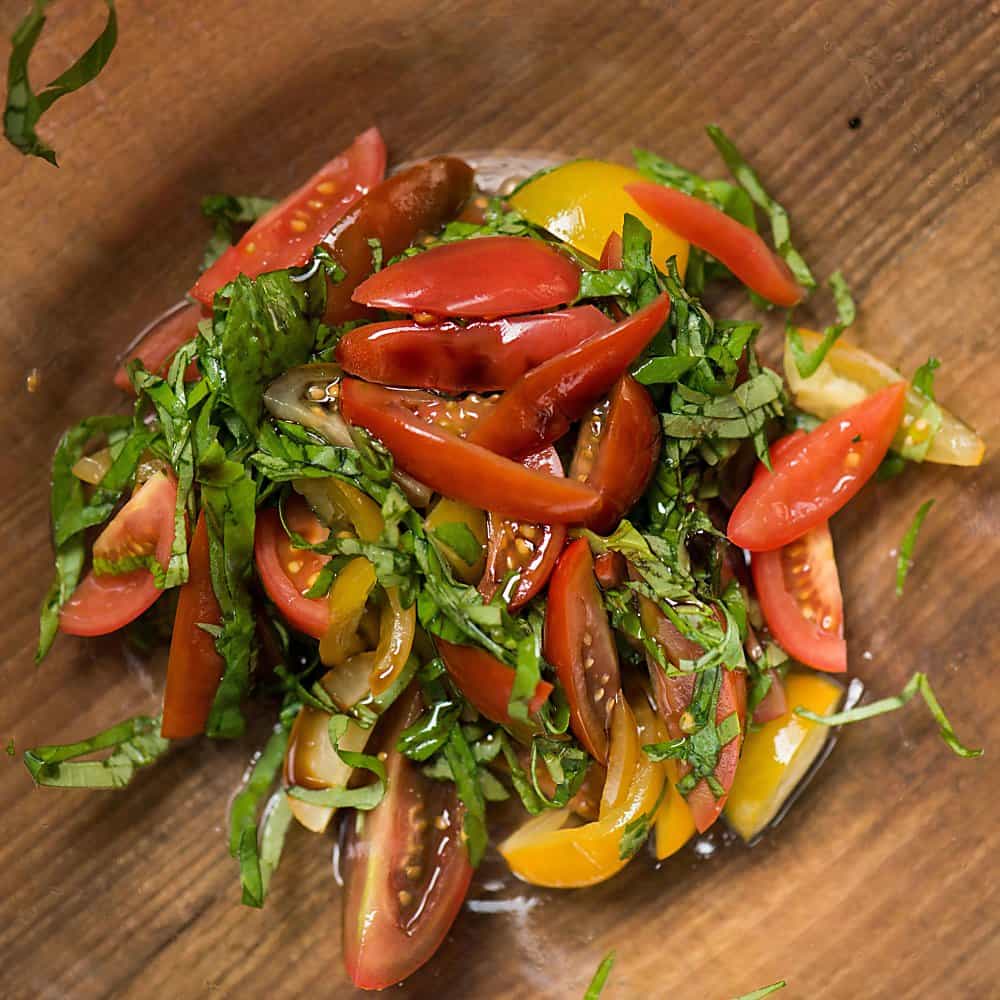 Then, to assemble this gorgeous sandwich, just make sure that you have some of that whole milk fresh mozzarella on both sides touching that super soft Martin's Old-Fashioned Real Butter Bread. If you don't, then you won't have that melty gooey cheesy glue holding your sandwich together.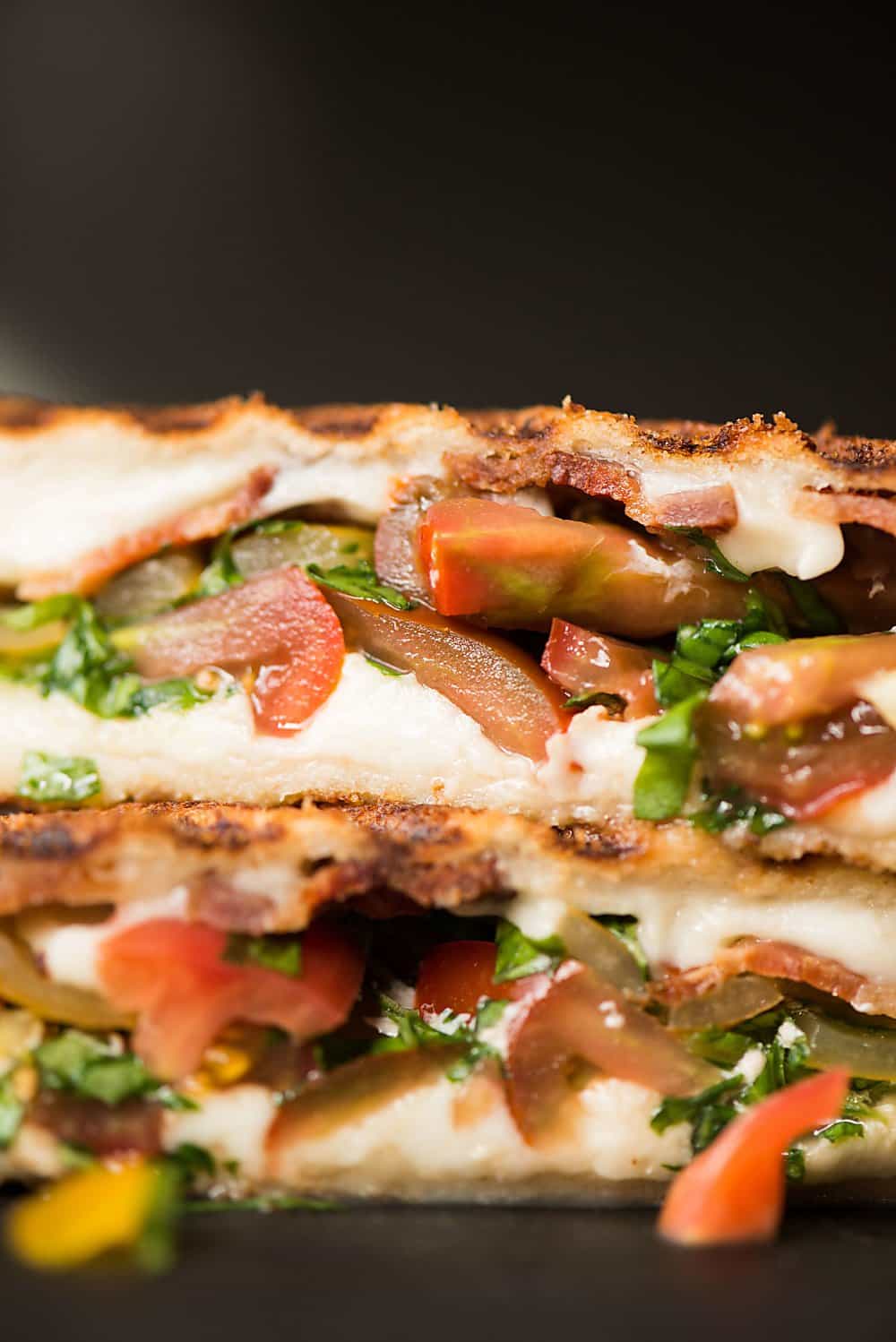 I love to use a panini press to get the fun grill marks. I find it gives my grilled cheese that great exterior crunch. But, you can easily cook up this sandwich on any old grill pan.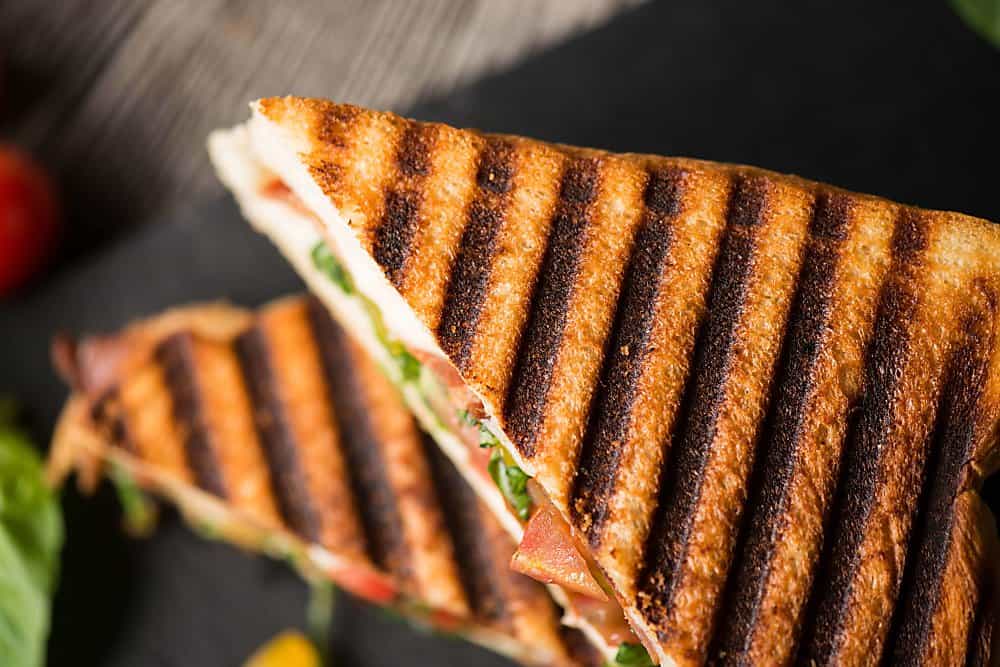 If you haven't tried Martin's brand new Old-Fashioned Real Butter Bread, you now have another item to add to your to-do list. Not only does it make killer grilled cheeses, but I'm confident it will take you straight back to your eight-year-old self!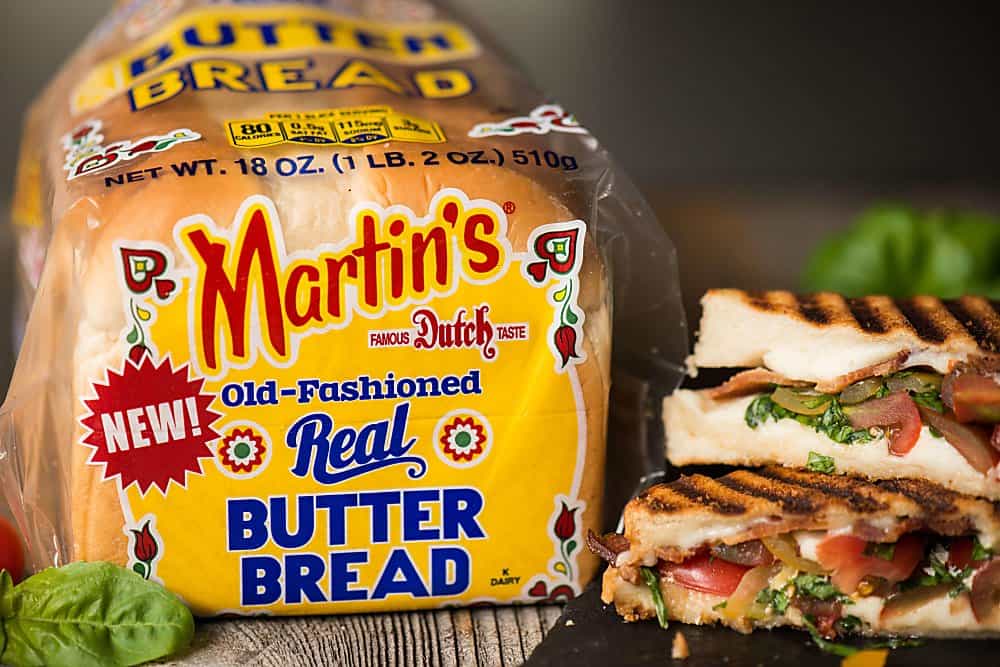 Bottom line – you can't fully enjoy a sandwich without exceptional bread holding it together. One common staple has brought people together throughout history: bread! For over 60 years Martin's has been a part of this history, baking up rolls and bread that bring friends and family together.
To learn more about Martin's Famous Potato Rolls and Bread, visit their website at: www.potatorolls.com.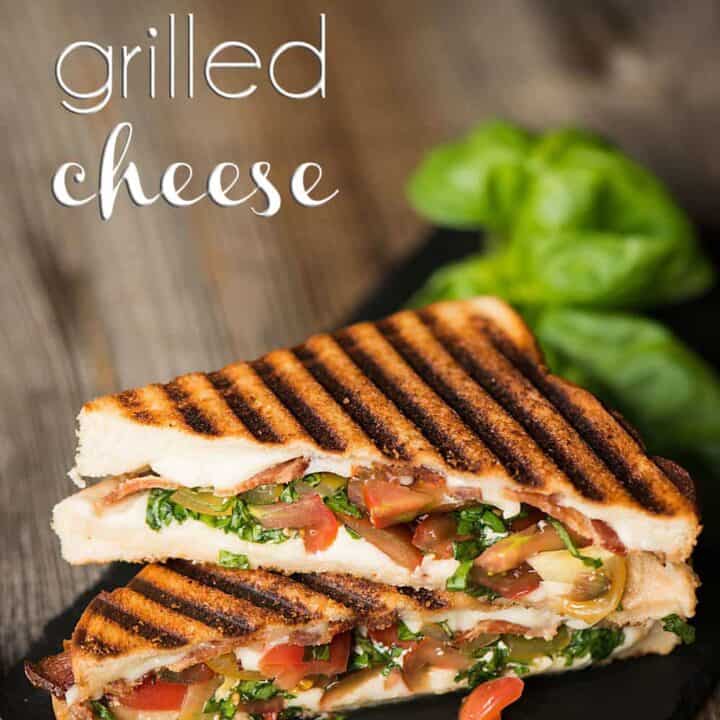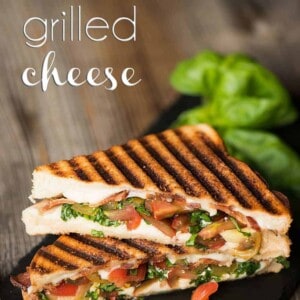 I can't think of a better lunch than this Caprese Grilled Cheese made with crisp bacon, soft mozzarella, tomatoes, basil, and super soft bread!
Ingredients
1/2

cup

heirloom tomatoes

sliced

4

fresh basil leaves

thinly sliced

1

teaspoon

balsamic vinegar

1/4

teaspoon

salt

2

slices

Bread

1

teaspoon

olive oil or olive oil spray

2

ounces

fresh whole milk mozzarella

2

slices

cooked bacon
Instructions
In small bowl, combine tomatoes, basil, balsamic, and salt. Stir to combine and allow to sit for at least five minutes.

To make grilled cheese, add thin layer of olive oil to the outside of both slices of your Martins Butter Bread. Place first slice, oil side down, on hot griddle. Add thin layer of cheese, only using half the amount. Add tomatoes and basil, allowing any residual liquid to remain in bowl. Top with cooked bacon. Cover with remaining mozzarella. Top with second piece of bread, oil side up.

Allow to cook over medium heat, flipping once, until dark golden brown and cheese has melted. Serve immediately.
Nutrition
Calories:
558
kcal
,
Carbohydrates:
33
g
,
Protein:
25
g
,
Fat:
36
g
,
Saturated Fat:
14
g
,
Cholesterol:
74
mg
,
Sodium:
1524
mg
,
Potassium:
409
mg
,
Fiber:
3
g
,
Sugar:
7
g
,
Vitamin A:
1088
IU
,
Vitamin C:
10
mg
,
Calcium:
364
mg
,
Iron:
2
mg
Nutrition information is automatically calculated, so should only be used as an approximation.