Caprese Bruschetta layers heirloom tomato, fresh basil, and mozzarella on garlic toast and is topped with an Italian Balsamic reduction and olive oil.
Just like freshly picked vegetables and herbs cannot be beat, the taste of real, authentic Italian made ingredients takes this appetizer recipe to a whole new level. Taste the difference real Italian PDO/PGI olive oil and balsamic vinegar makes!
Every single year, I look forward to being able to pick fresh ripe heirloom tomatoes from the garden. I cannot ever get enough of stacked tomatoes, basil, and mozzarella. I'm not kidding when I tell you I could eat it every day. I have come to know and love good quality ingredients, however, and I won't eat caprese salad or caprese bruschetta unless it's topped with only real, genuine, authentic Italian olive oil and balsamic vinegar. Don't be fooled by any imitation products out there. At first glance, an ingredient might appear to be from Italy, but it's worth your time and effort to really study the label to make sure the product you're getting is indeed a high quality Italian made product.
How do you know your olive oil and balsamic vinegar are from Italy?
The easiest way to know is to find the little round PDO or PGI seal. You'll know that what you're eating encompasses that amazing and extraordinary Italian taste if it has the red or blue Italian Trade Agency seal. Don't be fooled by anything else.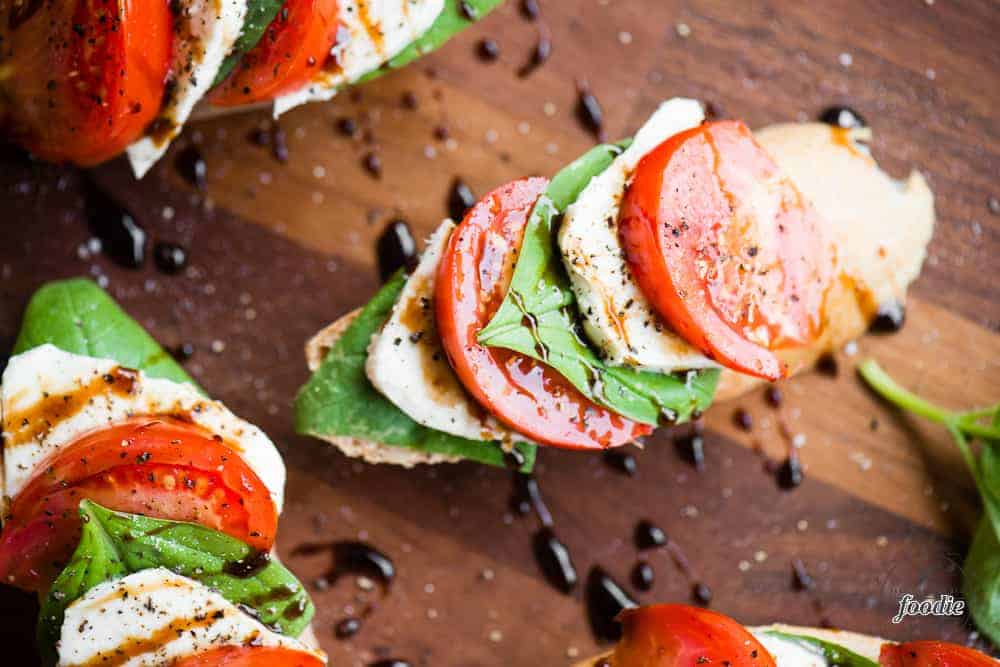 Taste the difference with real Italian Extra Virgin Olive Oil:
Olive oil is an essential element of most Italian dishes. Its importance is no secret, and over the years the world has learned to love olive oil as much as Italians do. Did you know that it's estimated that about 2 million tons of extra virgin olive oil are consumed every year around the world? I may or may not account for a large portion of that sum. Unfortunately, it is also a product that lends itself easily to counterfeiting. A true olive oil is recognizable by its medium-low fluidity, as well as by the olive, grass, fruit and vegetable aromas. A good quality olive oil should have a bitter spicy taste. To be a true Italian product, olive oil must not only be made in Italy, but must be made from olives that are grown in the country.
The best balsamic vinegar is Italian.
Did you know balsamic vinegar is one of the most copied Italian food products? The reason that is so interesting is because balsamic vinegar is actually one of the most complicated products to produce. There are three types of certified balsamic vinegars: Balsamic Vinegar from Modena PGI, Traditional Balsamic Vinegar from Modena PDO and Traditional Balsamic Vinegar from Reggio-Emilia PDO. The imitations are drastically different, and not in a good way. Authentic balsamic vinegar is painstaking to make as well as to have certified. It is also extremely difficult to reproduce in any other place outside the area it originates from. The two traditional balsamic vinegars are produced using only cooked grapes which must go through a slow acidification phase derived from natural fermentation, and are produced exclusively in either the province of Modena or the wider Emilia region surrounding it. This way, it progressively thickens and becomes concentrated. It is then aged using smaller and smaller barrels from different woods giving it layers of flavor without any addition of aromatic substances. The PDO certification is given only after an analytical and taste-olfactory examination carried out by a commission of expert testers. I can tell you that the best Christmas present my husband ever gave me was a bottle of genuine Italian Traditional Balsamic Vinegar from Modena PDO. He knows how to win me over!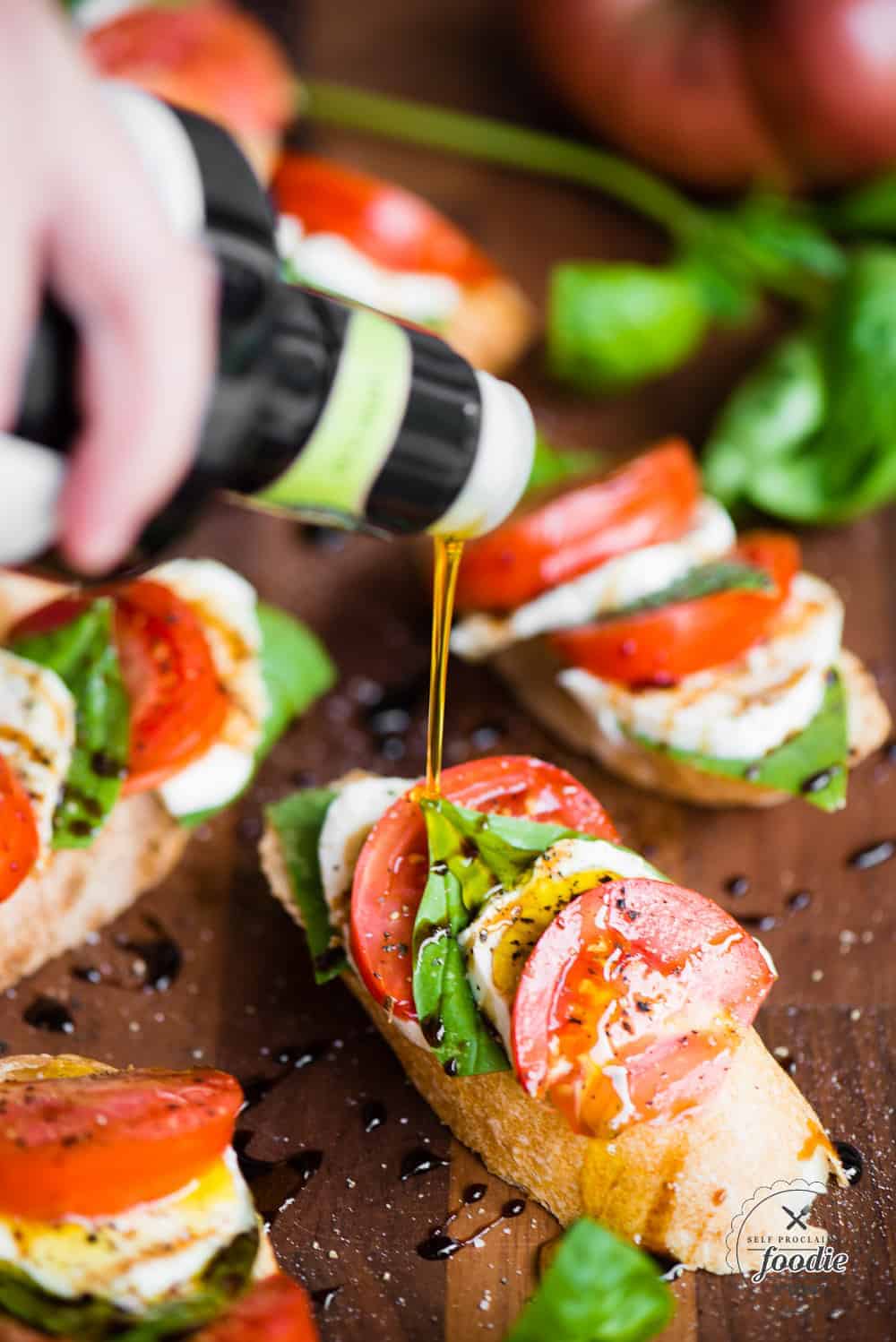 As you can see, this is no ordinary recipe for caprese bruschetta where any olive oil and balsamic vinegar will do. It is worth the time, effort, and added cost to invest in real Italian grown, made, produced and imported products. Just like I won't eat caprese bruschetta with anything less than a fresh ripe heirloom tomato, bright green basil, or a soft fresh whole milk mozzarella, I won't settle for anything less than the best when it comes to my olive oil and balsamic vinegar.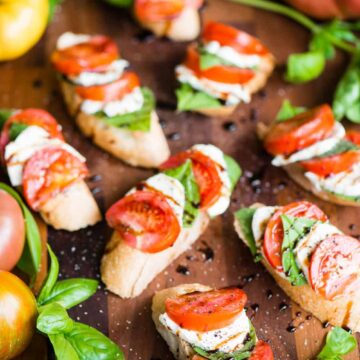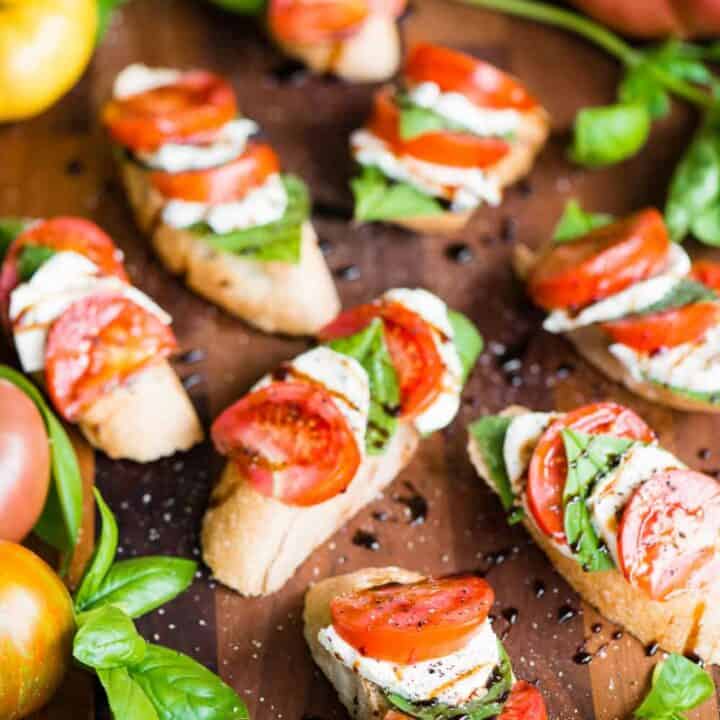 Caprese Bruschetta
Caprese Bruschetta layers heirloom tomato, fresh basil, and mozzarella on garlic toast and is topped with an Italian Balsamic reduction and olive oil.
Print
Pin
Rate
Hover to scale:
6
servings
Ingredients
½

cup

Balsamic Vinegar of Modena

(ITALIAN PDO/PGI)

6

slices

bread

(crusty rustic loaf recommended)

2

cloves

garlic

(minced)

¼

lb

tomatoes

(sliced)

10-16

fresh basil leaves

8

ounces

whole milk mozzarella

(sliced)

3

Tbs

Extra Virgin Olive Oil

( ITALIAN PDO/PGI)
Instructions
To make balsamic reduction, heat balsamic vinegar in small saucepan over medium low heat until the vinegar has reduced to at least half the original amount. This can take up to 30 minutes. Allow to cool and set aside.

Toast both sides of bread slices in 300 degree F oven. When the bread turns golden brown, remove from oven and cover with minced garlic. Set aside.

Wash and slice the tomatoes. Layer on toasts with basil and mozzarella slices. Drizzle with balsamic reduction and olive oil. Season with salt and pepper, to taste. Serve fresh.
NUTRITION INFORMATION
Calories:
274
kcal
|
Carbohydrates:
19
g
|
Protein:
11
g
|
Fat:
16
g
|
Saturated Fat:
6
g
|
Cholesterol:
29
mg
|
Sodium:
388
mg
|
Potassium:
148
mg
|
Fiber:
1
g
|
Sugar:
5
g
|
Vitamin A:
450
IU
|
Vitamin C:
2.9
mg
|
Calcium:
239
mg
|
Iron:
1.4
mg