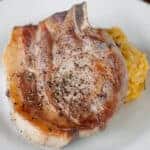 Salt and Pepper Pork Chops
I'm sharing my favorite method of cooking fast, moist and delicious Salt and Pepper Pork Chops - my go to easy weekday dinner choice.
Preheat oven to 400 degrees F.

Rinse pork chops and blot dry with a paper towel. Season both sides with salt and pepper. Insert digital meat thermometer into thick part of pork chop, avoiding contact with bone.

Over high heat, get your skillet (cast iron if you have it) screaming hot. When skillet is about as hot as its going to get, add oil to pan and swirl around to coat. Gently lay pork chops in hot skillet.

Allow to cook, undisturbed, until golden brown on bottom, about 4-6 minutes.

Using tongs, flip pork chops and transfer skillet to hot oven. Continue to cook until internal temperature reads 145 degrees F, about 5-15 minutes depending on how thick your chops are. Remove skillet from oven and transfer chops to plate. Allow to rest for a minimum of 3-5 minutes.
For best results, allow the pork chops to sit out at room temperature for a good 30 minutes prior to cooking. This will allow for more even cooking.
It's not necessary to trim the fat off of the pork chops prior to cooking. It will only add to the flavor.
You can add additional flavoring like garlic powder along with the salt and pepper, but it's not necessary.
Calories:
308
kcal
|
Protein:
35
g
|
Fat:
17
g
|
Saturated Fat:
5
g
|
Cholesterol:
116
mg
|
Sodium:
93
mg
|
Potassium:
581
mg
|
Calcium:
32
mg
|
Iron:
1.1
mg