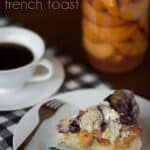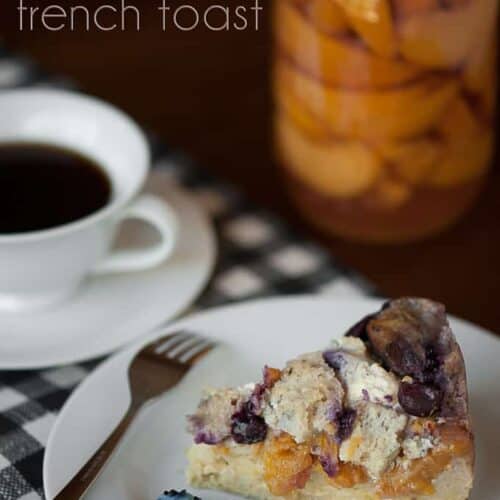 Print Recipe
Campfire Blueberry Peach French Toast
Campfire blueberry peach french toast is a perfect start to your camping morning. Peaches, blueberries and cream cheese make a delicious campfire breakfast.
Make ahead: Cut bread into half inch cubes and store in bag. Combine eggs, half and half, and vanilla and store in tupperware. Pack peaches and cream cheese in their containers. Store blueberries in tupperware and pack.

The night before: Combine juice from peaches with liquid ingredients and stir to ensure eggs are well mixed. In large gallon size sealable bag, combine liquid ingredients with bread. Massage bag to ensure all pieces of bread are well coated. Seal and refrigerate over night.

The morning of: Start a campfire bright and early and do not start cooking until the fire has died down and you have a pit full of hot coals. Arrange a thin level layer of hot coals for your dutch oven to sit on, ensuring there will be space in between base of dutch oven and coals for air flow. Heavily grease base and sides of dutch oven with butter. Pour half of the bread and liquid mixture in the dutch oven. Then evenly spread a layer of the blueberries, cream cheese slices and smashed peaches. Finally, top with remaining bread and liquid mixture. Cover with lid, and then cover lid with hot coals. Use an equivalent of 18 coals on the lid to 6 coals underneath for a 10 inch dutch oven. After about 45 minutes, carefully lift lid to check doneness. Should not jiggle and should appear golden brown when done. Serve with additional maple syrup and bacon and/or sausage.