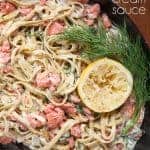 Print
Fettuccine with Salmon Dill Cream Sauce
Fettuccine with Salmon Dill Cream Sauce made with smoked salmon, fresh dill, lemon and heavy cream is an insanely delicious and easy to make pasta dinner.
Cook the pasta in plenty of water until it is done. Consider not adding salt to the water this time, since the salmon sauce may be on the salty side.

To make the salmon dill cream sauce, sauté the onion in butter over medium high heat until golden brown. Reduce heat a bit and add the dill, salmon and cream. Gently heat until the cream is infused and stir until the salmon flakes. Add the lemon juice and stir.

Gently toss the pasta in the warm sauce and voila! Ready to serve.
Pro tips and recommendations:
Smoked salmon: There are lots of varieties out there with varying prices. I always make sure the smoked salmon I buy is wild caught and only use high quality ingredients that I can pronounce. It might cost more but it's worth it.
Cream sauce: Readers always ask if they can substitute the heavy cream with milk or half and half. It will work as far as being edible, but the sauce won't be the same and certainly won't be as rich and creamy.
Onion: They're not always in season or available, but if you're able to get a sweet yellow onion like a Vidalia or Walla Walla, they work great with this dish. Any time you saute an onion in butter, it will get more sweet and mild, but a sweet onion is even better!
Dill - I'm vague on the amount of dill because you can add a little or a lot and it completely depends on your preference. If you aren't sure, start with a small amount, taste the sauce, and continue to add more until it suits your liking.
Pasta water: Any time I make a pasta dish with a sauce, I always grab a scoop of the pasta water right before I drain the pasta. If the final sauce needs to be thinned a bit, adding a bit of pasta water will do the trick without sacrificing flavor.
Calories:
521
kcal
|
Carbohydrates:
47
g
|
Protein:
19
g
|
Fat:
28
g
|
Saturated Fat:
16
g
|
Cholesterol:
102
mg
|
Sodium:
499
mg
|
Potassium:
319
mg
|
Fiber:
2
g
|
Sugar:
3
g
|
Vitamin A:
1030
IU
|
Vitamin C:
4
mg
|
Calcium:
65
mg
|
Iron:
1.3
mg