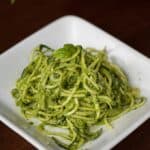 Print Recipe
Pesto Zoodles
If you need a healthier, grain-free alternative to standard pasta, you can use zucchini noodles. Pesto zoodles taste great and are quick and easy to make.
Use preferred cutting device to cut zucchini into zoodles. Options include spiral cutter (available at Bed Bath & Beyond, Amazon, Williams Sonoma, etc.), the grater blade on your food processor, a hand grater, or a hand julienne slicer.

In large enough bowl, toss raw zoodles with pesto sauce. Serve at room temperature or heat in sauce pan over low heat to serve warm. Serve with grated parmesan or top with meatballs, if desired.