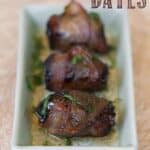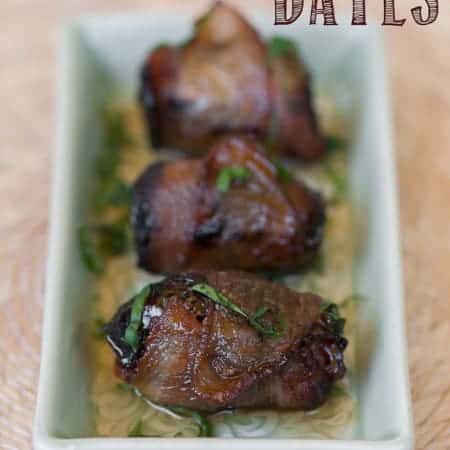 Print
Blue Cheese and Almond Stuffed Bacon Wrapped Dates
These Bacon Wrapped Dates are stuffed with blue cheese and blanched almonds. baked to perfection, then drizzled with maple syrup and garnish with mint. YUM!
24

medjool dates

pitted

1/4

cup

blanced almonds

whole or slivered

4

ounces

crumbled blue cheese

12

ounces

applewood smoked bacon

8 slices cut into thirds (24 total)

Pure maple syrup and fresh mint leaves to garnish.
Preheat oven to 350 degrees F. Cover rimmed baking sheet with foil.

Split each date on one side and remove pit.

In small bowl, use hands to mix almonds and blue cheese. Squeeze into log, and then divide into 24 equal sized balls by dividing log into half, then quarters, then each quarter into halves, and each chunk into three balls.

Stuff each blue cheese almond ball into each date. Wrap each stuffed date with bacon, overlapping ends. Squeeze each wrapped ball to help form the shape.

Use three metal skewers to pierce through each wrapped date, ensuring the end of the bacon goes through the skewer first to create a tight wrap. Place 8 wrapped dates on each skewer, spaced evenly, rotated such that they are vertical. This allows the bacon to cook evenly and grease to drain down to the foil.

Place in oven and cook for 40 minutes or until bacon is crisp, rotating sheet and flipping skewers half way through.