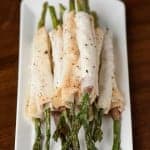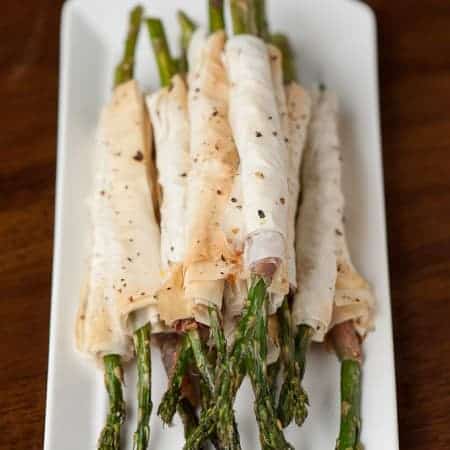 Print
Prosciutto Phyllo Wrapped Asparagus
If you're looking for an easy to make finger food party appetizer, look no further than these delicious Prosciutto Phyllo Wrapped Asparagus spears.
4

ounces

thinly sliced prosciutto

cut into 30 long, thin strips

30

asparagus spears

trimmed (big and fat is better than skinny)

frozen phyllo dough

thawed (I used about 1/3 of a one pound package)

Olive oil cooking spray or 1 tablespoon olive oil

salt and pepper

as desired
Preheat oven to 400° F.

Wrap 1 prosciutto strip around each asparagus spear, barber polestyle, leaving the tip uncovered. Give it a squeeze and it should stay in place.

Place phyllo sheet on work surface and keep it covered with a barely moist towel to prevent it from drying. Cut dough into rectangles that are about 2x4 inches. You basically want them to be big enough to wrap around your asparagus while leaving both ends exposed. Coat phyllo with cooking spray or dip finger in oil and rub top of dough. Take 3-5 pre-cut sheets at a time and wrap around prosciutto covered asparagus. The oil will help seal the ends. Place on baking sheet, seam side down. Repeat procedure with remaining phyllo, asparagus, and cooking spray. Once done, give all of them a light spray of olive oil.

Bake at 400° for 15 minutes or until phyllo is golden and crisp. Serve warm.