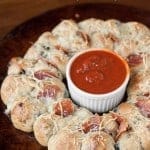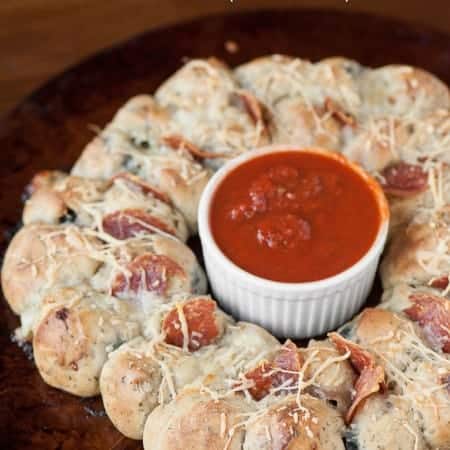 Print
Pepperoni Pizza Pull Aparts
Pepperoni Pizza Pull Aparts take traditional pizza ingredients and turn them into a two bite appetizer perfect for any party or game day feast.
Preheat oven to 450 degrees F with pizza stone in the oven. If using metal baking sheet, do not preheat in oven.

Arrange pepperoni on a sheet of foil and cook in preheated oven until crispy around the edges, about 5 minutes.

On a lightly floured work surface, cut pizza dough into 32 equal portions (cut it in half, then each piece in half to make 4, then again to make 8, then again to make 16, then again to make 32). Do the same thing with the mozzarella. Drain olives.

Flatten piece of dough and place pepperoni folded or torn into quarters, a piece of mozzarella, and an olive on dough. Wrap corners around and then press dough to completely cover ingredients. Squeeze to form into ball. Repeat with remaining ingredients. If you don't put a full piece of pepperoni in, you will be able to use the extra in between the balls in the cooking process.

Remove hot stone from oven. Arrange dough into two concentric circles that touch, making the inside whole big enough for a ramekin of marinara sauce. Tuck any unused pieces of pepperoni in between the dough balls. Sprinkle the wreath with the parmesan cheese. Put the oven safe container of sauce in the middle and cook everything all at once until the dough starts to brown, about 15 minutes.