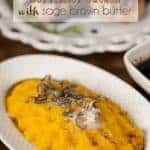 Print Recipe
Instant Pot Butternut Squash with Sage Brown Butter
Creamy and healthy Pressure Cooker Butternut Squash with Sage Brown Butter is not only quick and easy to make, but it is the perfect fall season side dish.
Peel squash, remove seeds, and cut into 1" chunks.

Add 1 cup of water to the pressure cooker. Add the rack to the pressure cooker and set squash pieces on top. Cook squash on high pressure for 10 minutes and then use the quick release method to release the steam. Drain off any water and mash the squash. Add the fresh nutmeg.

While the squash is cooking, you can make your sage brown butter sauce. In a sauce pan over medium heat, heat the butter and the sage while stirring frequently until the butter starts to create brown solids.

To serve, pour the sage brown butter over the mashed squash. Season with salt and pepper, as desired.