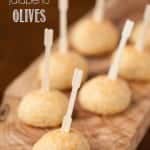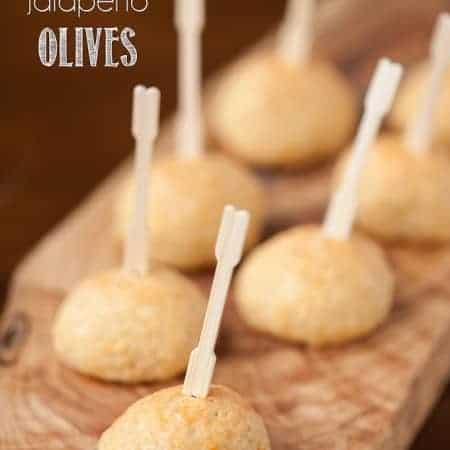 Print
Warm Cheddar Jalapeno Olives
Impress your guests with this easy to make yet insanely delicious two-bite spicy Warm Cheddar Jalapeno Olives appetizer.
1

10 ounce jar

jalapeno stuffed olives

4

ounces

about 1 cup sharp cheddar, shredded

2

ounces

about 1/2 cup parmesan, shredded

1

cup

all purpose flour

1/4

teaspoon

smoked paprika

1/4

teaspoon

white pepper

4

tablespoons

half a stick butter, softened
Drain olives. Reserve liquid if you'd like to make a spicy dirty martini, otherwise discard. Lay olives out on a towel and then use a separate towel or paper towel to give them a gentle squeeze to dry them off.

Use a food processor to pulse cheeses with flour and spices. I used the processor to shred the cheese too. Add the softened butter and pulse to combine.

Transfer the dough mixture to a bowl and squeeze together. Add one teaspoon of water at a time to dough, then use hands to mix together. Continue to add water and mix until dough forms a ball without crumbling. Be careful not to add too much water (I probably added about 4 teaspoons).

Divide the dough evenly so that you have the same amount for each olive (the amount of dough worked out perfectly for my 25 olives). Smash each portion of dough in between your hands to form a flat disk and then use that flattened dough to fully wrap your olive.

At this point, you can freeze them for later, or you can cook them up.

Set wrapped olives on a nonstick or parchment lined baking sheet and bake in preheated 400 degree F oven until golden brown, about 15-20 minutes.

Serve them hot and watch them disappear!