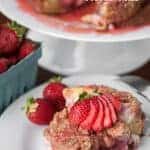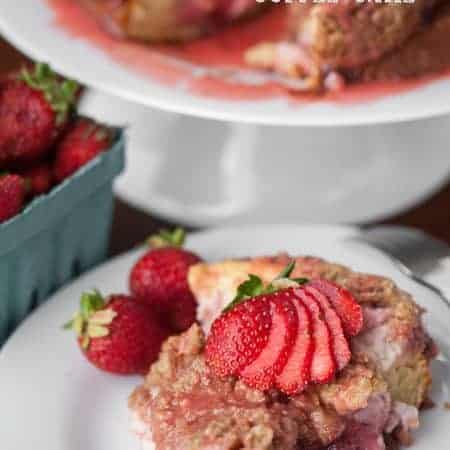 Print
Strawberry Cream Cheese Coffee Cake
This layered Strawberry Cream Cheese Coffee Cake made with fresh strawberries, a cream cheese filling, and streusel topping is a delicious summer treat!
Total Time
1
hour
40
minutes
Streusel Topping:
1/2

cup

flour

1/2

cup

brown sugar

1/2

tablespoon

cinnamon

4

tablespoons

cold butter

cubed
Strawberry glaze:
1

cup

powdered sugar

1

teaspoon

vanilla extract

2

tablespoons

strawberry juice
Preheat oven to 350 degrees F and grease and flour the inside of a 16 cup/10-inch nonstick tube your pan.
To make the streusel: Mix the flour with the brown sugar and cinamon. Cut in the cold butter until the mixture resembles course crumbs. Set bowl in freezer until ready to use.
To make the cake:
In a medium bowl, combine flour, baking powder, baking soda, and salt. Set aside.

Using a stand mixer, beat butter and sugars until creamed for several minutes. In a separate container, mix together eggs, vanilla, and sour cream. Mix into butter mixture until combined - do not over mix.

Gradually add flour mixture to the wet mixture, mixing just until combined after each addition. Take one large scoop of cake batter and set aside to be mixed with cream cheese mixture.

Spread half of remaining batter in prepared pan leaving other half for the top layer.
To make the cream cheese portion:
Combine the 1/4 cup reserved batter with the cream cheese, sugar, and vanilla. Beat on medium high speed until smooth and creamy, about 1 minute. Spoon this cream cheese filling over the batter and take care to keep it away from the sides of the pan. You're going to want only cake touching the pan otherwise the finished coffee cake will slide apart. Top the cream cheese layer with the sliced strawberries, and then top with remaining batter.

Tap pan on counter a few times to get rid of any air bubbles then cover evenly with streusel mixture.

Bake for approximately 1 hour at 350 degrees F or until toothpick inserted comes out clean of any cake batter. Let baked cake cool on wire rack for 1 hour. Gently invert cake onto a baking sheet, remove pan, and invert back onto cooling rack streusel side up. Or, if you're able to remove it from the pan without inverting, all the better. Let cool to room temperature.

When ready to serve, mic strawberry glaze ingredients together in a medium bowl and drizzle over cake.

Store in the refrigerator for up to 7 days.