Discover the art of entertaining by pairing a bold Pinot Noir with a delicious Wild Mushroom Rosemary Potato Flatbread appetizer.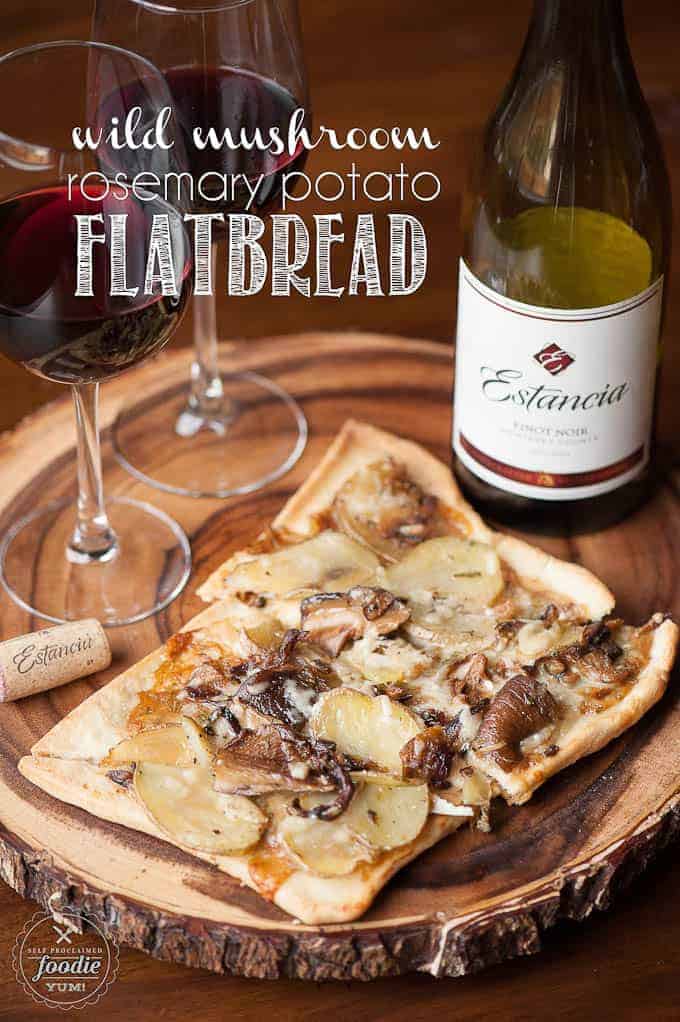 I regularly enjoy wine and definitely consider myself a wine enthusiast, but more like your typical every day American who just knows a delicious wine when she tastes it. I don't have a sophisticated palate to tell you if there are notes of grapefruit or how long it must have been aged in an oak barrel, but I certainly appreciate drinking wine and know a good one from a bad one. I picked up this bottle of Estancia Pinot Noir and it immediately became one of my favorites. That's pretty impressive, because you know I'm a total food snob after all, right? The brand's mantra is "Handcrafted with great purpose." Now that's what I'm talking about.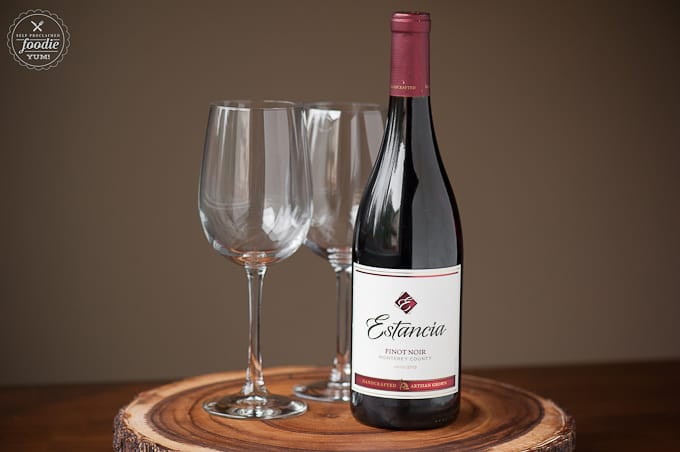 I selected their Pinot Noir because I live in the Pacific Northwest and we love Pinot Noir up here. Pinot Noir is great for dishes with earthy flavors made with ingredients like mushrooms, herbs and potatoes. The flavors taste great with reds like Pinot Noir, which are light-bodied but full of savory depth. Entertaining means appetizers, so I decided to make a delicious earthy flatbread and let me tell you – these paired so well together!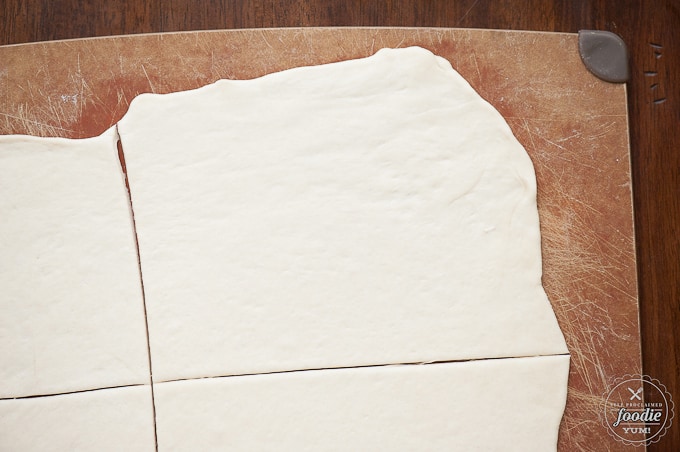 This recipe starts with basic pizza dough. Now you can go all out and do the right thing by making your own homemade pizza dough, or you can just buy some pre-made stuff at the store. I promise I won't tell anyone. You just need to roll it out as flat and as thin as you can and cook the rectangles on a screaming hot pizza stone for a few minutes. Its pretty fun to see how puffy it gets, but its even more fun to smash the air out of it. Trust me.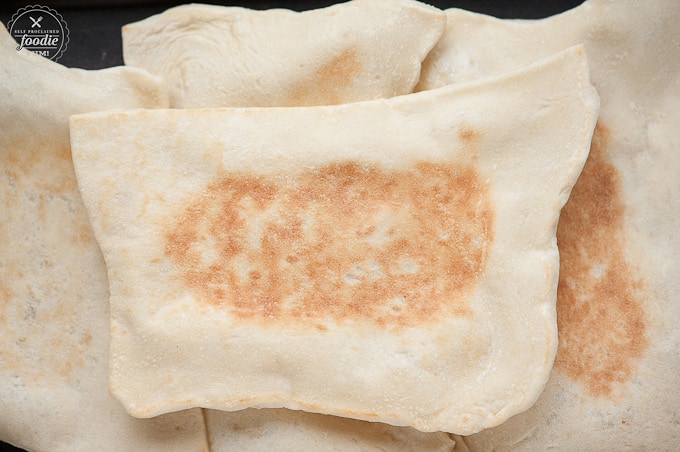 I used dehydrated mushrooms instead of fresh. Why did you do that, Krissy? Well let me tell you. First, I already had them in my pantry, and you know I like to pretend I'm on Chopped and entertain the delicious possibilities I can create. Second, you re-hydrate these babies with boiling water and then I took that flavored mushroom-y water to make a garlic parmesan wild mushroom sauce. Oh yeah. Third, dehydrated mushrooms are just cheaper, and less expensive mushrooms means even more money for WINE!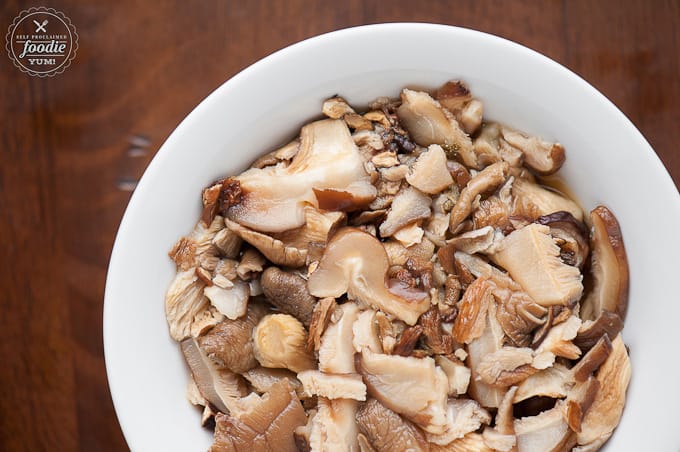 So what you do is barely cook the rectangles and then squeeze the air out. Then you make this wonderful sauce to spread on top of the flatbread.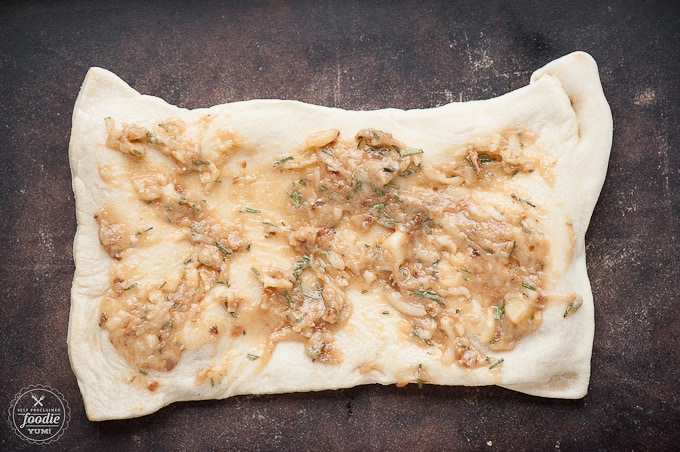 Then you mix up the potatoes and mushrooms, cook them up a bit in butter because butter is good, toss them with rosemary and more cheese because cheese is good, then you put it on the flatbread and bake it some more until its all melted and delicious.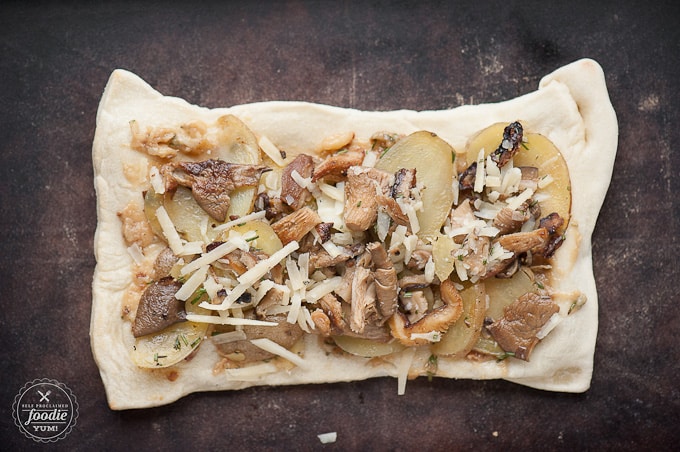 Just look how pretty that turned out! Honestly, this flatbread is quite delicious, but when you pair it with a bottle of this wine, it is over-the-top-gimme-some-more good.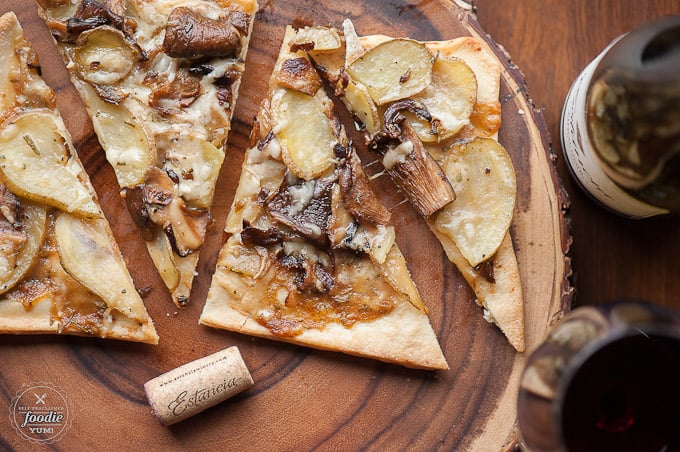 Good food with good friends allows you to enjoy every moment, so inspire your table tonight and entertain!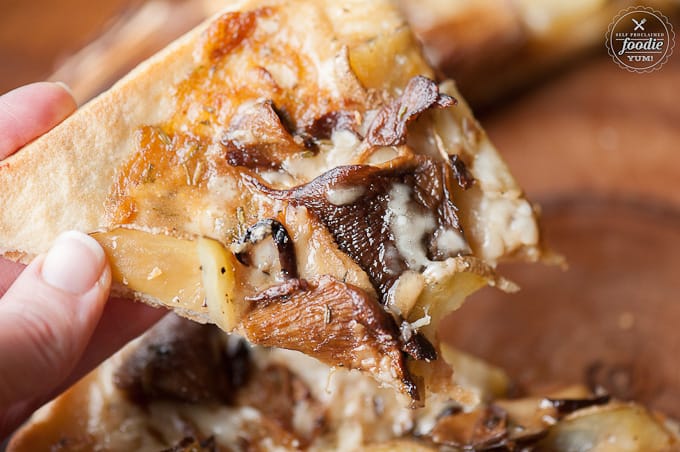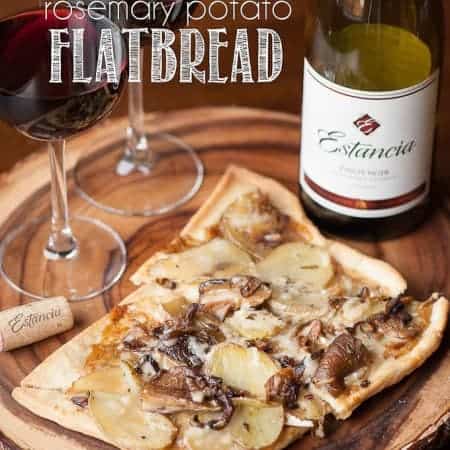 Wild Mushroom & Rosemary Potato Flatbread
Discover the art of entertaining by pairing a bold Estancia Pinot Noir with a delicious Wild Mushroom Rosemary Potato Flatbread appetizer.
Print
Pin
Rate
Ingredients
16

ounces

pizza dough

homemade is best but you can buy prepackaged

2

0.88 ounce packages mixed wild dried mushrooms (I used a combination of porcini, shiitake, and oyster)

1

cup

boiling water

4

tablespoons

butter

divided

2

large cloves garlic

minced

1

tablespoon

flour

2

tablespoons

rosemary

minced and divided

2

cups

parmesan

grated and divided

4

small potatoes

sliced thin

1

teaspoon

kosher salt salt

pepper

1

tablespoon

olive oil
Instructions
Preheat oven or grill with a pizza stone to 450 degrees F. On a lightly floured surface, roll out pizza dough to the largest thinnest rectangle you can make without the dough separating. Use a pizza cutter to divide the dough into four quarters. Place two of the dough pieces on the hot stone and cook for 5 minutes. They will puff up during cooking. Remove from oven and set aside with the side that was touching the stone facing up. Reduce heat to 350 degrees F.

Rinse the mushrooms in warm water and then cover them with one cup of boiling water and a lid. Allow to steep in the hot water at least 10 minutes.

Melt 2 tablespoons of the butter in a medium saucepan over medium heat. Cook the garlic until golden brown, about 2 minutes, taking care not to burn the garlic. Add the tablespoon of flour and allow to cook for a couple minutes while stirring. Add the steeping liquid from the mushrooms and 1 tablespoon of the minced rosemary and whisk together. Remove from heat and stir in half of the grated parmesan.

In a large bowl, combine 1 tablespoon of olive oil with thinly sliced potatoes and rehydrated mushrooms.

In a large heavy bottom melt the remaining 2 tablespoons of butter over high heat. Spread potato mushroom mixture to cover entire pan and allow to cook until the potatoes and mushrooms begin to brown, about 5 minutes. Flip with a spatula and cook for another 5 minutes. Return cooked potatoes and mushrooms to bowl and mix with remaining rosemary, remaining parmesan, salt and pepper.

Evenly spread the garlic mixture over each piece of flatbread and then top with mushroom potato mixture.

Heat in preheated 350 degree oven until bread gets golden brown and cheese has melted, about 15-20 minutes.

Slice and serve with an Estancia Pinot Noir for the perfect entertaining appetizer.