These West Coast Tacos are bursting with fresh flavors, combining orange and cherry salsa paired with avocado and your favorite protein for a tasty dinner. Oh how I wish I could take credit for this recipe. I don't think my brain has the capacity to combine such different flavors all into one bite. This recipe was created for LA VICTORIA® Brand by Chef Gustavo Romero in celebration of 100 Years of LA VICTORIA® Brand.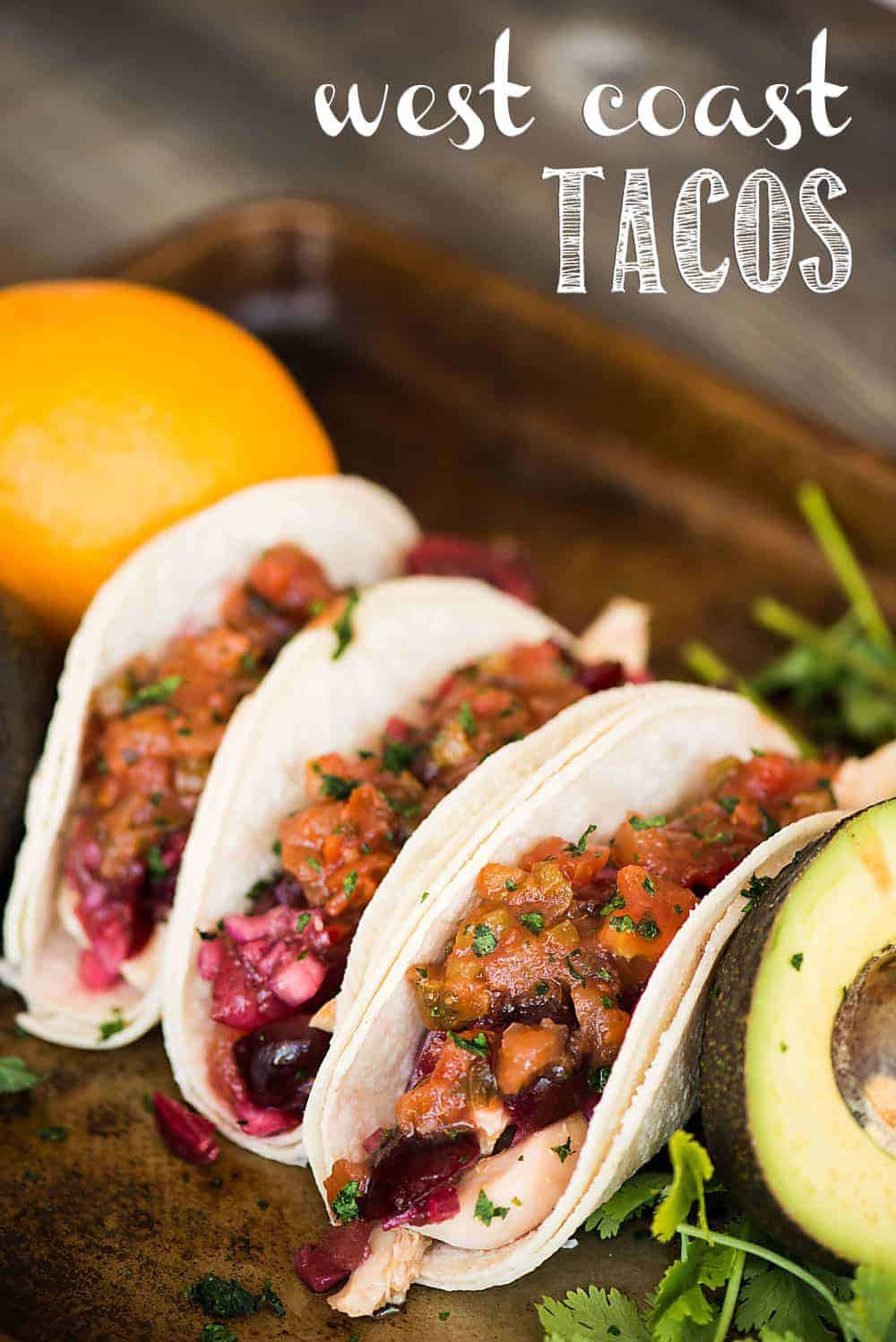 MY OTHER RECIPES
Chef Romero reimagined the  simple taco recipe with this modern Mexican interpretation; succulent duck confit on a bed of jicama tortilla and avocado mousse all topped with an orange-cherry salsa. I oh-so enjoyed the flavor explosion that Chef Gustavo develped with his mouth watering creation.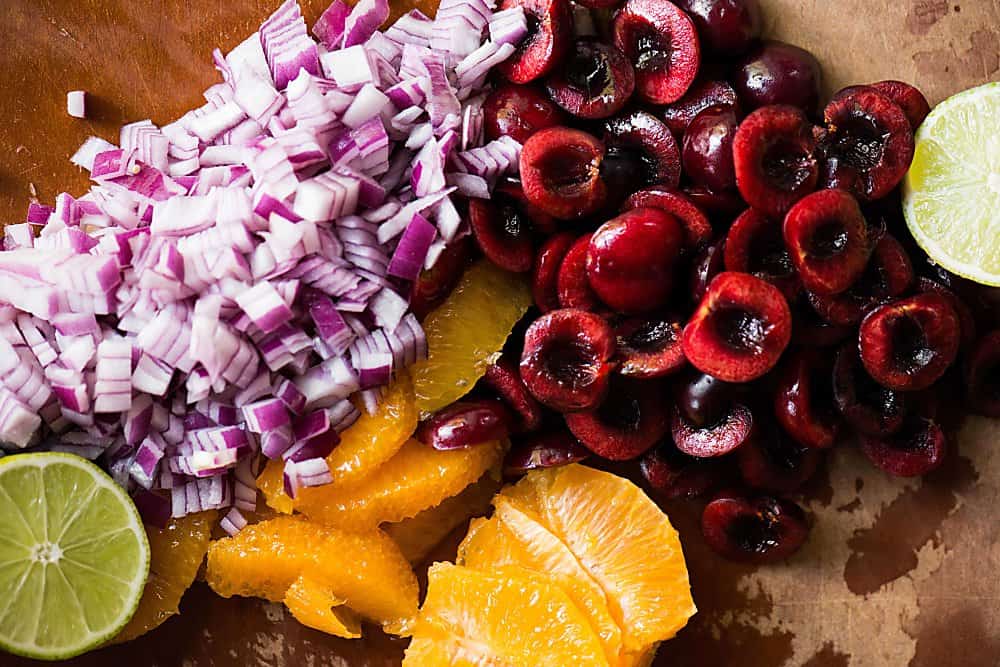 It all starts with the orange cherry salsa. Not only are fresh cherries starting to peak here in the Pacific Northwest – quite possibly my favorite time of year – but you can't get more west coast than with fresh California oranges. When I say West Coast, I'm talking all the way up and down the coast!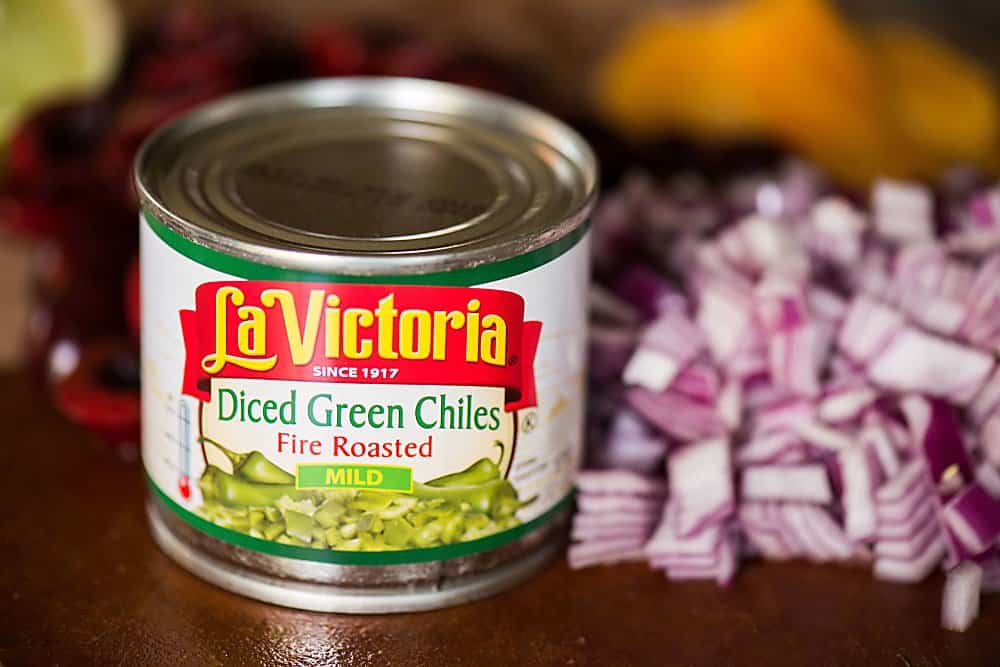 Every good salsa needs the right chiles and peppers. LA VICTORIA® Brand Fire Roasted Diced Green Chiles make the perfect addition to this fresh, tart, sweet, tangy, and flavorful salsa.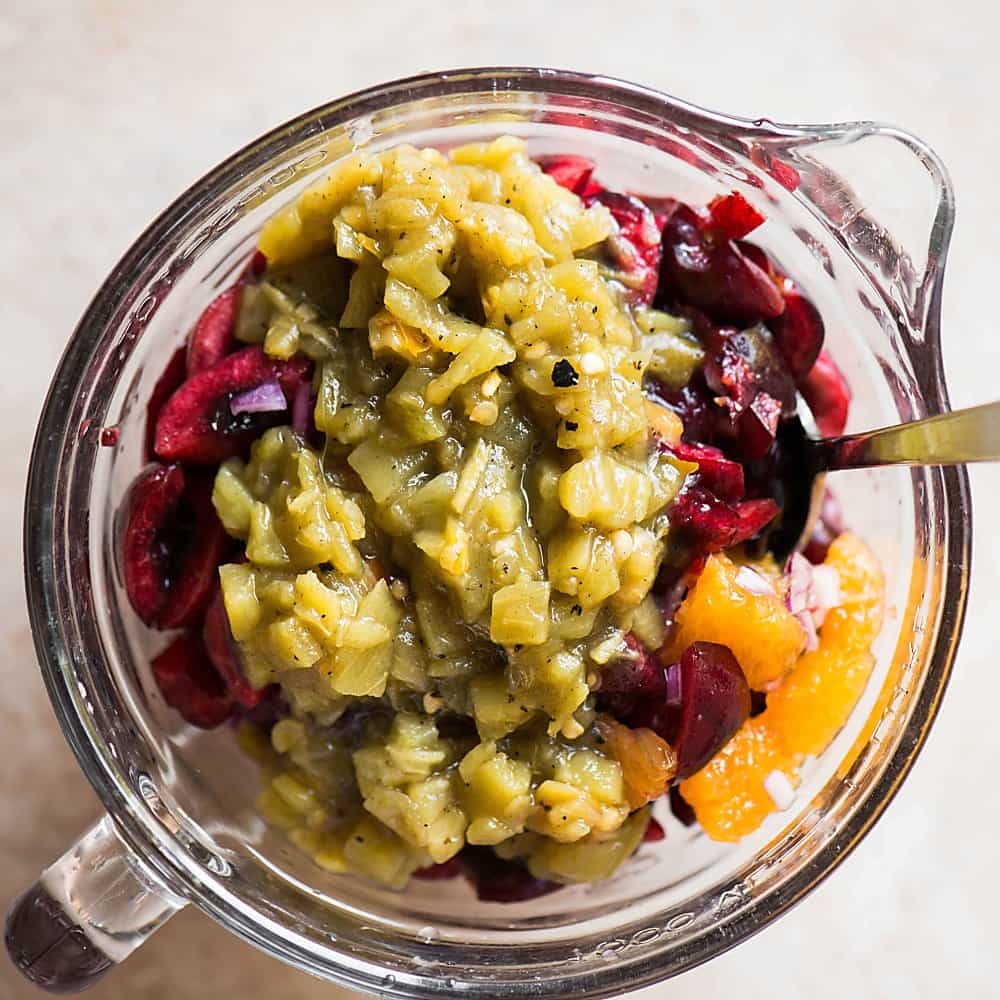 This salsa will confuse your mouth in all the right ways. Trust me on this.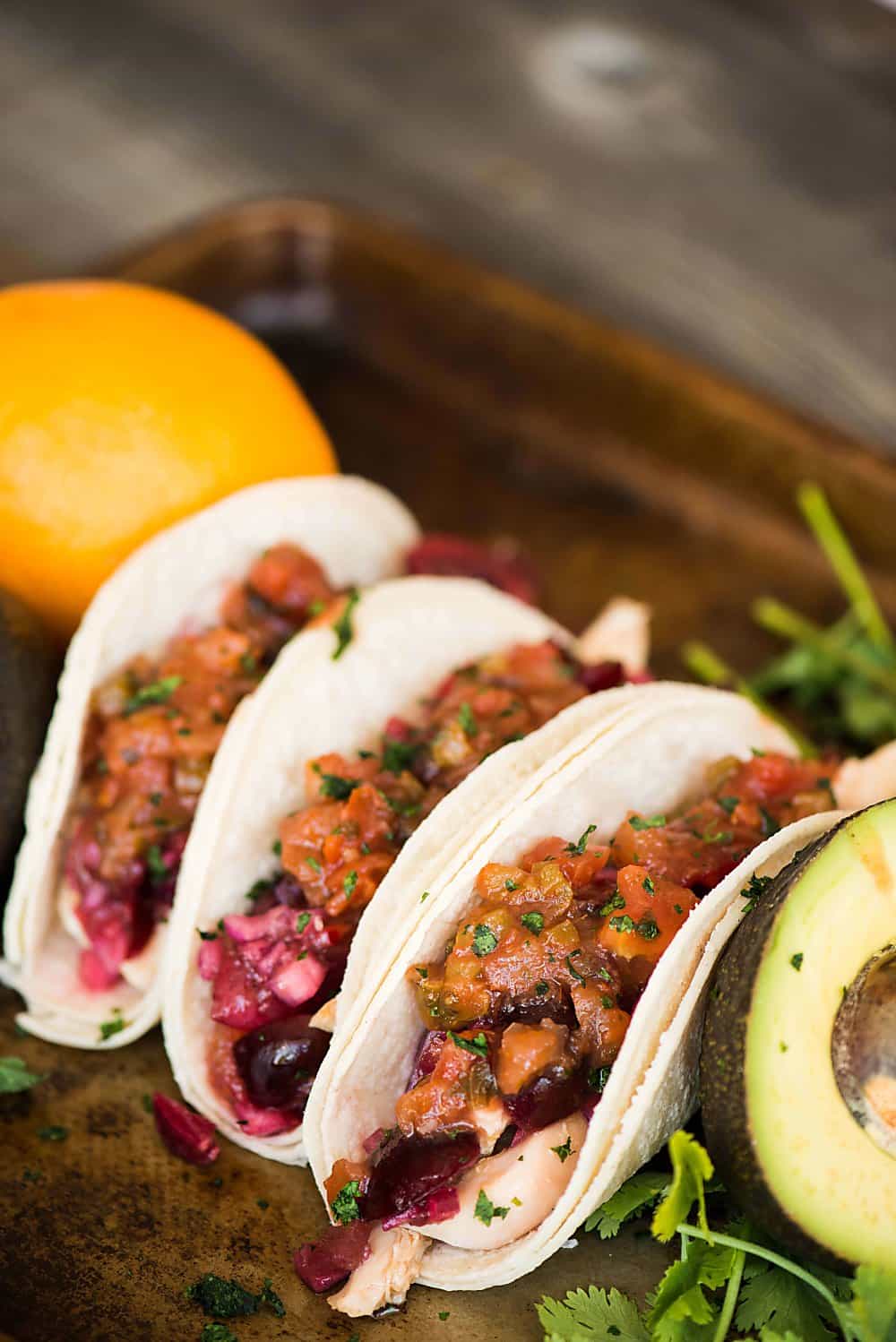 If you've never had duck confit, it is duck cooked in rendered fat which results in meltingly tender, moist, and extremely flavorful meat which can be used in a variety of simple preparations. You can find in already prepared at some specialty stores, and it is worth the find!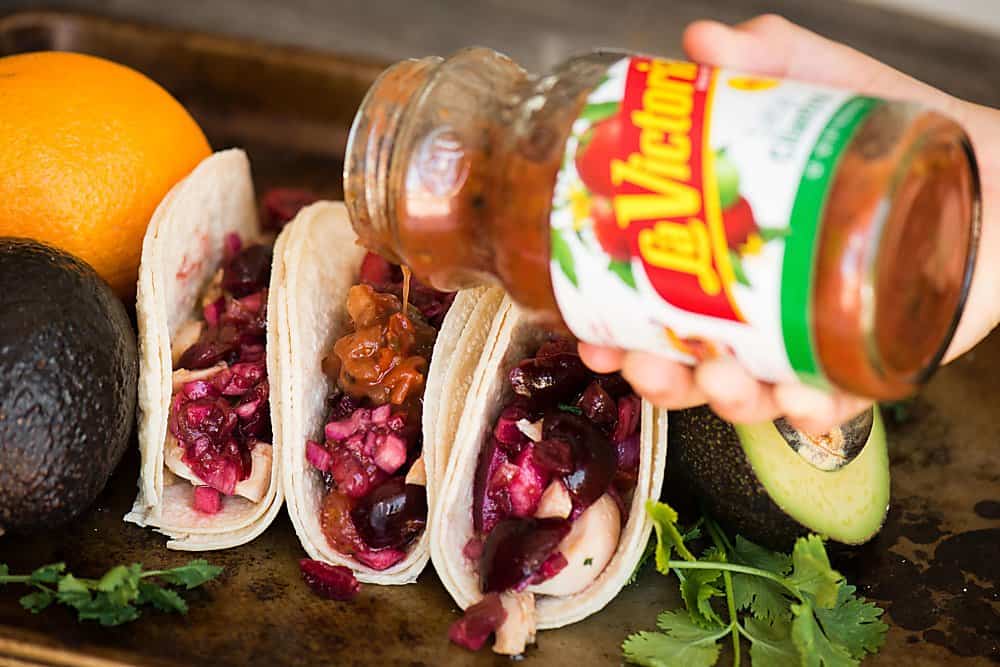 The rich and bold flavors of the duck confit paired with the creamy avocado, crunchy jicama, tart and flavorful cherry orange salsa, and topped with LA VICTORIA® Brand Salsa Cilantro is a meal you won't soon forget.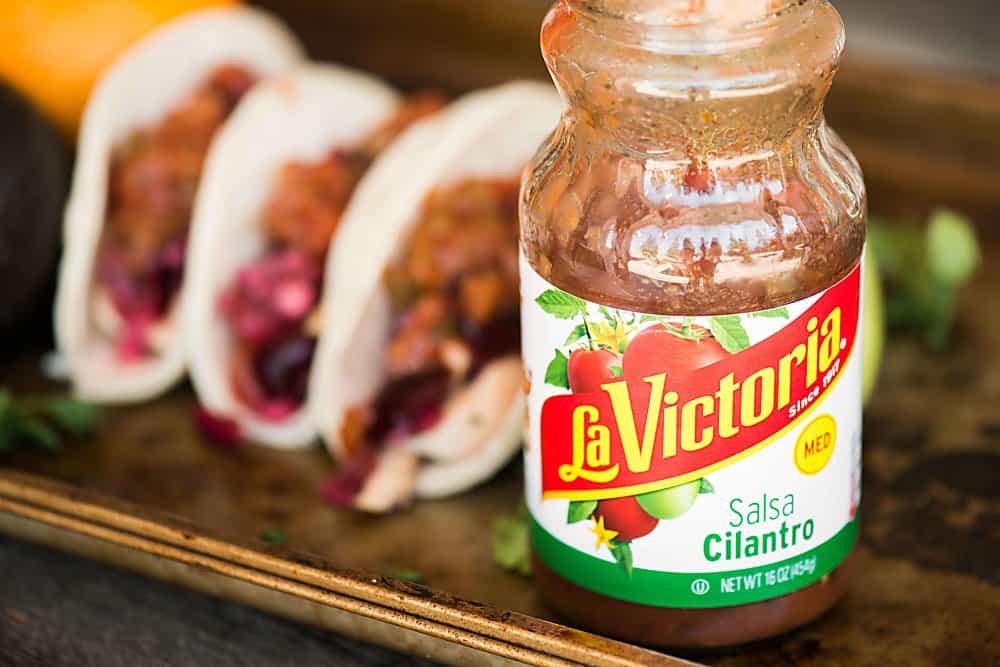 Just look at all those flavors and textures! There are so many taco sauces and hot sauces to choose from, but when you make your own homemade sauce for the meat and pair it with your favorite fresh salsas, what follows is pure perfection. Top your tacos with LA VICTORIA® Brand Salsa Cilantro and you have the most delicious, complete West Coast inspired meal.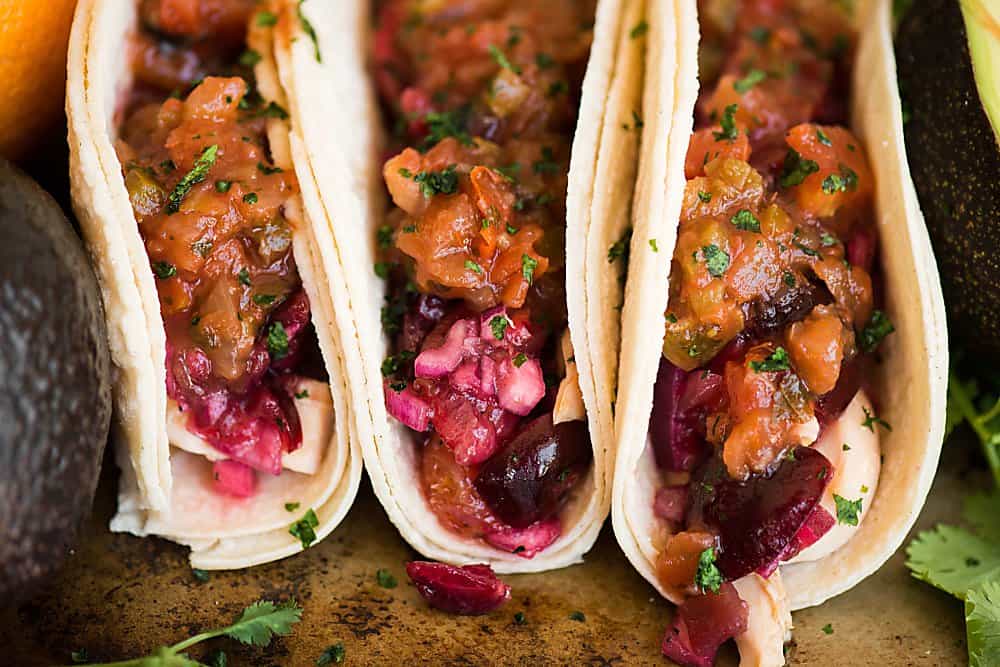 Don't you just want to reach into your screen, grab a taco or two, and shove them into your mouth? You'd better believe that is exactly what I did (minus the screen part) as soon as I was done taking my photos. LA VICTORIA® Brand is inspired by the bold and unique Mexican-inspired foods and flavors of the West Coast. Since 1917, the iconic flavors of the LA VICTORIA® Brand have helped celebrate the creative culinary spirit of the West coast. The 100 year dinner events are a celebration of that spirit and the people who seek out new flavor experiences. They call these people Flavor Seekers.  And guess what?  There are upcoming events in San Francisco and Portland still!
I encourage you to visit the LA VICTORIA Brand 100 Year Landing Page where you can learn more about the west coast recipes and events taking place, as well as more on the LA VICTORIA® Brand.  Be sure to also check out the San Francisco 100 Years of LA VICTORIA® Brand dinner event.
These West Coast Tacos are bursting with fresh flavors, combining orange and cherry salsa paired with avocado and your favorite protein for a tasty dinner.
Ingredients
For tacos
12

(slices) Jicama

12

ounces duck confit

3

ounces LA VICTORIA® Cilantro Salsa Mild

6

ounces Orange-Cherry Salsa

1 1/2

ounces Mexican Marinade

3

ounces Avocado Mousse

3

ounces Cilantro Leaves

8

soft corn tortillas
For Orange Cherry Salsa
8

segments Orange, chopped

1/2

Red Onion, minced

4

ounces LA VICTORIA® Fired Roasted Chiles

2

cups Pitted and Diced Fresh Cherries, chopped

1

teaspoon Salt

1/8

teaspoon Black Pepper

3

tablespoons Lime Juice
For Mexican Marinade
2

ounces Red Wine Vinegar

1

teaspoon Shallots, minced

1

teaspoon Garlic, minced

1

teaspoon Cumin

1

teaspoon Coriander

1

tbs Salt

1/8

teaspoon Black Pepper

1

pinch Cayenne

1/2

cup Orange Juice

2

ounces Lemon Juice

2

ounces Extra Virgin Olive Oil

4

ounces Bran Oil (or substitute with avocado oil)

1

tablespoon fresh Cilantro, chopped
For Avocado Mousse
1

Avocado, ripe, skin and pit removed

1

Garlic Clove, minced

1

teaspoon Lemon Juice

1/2

teaspoon Salt
Instructions
Orange Cherry Salsa:
In mixing bowl, combine all ingredients and set aside.
Mexican Marinade:
Mix vinegar, minced shallots, minced garlic and spices in a mixing bowl.
Add orange and lemon juice until uniform.
Stir in oils and chopped fresh cilantro
Stir well before use.
Avocado Mousse:
Mix all ingredients together by mashing with a fork until smooth and adjust seasoning as desired.
Putting it all Together:
In a hot sauté pan with a little oil add duck confit and cook a few minutes until crispy. Add Mexican marinade and allow to cook for another 4-5 minutes before removing from heat. Set aside. Using a mandolin or a slicer, slice jicama into a thin slices. With a small spatula, smear avocado mousse into four tortillas (double them up for tacos) and top with sliced jicama. Place hot duck on top of avocado mousse. Add LA VICTORIA® Salsa cilantro along with a large spoonful of orange and cherry salsa. Finish with cilantro leaves.