These sinful little Triple Threat Peppermint Brownie Bites pack a three layer decadent approach to pure holiday bliss!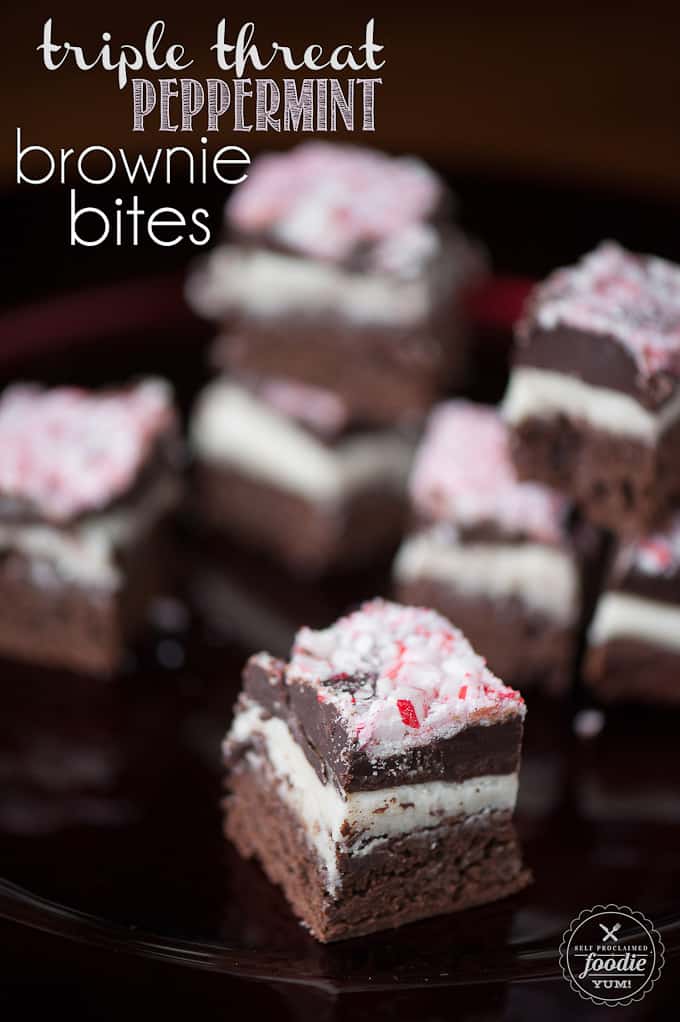 Hello! Welcome to Day 7 of

Behold the best damn holiday treat ever! Okay, okay, you got me. I say that a lot about many of the treats I'm sharing, but this one is definitely in my top three, right alongside my five minute fudge and everyone's favorite Granny's monkey bread. I knew I wanted to make some kind of brownie with peppermint for a holiday treat, but I wanted it to be extraordinary. Then it hit me… I needed to make a multi layer treat that was so outrageously rich and delicious that a bite sized piece would do the trick.
For your viewing pleasure, I've created a visual top view of the procedure. You'll have to tell me at which point as you scroll through the photos that you start salivating uncontrollably. First, start with a base of a rich, heavy, cake like brownie with a hint of peppermint mixed in.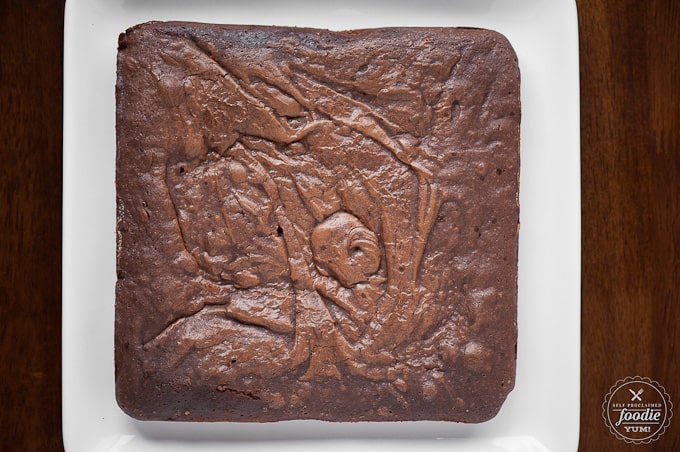 Then, add a layer of thick peppermint butter frosting that tastes like the inside of a peppermint patty.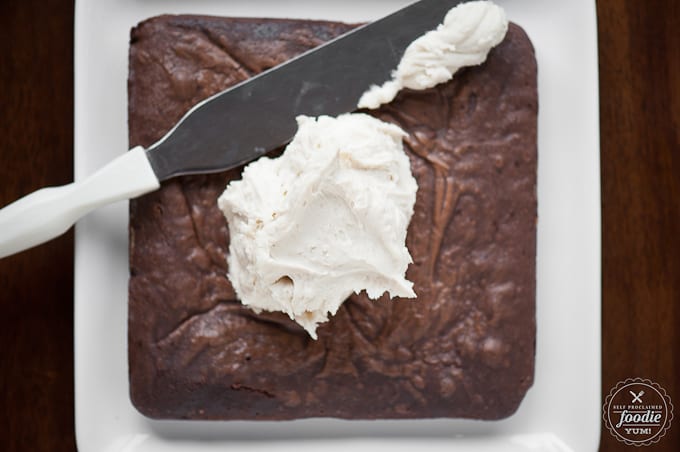 Spread that goodness over your brownies.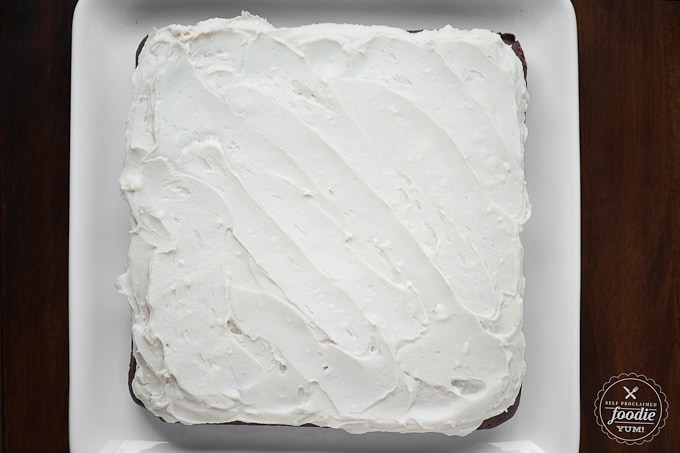 Then add a layer of glistening dark chocolate.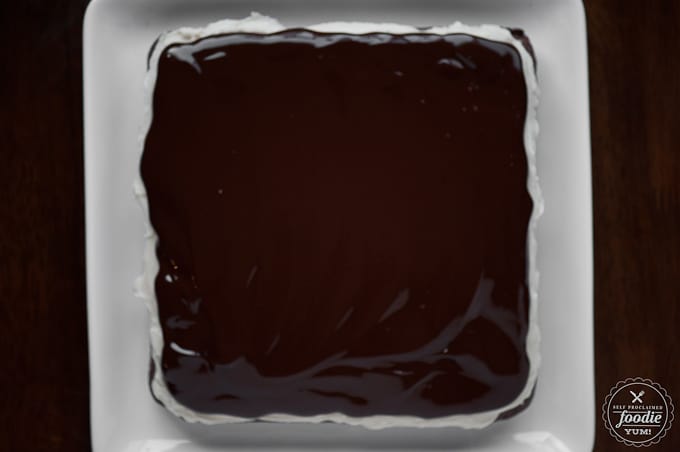 Top it off with some crushed peppermint candies while that chocolate is still wet and smash them in for good measure.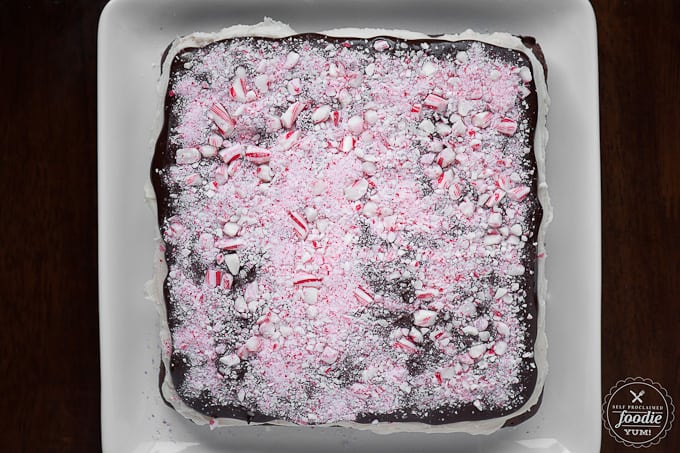 This photo below is out of sequential order but I couldn't interrupt my top view flow of the process, yet my foodie-in-training daughter's cute little hand pouring that velvety smooth chocolate was just too perfect to not share.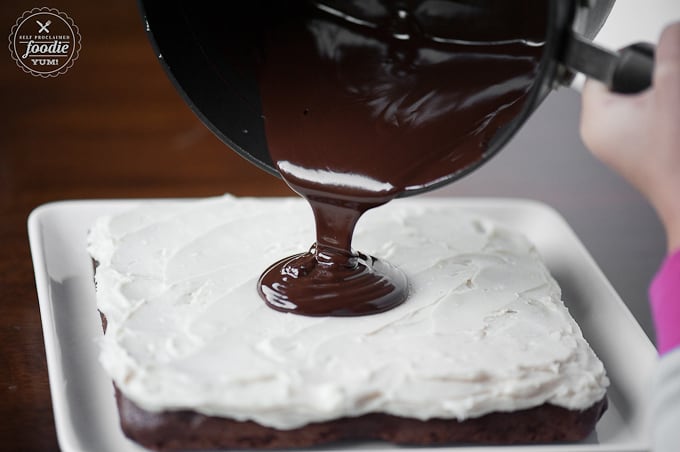 And this is what the final product looks like. Now, I've never been ashamed to admit that I can pretty much destroy an entire pan of brownies if the craving is strong enough, but any more than a couple pieces of these triple threat brownie bites would send me into a diabetic coma, and my pancreas is in full working order.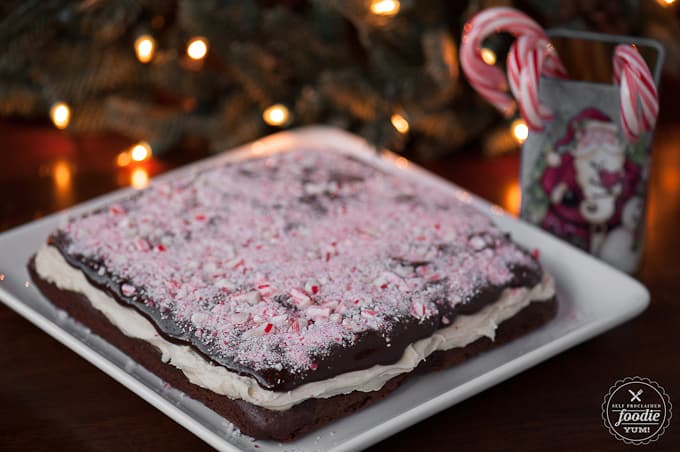 Just cut these bad boys up into bite sized pieces and enjoy! It'll soon become one of your favorite holiday treats!!!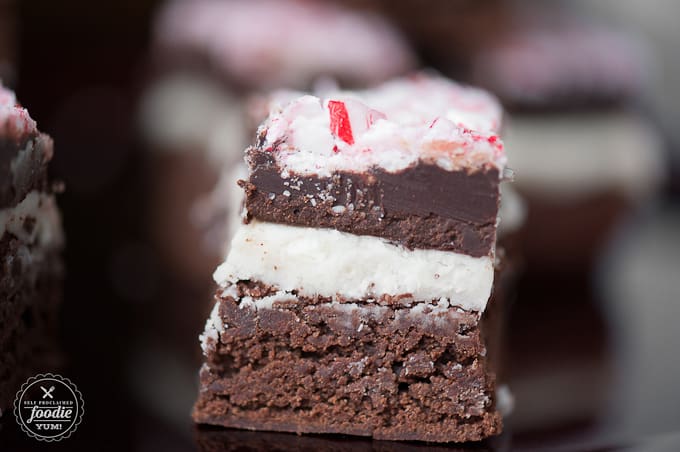 To see all of 2014's holiday treats, click the links below: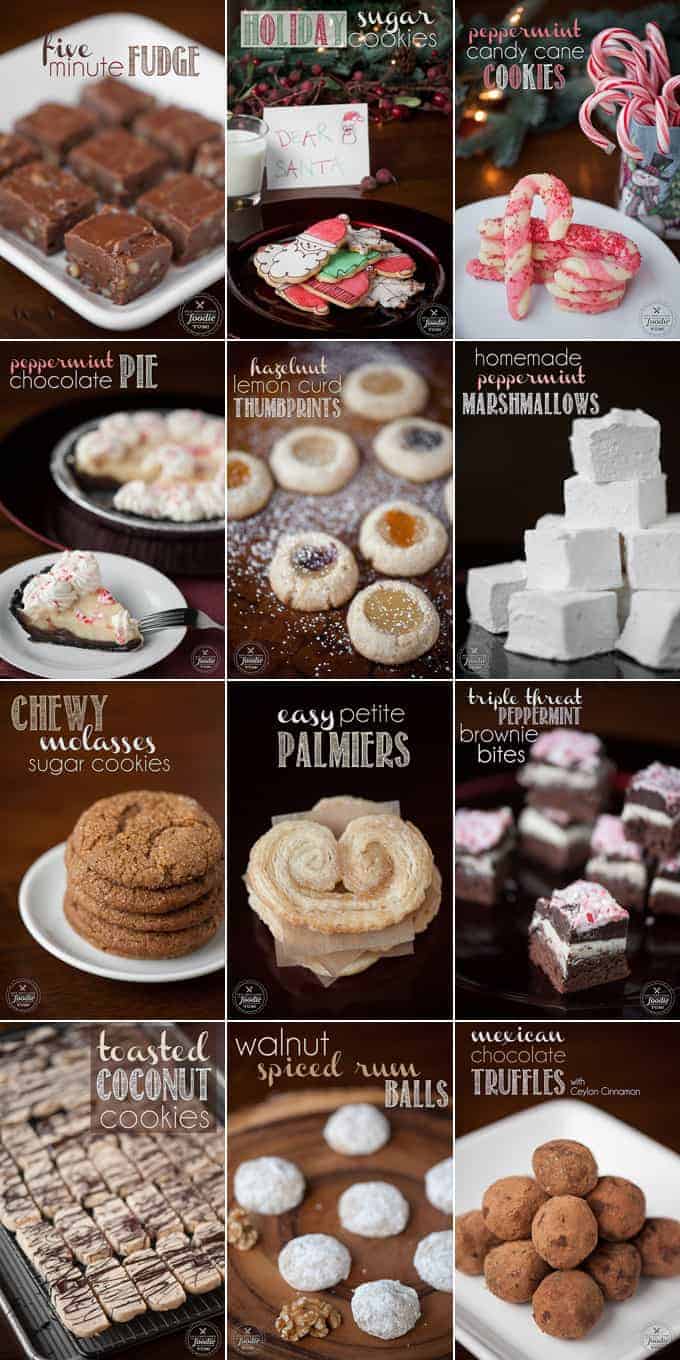 Five Minute Fudge | Holiday Sugar Cookies | Peppermint Candy Cane Cookies
Peppermint Chocolate Pie | Hazelnut Lemon Curd Thumbprints | Homemade Peppermint Marshmallows
Chewy Molasses Sugar Cookies | Easy Petite Palmiers | Triple Threat Peppermint Brownie Bites
Toasted Coconut Cookies | Walnut Spiced Rum Balls | Mexican Chocolate Truffles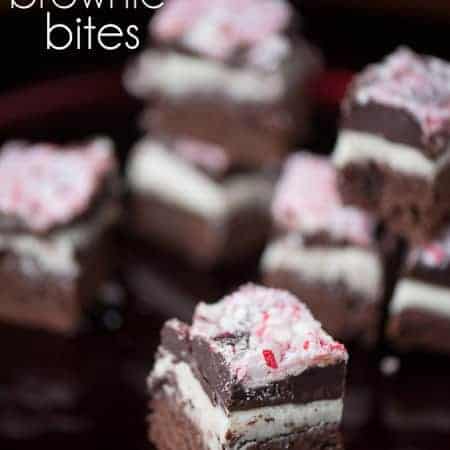 PEPPERMINT BROWNIES
These sinful little Triple Threat Peppermint Brownie Bites pack a three layer decadent approach to pure holiday bliss!
Print
Pin
Rate
Ingredients
Brownie Layer:
4

ounces

dark chocolate

3

tablespoons

butter

1/2

teaspoon

baking powder

¼

teaspoon

kosher salt

½

cup

all purpose flour

2

tablespoons

cocoa powder

2

large eggs

¾

cup

sugar

1

teaspoon

vanilla

1

teaspoon

peppermint extract
Frosting layer:
1/4

cup

4 tablespoons butter, softened

2

cups

powdered sugar

1 1/2

teaspoons

peppermint extract

1 1/2

tablespoons

milk
Chocolate layer:
6

ounces

dark chocolate

6

tablespoons

unsalted butter

1/2

cup

peppermint candies

crushed
Instructions
Preheat oven to 350 degrees F. Line 8x8 inch baking pan with parchment paper.*
To make the brownies:
Chop chocolate into small chunks to enable even melting. Melt dark chocolate and butter on stove over very low heat or on 50% power in microwave. Heat, stir, check and stop heating just when chocolate is melted. Set aside.

In separate bowl, sift together baking powder, salt, flour, and cocoa powder.

Beat two eggs in stand mixer until light and fluffy. Gradually add in ¾ cup sugar and continue beating until mixture thickens. On low speed, incorporate the dry ingredients. Fold in the melted chocolate butter mixture until well combined. Stir in vanilla and peppermint extract.

Spread brownie mixture into bottom of prepared baking dish. It will be very thick.

Cook in preheated oven 25-30 minutes or until knife or toothpick comes out clean. Allow brownies to remain in baking dish 10 minutes before removing.
To make the frosting:
Cream butter on high speed in the bowl of a stand mixer using the paddle attachment until light and fluffy, about 4 minutes. Gradually add the powdered sugar and continue to mix until fully incorporated. Stir in the peppermint extract. Remove brownies from pan and spread frosting in an even layer.
To make the chocolate layer, melt dark chocolate and butter over low heat until fully mixed, stirring often. As soon as everything has melted, remove from heat. Allow to cool to a lukewarm temperature, then spread in an even layer over the frosted brownies.
Crush the peppermint candies in the food processor or with a rolling pin over a bag. Add the candies to the chocolate layer before it dries. Cut with a very sharp knife and store in an air tight container. These bites freeze well too.
Notes
*I like to use the foil lined parchment.