Triple Chocolate Banana Bread is an incredibly moist sour cream banana bread made extra chocolately from cocoa powder, chocolate chunks, and mini chocolate chips.
The result is a dense sweet quick bread that is loaded with both chocolate and banana flavor. Enjoy it with coffee for breakfast or as a sweet snack!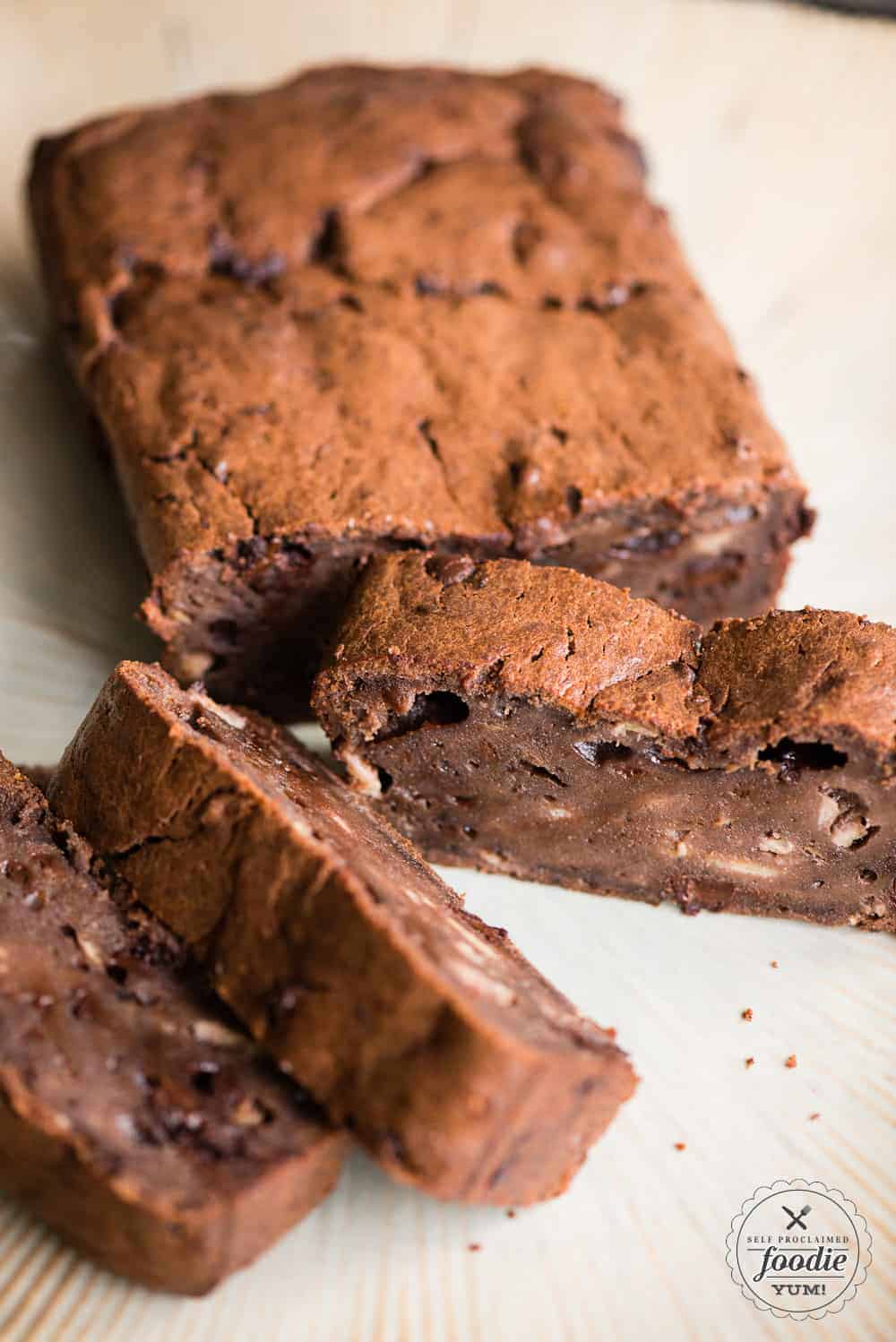 MY OTHER RECIPES
Chocolate banana bread can easily be considered a breakfast or a dessert. You might prefer it as breakfast because it has eggs and bananas, both breakfast foods. Plus, can you imagine anything else tasting better with a hot cup of coffee?
The realists out there might say chocolate banana bread is more of a dessert. It does, after all, have a fair amount of sugar, flour, and chocolate. That's the perfect dessert trifecta! With or without chocolate, bananas can make some really outstanding desserts!
Whether you want to call it breakfast or dessert, this chocolate banana treat is downright delicious!  This recipe yielded a perfectly crisp on the outside and super moist inside! My chocolate banana bread recipe definitely has more of a dark chocolate taste, so if that doesn't tickle your fancy you'll need to back off on the cocoa powder a bit.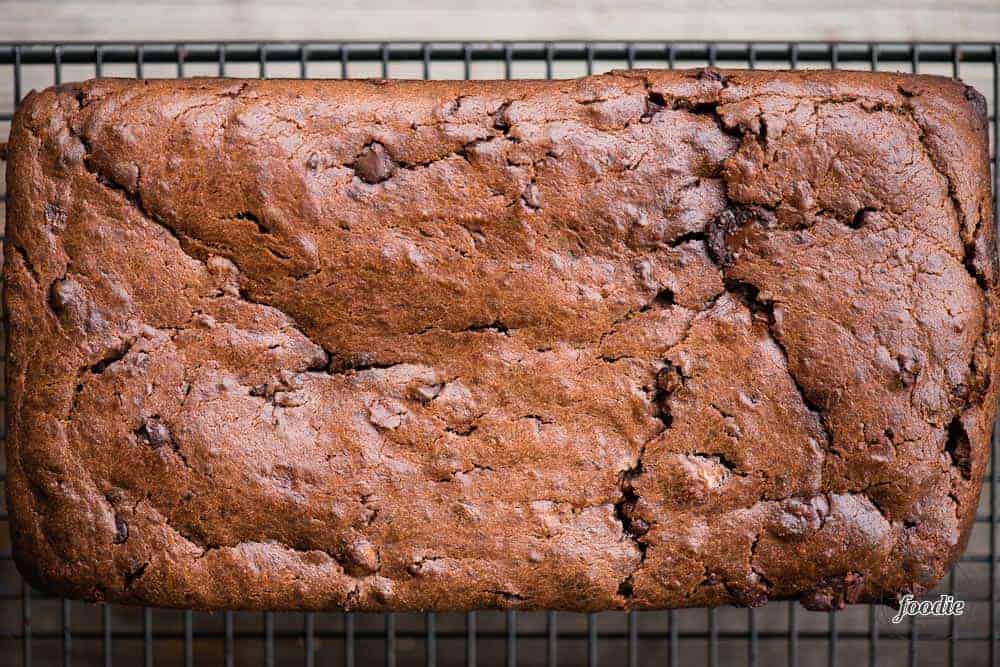 Tips for making the best, super moist, delicious chocolate banana bread:
My tip for mashing the banana is to give it a good massage while it is still in the peel. The more you can mash it up in it's original casing, the easier it will be to mix in with the other ingredients.
As with most baked goods, the method and techniques you use to mix the batter will effect the final outcome. My recommendation is to blend the liquid ingredients separate from the dry. Then, when you combine the two, you'll want to mix them just enough to have everything fully incorporated.
I opted to incorporate both the chocolate chunks and mini chocolate chips into the batter for this particular chocolate banana bread recipe. You can also sprinkle the mini chips on top which will still give you the same amount of chocolate taste, but the bread should have more lift and be a little less dense.
I highly recommend using parchment paper to line your loaf pan. It makes it so much easier to get the cooked bread out. If you prefer your edges to be crisp, however, then lather that pan up with a thick coat of butter before you pour fill it with batter.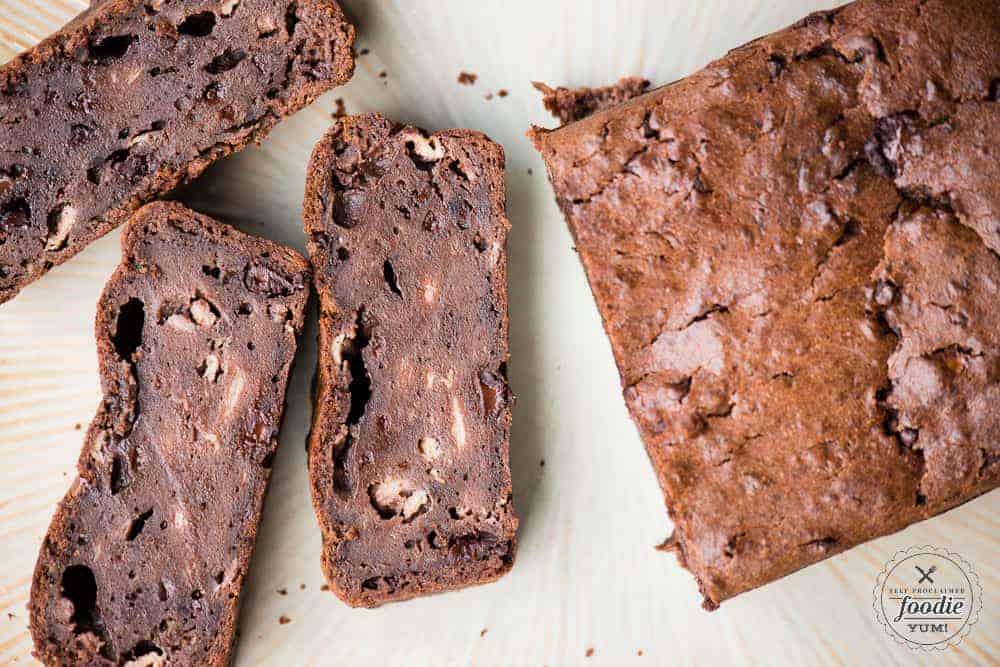 Kitchen tools used to make my chocolate banana bread:
Glass nesting bowls: Every good recipe requires a good set of stackable nesting bowls. This is the set I bought and I love them! Well made, great price, sturdy – perfect!
Bread pans: I love that these come in a two pack because if a recipe says that it only makes one loaf, I usually double it (like I did the second time I made this recipe!
Stand mixer: This is a kitchen must-have. I use mine almost any time I bake. It's one of the few appliances I will allow to always remain on the counter rather than be put away.
Silicone spatula: Any time you're working with a batter, you'll need a good quality scraper. These are the ones I use because they do the job right. They don't leave a nasty silicone taste when I like the batter off at the end!
Pan lining paper: Anytime I make a baked good that I will want to take out of the pan and slice or cut, I almost always use this foil parchment pan liner.
Flexible Measuring Cups – My sister and I first found these at a cooking class and we thought they were just the best invention. Any time you are measuring and/or pouring liquid, these are simply the best to have on hand. They make a great gift for your favorite cook, too!

Ingredients
1/2 cup butter, softened
1/4 cup granulated sugar
1/4 cup golden brown sugar
2 eggs, slightly beaten
3 large ripe bananas, mashed
1 teaspoon vanilla
1/2 cup sour cream
1 1/2 cups flour
1 teaspoon baking soda
1 teaspoon cinnamon
1/2 teaspoon salt
1/4 cup cocoa powder
1/2 cup chocolate chunks
1/4 cup mini chocolate chips
Directions
Preheat oven to 350 degrees F. Line a loaf pan with parchment paper or heavily grease with butter.
In a large bowl, cream together butter and sugars. Add eggs, bananas, vanilla and sour cream. Mix until well combined.
In a small bowl, combine flour, baking soda, cinnamon, salt, and cocoa powder. Add large spoonfuls of the dry ingredients to the wet and stir just enough to fully incorporate all of the ingredients. Fold in the chocolate chips.
Pour batter into prepared pan. Cook in preheated oven for about 60 minutes or until a toothpick inserted into the middle comes out clean.
Recipe Notes
You may use two mini loaf pans in place of a single standard size loaf pan if you wish. Cooking time will be reduced, so remove from oven when center is cooked.
If you have a lot of ripe bananas, you may want to double or triple this recipe.
This banana bread freezes well. Just slice, wrap tightly with plastic wrap, and freeze until ready to eat. For longer storage you may also want to use freezer paper to keep it from getting freezer burn.
You can either add the mini chips to the batter like I did or you can spread on top of the batter before placing in the oven.