Trick-or-Treat Overload Bars are the best use for leftover Halloween candy, insanely delicious, and an easy to make cookie bar dessert treat.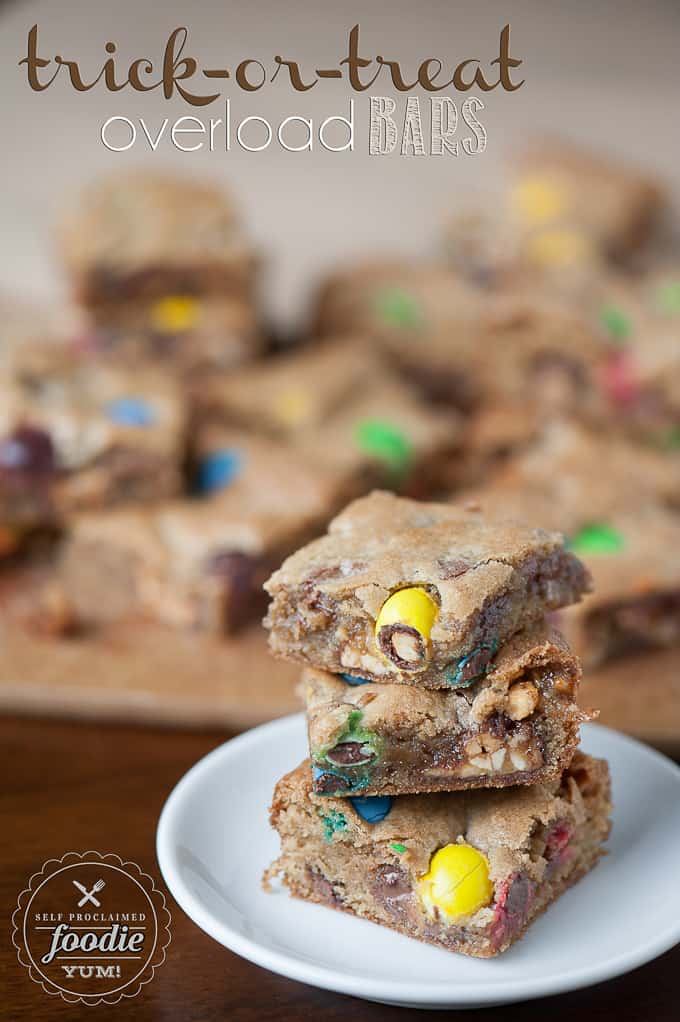 Oh.My.Word. These cookies were GOOD. I won't post anything on my blog that I don't deem "good" because I wouldn't want you to go to the effort to make something I suggest and not like it. You know I would never do that to you. But let's be realistic. Some recipes are good, and some are GO-OOO-OOOOOD! These are the latter.
I started by taking a couple handfuls of Halloween candy. You can really use any kind you want. I won't tell you how good these cookie bars are with sour patch kids and smarties because I think that would be pretty awful, so don't take my "you can use any kind" that literally. What I mean is pick some chocolate candy that you like and toss it in. Sure I could have used Twix or KitKat, but I think those are best eaten as is. I was specific in my choosing and went for only those candies that had chocolate and peanut butter. Trust me on this one.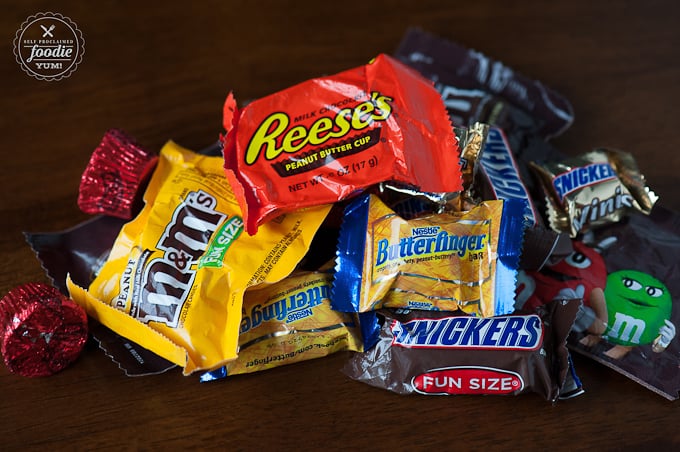 Then, all I did was make my most favorite chewy chocolate chip cookie dough, but I omitted the chocolate chips. I wouldn't want to go totally overboard here, after all. I've had so much fun this Fall making all sorts of Halloween recipes. Everything from a spooky spicy carrot curry soup to ghost meringue cookies to my wildly popular vampire cocktail along with a zombie shooter and kid-friendly witches' brew. It seemed fitting to close out the month with a recipe that repurposes Halloween candy. Reduce Reuse Recycle. AmIright?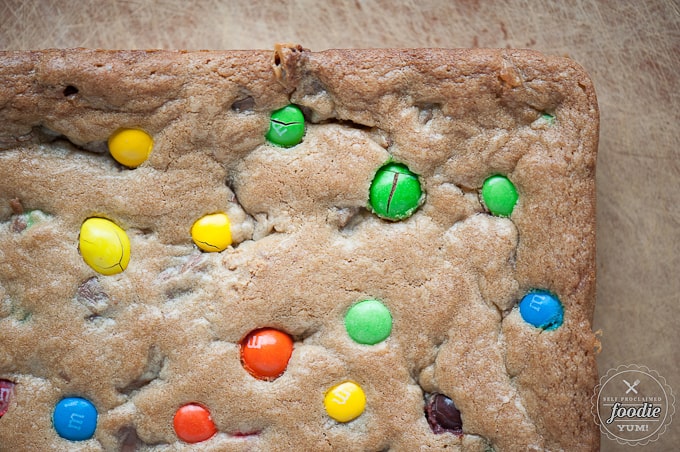 I took these bars into work to feed my co-workers and it was like throwing a fresh steak into the lion pit. They took one bite and then reached for a second (and if they're reading this, I expect they'll leave me a comment to let me know).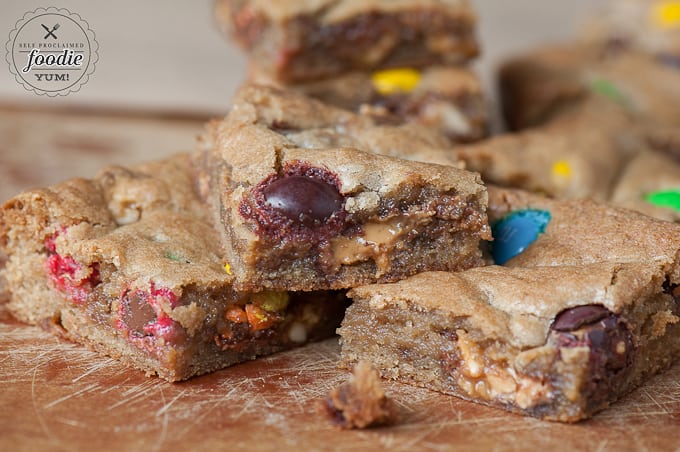 The best part about these bars is that you never know what each bite is going to taste like. Will it be creamy peanut butter? Solid chocolate? Peanuts? Whatever is inside a butterfinger? Sorry – I have no idea if real peanuts are even an ingredient there. I just know they taste freaking good. So this Halloween, sneak a couple handfuls of candy out of your kids' well guarded buckets and make these Trick-or-Treat Overload Bars. They'll start you on the fast track to bigger numbers come New Year's Resolution time. And don't worry… my plan is to fatten everyone up with my recipes from now until January 1st, and then you'll see tons of smoothies and salads on the blog. I got your back.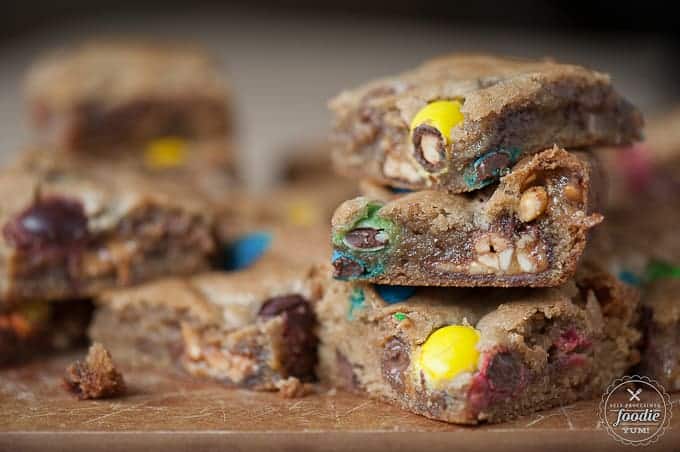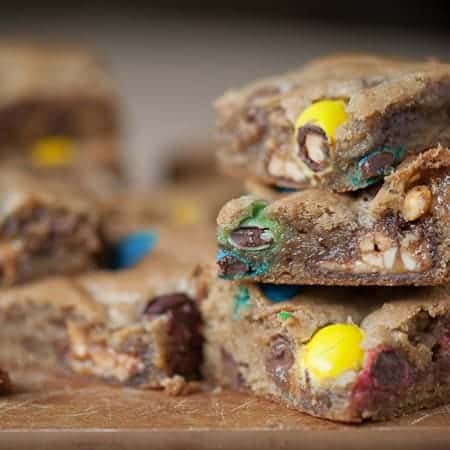 Trick-or-Treat Overload Bars
These Trick-or-Treat Overload Bars are the best use for leftover Halloween candy, insanely delicious, and an easy to make cookie bar dessert treat.
Print
Pin
Rate
Ingredients
1 1/4

cups

all-purpose flour

1/2

teaspoon

baking soda

1/4

teaspoon

salt

1/2

cup

unsalted butter

at room temperature

3/4

cup

firmly packed brown sugar

1

teaspoon

vanilla

1

large egg

1

cup

Halloween candy

cut into small pieces, handful of M&Ms set aside
Instructions
Preheat oven to 400 degrees F. Line an 8x8 inch baking pan with parchment paper (optional).

In medium sized bowl, combine flour, baking soda and salt. Set aside.

In bowl of stand mixer, combine softened butter and brown sugar until light and fluffy on medium speed, about 3 minutes. Add vanilla and continue mixing. Scrape sides, add egg, and mix until well incorporated.

Add flour mixture and mix just until combined. Add chopped candy mixture, reserving some M&Ms for the top, if desired. Spread mixture into prepared baking dish and bake in preheated oven 12-14 minutes or until golden brown. Allow to cool in pan until cool enough to handle, then transfer to cutting board to cut into individual squares.