This CLASSIC BEEF STROGANOFF with fresh mushrooms, beef sirloin steak, and egg noodles is the ultimate comfort food a family dinner time favorite!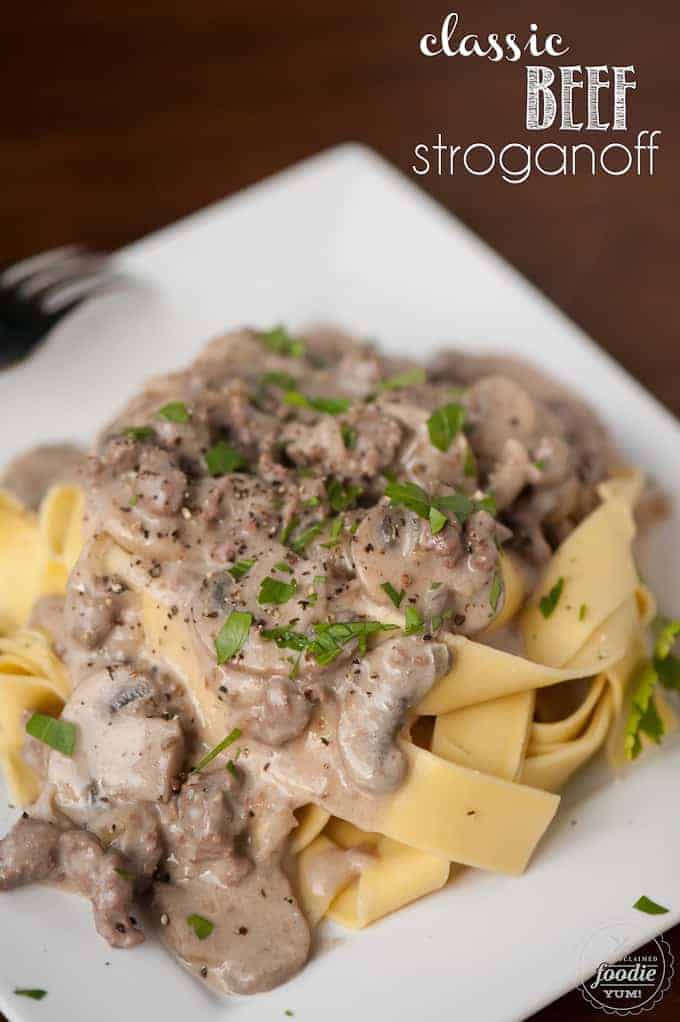 Don't ask me why, but I had a mean craving for beef stroganoff that just wouldn't go away. To me, it is very similar to salisbury steak, but you swap noodles for the mashed potatoes and its just the right amount of different. Did you know that Trader Joe's sells "thinly sliced sirloin steak"? It comes pre-sliced in a sealed package. I mean, how great is that? I love to cook but I loathe cutting raw meat.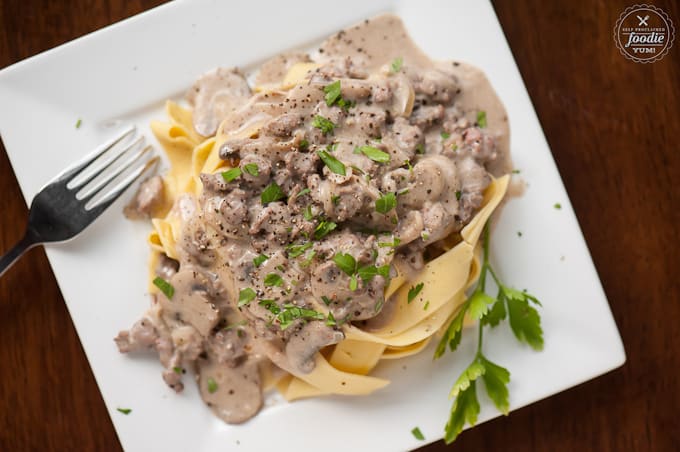 I also have a hard time finding egg noodles. I'm pretty sure they're easy to find in stores like Walmart or Safeway, but I do most of my shopping at Trader Joe's and the farmer's market (but I've been doing more and more shopping at Fred Meyer lately). I just happened to be at Trader Joe's and didn't have the patience to drag the kids to another store, but luckily they sell these gorgeous thick wide long egg noodles. They are absolutely perfect for this recipe, but be careful because they stick to each other so a small splash of olive oil after you drain them will prevent one large sticky noodle ball. That thinly sliced sirloin cooks up so wonderfully tender, and the fresh mushrooms are simply divine. This is definitely one of my favorite classic comfort food meals.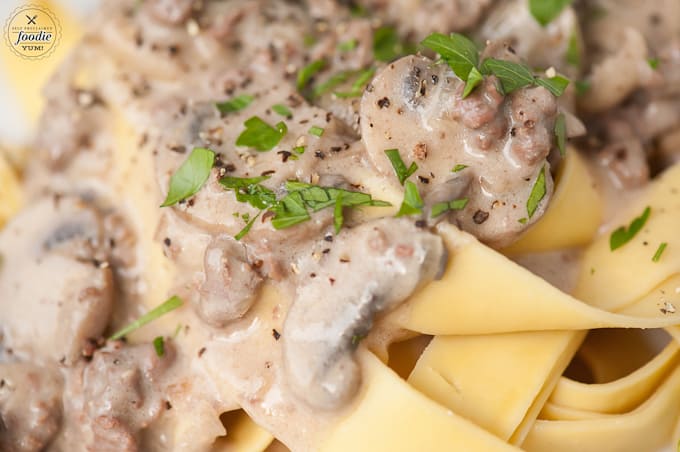 This Classic Beef Stroganoff with fresh mushrooms, beef sirloin steak, and egg noodles is the ultimate comfort food a family dinner time favorite!
Ingredients
1/4

cup (1/2 cube) butter

1-2

tablespoons olive oil

16

ounces fresh mushrooms, sliced (I used half crimini, half white)

1

large yellow onion, thinly sliced

2

garlic cloves, minced

1-2

tablespoons onion dip mix (half a packet)

1 1/2

pounds beef sirloin steak, thinly sliced against the grain (Trader Joe's sells this pre-sliced)

2

cups beef stock, divided

1

tablespoon Worcestershire sauce

1/4

cup all-purpose flour

1 1/2

cups sour cream

1

teaspoon salt

16

ounces egg noodles, cooked
Instructions
Heat butter and oil in dutch oven or heavy bottom skillet over high heat. As soon as its melted and hot, add the mushrooms and onions. Stir, and allow to cook until liquid has evaporated and they are barely golden brown. Add garlic and onion dip mix, stir, and allow to cook for another 1-2 minutes. Remove from heat and set aside.
Using same skillet over high heat, cook the meat until brown. This should only take a few minutes. Add one cup of the beef broth and the Worcestershire sauce, reduce heat to low, cover, and simmer for 15 minutes.
Whisk flour with remaining cup of beef broth until smooth. Pour into pot with beef and stir well. Add mushroom mixture back in with the beef and heat to boiling over high heat, stirring constantly. Allow to cook at a boil for about a minute.
Reduce heat to low and stir in sour cream. Heat until everything is nice and hot (do not allow cream to boil). Serve over noodles.