I'm so excited to share with you the most delicious Summer Crostini with Red Wine Caramel appetizer recipe along with my Oregon Farm Tour experience.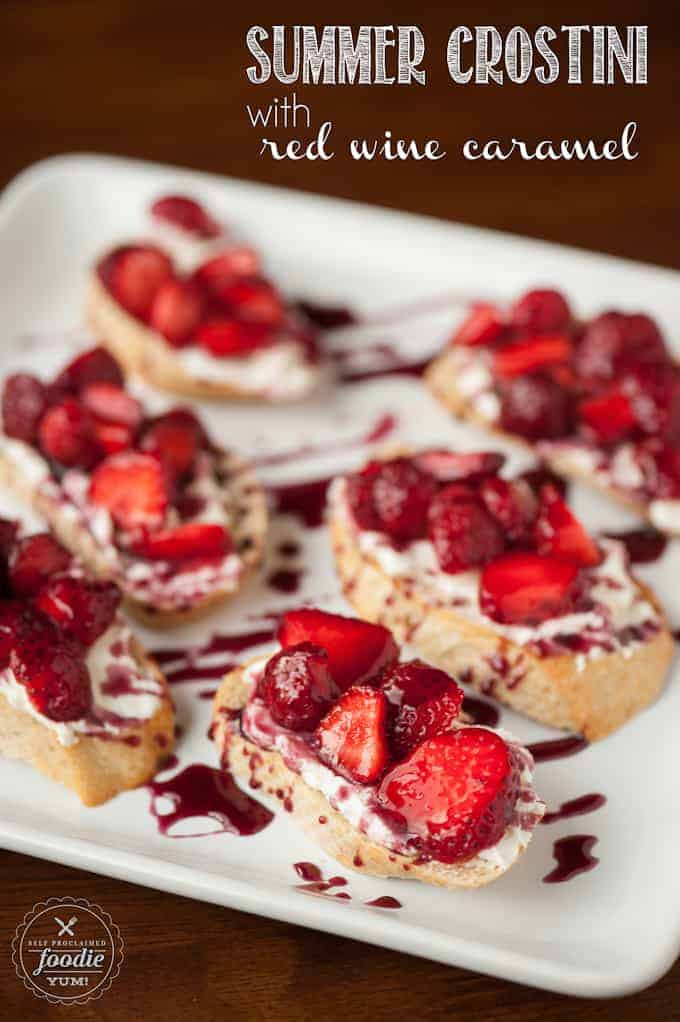 If you've ever been to Oregon, then I'm confident you've already fallen in love with the state. If you've never been, write it down on your bucket list and know that you will come to love it eventually. Prepare yourself, because I'm about to smother you with photos that sum up why I adore this incredible state. The photos in this post capture so many of the things that make Oregon amazing, and they are all from one magical day where a group of awesome food bloggers and I were able to enjoy the best Oregon has to offer on our very own private farm tour, hosted by OXO in partnership with Travel Oregon and Willamette Valley Oregon Wine Country.
Clearly, I am a very lucky girl.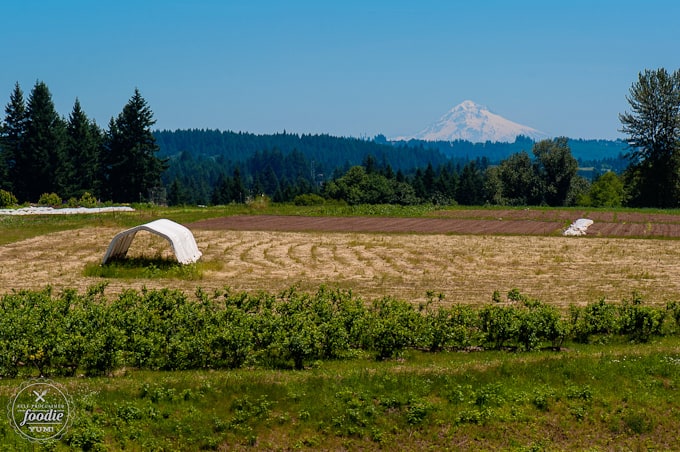 Our tour consisted of three stops, the first being Our Table Cooperative which is a cooperatively-owned, community-supported organic farm and on-farm grocery store. 
One of the founders, Narendra, took us on a farm tour where we got to see their newly opened grocery store and gourmet gift shop (which, of course, I loved and could have spent hours admiring). Then he showed us around their commercial kitchen. We walked around the farm and picked the very first-of-the-season blueberries, met the chickens, saw all the various bee hives, and walked through the greenhouses, viewing some of the most beautiful and healthy plants I've ever seen. The best part of our visit to Our Table was the incredible knowledge and information Narendra shared with us. If you know anything about me, then you know that there are only a few things on this planet I'm really passionate about: my people (friends & family), food, and photography (in that order). Everything Narendra shared with us was not only extremely fascinating, but it was thought provoking and gave me some additional ammunition anytime I get in an argument with someone who thinks GMOs and non-organic practices are totally acceptable. I may not be able to argue politics, but when the subject of food comes up in a heated debate – watch out.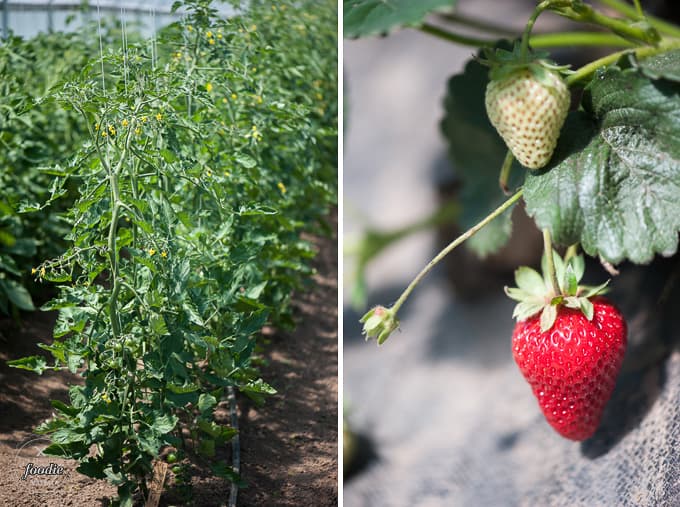 First, I have to tell you that I don't think I had ever seen such large, perfect, dark red organic strawberries growing in Oregon. Ever. We got to eat them later in the day, and they were exquisite.
Wondering about some of the other wonderful information we gathered on our farm tour? We learned the best ways to combat climate change is to build the best soil and organic matter that is good for the Earth, good for our bodies, and sustainable. Narenda said that when he was growing up in India, they would have worms in their cauliflower. It was normal. You just picked them out and ate the good parts. He couldn't believe that when he got to the US there were no worms in the food. Since the food we sell here basically has to be blemish-free or no one will buy it, our farms throw away 30-40% of what they grow because it isn't "perfect".  We have created so many wasteful habits as a society. We also learned about how Our Table Cooperative is energy neutral. They do some amazing things like planting tall native plants that shade out nasty weeds instead of poisoning the ground with chemicals. Sure, it takes longer to get natural results when harsh chemicals which are immediate, but isn't it better to have a long-term sustainable solution? They also filter the run off water from neighboring properties to avoid algae blooms to keep lawn chemicals and excess fertilizers out of the earth. They  also restoring their streams to create a natural biological method to clean their water. All good things.

Happy chickens make good eggs.

Can you see the little bees swarming around the bee hive boxes in the photo above? Did you know happy bees make good honey, too? I love the fact that the honey that is produced on the farm is called zipcode honey so you know exactly where it came from. We got to enjoy some of the honey that was just harvested at our next stop on the tour and, let me tell you, I have never enjoyed honey that good.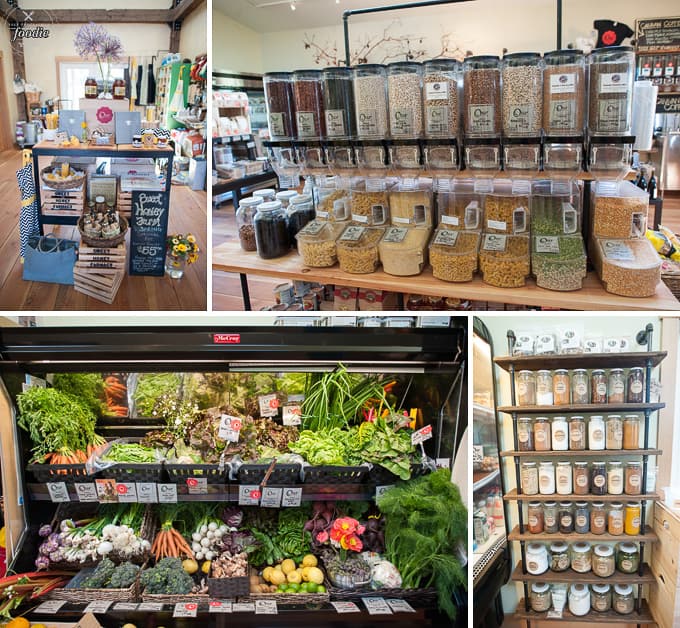 The inside of the store was a total treat for my senses. I could have spent hours meandering and admiring all that they had to offer. The produce and the flowers were the most beautiful I had ever seen. Yes, this was my kind of heaven.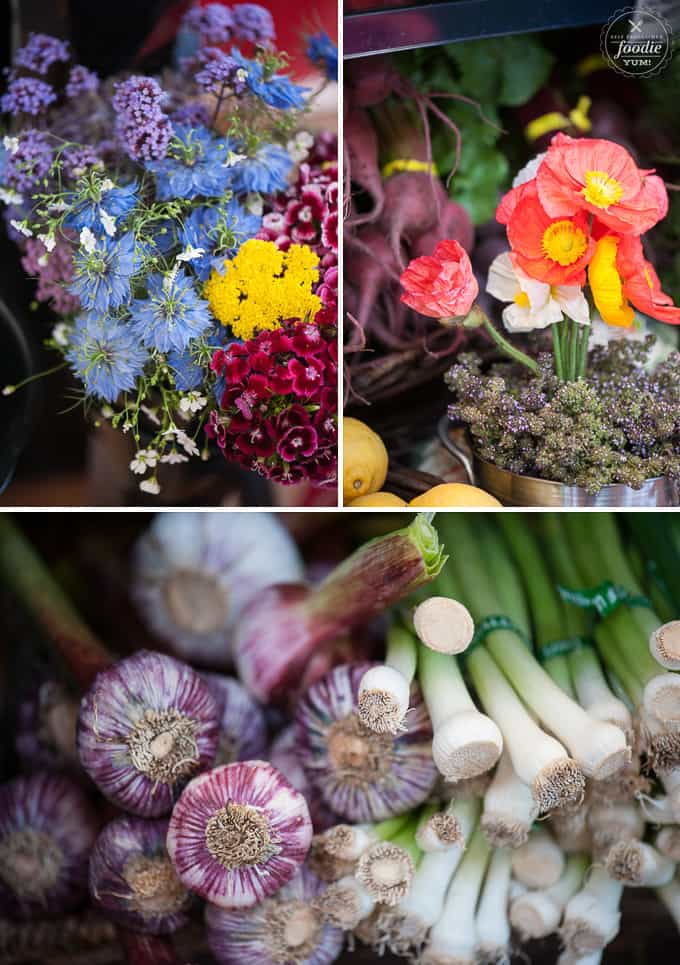 Our second stop on the tour was The Kitchen at Middleground Farms. It was the midpoint of what I will be referencing as my dream day for years to come. I was in heaven here. Let me tell you why.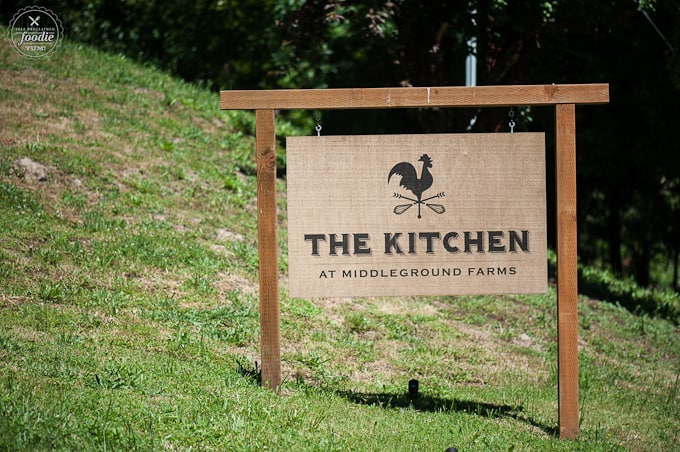 The Kitchen is a recreational cooking school on a small working farm. All ingredients come from chef/owner Jessica Hansen's farm or from one of her neighbors. The lessons take place in a beautifully refashioned cattle barn equipped with modern-day appliances (i.e. my dream kitchen). They've even completely remodeled the building next to the barn as a small apartment and rent it out. This is where my husband and I plan to sleep on our next wedding anniversary, right after we enjoy a cooking class in my dream kitchen. Jessica greeted us outside with chilled wine and told us about her farm and what we'd get to enjoy while we were there.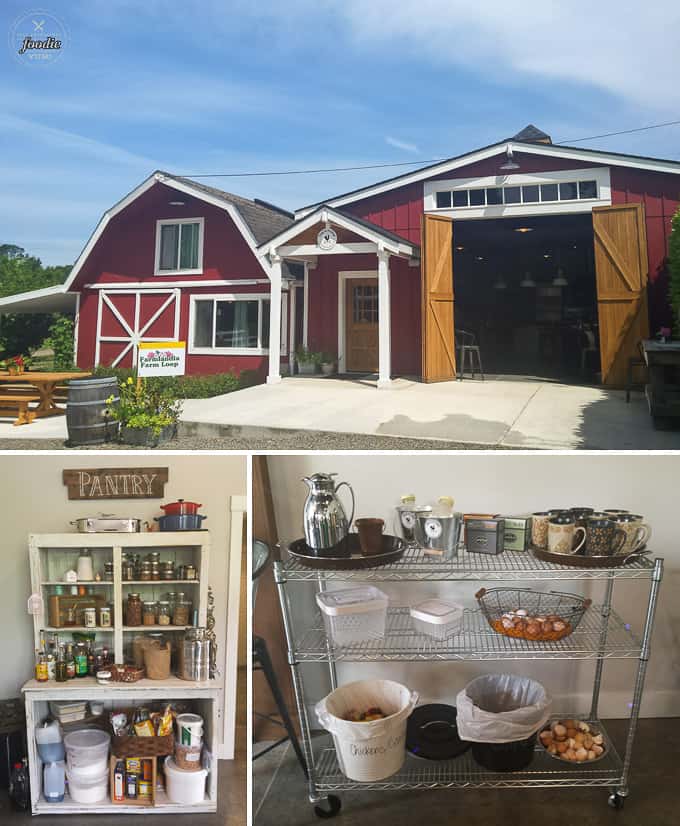 Chef Jessica is an unbelievably talented professional chef, and she was so incredibly welcoming to our gaggle of food bloggers. We washed up and embarked on making the summer crostini with red wine caramel sauce, another appetizer with fresh mango, arugula, the best prosciutto I've ever tasted, and homemade butter with radishes and Jacobsen Salt. This was our first glimpse at the OXO Good Grips GreenSaver Produce Keeper, which housed the strawberries we took from the farm. I knew I needed these in my kitchen the moment I laid eyes on them.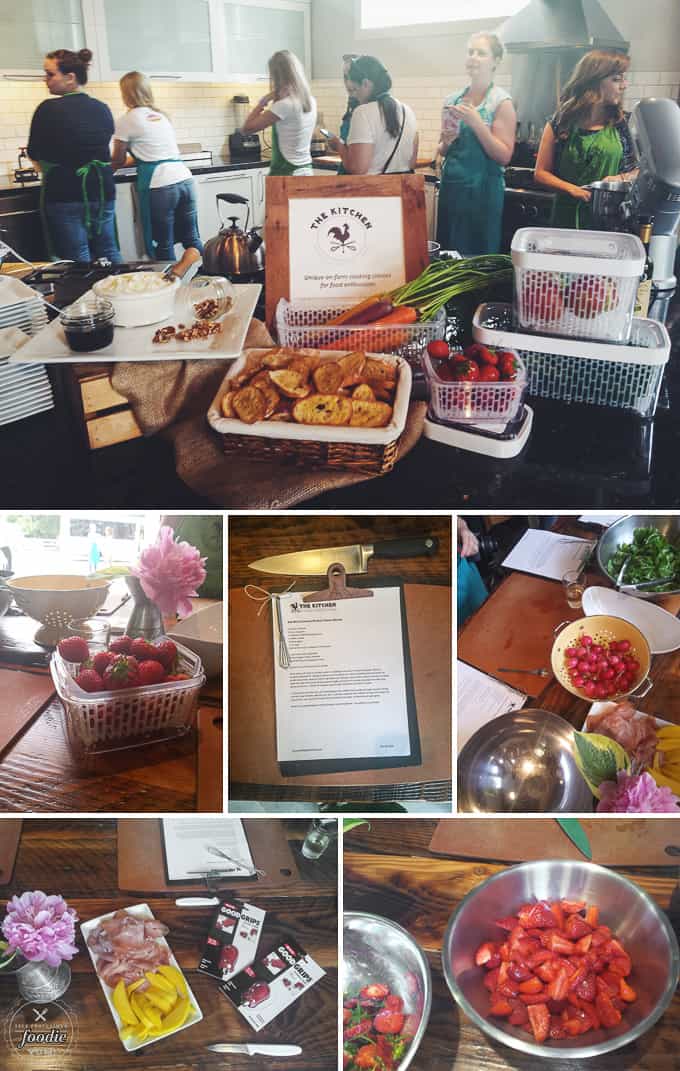 Here's a glimpse of the summer crostini we made while at the Kitchen. The fresh edible flowers made all the difference in the presentation. Sadly, I didn't have any at home when I recreated it. Also, Jessica makes her goat cheese from scratch, and boy was that a treat.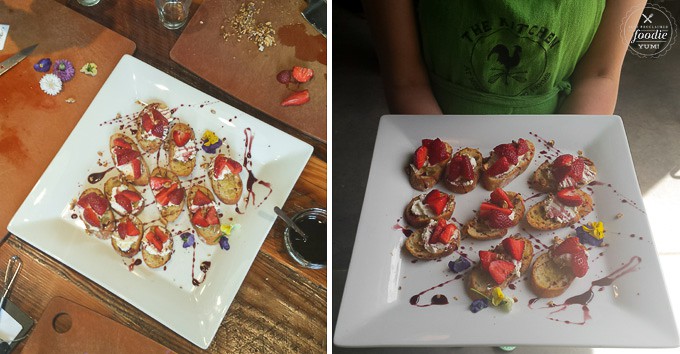 Making homemade butter was so much fun! I've attempted to make my own butter in the past (in my kids' preschool class) by shaking around some marbles inside a plastic container filled with heavy cream and a pinch of salt. I had no idea the final steps to doing it the right way was to squeeze out the liquid in a bowl of ice water. We spread some of this freshly made butter on a piece of toast with a pinch of Jacobsen Salt and a drizzle of the honey that we took from Our Table Cooperative. Talk about a treat for my taste buds! 
The final stop on our farm tour was at the fabulous The Allison Inn & Spa. We were treated to the most beautiful lunch at Jory, where we wined and dined to our hearts' content. I've already told my husband that we are coming back for our next date night.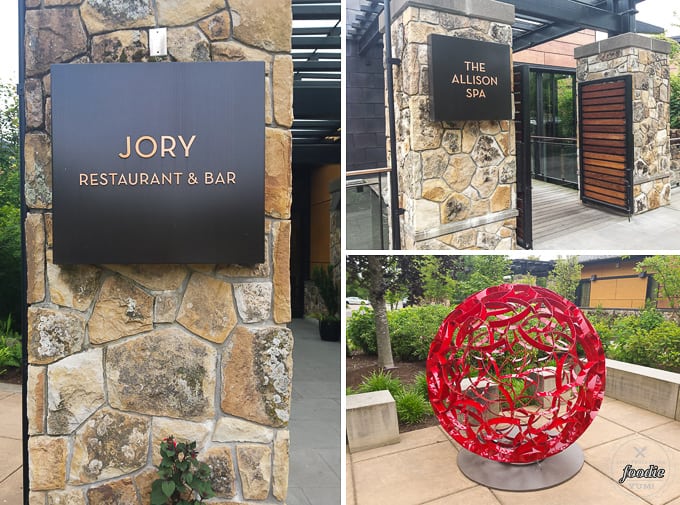 I really love using fresh produce as a table centerpiece. Not only is it the most beautiful presentation a person can share, but after the meal you can use everything you see. We enjoyed the most elegantly styled table and exquisite lunch. Sadly, we didn't have enough time to see the gardens at The Allison, where they grow so much of the produce that they serve right there at Jory, but their Master Gardener came out and shared a lot of information about everything they do. We were also treated to an appearance by their Wine Steward, who not only kept our glasses filled with delicious wines for the duration of the entire meal, but also talked a bit about how the fertile Willamette Valley is home to so many incredible winemakers in addition to the amazing farms. This lunch was a great example of why Oregon soils are ideal for creating world-class Pinot Noir, as well as fantastic fruits, vegetables, and berries.


During the tour, I got to talk to a few awesome ladies who work for Travel Oregon. Talk about having the coolest job in the world. Think about it. You 1) live in Oregon and 2) get to share everything you love about this glorious state with other people. Where can I apply? If you haven't seen The Seven Wonders of Oregon video they created, just hop on over to their website to watch. If you don't already live here, I'm willing to bet you'll be online making your travel plans to visit within 15 minutes of watching it. I use their website all the time to figure out what to explore, where to go, what to eat, where to sleep. They have all the information any visitor or local might need. I count my lucky stars every day because I started my adult life in this perfect state of Oregon.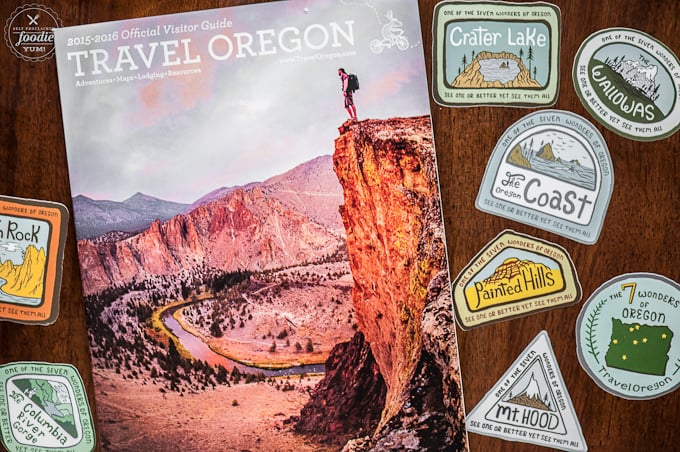 Time to hear me talk about the recipe. It starts with fresh strawberries, which means we have to talk about the OXO Good Grips GreenSaver Produce Keeper. The second I saw this on the Farm Tour, I knew I had to have it. Not just to go with the other bazillion OXO kitchen items that I use every day, but because we go through truckloads of produce, especially during the summer months. Because I'm getting so much produce at the Farmers Market when it's at the peak of its  ripeness, it usually goes bad within a couple of days of buying it. Now, if you do the math and consider that I'm only able to hit the Farmers Markets once a week and buy enough produce to last the entire week, having everything go bad after three days doesn't exactly add up. My Green Saver is the solution!  Why is it so awesome? Three things cause produce to rot and spoil quickly: ethylene gas, improper airflow and uncontrolled humidity. The GreenSaver solves all of that. They have an all-natural, non-toxic activated carbon filter filled with nooks and crannies that trap and absorb ethylene gas, slowing down spoilage and keeping fruits and vegetables fresh longer. They also have elevated, removable baskets that promote proper airflow and help prevent moisture buildup by lifting produce up and away from the bottom and sides of the container. These baskets can also be used as a colander to rinse fruits and veggies before enjoying. The vent on top of each Produce Keeper slides open and closed to maintain optimum humidity levels for different types of produce. These three factors work together to keep your produce fresh longer. Plus, the carbon filters last 90 days. All you have to do is pop a new one in at the start of each season. I also loved how well it fits in my refrigerator. I was tempted to clean out my fridge before I took the photo below, but then I remembered I was a food blogger and this is what it looks like all the time – jam packed. Good thing the GreenSaver was the absolute perfect size to fit on my middle shelf with zero wasted space.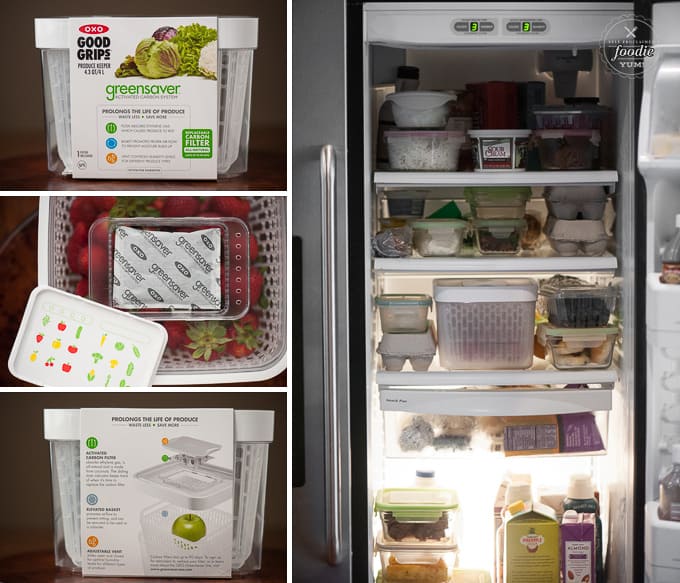 I put my GreenSaver to the ultimate test by filling it with several pints of Hood Strawberries. If you've never had a Hood Strawberry, its different than any strawberry you've ever had. You see, I grew up in California where the strawberries are large, firm, and usually hollow and/or not red in the middle. I grew up knowing this is what a strawberry was. My mind was blown when I moved to Oregon and enjoyed my first Hood. They are small. They are deep red all the way through. They taste like they've been sweetened with sugar, but the sweetness is 100% in the fruit. They are the best in the world. The only problem with the Hoods, besides their very short growing season, is that their shelf life is incredibly short. Almost to the point where you have a one day peak window before they start getting mushy and then moldy. Yep, if I was going to tell you that I loved my new GreenSaver it would be after I put it through my ultimate Hood Strawberry test. It passed with flying colors. It kept my Hoods perfect for a full week. It may have been even longer had we not eaten them all.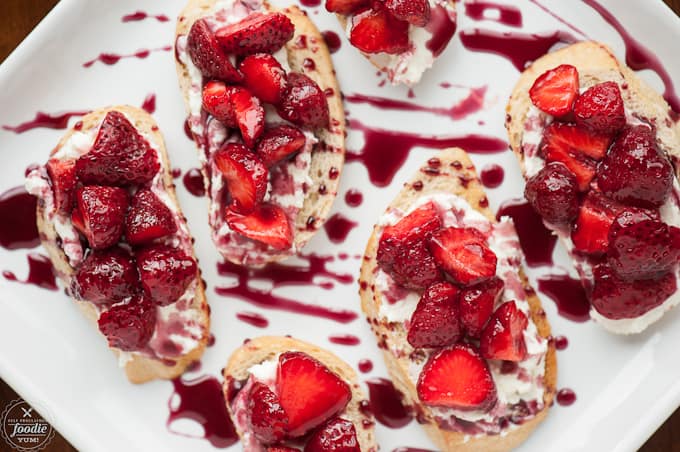 Just look at how gorgeous those berries are! Our family gobbled these up. The red wine caramel is amazing. It has savory notes from the shallots and the herbs but is ultimately a sweet syrup that pairs so well with the tangy goat cheese mousse and the sweet ripe strawberries. I can't wait to make these next time we entertain.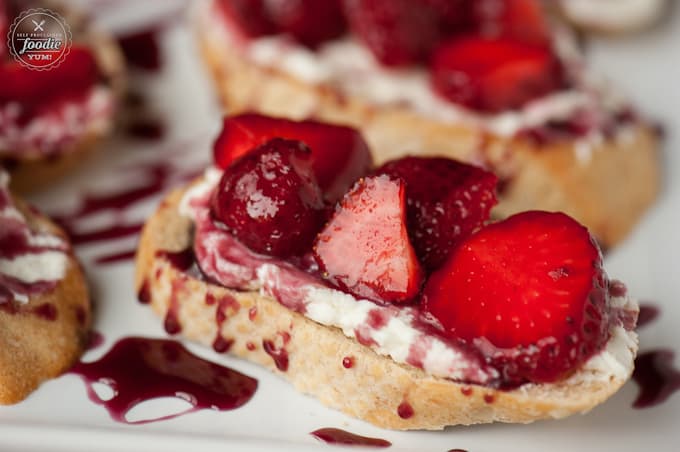 So, there you have it. The longest post I've ever written which could have easily been five times longer because of how much I loved that farm tour. If you get the opportunity to create the same experience for yourself, you won't regret it!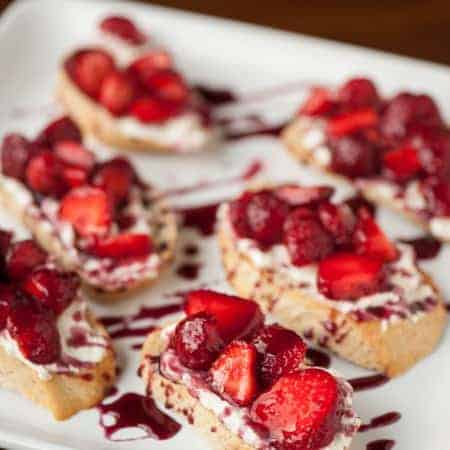 Summer Crostini with Red Wine Caramel
I'm so excited to share with you the most delicious Summer Crostini with Red Wine Caramel appetizer recipe along with my Oregon Farm Tour experience. Recipe provided with permission by Jessica from
The Kitchen at Middleground Farms
Print
Pin
Rate
Ingredients
red wine caramel:
2

cups

dry red wine

1/2

cup

ruby port

1

teaspoon

whole peppercorns

1

shallot

minced

4

thyme sprigs

1

cup

sugar

squeeze of lemon juice
goat cheese mousse:
1

cup

heavy cream

separated

10

ounces

goat cheese

softened

salt & freshly ground pepper

to taste
for serving:
crostini

freshly sliced strawberries
Instructions
To make the red wine caramel sauce:
In a saucepan, bring the wine, port, black peppercorns, shallot, thyme sprigs, and sugar to a boil, stirring until the sugar dissolves. Add the lemon juice. Cook over moderate heat, without stirring, until syrupy and reduced to about 1 cup, about 35 minutes.

Strain and discard the solids. Let the caramel cool slightly.

To make the goat cheese mousse:

Whip 3/4 cup of cream on medium speed with whisk attachment in a stand mixer until it reaches stiff peaks. Move to another bowl and chill.

Add goat cheese and remaining 1/4 cup cream to stand mixer and switch to paddle attachment. Beat on medium high speed until the goat cheese softens, about 5 minutes, scraping down the sides of the bowl. Increase speed to high and mix for 4-5 minutes scraping down sides once during the process. Fold in the whipped cream in four increments and season to taste.
To serve:
Liberally spread goat cheese mousse on top of crostini. top with fresh strawberries and drizzle with red wine caramel sauce.