With a little black food coloring and Asian marinade, these spooky Stranger Wings look like roasted bat wings and are the perfect Halloween party food!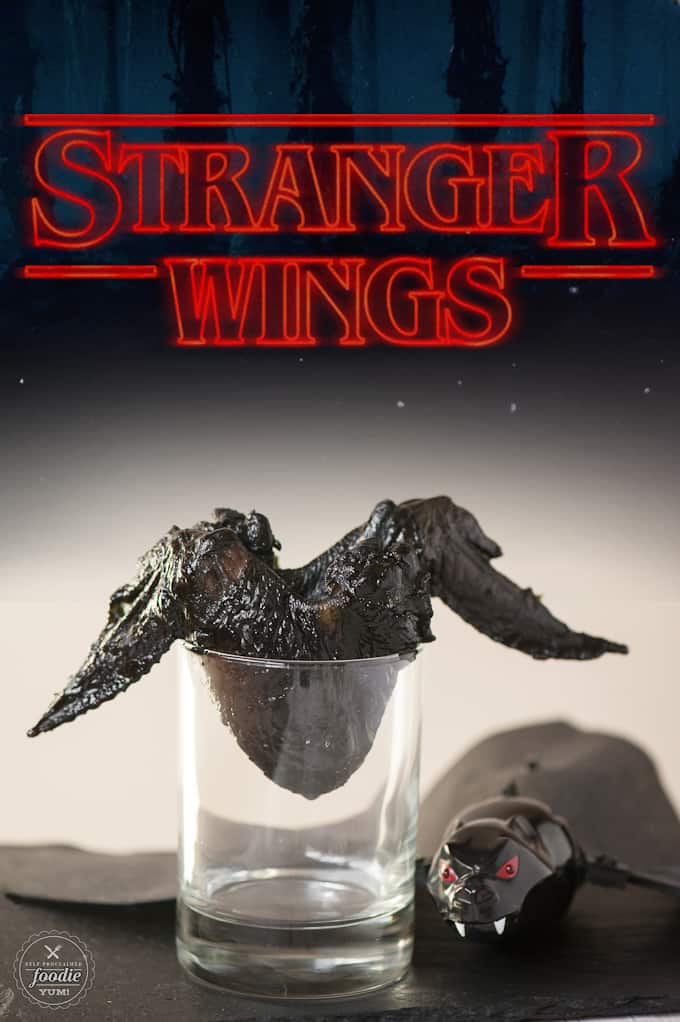 Have you seen Stranger Things on Netflix yet? If yes, I'm sure binge watched it just like we did. If not, boy do I envy you because you have hours of binge watching yet to come. I knew this show would be awesome right from the opening scene. Everything about that first episode brought me right back to the early 80s. The next day at work, I heard some co-workers talking about this awesome new show they started watching and low and behold, they were talking about the same show. One of the main things that really stood out in the show was how true to form they stayed to the time period, from the casting to the set design and wardrobe right down to the font of the title in the opening credits.  So many people were fascinated by the same thing they ended up making a very short documentary explaining their process in creating it. I'm pretty good at photoshop, but I know making my title look like the show's would take some time and effort. When I searched for what the font was called, can you believe that the creative minds behind the title sequence actually made a website where you can type in whatever you want and it will create it for you?  Check it out!  http://makeitstranger.com  That alone saved me a ton of time and I know whatever I came up with wouldn't look half as good.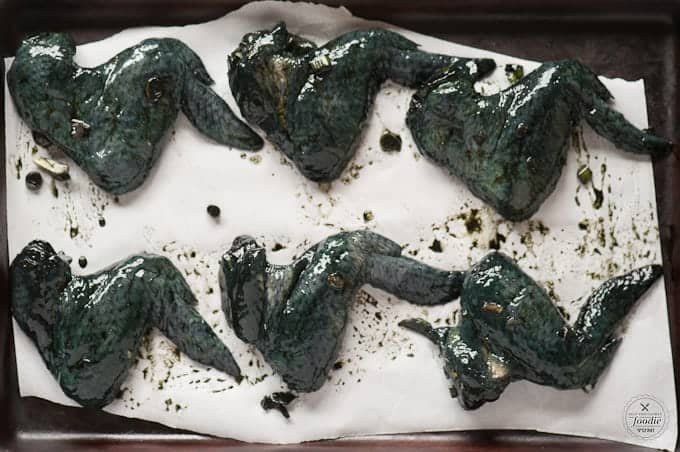 Sometimes I share my husband's post ideas with you. He rarely reads my blog (probably because he hears me talk about food non-stop and doesn't need to read about what we just ate for dinner last night). My guess is that he'll actually read this post because it was his idea. He comes up with a lot of crazy ideas, but every so often he thinks of something that I think is clever. He said "you should do something Halloween related but play off of Stranger Things. What could you do… Stranger Strings (like onion rings)…  We thought about it for a minute and came up with Stranger Wings because I could easily make chicken wings look like bat wings. Gross, but everything about Halloween should be a little bit gross and creepy, right?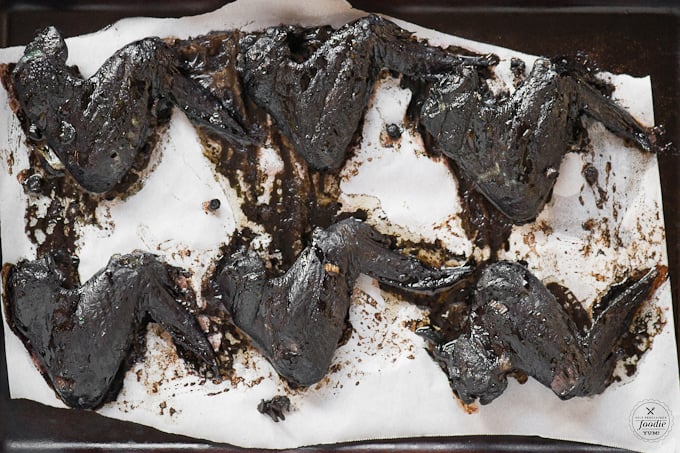 I'm really not a fan of artificial coloring. In fact, I do my best not to buy any food that has any and am so happy to find more and more foods colored naturally with things like beet and tumeric. There are two exceptions where I make an exception – Halloween and Christmas. There are so many Halloween treats that just need to be colored orange or black and you can't get away from coloring a few Christmas cookie frostings with some red or green (I am working on using only natural stuff this Christmas, though).  These wings simply wouldn't look like bat wings if they didn't have a little help from that food coloring.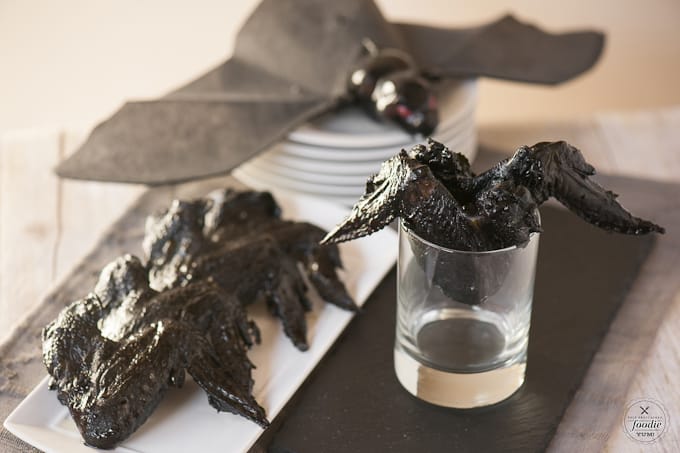 I used one of my favorite marinades that's a combination of soy sauce, toasted sesame oil, garlic, ginger, and green onions. I use it as a salad dressing, a marinade, heck – I almost want to put it in a glass and drink it – its that good.  I let these wings soak overnight. Not sure that's necessary to really let the color do its magic, but I just ran out of time and had to cook them the next day. These would be so fun to set out at a Halloween party alongside some Vampire Cocktails, Witches' Brew, Spider Cookies, and all those other spooky treats that make Halloween parties so much fun. Enjoy!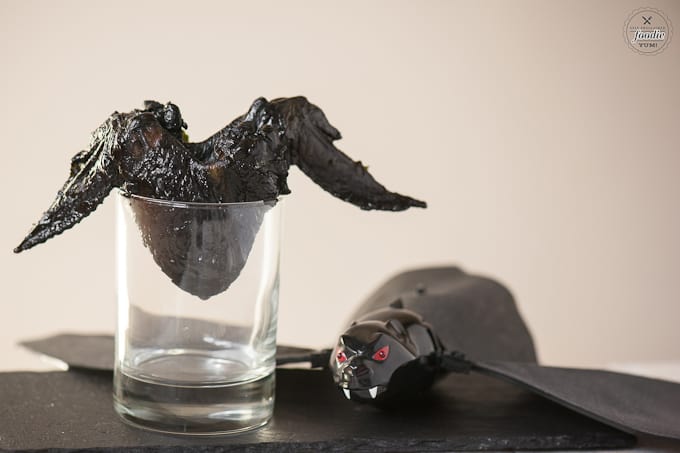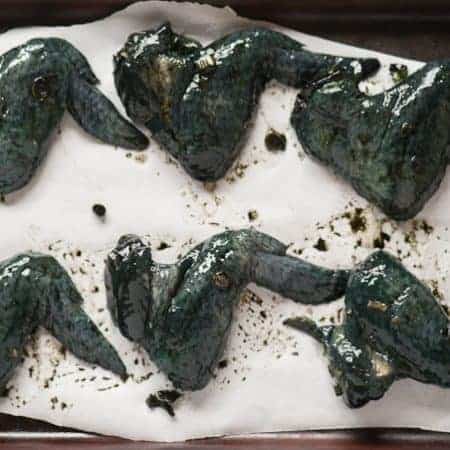 Stranger Wings
With a little black food coloring and Asian marinade, these spooky Stranger Wings look like roasted bat wings and are the perfect Halloween party food!
Print
Pin
Rate
Ingredients
6

whole chicken wings

I used a 1.81 pound package

1/2

cup

soy sauce

1/4

cup

toasted sesame oil

1

tablespoon

packed brown sugar

2

teaspoons

fresh ginger

minced

2

cloves

garlic

minced

5

green onions

minced

1/2

teaspoon

black food coloring
Instructions
Combine all ingredients in a gallon sized resealable bag and marinate in refrigerator for at least an hour up to over night (I soaked mine over night).

Line a baking sheet with parchment paper and preheat oven to 375 degrees F.

Shake off excess marinade and line wings in a single layer on baking sheet. Discard marinade. Bake wings in preheated oven for about 45 minutes or until the meat is tender and begins to pull away from the bone.