There are many different methods to Storing Cut Greens.  I find that putting them in water, like cut flowers, works like a charm and saves refrigerator space.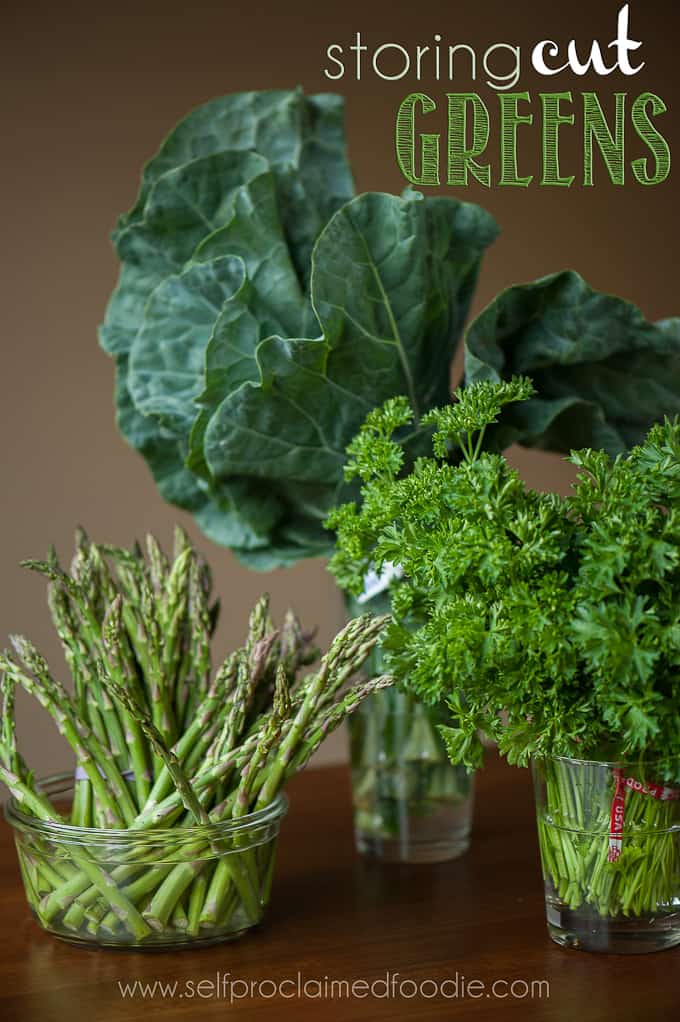 This is actually a fairly new realization I've had and I'm sharing it with you.  I hope that makes you feel extra special.  I've been buying vegetables my entire life.  Many times I have the best intentions of making something delicious and healthy, but I prefer not to go to the store every day.  I'd throw that plastic bag of vegetables in the veggie drawer and a few days later I'd pull out a nauseating stinky liquidy bag of greens.  Then, one day, I had an epiphany.  We used to have a refrigerator in our garage and that helped tremendously with the overflow of food.  As you can imagine, we're big eaters in my household and because I only like to go grocery shopping once a week, we often needed the extra storage.  We decided to get rid of the garage frig because it was a piece of junk.  I had to get clever when I had more food than what could fit in our single refrigerator.  The fruit and veggie drawers were packed yet I had all these wonderful greens from my farm box.  What to do?  I figured they were no different than cut flowers so I put them in water and left them on the counter.  Not only did it keep my food fresh and hydrated, but it saved a ton of space in the frig.  I just changed the water daily until I was ready to use everything.  Just last week I got a couple bundles of fresh spinach.  Not the kind with just the leaves in the bag, but the entire roots and stems were in tact.  I was super lazy and just left them on the counter overnight.  The next day they looked near dead and wilted.  I put them in a glass of water and they perked right up, just begging to be pulverized in my next green smoothie.
Basically, any kind of vegetable where the greens grow above ground and is cut at the base can be stored like this.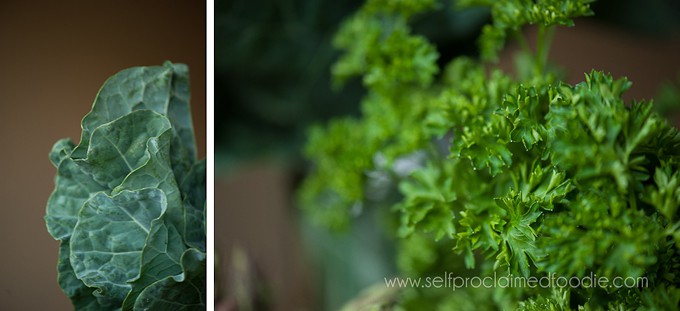 I know this is a really simple and basic trick, but I've been cooking for most of my life and just realized I could do this.  Either this means I'm not that bright or its a common problem and a good thing I shared it with the world.  I'm hoping its the latter.