This savory organic Spring Vegetable Goat Cheese Frittata is a simple and quick mealtime solution that your family will love for breakfast or dinner!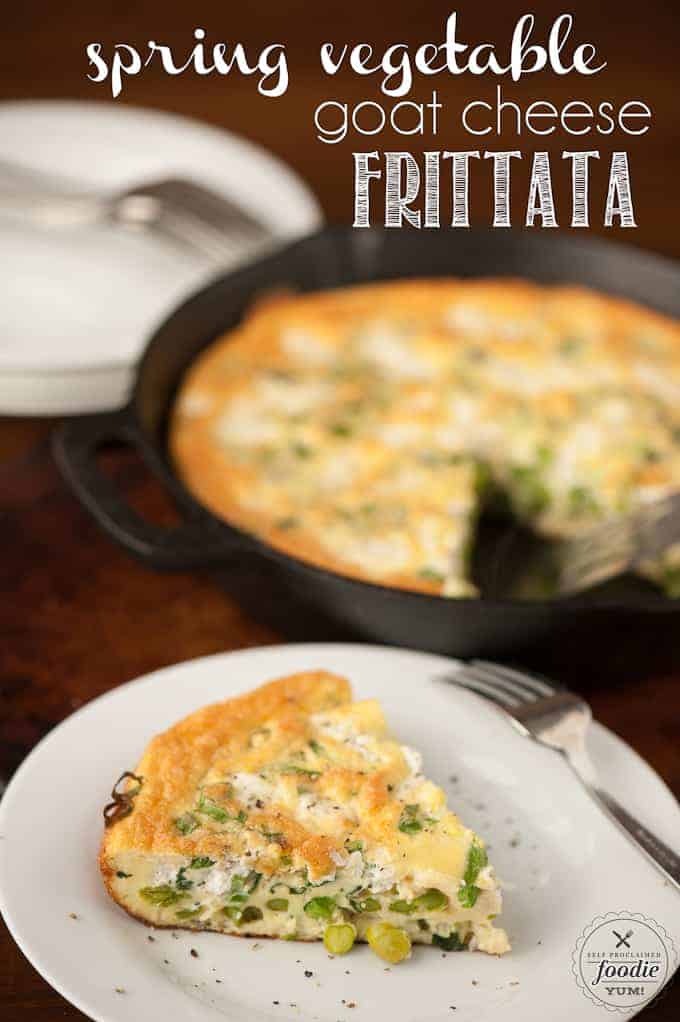 MY OTHER RECIPES
I encourage my family to live a healthy lifestyle. You may find that hard to believe given the naughty treats I post, but those are consumed in moderation in our house or their given away. All four of us are pretty darn healthy and I attribute that to the fact that in addition to some pretty darn good genes, we choose high quality food. This recipe, for example, is made with tasty organic ingredients and is loaded with protein and fiber. I found the secret to making the perfect frittata – cottage cheese. I chose to use Horizon dairy products because I've always loved their quality and taste. I remember being dirt poor in college (I shall not reveal how long ago because it will make me feel old) years ago. At the time, "organic" was just starting to be a thing. Despite the fact that I had little to know money, I remember making it a priority to buy organic milk, and the only variety available was Horizon. It was my first introduction to organic and I have been committed ever since. The difference in quality and taste, let alone what I was putting into my body, made it all worth it.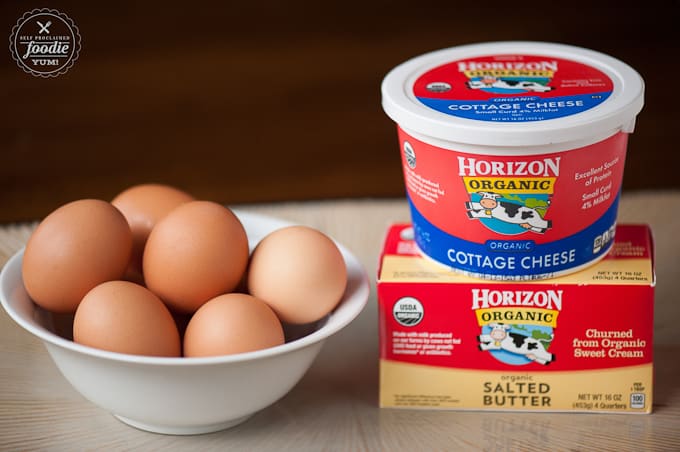 Ah, spring vegetables. Aren't they beautiful? I didn't take a photo of the goat cheese, but in my opinion, nothing goes better with these gorgeous greens below than a savory goat cheese.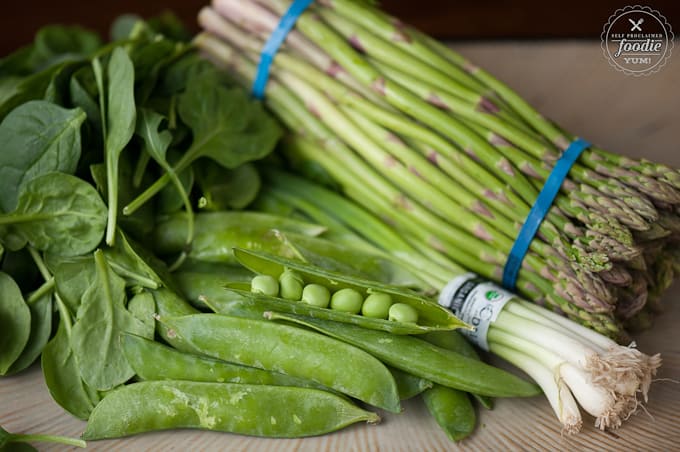 I used just over 4 cups of the veggies raw in this recipe. That outta make you feel pretty good, eh?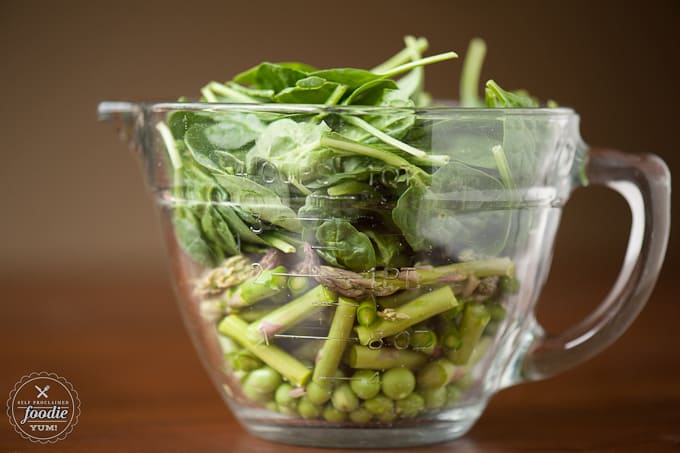 The trick when cooking with veggies like this is to blanch them in boiling salted water for just a minute. This not only softens them and removes the starchy flavor, but it makes them even more vibrant green.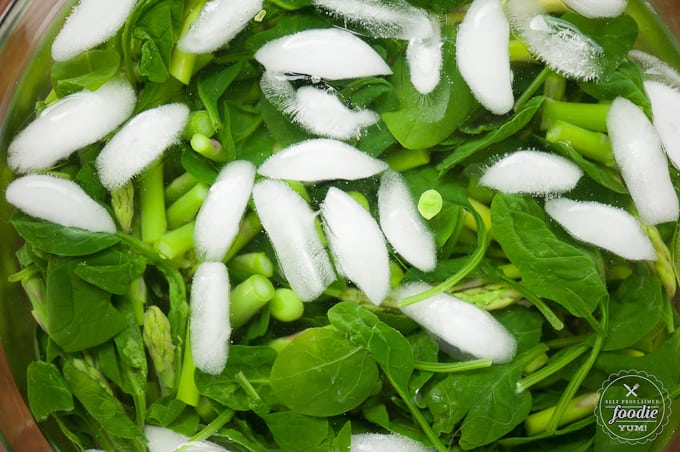 Then you instantly transfer them to an ice water bath and then strain them while squeezing out any excess water. Bam – perfection.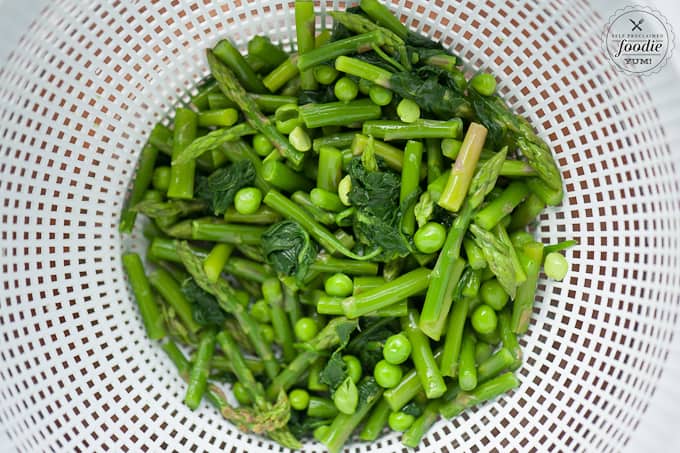 Mmmm butter.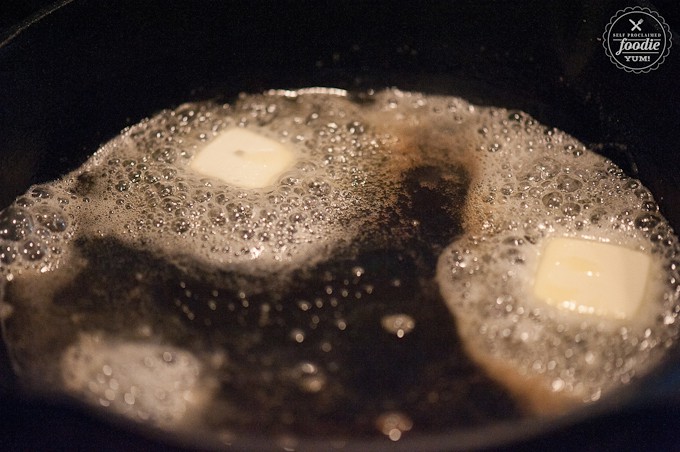 One of the most beautiful things about this meal is how quick it is to make. The trick to a wonderfully fluffy frittata is to beat your eggs and the cottage cheese for a full five minutes. I let my stand mixer with the whisk attachment do all the work, and while they're getting all nice and airy, I blanch the veggies so they're ready to go. Then, you get your cast iron skillet as well as your oven nice and hot and you pour that egg and cottage cheese mixture into that wonderful melted butter.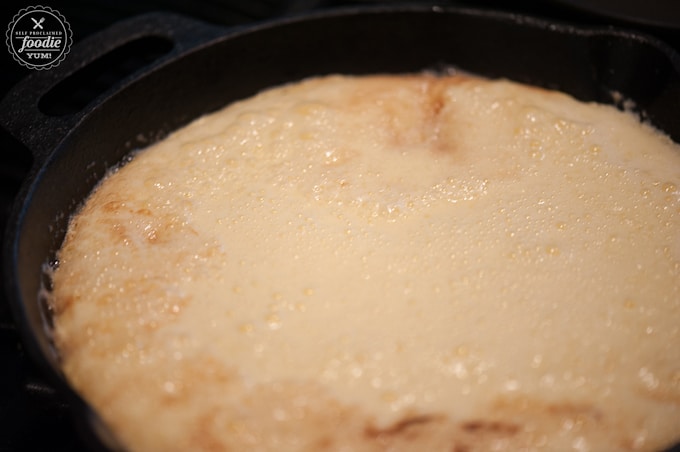 You let that egg cook just for a minute or two and then you place your blanched veggies in. Next, top with sliced green onion and your goat cheese and you're well on your way to a super quick and filling breakfast or dinner.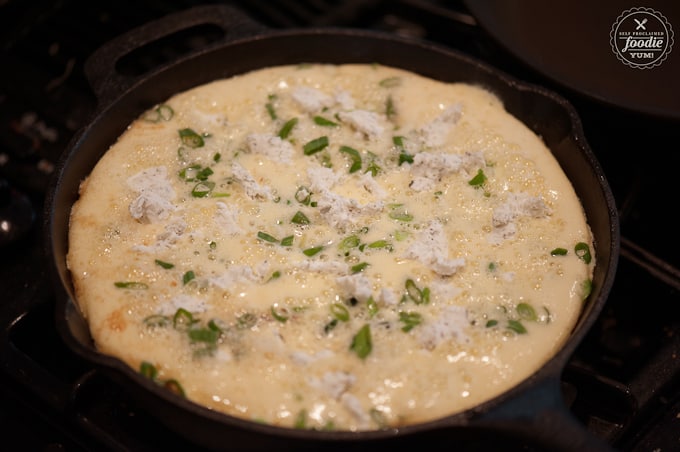 Here's a quick photo of the frittata fresh out of the oven when I thought it was done. Note: if it jiggles in the middle, its not done. Straight back into the oven it went.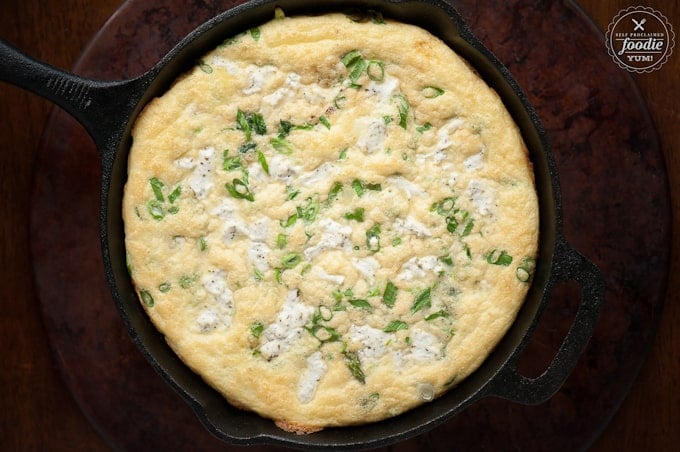 Ah, that's more like it. Fully cooked this time. You'll know its done when its no longer liquid-y in the middle and it pulls away from the sides.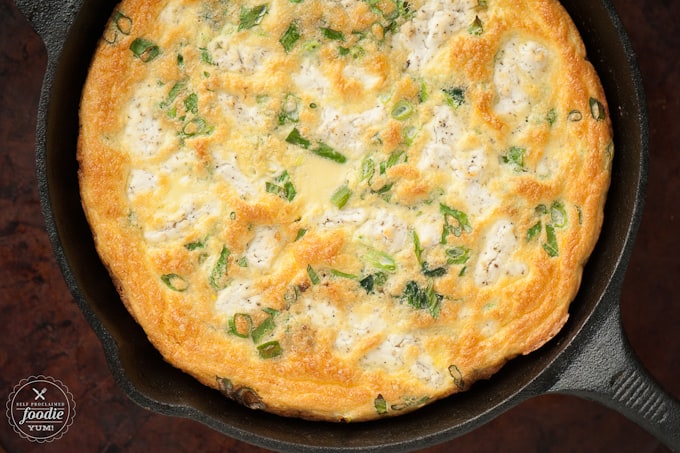 It never ceases to amaze me when the quality of your ingredients really has an impact on the quality and overall taste of your meal.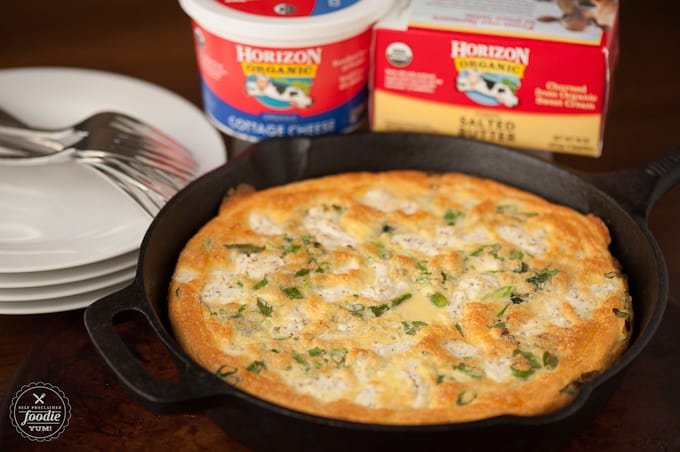 Didn't it turn out pretty? I realized I took a really nice photo with my phone and posted it to instagram and failed to take the same shot with my DLSR, but I then I realized I had already taken a ton of photos for this post and was okay with it.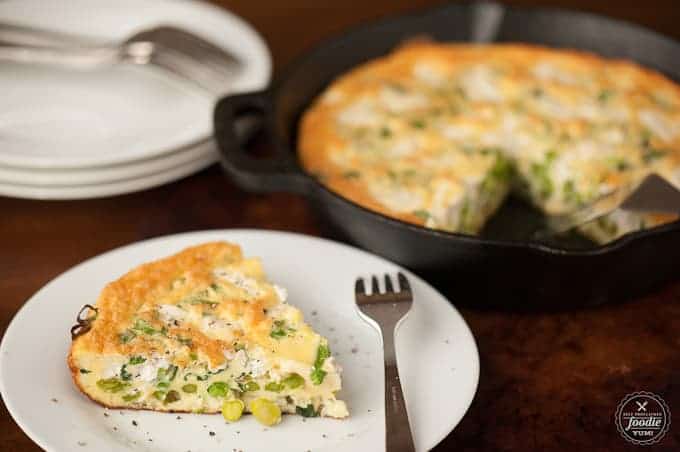 See that golden brown crust on the bottom? The vibrant green veggies? The super fluffy eggs? The creamy white and tangy goat cheese? Yeah, that's my idea of heaven.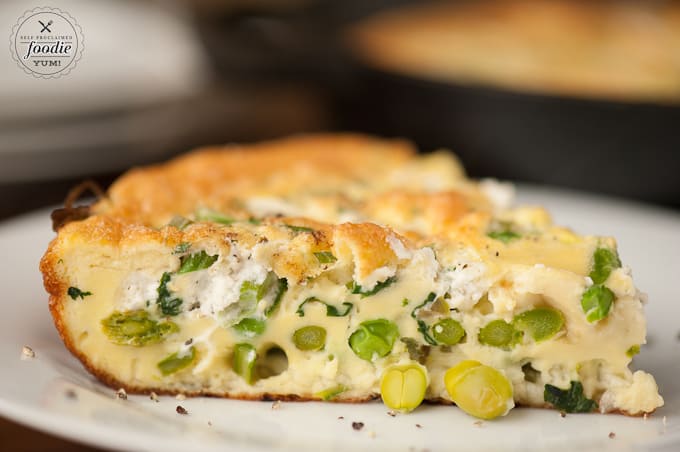 Super delicious.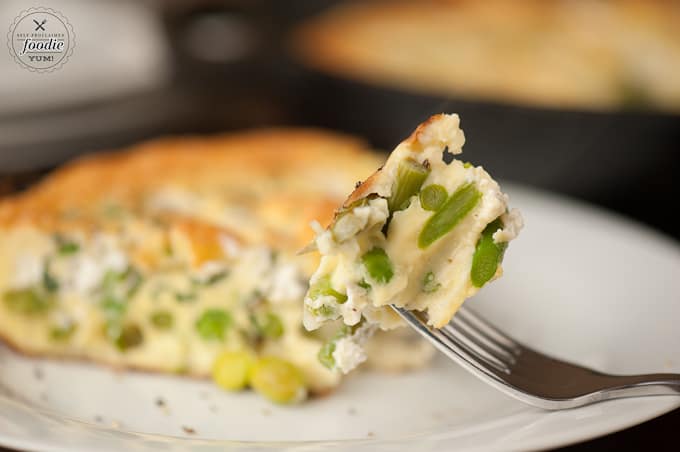 So there you have it. A super quick feel good meal made with high quality ingredients that you and your family can enjoy for breakfast, lunch, or dinner. We actually have breakfast for dinner quite often and this lovely frittata was just that last night!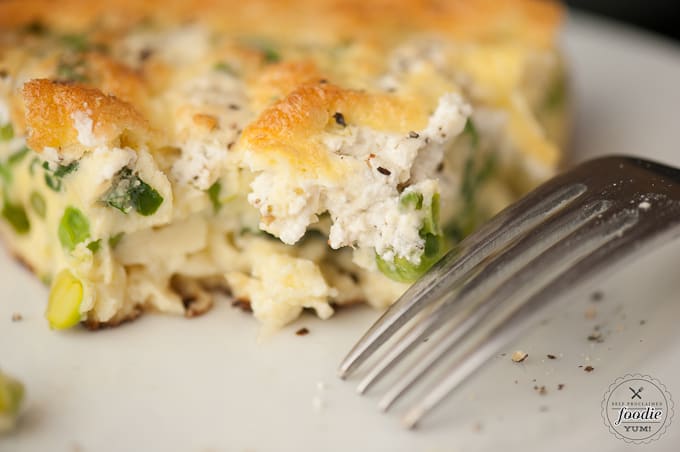 You'll definitely want to check out the Mealtime Solutions Pinterest Board, Horizon on Twitter, and Horizon on Facebook.
This is a sponsored conversation written by me on behalf of Horizon Organics. The opinions and text are all mine.
This savory organic Spring Vegetable Goat Cheese Frittata is a simple and quick mealtime solution that your family will love for breakfast or dinner!
Ingredients
8 eggs
1 cup cottage cheese (I used Horizon)
1/4 cup flour
1 teaspoon baking powder
1/2 cup fresh snow peas, removed from shell
1 1/2 cup fresh asparagus, chopped into bite sized pieces
2 cups fresh spinach
2 tablespoons butter (I used Horizon)
4 green onions, sliced thin
4 ounces goat cheese (I used chive flavor)
salt and pepper, as desired
Directions
Using stand mixer with whisk attached, beat eggs and cottage cheese on medium speed for five minutes. Then add flour and baking powder and mix until combined.
While eggs and cottage cheese are mixing, blanch the snow peas, asparagus, and spinach in boiling salted water for one minute, then immediately transfer to ice water to stop the cooking process. Once cooled, strain and squeeze out water from veggies.
Preheat oven to 450 degrees F.
Heat a 10 inch cast iron skillet over high heat. When hot, melt butter in pan. Once butter is melted, reduce heat to medium and add egg mixture. Allow to cook for 1-2 minutes, then add your blanched vegetables. Then top with sliced green onions, and finally with crumbled goat cheese. Once egg mixture has cooked on stove for 5-6 minutes, transfer to preheated oven and cook until golden brown and mixture no longer jiggles, about 8-12 minutes. Remove from oven and serve hot.