If you're looking for a high fiber, healthy, comforting, and delicious meal, make this Split Pea Soup and serve it up with a triple threat grilled cheese.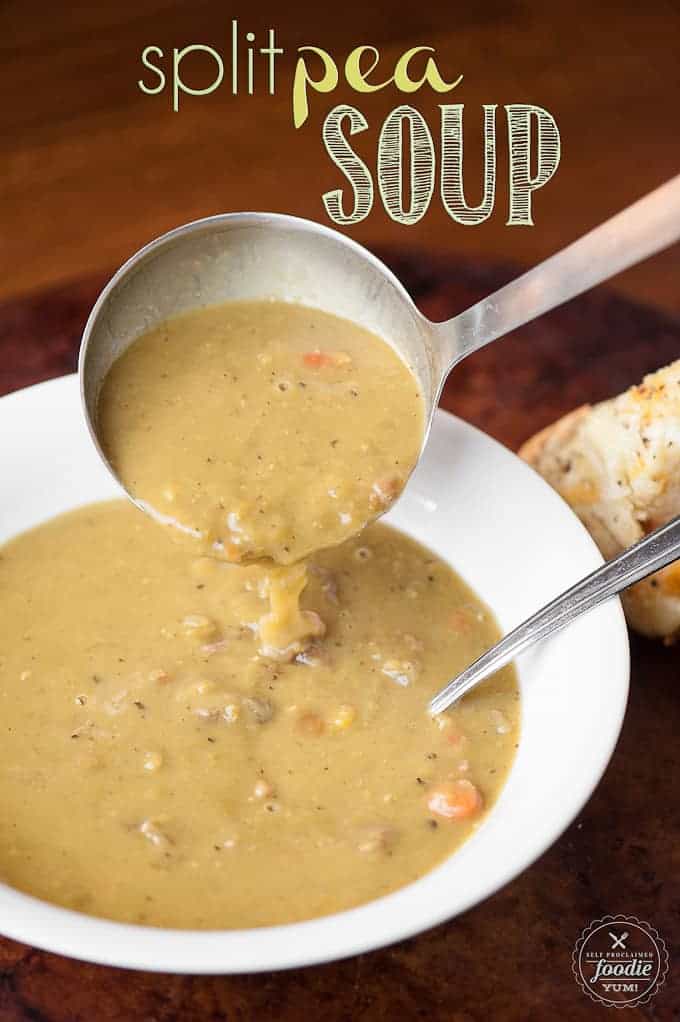 I love a good split pea soup. Its one of those soups that can vary quite drastically between homemade, what you get at a restaurant, and what you get in a can. Heck, I've even made it different ways which resulted in soup that varied from barely edible to quite outstanding. Don't worry, this particular batch that I actually bothered to write down the recipe for was the best version of split pea I've ever made. Having this blog steps up my game because I'm not only accountable to my family, but have to answer to any person who happens to stumble across my ramblings and love-of-food photos. Lucky for my family that an increase in accountability yields even better tasting food for them. Its a win-win.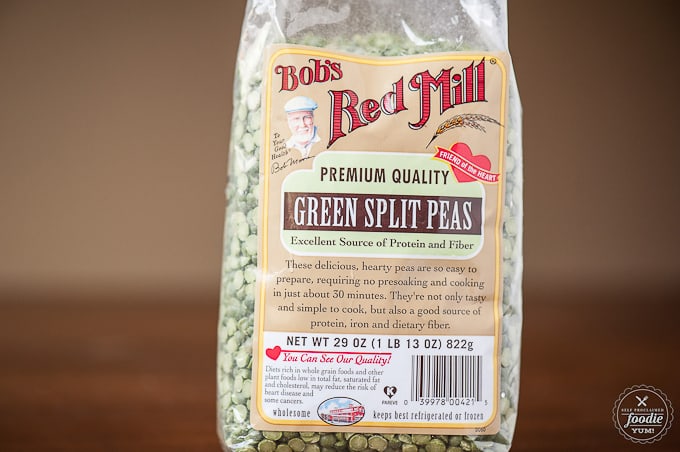 During our last visit to Bob's Red Mill (you can see in my instagram feed that I love to go there with my kids and eat in their healthy and tasty restaurant), this little bag of split peas was calling my name. That, and the fact that I still had a pack of ham hocks in the freezer from last year's pig, meant a big ol' pot of split pea soup was about to make its way into the Allori household. I'd also like to add that in no way did Bob sponsor this post. I'm just sharing his product because I think most everything they make is superior to other grains and such I've seen out there, plus I support anything that's produced locally whenever I can. And… Bob is a cool dude.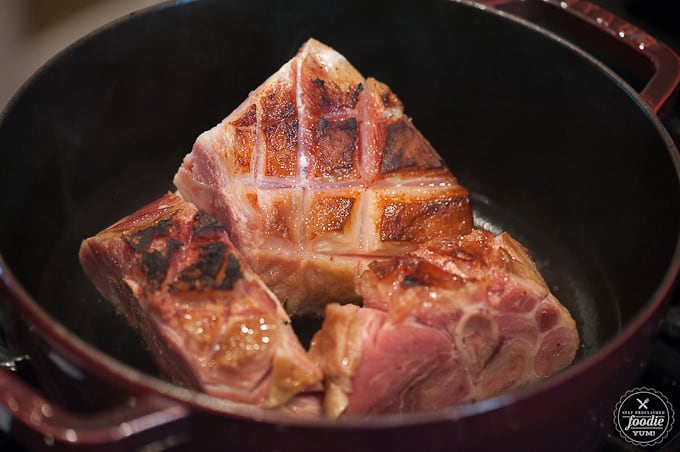 There are some tricks of the trade to get a really flavorful split pea soup. First, you must score the fat on those ham hocks and sear them in a heavy bottom stockpot. the scoring allows the fat to render more easily, and rendered fat is YUM. Did I burn one of my ham hocks a teeny bit? Yes. Oh well. Don't do that. Then you want to cook your veggies with those lovely brown ham hocks to have them pick up all of that wonderful flavor. Deglaze with a little white wine and you're off to a great start. Now, if I only had a REALLY big stockpot, this would have been perfect. Alas, mine is only 8 quarts so I had to transfer over everything to a bigger pot. Next year's Christmas wish list now has an extra big heavy bottom stockpot on it, among about $1000 of other kitchen toys I've been wanting in my kitchen.
Now, don't let that teeny tiny little bag of split peas fool you. Those suckers expand a lot. This soup can and should be halved if you don't want a lot. Personally, if I'm going to go to the trouble of making it, I'd rather make a lot than make a little twice, but that's just me. I also started off thinking 2 quarts of chicken broth would be enough but had to add a third. If you like your soup thin, you may even want to consider adding more. I think good split pea soup with an incredible grilled cheese sandwich just hits the spot on a rainy day, don't you?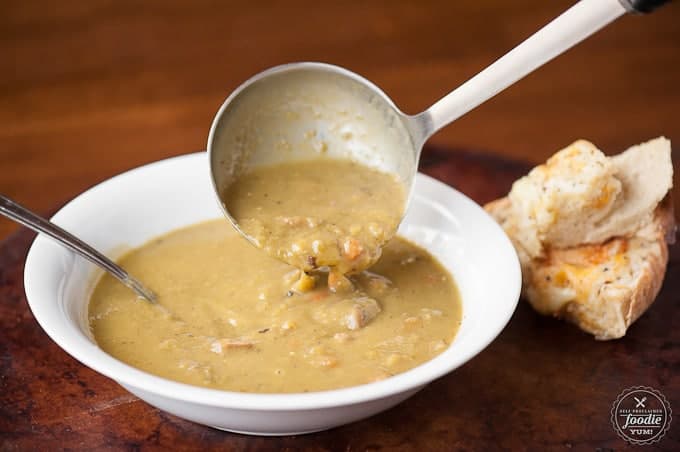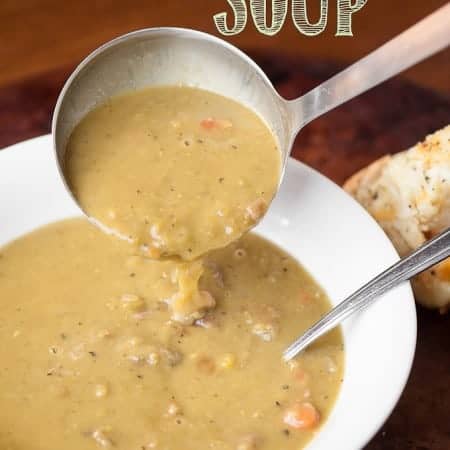 Split Pea Soup
If you're looking for a high fiber, healthy, comforting, and delicious meal, make this Split Pea Soup and serve it up with a triple threat grilled cheese.
Print
Pin
Rate
Cook Time:
2
hours
20
minutes
Total Time:
2
hours
40
minutes
Ingredients
2

pounds

smoked ham hock

2

medium onions

finely diced

4

celery stalks

finely diced

4

carrots

finely diced

2-3

cloves

garlic

minced

1/4

cup

white wine

3

quarts

chicken broth

2

bay leaves

29

ounce

bag split peas

rinsed and picked through

Salt and freshly ground black pepper
Instructions
Score outer fat layer on ham hocks in a diamond pattern. In a large stockpot over medium high heat, sear the ham hocks to render and melt some of the fat, about 5 minutes per side.

Add the onions to the pot and stir so that they are coated in the fat. Allow the onions to cook and "sweat" with the ham hocks for 5-10 minutes. Add the celery, carrots, and garlic. Stir and cook for another 5 minutes.

Add the white wine and deglaze the pan. Add the chicken broth and bay leaves. Bring to a boil and then reduce heat to a simmer to let the broth cook for 1 hour.

While the broth is cooking, rinse your peas and remove and odd balls. After the broth has cooked for the hour, remove the ham hocks and set aside to cool. Add the split peas and cook for 30-60 minutes until they've reached your desired texture. While the peas are cooking, remove any meat from the ham hocks and throw it back in the pot.

Before serving, remove bay leaves and season with salt and pepper.
Nutrition
Calories:
459
kcal
|
Carbohydrates:
47
g
|
Protein:
35
g
|
Fat:
15
g
|
Saturated Fat:
5
g
|
Cholesterol:
63
mg
|
Sodium:
1047
mg
|
Potassium:
1205
mg
|
Fiber:
19
g
|
Sugar:
8
g
|
Vitamin A:
3564
IU
|
Vitamin C:
21
mg
|
Calcium:
81
mg
|
Iron:
5
mg