Comfort food doesn't get much better than this Spiced Rum Sweet Potato Pie with Brown Sugar Pecan Streusel and a homemade all butter pie crust.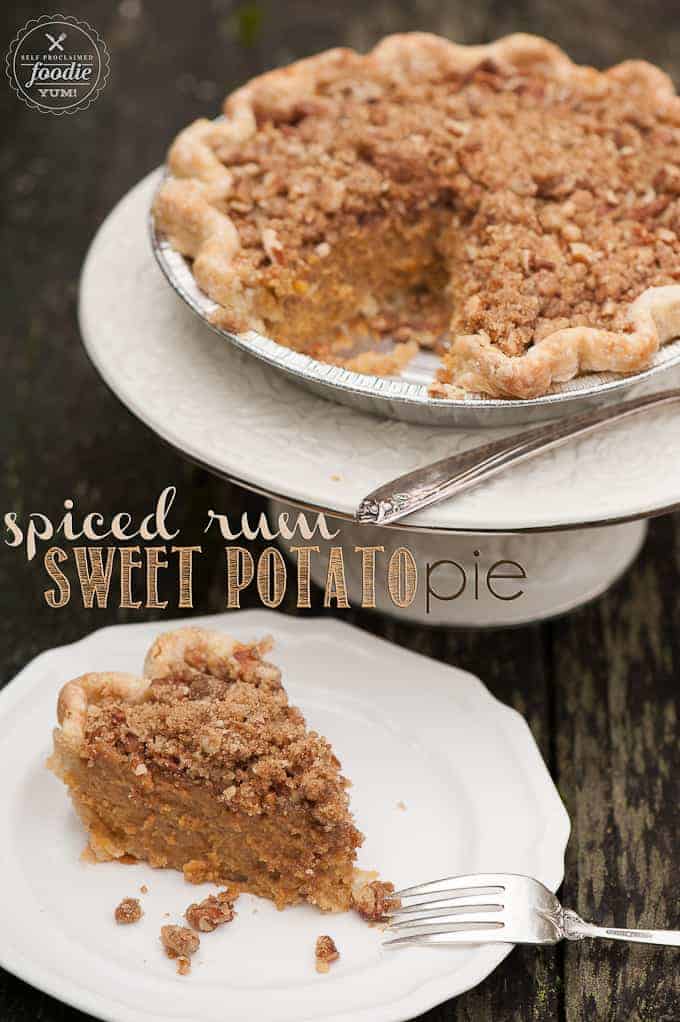 Once again, my friend Trista of Cheery Pies has out done herself. Aren't I lucky to be friends with people who can bake pies like this? I wish I could take credit for making this masterpiece, but it was all her.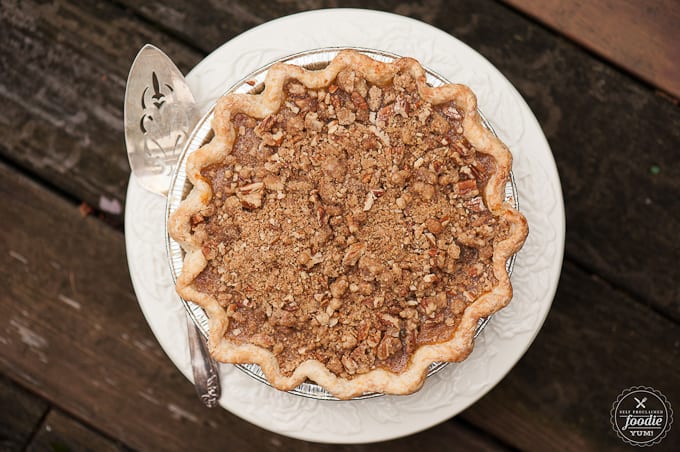 You know I love food. It kind of explains why I have a food blog. I also love this time of year because it centers around food. And pie. Oh, how I love me some pie. I know pumpkin pie is a favorite at Thanksgiving, as is apple pie. But why not add a good old fashioned Sweet Potato Pie into the mix?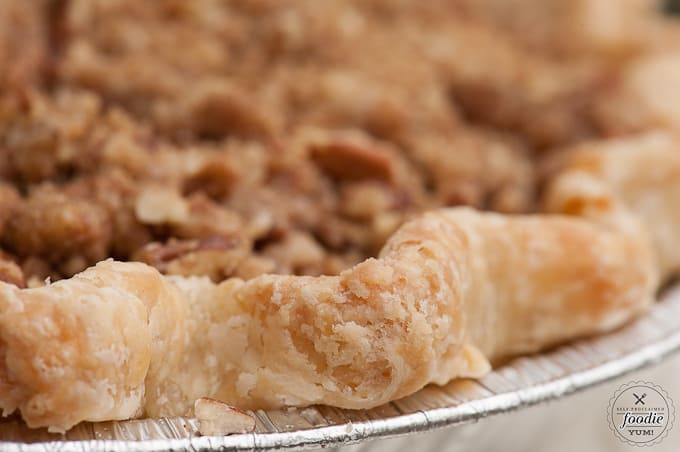 Mmmmmm. Look at that flaky buttery crust. It doesn't matter how good the filling is if the crust isn't amazing. Lucky for me, the filling and the topping were amazing.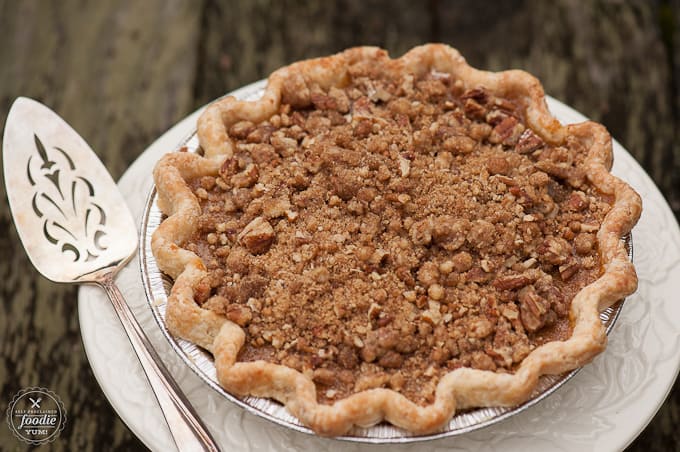 As much as I love every component this pie has to offer, the Brown Sugar Pecan Streusel topping was my absolute favorite. You could totally fill a feed bag with that stuff, tie it around my neck, and lock me in a room for three days and I'd be totally happy. You just pictured it, didn't you?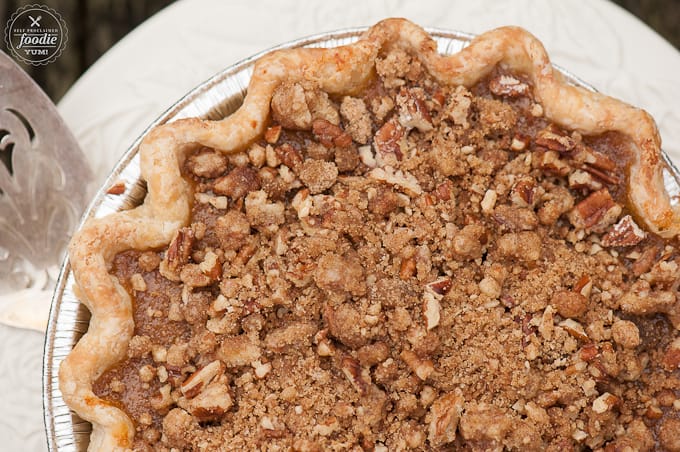 I love this photo below for two reasons: 1) because it shows the beautiful sweet potato goodness inside this pie and 2) I love to show off how green Oregon is. I love this state.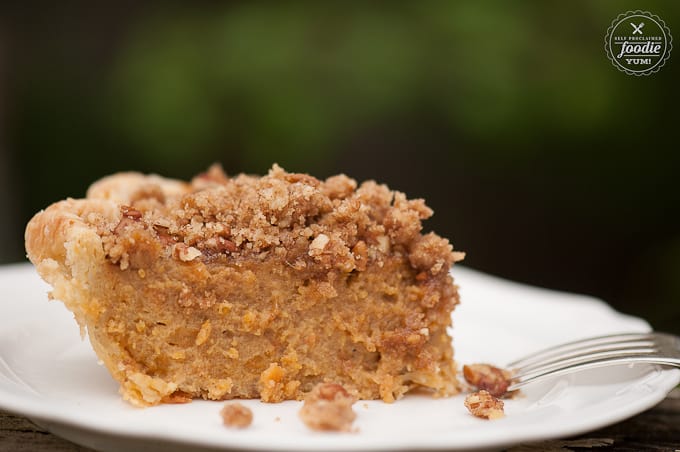 And last but not least, here's the first bite that went straight into my mouth. YUM!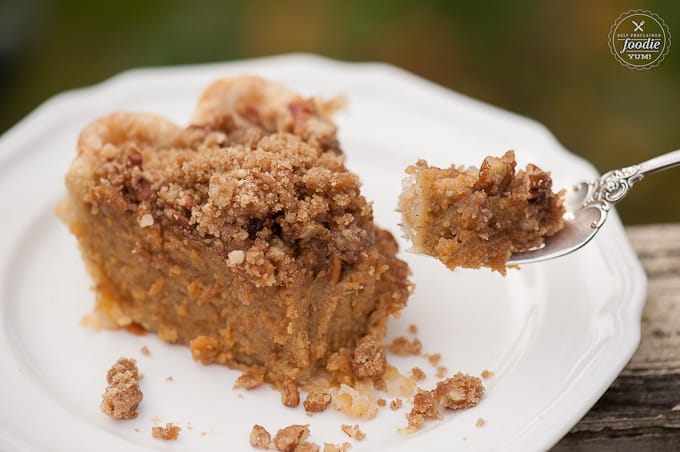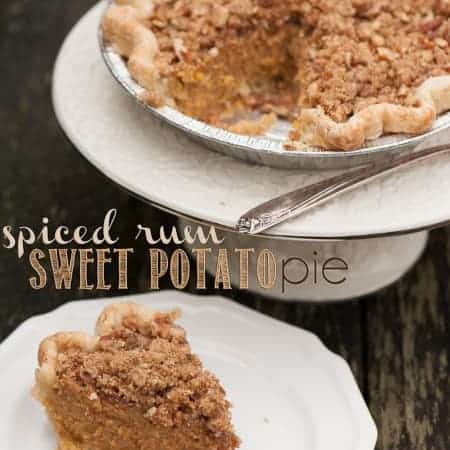 Spiced Rum Sweet Potato Pie
Comfort food doesn't get much better than this Spiced Rum Sweet Potato Pie with Brown Sugar Pecan Streusel and a homemade all butter pie crust.
Print
Pin
Rate
Total Time:
1
hour
30
minutes
Ingredients
1 9" single crust all butter pie crust
Filling:
About 5 small to medium sweet potatoes

2 pounds (This will equal 2 cups of mashed sweet potato)

2

tablespoons

unsalted butter

softened

3

large eggs + 2 yolks

1/2

cup

granulated sugar

½

cup

brown sugar

½

teaspoon

ground nutmeg

1

teaspoon

ground cinnamon

¼

teaspoon

salt

2-3

tablespoons

spiced rum

can use vanilla extract instead, but then you have to take the "spiced rum" out of the title

1

tablespoon

molasses

2/3

cup

whole milk
Streusel Topping:
1

cup

brown sugar

1/3

cup

self rising flour

1

teaspoon

cinnamon

1/3

cup

unsalted butter

melted
Instructions
Heat the oven to 375F.

Partially bake a pie crust. To do so, line the pie shell with foil and then weigh down with ceramic pie weights or dry beans. Bake 10 minutes. Then, take the foil & weights or beans out and bake an additional 5 minutes.

Turn down the oven to 350F.

Prick the sweet potatoes several times with a fork or knife and place them on a double layer of paper towels in the microwave. Cook for 5 minutes; turn each potato over and continue cooking until tender but not mushy- about 5 minutes longer. Cut the potatoes in half and scoop out the flesh out with a spoon. Place it in a medium bowl. You should have 2 cups of sweet potatoes. While they are still hot, add butter and mash with a fork or potato masher. It is okay to still have a few small lumps of potato remaining.

Whisk together the eggs, yolks, granulated sugar, brown sugar, nutmeg, cinnamon, rum, molasses, and salt. Then whisk in the milk. Slowly add the egg mixture to the sweet potatoes, whisk to combine.

Pour the sweet potato mixture into the pie shell.

Cover the edges of the pie shell with foil to prevent over browning. Place the pie on a rimmed

baking sheet. Bake for about 35-40 minutes or until mostly set. (The pie is done when the enter

wiggles slightly when shaken.

While the pie is baking mix together the brown sugar, self rising flour, cinnamon and melted

butter for the streusel. Top the pie with streusel and bake 5 minutes more or until streusel is browned.

Let the pie cool on a wire rack.