These delicious S'mores Ice Cream Sandwiches are made with chocolate covered graham crackers & homemade no churn vanilla and marshmallow swirl ice cream.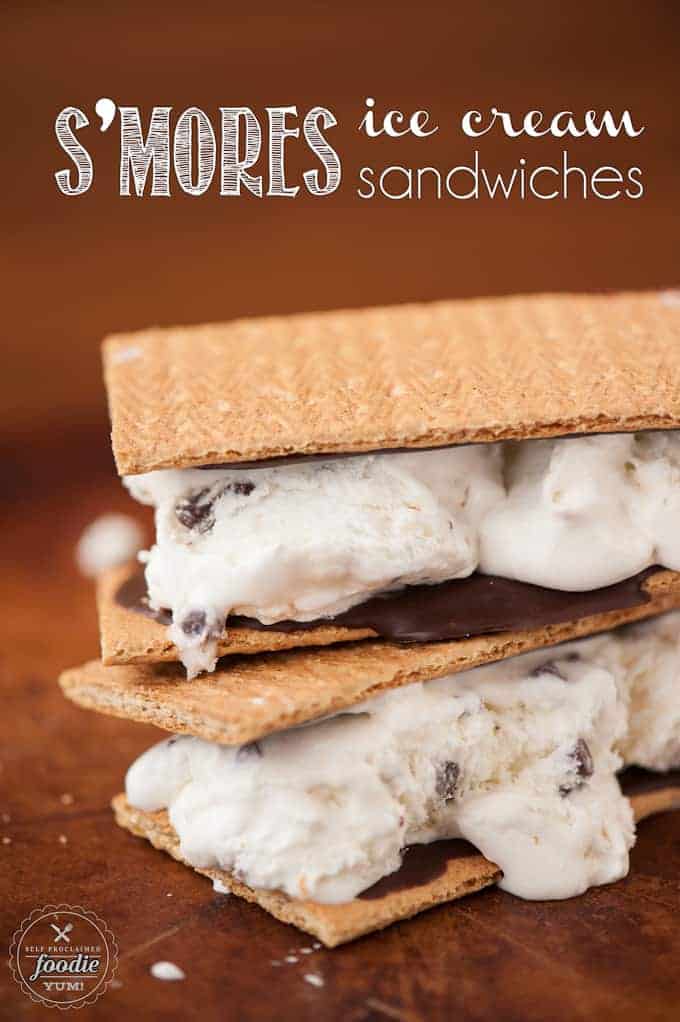 A couple weeks ago I made some homemade marshmallow creme. Oh man, that stuff was good. My mind started to race with all of the things I should do with it. Should I 1) make some s'mores recipes? Duh. 2) Should I make my most favorite cheesecake fruit dip? Absolutely. 3) Should I make some fluffernutter fudge? Coming soon. 4) Shall I hide in the corner and sneak the marshmallow creme when no one is looking? Don't tell anyone. 5) All of the above? Okay.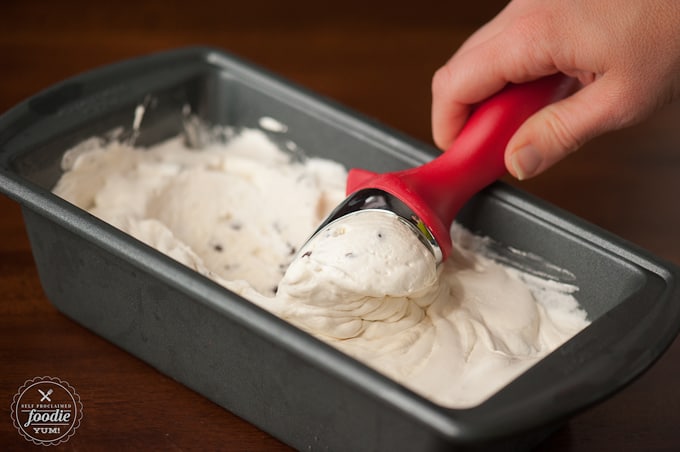 I just got back from a few nights of camping. Well… we don't camp. We "glamp", as in we rent a full service cabin with its own full bathroom in a campground but still consider it camping because we cook everything outside, sit by a cozy fire, and have to sleep on the most uncomfortable cabin futons. If I'm not within 90% of my usual comfort zone, its considered camping. Anyway, when we camp, we eat s'mores every night immediately after the last bite of our campfire dinner is consumed. My husband is a super freak and doesn't like s'mores. Who on this planet doesn't like s'mores? He be crazy. I, on the other hand, have perfected the s'more making process. You see, a year or two ago we switched over to those monster big marshmallows. They're a great size for the s'more but no matter how well you roast them, the middle never totally melts. Here's what I do: I roast it to perfection – we're talking perfectly golden brown on all surfaces. Then I slide that layer off and eat it because we all know its the best part. Then that large middle part, which is still pretty big, goes right back over the coals for some additional toasting. That is what gets sandwiched in between my 72% dark chocolate and Trader Joe's graham crackers (that's the best kind, in case you're wondering).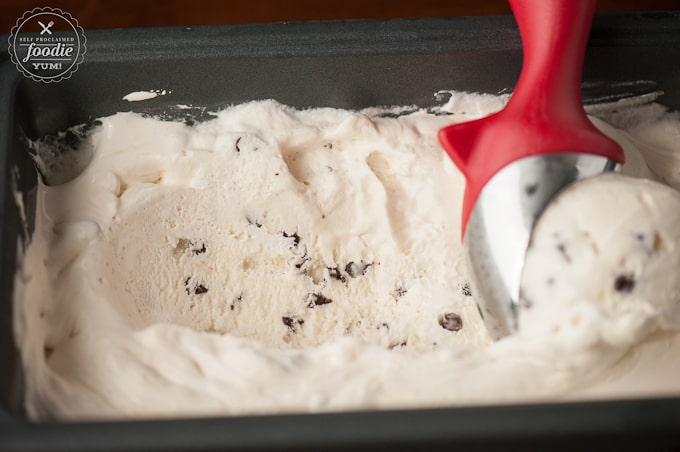 The point of my long winded story is that I have s'mores on the brain, and when you have some extra homemade marshmallow creme begging to be used, you think of creative ways to use it. I was just going to make a s'mores ice cream but then I figured I'd go the extra mile and make s'mores ice cream sandwiches. You know, to make it feel like the real thing but much much colder.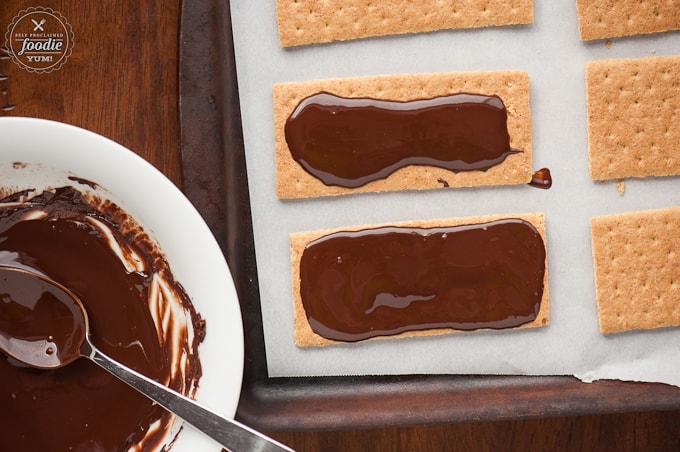 Because I'm feeling lazy in this summer heat, I didn't want to go the distance by making ice cream the old fashioned way by cooking egg yolks into heavy cream to first make a custard, and then churning it for an hour in an ice cream maker (because I'm waaaaay to lazy to EVER do that by hand). No. This recipe had to be much easier, so I present to you my NO CHURN ice cream. Its pretty freakin' easy and still tastes really good.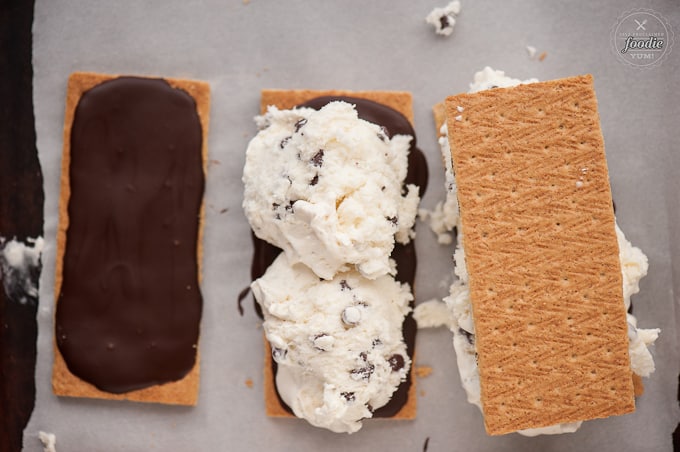 Yes, I put mini chocolate chips in the ice cream, but that wasn't enough chocolate to qualify it for the s'mores name. No. I had to spread another layer on the graham cracker. The end result, my friends, was perfection.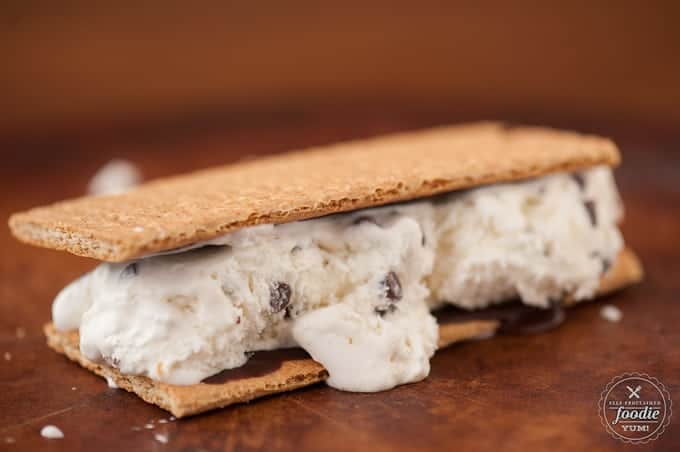 This recipe uses pure vanilla extract. Did you know you can make your own homemade vanilla extract? It makes the perfect gift too. Watch how in the video below.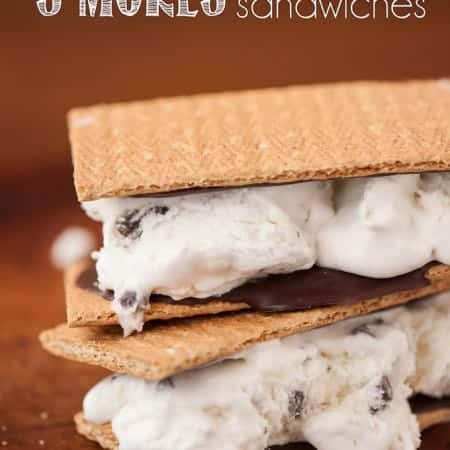 S'mores Ice Cream Sandwiches
These delicious S'mores Ice Cream Sandwiches are made with chocolate covered graham crackers & homemade no churn vanilla and marshmallow swirl ice cream.
Print
Pin
Rate
Servings:
4
-6 sandwiches
Ingredients
1

cup

heavy whipping cream

1/4

cup

half & half

3/4

cup

confectioner's

powdered sugar

1

teaspoon

vanilla extract

1/3

cup

mini chocolate chips

3/4

cup

marshmallow creme

homemade is best

2

ounces

dark chocolate

chopped

2

tablespoons

butter

8-12

large graham crackers
Instructions
In the bowl of your stand mixer, use the whisk attachment to whip the heavy cream until it forms medium peaks. Add half & half, sugar, and vanilla and continue to mix until light and fluffy, scraping down the sides when needed.

Stir in the chocolate chips.

Transfer the mixture to a metal pan (I used a bread pan). Add marshmallow creme to the top and gently swirl it around. The marshmallow creme won't freeze the same as the rest of the ice cream, so you can definitely taste the swirl effect. Cover with plastic wrap and freeze for at least 4 hours.

Melt chocolate and butter in microwave until the butter is melted and about half the chocolate chunks are left, about a minute. Remove from microwave and stir until entire mixture is smooth. Lay graham crackers out on parchment and spread a thick chocolate layer on one side of each cracker. You should be able to cover about six of them.

Assemble the sandwiches by scooping some ice cream on each chocolate covered cracker and then topping with another. You can freeze the sandwich until ready to serve or serve immediately. Ice cream may be soft.
link
link