This Sausage Chèvre & Greens Omelet makes for a wonderful breakfast and has all the components you would want to start your morning right.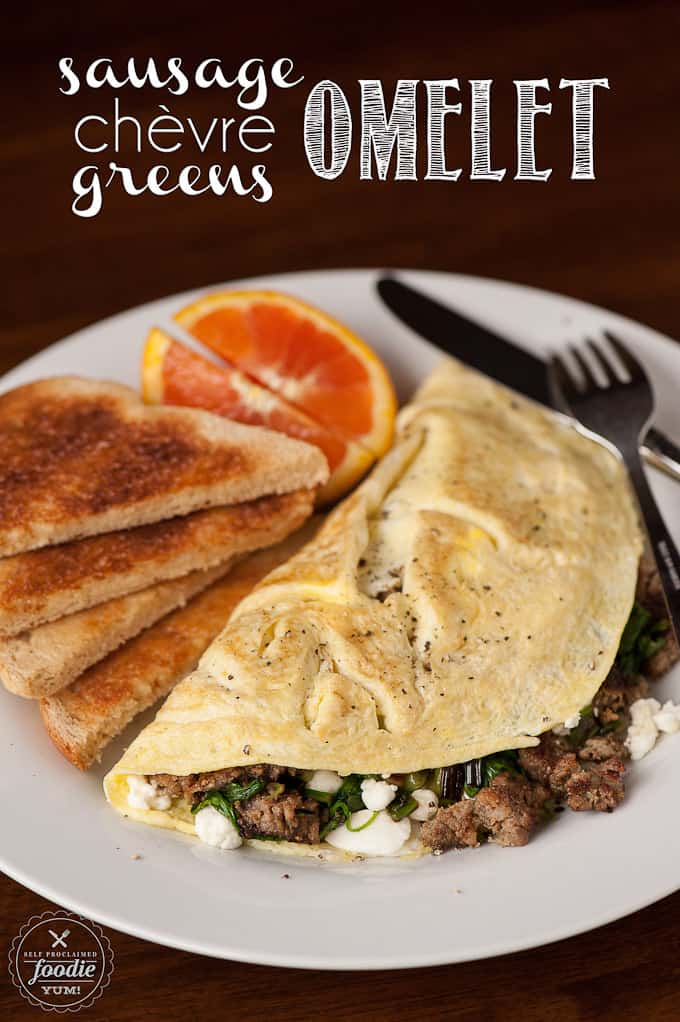 I shouldn't have called this breakfast a Sausage Chèvre & Greens Omelet. Sure, that's what it is. But what it really was was a clean-my-refrigerator-out omelet. I do a lot of cooking, as you might imagine. I also usually have bigger goals than what's physically possible during my non-sleeping hours. This means that, much to the dissatisfaction of my husband, I sometimes over purchase food and/or cook too much food. Both of us hate to waste food because its not only throwing money down the drain, but its basically a waste of my time because of the effort it took to buy it at the store, bring it in, and put it away. So, that's how this omelet came to be. I wasn't intending on making a blog post out of it but it turned out so damn delicious that I just had to share it with you. I had some leftover breakfast sausage, a bunch of dark leafy greens that were halfway between edible and nasty, some green onions that were starting to get slimy on the outside but were perfectly fine on the inside, and about a fourth of a container of crumbled goat cheese left over from my roasted beet salad. BAM. Breakfast is served!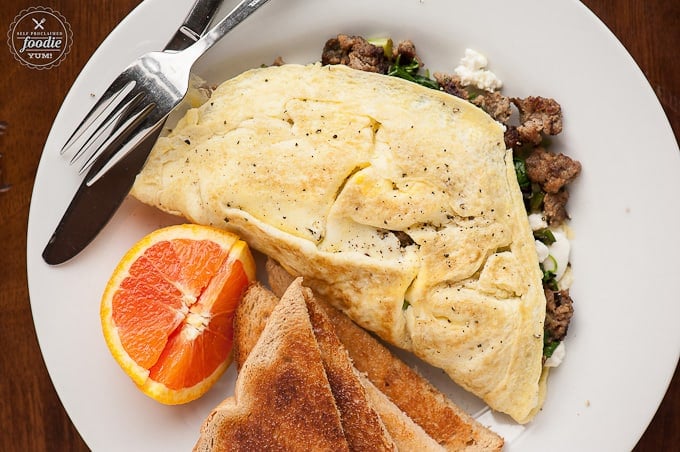 I don't know what the proper way to make an omelet is, but I do know that whenever I try to flip the egg I end up with a scramble. With this method I whisked up the eggs really well, started them off in a hot pan and then let them slowly cook over very low heat while moving the raw egg to the surface of the pan. This cooks the egg all the way through without overcooking the bottom. It also makes it very easy to transfer from the pan to your plate while still somewhat resembling an omelet. I have to tell you again, however, that even though this combination of ingredients came about because I was trying to salvage what was left in my refrigerator, it was so freaking good that I would make it again for company (with fresher ingredients, friends) any day of the week. YUM!!!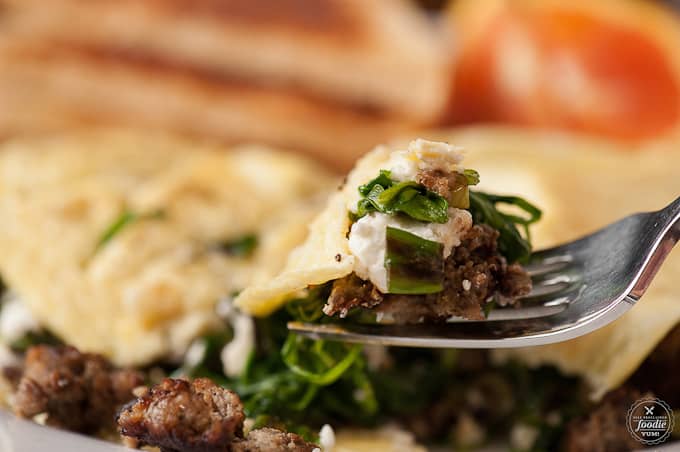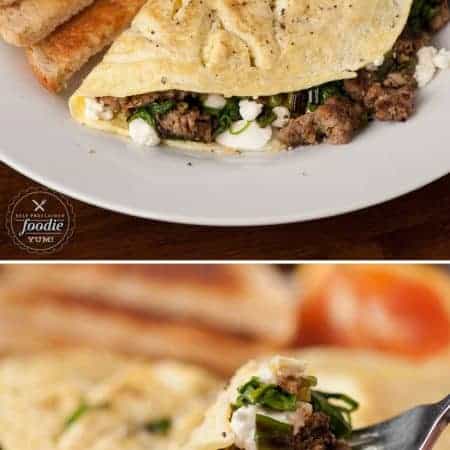 Sausage Chèvre & Greens Omelet
This Sausage Chèvre & Greens Omelet makes for a wonderful breakfast and has all the components you would want to start your morning right.
Print
Pin
Rate
Ingredients
breakfast sausage

cooked

3

scallions

sliced thin

1

cup

dark leafy greens

spinach, kale, chard, arugula

pad of butter

3

eggs

1-2

ounces

crumbled goat cheese

salt and pepper to taste
Instructions
In saute or omelet pan, crumble cooked sausage and heat over medium heat with sliced scallions.

In separate pot, heat greens over very low heat with the lid on until wilted. Once sausage and green onions are heated through and slightly browned, add to the wilted greens, stir, and keep warm until ready to use.

Wipe out omelet pan so that it is clean. Melt butter over medium heat.

Crack eggs into large bowl, add about a tablespoon of water, and whisk eggs until well mixed. Pour egg mixture into buttered pan. Reduce heat to low. Use a silicon spatula to gently lift the edges of the egg and tilting the pan so that the raw egg moves under the cooked part. Work your way around the pan and continue the process until the egg no longer runs and begins to set.

sprinkle goat cheese over entire surface of egg but add the sausage and greens mixture to only half of it. When eggs are fully cooked to your liking, slide omelet onto your plate, folding it over to form the omelet.