Salted Caramel Steel Cut Oatmeal pairs healthy steel cut oats with a salted caramel topping made from rich brown sugar and just the right amount of salt.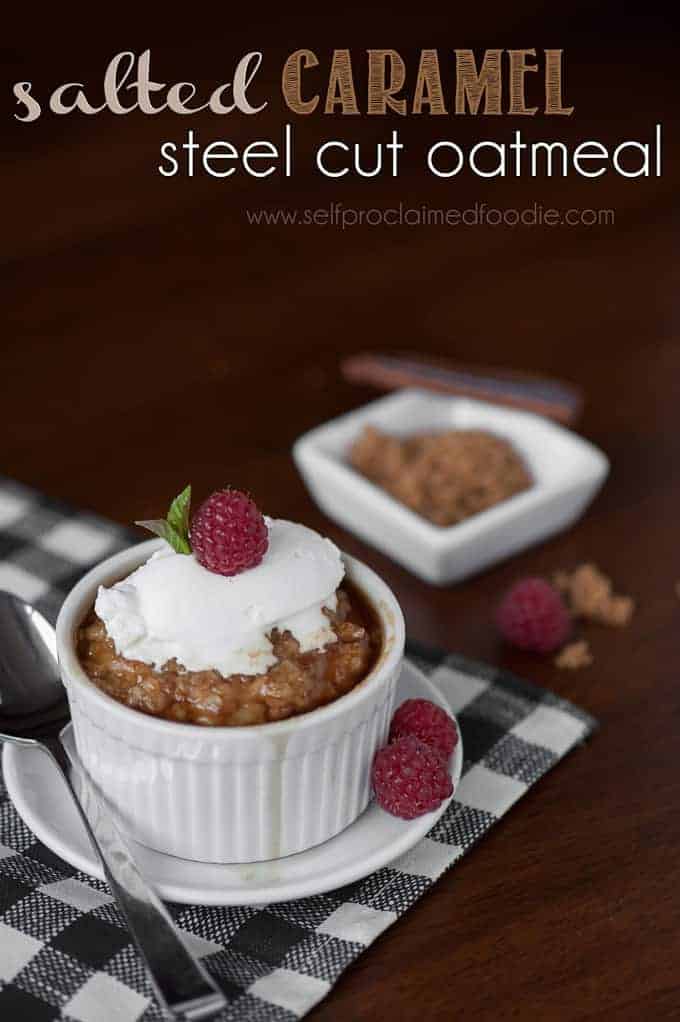 Everyone knows steal cut oatmeal is a healthy breakfast to start your day.  Its no secret that oatmeal and brown sugar are meant to be paired together.  But not until you prepare this salted caramel steel cut oatmeal topped with delicious whipped cream and fresh berries will you fully understand how much more wonderful this traditional breakfast can be.
The other day we woke up to a refrigerator that contained no milk and no eggs.  After a brief lecture from my convert-foodie husband about the importance of keeping a well stocked frig, and the sad looks on my poor foodie-in-training kids' faces about how starving they are at 6:30 in the morning, I had to come up with something a) delicious and b) healthy (notice how I put delicious before healthy?).  What to make?  Oatmeal?  Boring.  Wait a minute… how about salted caramel steel cut oatmeal?  Now we're talking.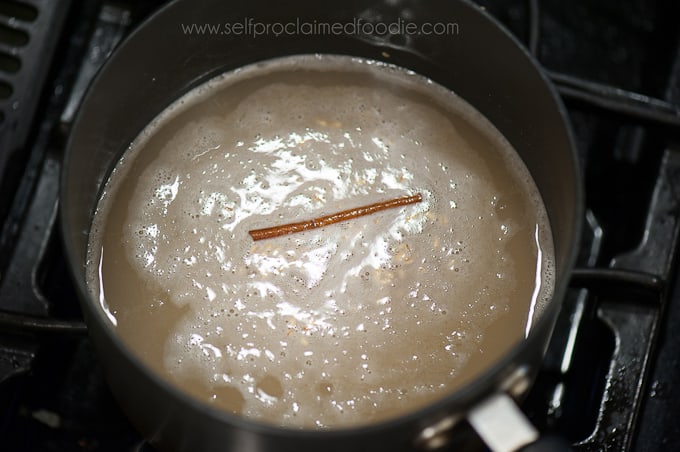 I've made steel cut oatmeal more times than I can remember, but this was my first time making it this way and I shall NEVER go back.  What did I do differently than my standard simmer and serve with sugar or syrup?  Well, first I toasted the oats in butter, much like you would with risotto.  It just gave it that extra nutty rich flavor.  Then I cooked them with a cinnamon stick.  I wanted a mild cinnamon flavor without the punch of powdered cinnamon.  Then, what came next, is divine.  I topped the cooked oatmeal with the mixed the brown sugar with kosher salt, melted it in the oven, and then broiled it to a hot bubbly sweet and salty level of perfection.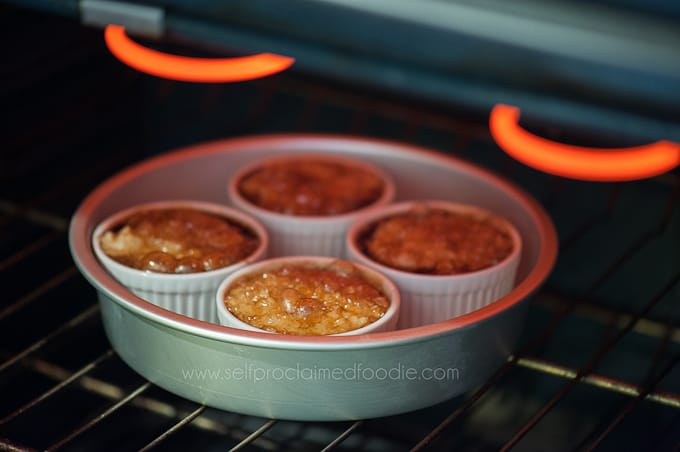 Now, I could have stopped here and called it good.  But you know I couldn't and you won't be able to either.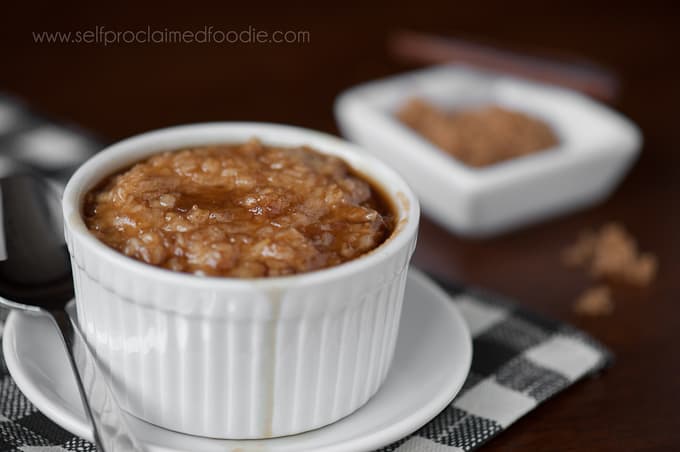 Yep, one scoop of freshly whipped cream and some raspberries from the garden – PERFECTION.  The whipped cream and berries aren't needed but they sure do add that extra level.  This would also be a great thing to serve at brunch because you can make it ahead of time and just heat before serving.  I'm all about prepping ahead as much as possible to minimize mess on the day of entertaining.
Proof that this salted caramel oatmeal is wonderful on its own?  I forgot to put the uneaten one away.  The next morning, after it sat out all night, I ate it… cold… and it was goooooood.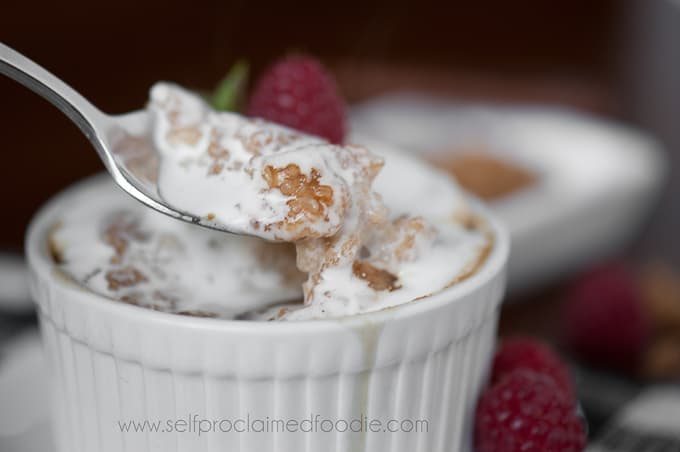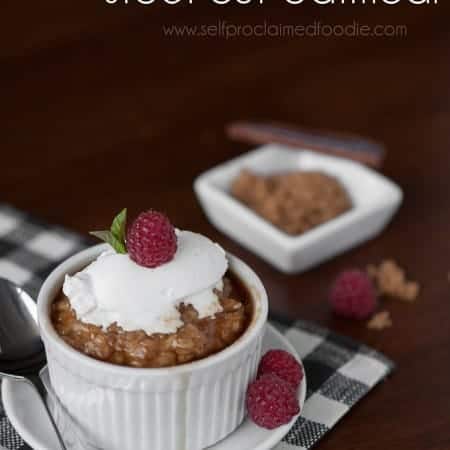 Salted Caramel Steel Cut Oatmeal
Salted Caramel Steel Cut Oatmeal pairs healthy steel cut oats with a salted caramel topping made from rich brown sugar and just the right amount of salt.
Print
Pin
Rate
Ingredients
1

tablespoon

butter

1

cup

steel cut oats

3

cups

water

1

cinnamon stick

1/3

cup

brown sugar

1

teaspoon

kosher salt

Whipped cream and fresh berries

optional
Instructions
In a large saucepot over medium high heat, melt the butter and add the oats. Stir for 2 minutes to toast.

Add the water and cinnamon stick and bring to a boil. Reduce heat to a simmer and cover. Keep at a low simmer for 25 minutes, stirring occasionally. After 25 minutes, remove lid and continue to cook off any remaining water.

Preheat oven to 400 degrees F.

Add cooked oats to four 6 ounce ramekins. Place ramekins in baking dish. Combine brown sugar with salt and spoon evenly over oats. Place in pre-heated oven 5 minutes until sugar is melted. Turn broiler on high and continue to cook for another 2-3 minutes until sugar is browned and bubbly.

Remove from oven and serve as is or top with whipped cream and fresh berries.