This two bite mouthwatering M&M's Red Velvet Fudge is the perfect Valentine's sweet treat to share with friends and family.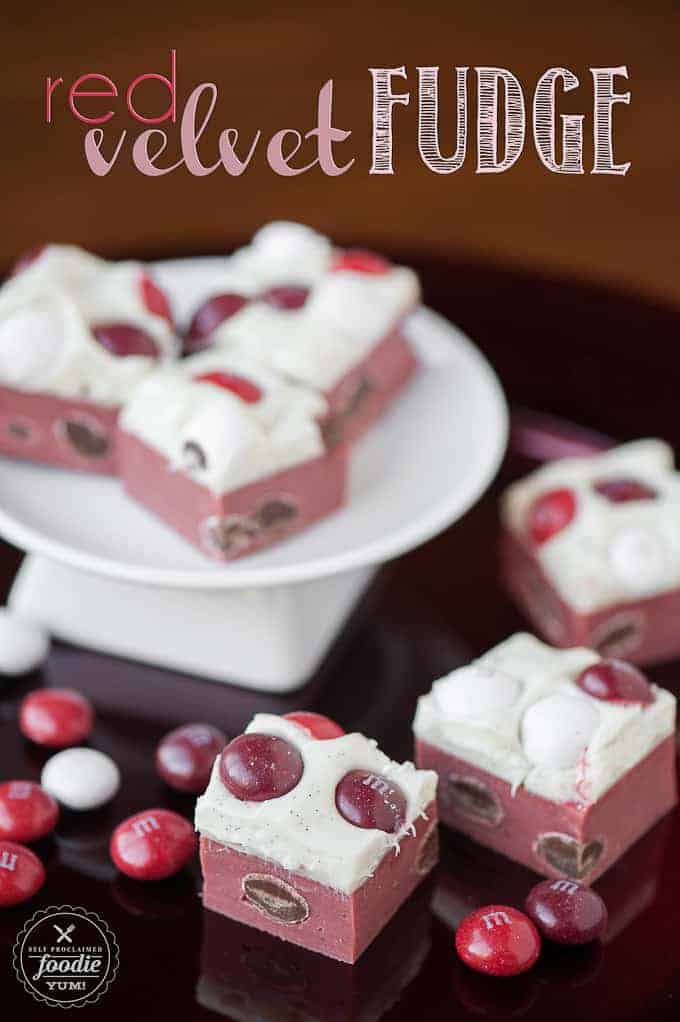 Wow. This fudge is unreal. You are in for a serious treat. First of all, did you know that M&M's Red Velvet existed? If you haven't tried them, you are missing out, my friends. Now pair these wonderful little candies with a red velvet fudge with a cream cheese frosting and your mouth will be thanking you.
Let me tell you why this recipe works. The fudge is soft yet firm and a bit chewy. One can't properly enjoy the flavors of red velvet without pairing it with cream cheese frosting, right? Then, add the sweet crunch of M&M's Red Velvet candies to the inside of the fudge as well as on top of the frosting and you have yourself one perfect Valentine's treat. Of course, you can use any kind of M&Ms as long as the colors match. Start by pouring half your fudge in the prepared pan and then sprinkle about a third to half of your M&M's on top.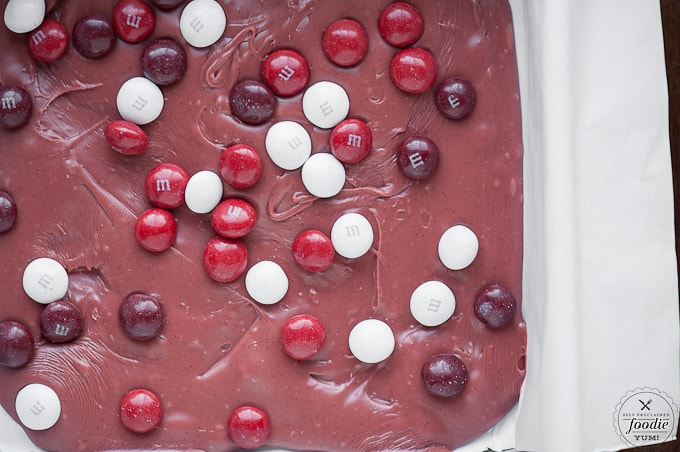 Then cover with the remaining warm fudge. Oh, and you can't forget the vanilla bean. Of course, you can always just use vanilla extract because most of that always have some on hand, but using real vanilla bean in this recipe really sets it over the edge. See those little black specs? Yum.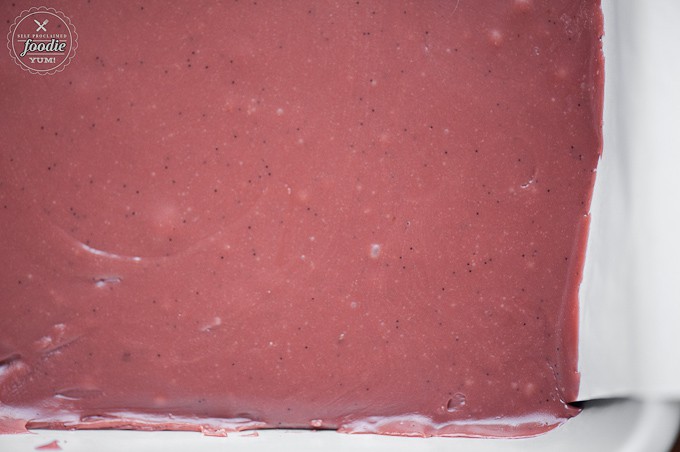 Put a perfectly thick layer of cream cheese frosting with even more vanilla bean on top. You're starting to salivate now, aren't you?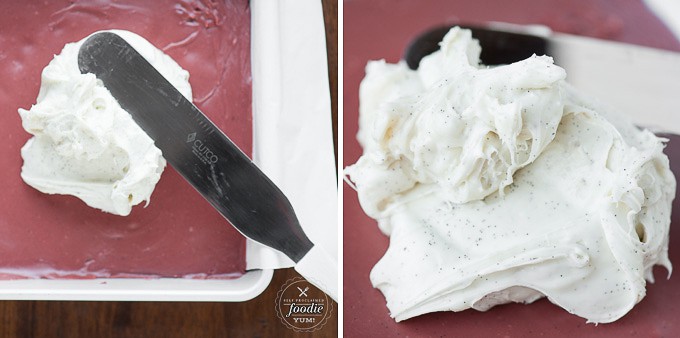 Finish it off with the remaining M&M's, that is, the ones you haven't already eaten.
I'm a little OCD when it comes to properly spacing out the M&M's as well as properly dispersing the colors. Does it matter? Not one bit, but we all have our quirks, right?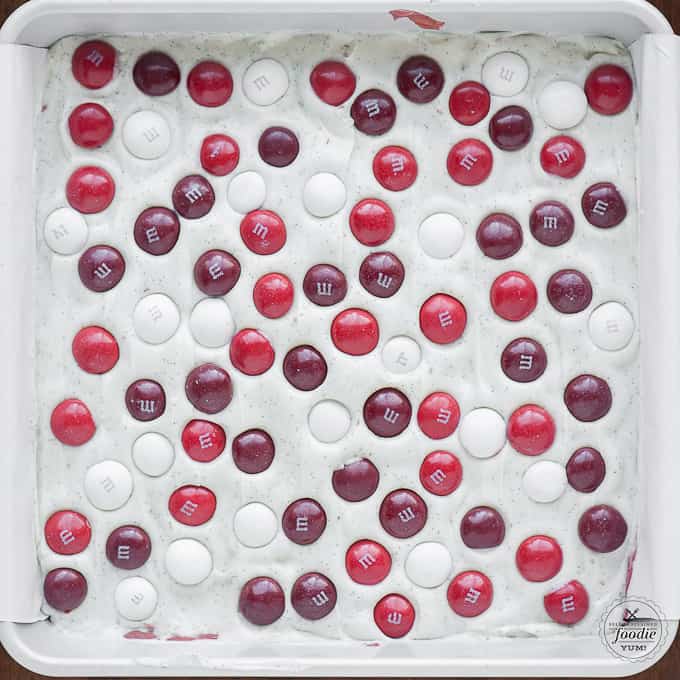 It's super easy to lift the fudge out of the pan once it has set. The frosting is still pretty soft but the fudge sets firm enough that you can carry it around like a square plate, if you wanted.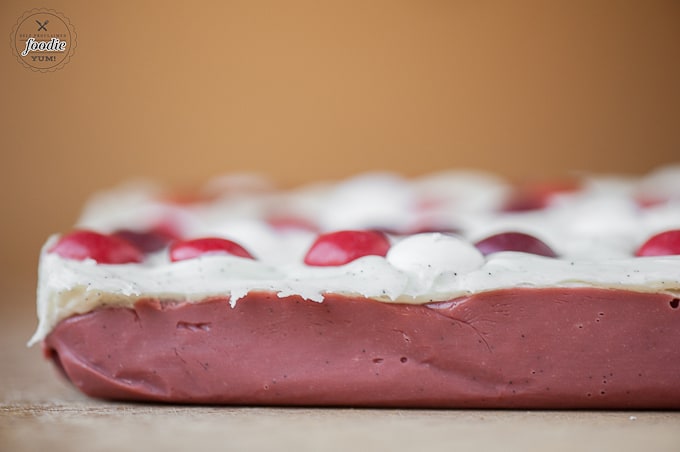 I used a very hot, clean, and sharp knife to cut the fudge into 36 pieces. The beauty of this recipe is that its pretty quick and easy to make, yet it puts a smile on 36 people's faces (or fewer if everyone wants more than one piece which I found to be the case).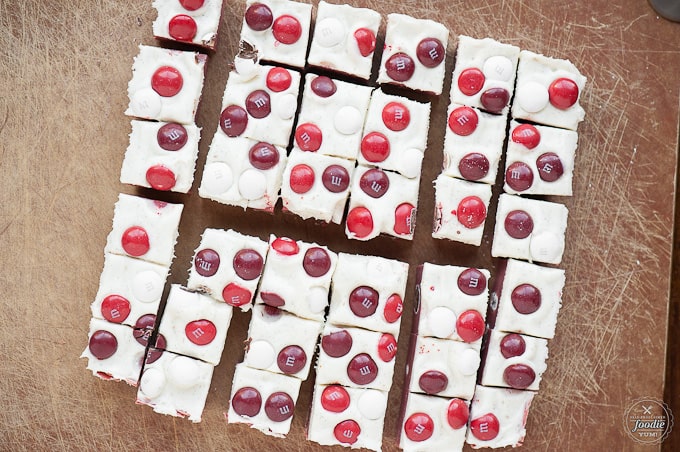 First, the joy and excitement came from my kids and my husband. They walked in and saw the wonderful Valentine's colors and their faces lit up. I've never seen my kids' eat everything on their dinner plates so thoroughly just so they could enjoy a piece of this velvety fudge for dessert. They loved it. Then, I brought this fudge into work. I thought it was pretty darn good, but after seeing everyone's reactions, I thought it was really good. People loved it! What a perfect Valentine's treat for both family and friends!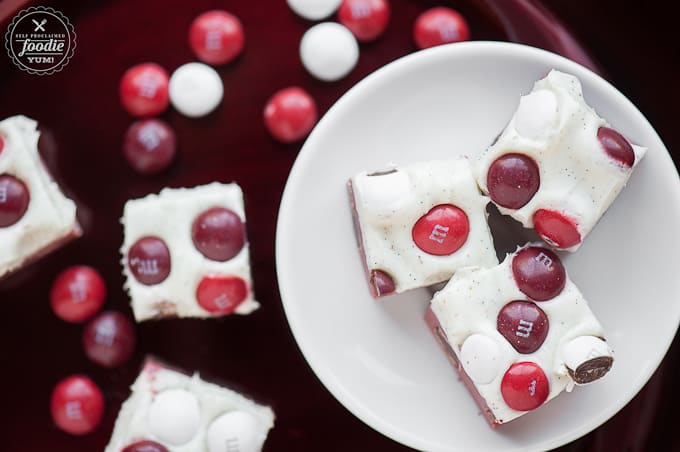 And because you know how much I love my macro photos, I decided to show you what my piece of fudge looked like after I took a huge bite (hopefully the bite part doesn't gross you out). Besides showing you how straight my teeth are (thanks for the good genes, dad), I wanted to show you how every bite has little pieces of M&M's and that crunch makes all the difference!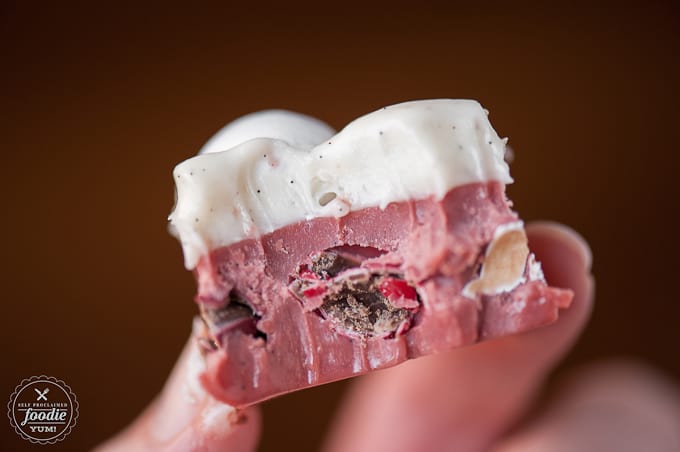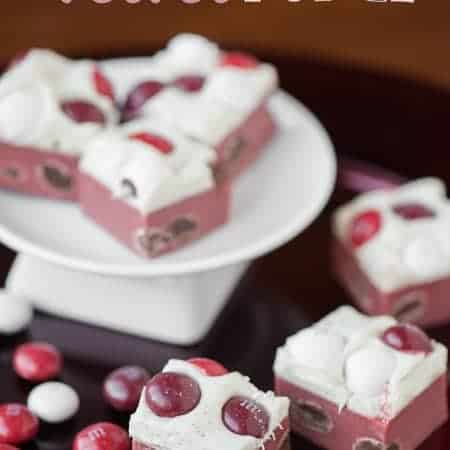 Red Velvet Fudge
This two bite mouthwatering M&M's® Red Velvet Fudge is the perfect Valentine's sweet treat to share with friends and family.
Print
Pin
Rate
Ingredients
Fudge:
2

cups

white chocolate chips

11 ounce bag

1

cup

milk chocolate chips

14

ounce

can sweetened condensed milk

1

vanilla bean

scraped (can substitute 1 teaspoon pure vanilla extract)

1

teaspoon

liquid red food gel

9.9

ounce

package M&M's® Red Velvet

regular m&ms are fine too
Frosting:
4

ounces

cream cheese

room temperature

2

tablespoons

unsalted butter

room temperature

1

cup

powdered sugar

1

vanilla bean

scraped (can substitute 1 teaspoon pure vanilla extract)
Instructions
Line an 8x8 pan parchment paper or aluminum foil (I use stuff that has parchment on one side and foil on the other).

In a medium sized sauce pan over low heat, melt the white chocolate chips, milk chocolate chips, and sweetened condensed milk, stirring occasionally. This may take 5-10 minutes. Add the red food gel and stir until fully combined.

Pour half of the fudge into prepared pan, top with a third to a half of the M&M's® Red Velvet candies, then pour remaining fudge on top. Store in refrigerator while you make the cream cheese frosting.

To make the frosting, cream together the softened cream cheese and butter using stand mixer. Add confectioners sugar and vanilla bean and beat on high speed until light and fluffy, scraping sides and bottom to ensure thorough mixing.

Spread the cream cheese frosting on top of your red velvet fudge. Top with remaining M&M's® Red Velvet candies. Refrigerate until fudge is firm and frosting has firmed up a bit, at least one hour.

Remove fudge from pan and set on cutting board. The best method to cut the fudge is to use a large, sharp, hot knife. I boiled some water and put it in a tall glass that would fit my knife. I submerged the knife to get it nice and hot, wiped it off with a paper towel, made my cut, then repeat.