I made Quinoa Oatmeal with Ginger Peach Compote for breakfast because I was looking for a healthy, energizing, and tasty way to fuel my body in the morning.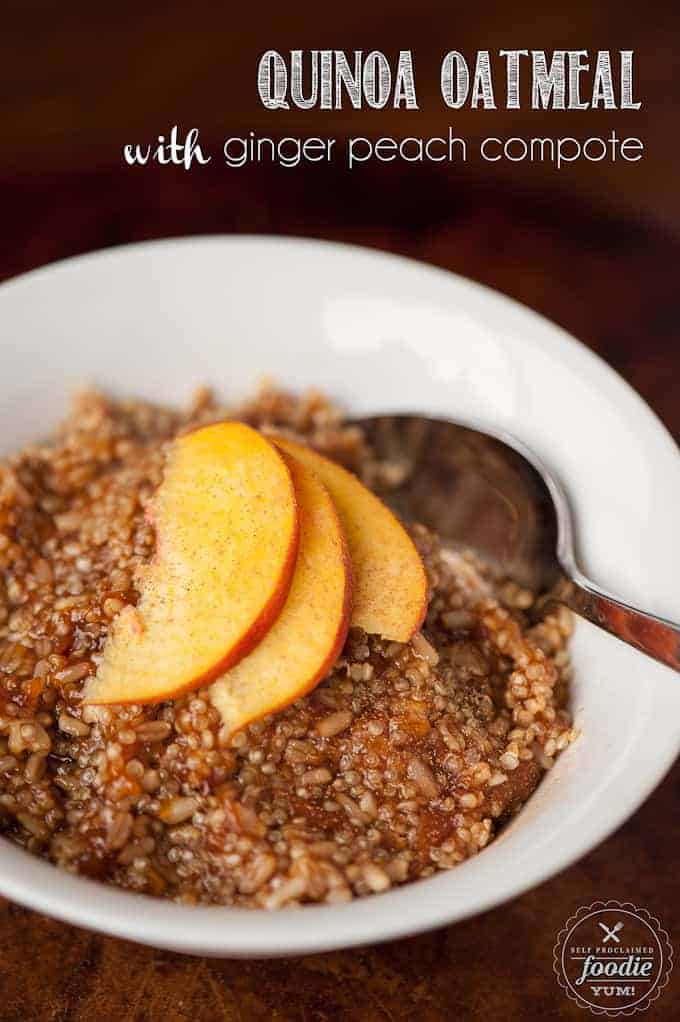 Wanna know my inspiration for this breakfast? Well, I'll tell you. It was because I bought this bag of quinoa ages ago when I was determined to eat more quinoa, and it has sat completely undisturbed in my pantry for who-knows-how-long. I've been buying these frozen servings of quinoa at Trader Joe's. I really like them and they are very convenient, but they are a dollar a serving which is a very cheap breakfast, but I was pretty confident it would be even less expensive if I made some from scratch. Especially considering I had this lonely quinoa just begging to be used.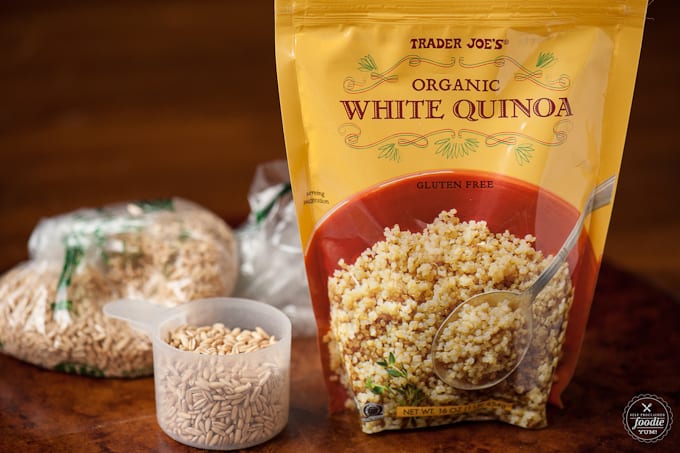 I also decided to use my groats instead of steel cut or rolled oats. I can't remember when my groat addiction started, but I put a scoop like this in my chocolate smoothie every morning and love the way they make me feel.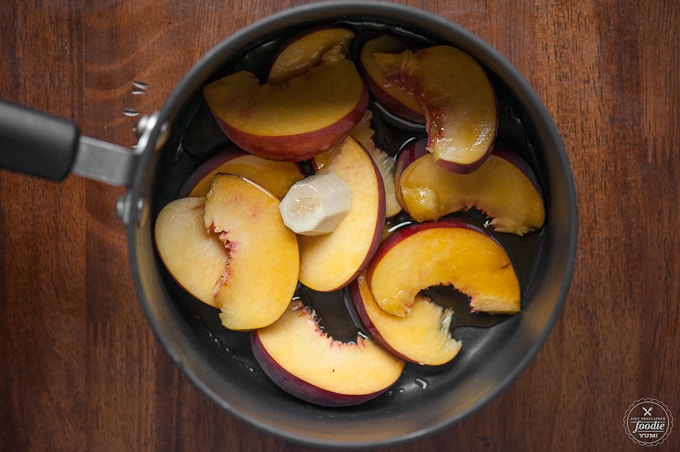 Adding the ginger to the peaches was inspired when I made my blueberry ginger bellini. Every time I cook with ginger, I taste asian cuisine and I'm trying very hard to break that by eating it with sweet foods and not just savory salty foods. If you're not a fresh ginger fan, you can always omit it, but I think it gives these peaches a real energizing bite. Ginger is most commonly known for reducing nausea, which is hopefully not induced by this breakfast, however it also has other great health benefits including a reduction in pain and inflammation, increased circulation, and it inhibits bacteria that might otherwise make you sick.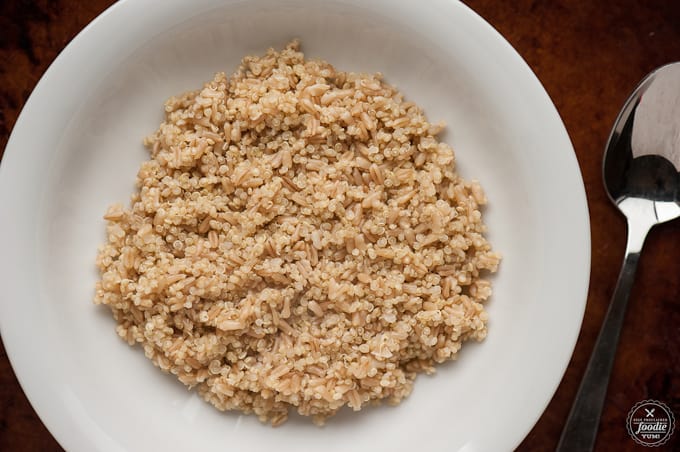 So, quinoa has a very earthy taste and when mixed with whole groats, its not very appetizing on its own. My kids asked "eww, why are you eating brown rice for breakfast?" when they saw this bowl. If you were to take a bite of the plain oatmeal, you would certainly feel like a horse.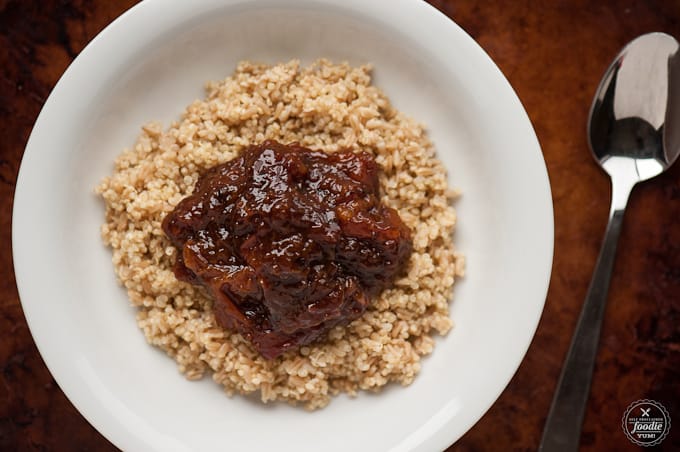 But when you add this wonderful compote… and then fully mix it in, it all surprisingly works very well together!  I ate this breakfast on the morning that I photographed a 9 hour wedding in 100 degree heat (followed by a lunch of scrambled eggs with salsa, cheese and spinach for that added protein boost) and I'm very pleased to say that I was completely energized and sustained throughout the day. Its just one of those breakfasts that makes you feel good!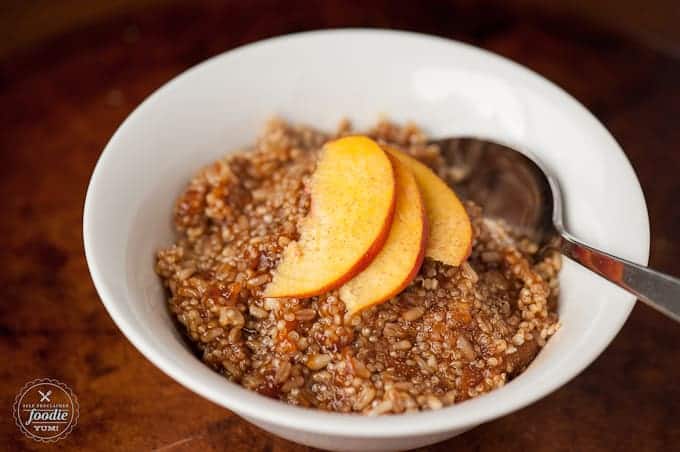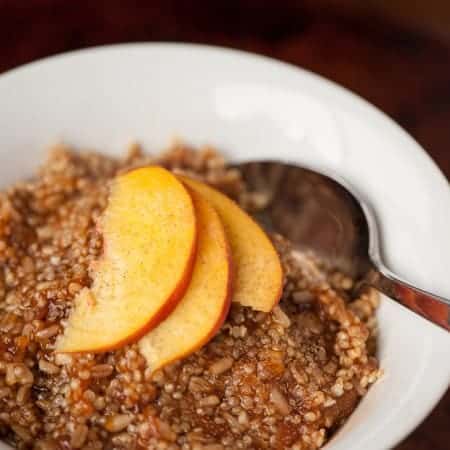 Quinoa Oatmeal with Ginger Peach Compote
I made Quinoa Oatmeal with Ginger Peach Compote for breakfast because I was looking for a healthy, energizing, and tasty way to fuel my body in the morning.
Print
Pin
Rate
Ingredients
1/4

groats

whole oats, can be found in bulk bin at nice grocery store, okay to substitute with steel cut oats if you reduce cooking time

2

cups

water

pinch

of salt

1/4

cup

quinoa

1

whole peach

sliced (peel on or off is optional)

1

small chunk of fresh ginger

peeled

1

tablespoon

pure maple syrup
Instructions
Combine groats, water, and salt in medium saucepan. Bring to boil over high heat, then cover and reduce heat to medium low. Cook for 10-15 minutes and then add in quinoa. Continue to cover and cook until all of the water is absorbed, about 10 additional minutes.

Meanwhile, in a second saucepan, combine sliced peach, ginger, and maple syrup. Cover and cook over low heat until peach breaks down, about 10-15 minutes. Uncover, stir to mash up the peach, and continue cooking until most of the liquid evaporates. Remove ginger and discard.

Divide the quinoa oatmeal into two servings and top with peach compote. Garnish with cinnamon and fresh peach slices, as desired.