This is a sponsored post written by me on behalf of Tazo® Tea for IZEA. All opinions are 100% mine.
Sit back and relax with a hot cup of tea and these homemade Pumpkin Spice Scones. No matter the time of day, you should sip joyfully and enjoy a treat!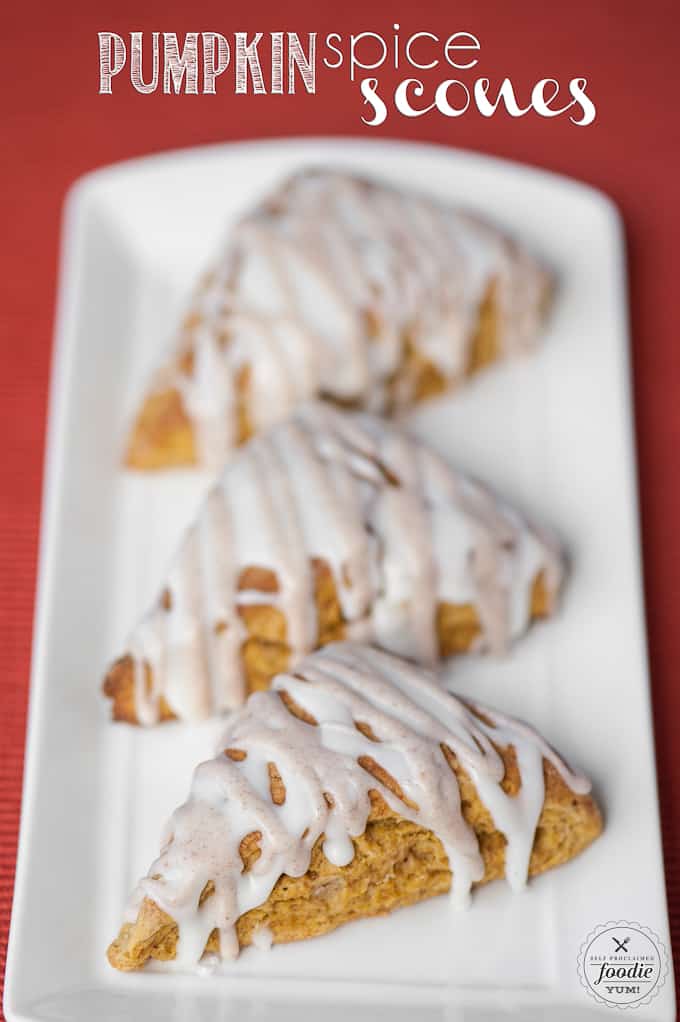 Like so many wives and moms out there who are similar in age, I have come to the realization that so much life discovery happens around this point in time. For example, throughout my 30s I have become a seasoned mom and career woman. I have also really figured out what drives me and as well as what brings me happiness. If you follow my blog, you'll definitely know that good food brings me so much joy, but so does quality time – both alone as well as with loved ones.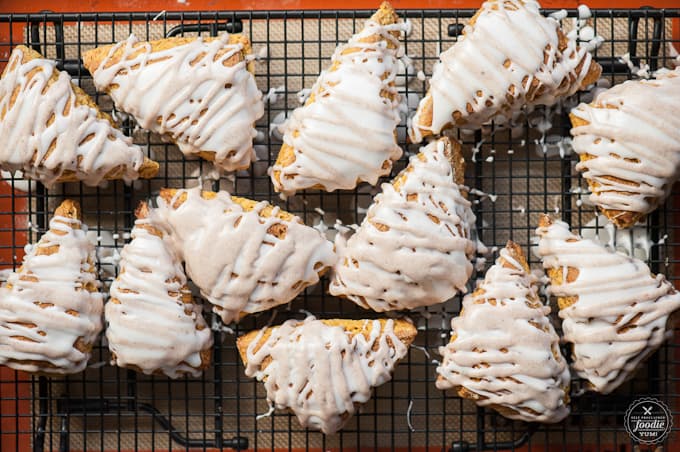 I made these pumpkin scones and they made me oh-so-happy. Not only were they super soft, delicious, and easy to make, but they were the first pumpkin spice recipe of the season! Don't worry – I'm sure I'll be making dozens more. But one cannot fully enjoy a scone without a hot cup of tea.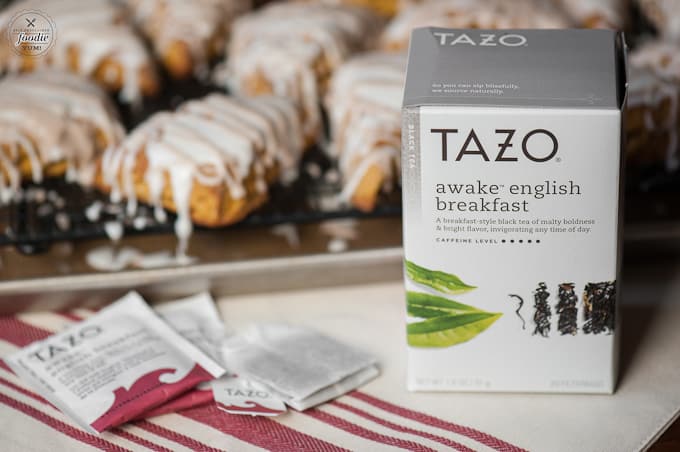 I happened to have three different blends of Tazo® Tea tea in my pantry to choose from: Zen™ – a harmonious blend of green tea with lemongrass & spearmint, Awake™ English Breakfast – a breakfast-style black tea of malty boldness & bright flavor, invigorating any time of day, and Passion® – An exuberant herbal infusion of hibiscus, orange peel, rose hips & passion fruit flavors. Because I enjoyed my tea with my scone as an afternoon treat with the book I've been reading, I opted for the Awake English Breakfast blend and it paired superbly with these sweet scones. Which tea would you have chosen?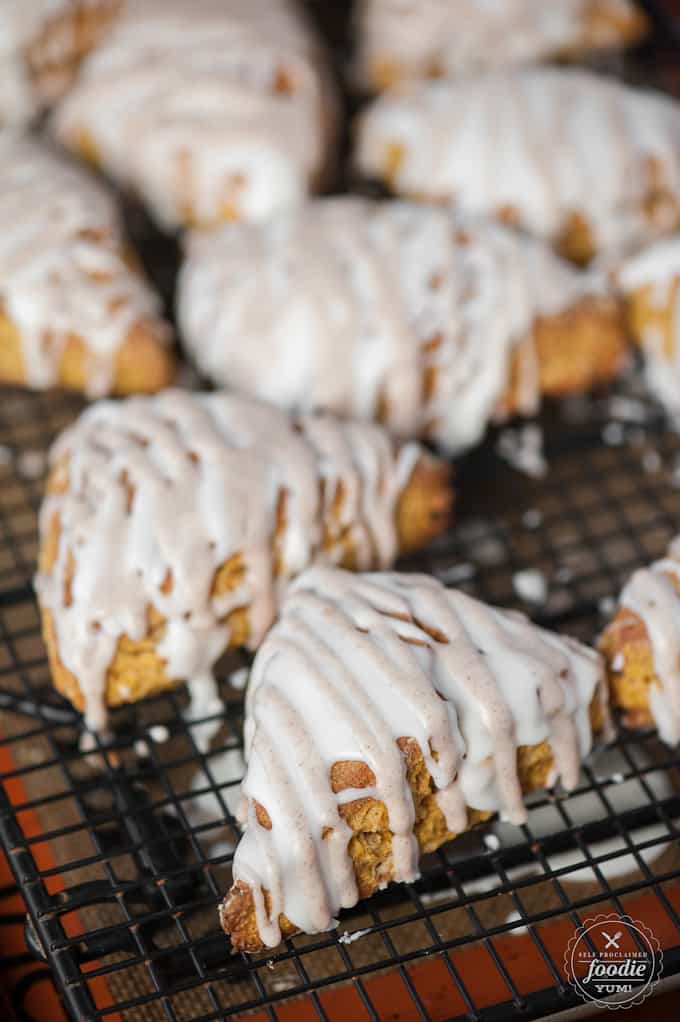 I love being able to drink a good quality tea with a tasty baked good at any point in the day. Sure, breakfast is an obvious choice. But you wanna know my most favorite time of day to enjoy something like this? Right around 3pm. Its that sweet spot right in between lunch and dinner where I'm a bit hungry but not starving and also a bit tired but not exhausted. This is the moment where I can joyfully sip my tea and enjoy my pumpkin scone the most!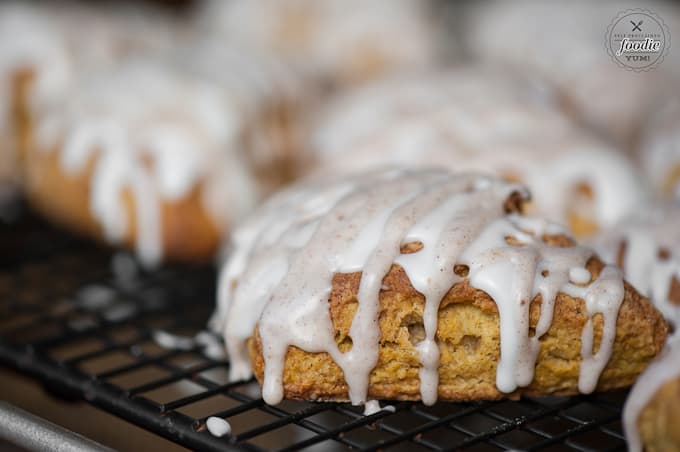 At Tazo, tea is a celebration of flavor and aroma that adds a little excitement to your day. They focus their teas around taste, crafting them with exhilarating, unexpected flavor blends that delight the senses. With Tazo, you don't just sip, you Sip Joyfully. Tazo teas are made with some of the finest quality tea leaves, spices and botanicals to create unexpected blends that are always vibrantly delicious which you can find at your local grocery store. You're just savoring the thought of being able to enjoy a moment like this right now, aren't you?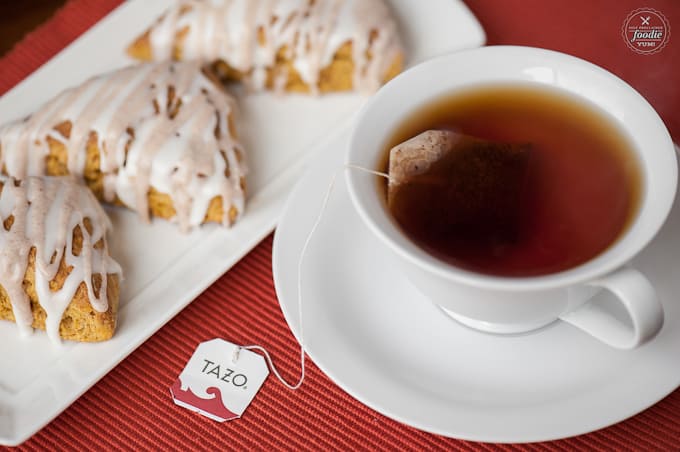 Tazo can be enjoyed at any point in your day, so why not make it one of your joyful moments? Enjoy!!!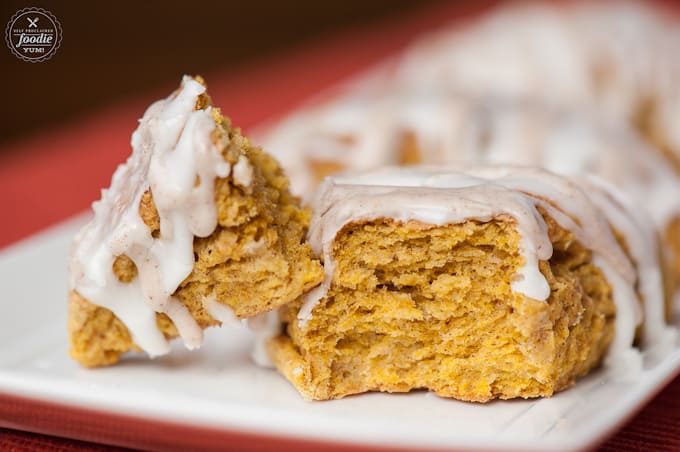 This recipe uses pure vanilla extract. Did you know you can make your own homemade vanilla extract? It makes the perfect gift too. Watch how in the video below.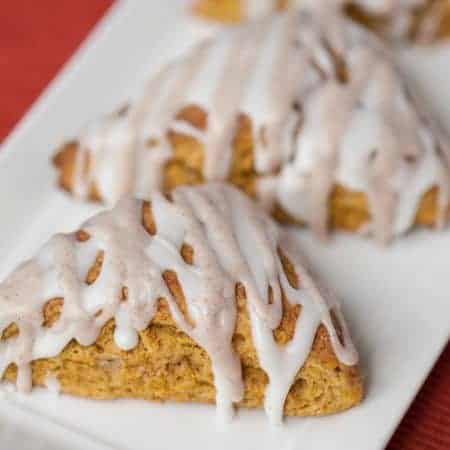 Pumpkin Spice Scones
Sit back and relax with a hot cup of tea and these homemade Pumpkin Spice Scones. No matter the time of day, you should sip joyfully and enjoy a treat!
Print
Pin
Rate
Ingredients
scones:
2

cups

all-purpose flour

1/3

cup

packed brown sugar

1

tablespoon

baking powder

1

tablespoon

pumpkin pie spice

1/2

teaspoon

salt

1/2

cup

1 stick very cold unsalted butter

1/2

cup

canned pumpkin

3

tablespoons

half and half

1

large egg

1

teaspoon

vanilla extract or vanilla paste
Glaze:
2

cups

confectioners sugar

4

tablespoons

half and half

1/2

teaspoon

vanilla paste

optional

1/2 to 1

teaspoon

pumpkin pie spice
Instructions
Preheat oven to 425 degrees F. Line a baking sheet with parchment paper.

Combine flour, brown sugar, baking powder, salt, and spices in a large bowl. Using a pastry knife, fork, or food processor, cut butter into the dry ingredients until mixture is crumbly and no chunks of butter are obvious. Set aside.

In a separate bowl, whisk together pumpkin, half and half, and egg. Fold wet ingredients into dry ingredients. Form the dough into a ball.

Pat out dough onto a lightly floured surface and form it into a 1-inch thick rectangle. Use a large floured chef's knife to slice the dough into half lengthwise and then into thirds going the other direction to yield 6 squares. Then, cut each of those squared diagonally to create 12 triangular slices of dough. Place on prepared baking sheet by transferring using a floured spatula.

Bake for 14 to 16 minutes in the top rack of the preheated oven. Do not open oven door until cooking time is almost complete. Scones should begin to turn light brown and be done cooking within a couple minutes of being able to smell them. Immediately remove from baking sheet and place on wire rack to cool.

While the scones are cooling, make the glaze. Mix the powdered sugar and half and half together until smooth with the vanilla paste, if using.

Use a whisk to drizzle a layer of plain glaze over the top of each scone, reserving a third to half of the glaze for the spiced version.

Add pumpkin pie spice to remaining glaze and drizzle remaining glaze over each scone using a whisk. Allow the icing to dry before serving (at least 1 hour).