These Pumpkin Hazelnut Pancakes are made with pumpkin puree, toasted hazelnuts, and all the right spices for a delicious fall morning breakfast.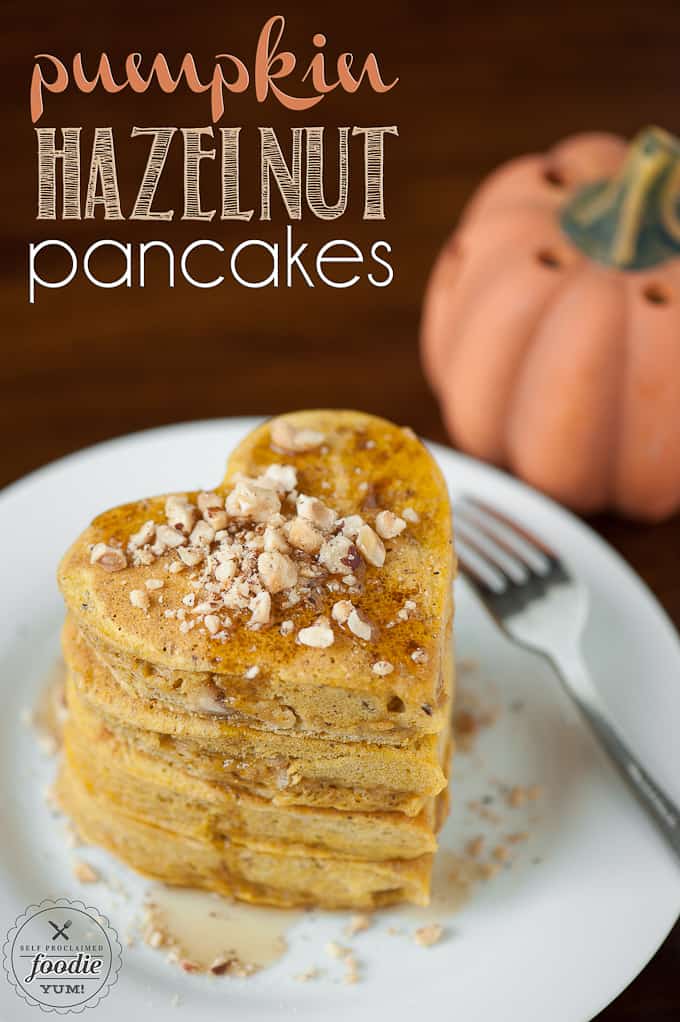 I will start this post by letting you know that they pumpkin hazelnut pancakes are good. Not pretty good, but amazingly good. Heck, most anything pumpkin is good, but when you add toasted hazelnuts and pure maple syrup, oh my! Now, I have to disclose something else about these pancakes. I have to give some credit to my convert-foodie husband. No, he had no part in making them, but he was the one who bought the pancake molds. You see, I don't think he has ever cooked anything for me in the decade+ that we've been married. I'm the grocery shopper, coffee maker, meal planner, chef and waiter in this family. He's the dish washer. There may have been a day right after I delivered our first born that he brought me breakfast in bed… I think.
My husband, however, has started his own tradition of making "dad's pancakes" every Saturday for the kids. He makes them different every time and they usually have a secret ingredient or two that he makes us guess. He has also told me that I will be featuring "dad's pancakes" on my blog at some point, so be on the lookout for those. Anyway, I've always cooked for taste and not always for presentation. The problem with having a food blog is that I have to make things look appetizing. You should have seen me struggle to make ratatouille look pretty! I would have never thought to buy pancake molds. Heck, I didn't even know they existed. But, being the fun and creative dad that he is, he bought an assortment and admittedly impressed me when he made some pretty cool shaped pancakes. So I did the right thing and I stole his idea and used them for these pancakes and really loved how they turned out. Seriously, though, these turned out so moist and fluffy and delicious. Those hazelnuts add just the right amount of crunch that the bacon on the side wasn't even necessary, if you can believe that. These will definitely become a fall staple in our house, and hopefully yours too!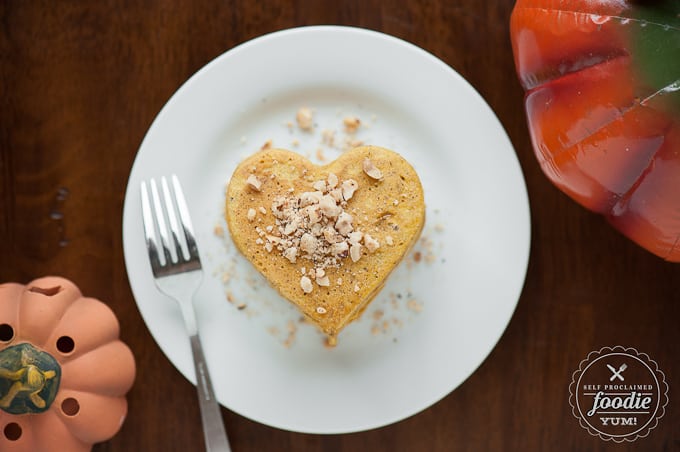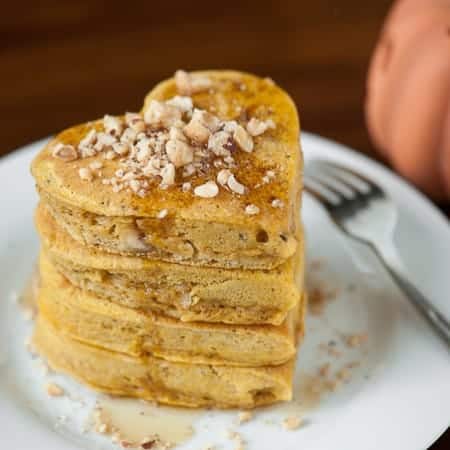 Pumpkin Hazelnut Pancakes
These Pumpkin Hazelnut Pancakes are made with pumpkin puree, toasted hazelnuts, and all the right spices for a delicious fall morning breakfast.
Print
Pin
Rate
Ingredients
1

cup

whole hazelnuts

2

cups

flour

2

tablespoons

sugar

2

teaspoons

baking powder

1

teaspoon

baking soda

pinch

of salt

1

teaspoon

cinnamon

dash allspice

dash nutmeg

2

eggs

lightly beaten

1

cup

plain greek yogurt

1

cup

pumpkin puree

1/2

cup

milk
Instructions
Add hazelnuts to medium sized saute pan. Heat over medium low heat, shaking them around in the pan every minute or so, for about 10 minutes. You should see the hazelnuts toast to a light brown and about half the skins should fall off. Remove from pan and set aside to cool.

Meanwhile, combine flour, sugar, baking powder, baking soda, salt, cinnamon, allspice, and nutmeg in large bowl. Stir until all ingredients are evenly mixed. In separate bowl, combine eggs, yogurt, pumpkin and milk. Stir to combine.

Fold wet ingredients in with the dry ingredients and stir just well enough to combine. If batter seems too thick to spoon onto griddle, add more milk one tablespoon at a time until desired consistency is reached.

When hazelnuts are cool enough to handle, take a handful at a time and rub them in between your hands to further remove the skins. Most will flake away, some will remain. Add skinned hazelnuts to food processor. Pulse until you have a good mixture of little chunks. Reserve a small handful to top your cooked pancakes and fold the remaining hazelnuts into the batter.

Cook pancakes over medium low heat on a lightly oiled griddle. Makes ten 6 inch pancakes. Serve with real maple syrup.