If you're looking for an easy to make finger food party appetizer, look no further than these delicious Prosciutto Phyllo Wrapped Asparagus spears.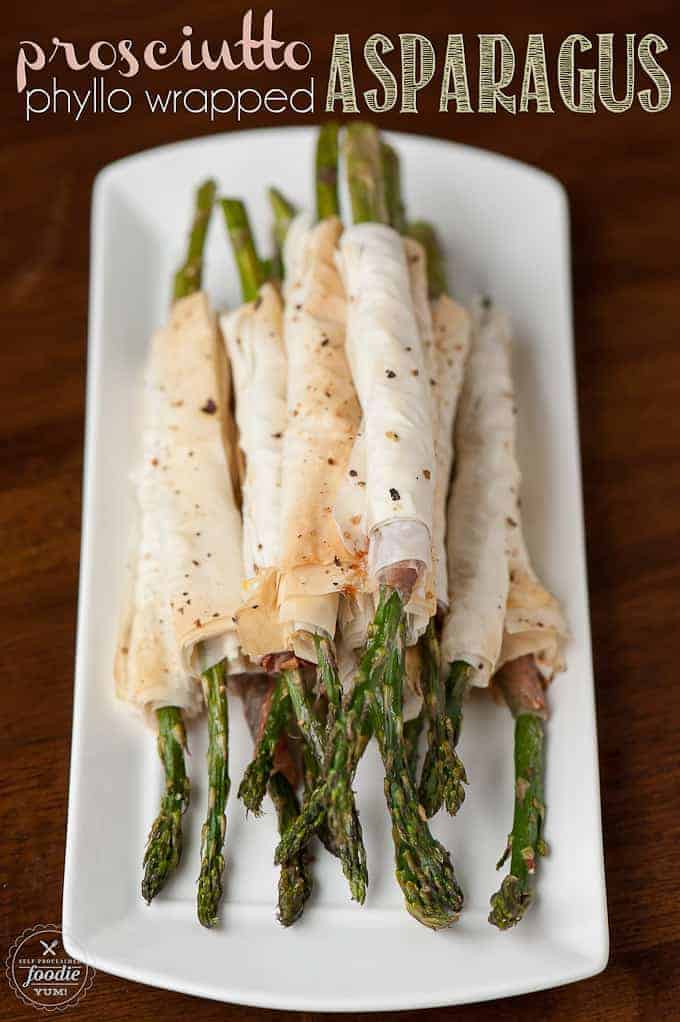 When it comes to entertaining, I'm all about food that tastes good and is easy to make. I mean, if you're going to the trouble to clean your house and bring out the extra chairs and use the good linens and give that often neglected kitchen range a good wipe down so you're not embarrassed to have company over… you might as well do yourself a favor and cut a few corners when it comes to food prep. The trick is to prepare something easy that looks fancy. Enter prosciutto phyllo wrapped asparagus spears.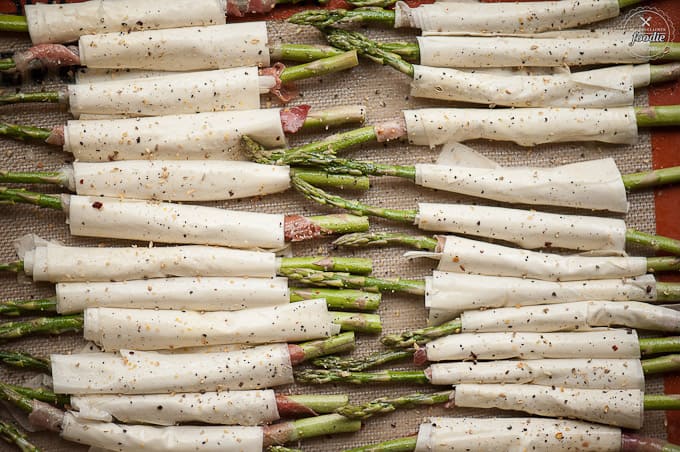 I had never cooked with phyllo dough before. Believe me when I've said that I've eaten a ton of it (I have a secret addiction to baklava), but I had never made anything with it. Its pretty cool stuff. The trick is to keep it moist with a towel, otherwise it will instantly dry out and tear. I had never made this appetizer before either, so allow me to share some of my tips that I picked up along the way with you: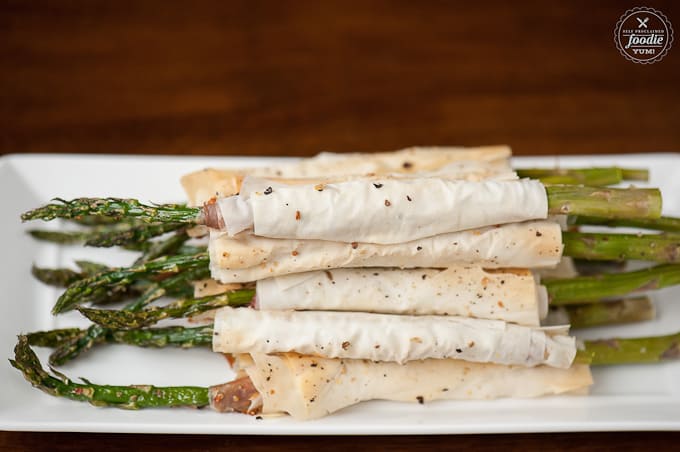 1. Go for the big fat asparagus spears. I typically go for the slender dainty tender asparagus, but I forgot one crucial rule – asparagus shrinks when you cook it. If you don't want to end up with a big tube of phyllo dough and a teeny tiny shoelace asparagus, go for the big daddies.
2. Experiment with the amount of sheets you want to use. I started off using more than less and I think I preferred using around three to each asparagus. It was enough to create flaky layers but not so much that it was too much bread.
3. Olive oil is your friend. Picture yourself rolling a cigarette and not having enough spit to seal the darn thing. I've never rolled a cigarette, but I felt like I was, and the right amount of olive oil helped that dough stay sealed.
All in all, this is a pretty easy appetizer to through together, although there is some assembly required. It will have people raving about how you make such fancy finger food at your next party. Try it out and let me know how you like them!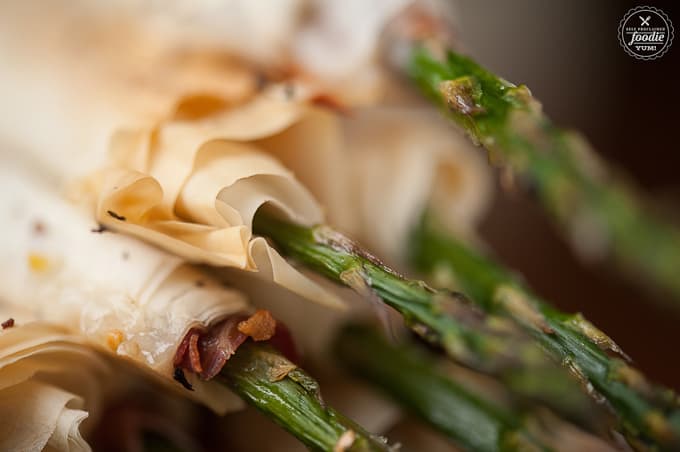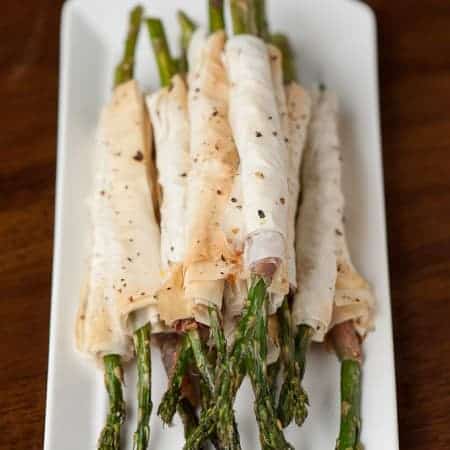 Prosciutto Phyllo Wrapped Asparagus
If you're looking for an easy to make finger food party appetizer, look no further than these delicious Prosciutto Phyllo Wrapped Asparagus spears.
Print
Pin
Rate
Ingredients
4

ounces

thinly sliced prosciutto

cut into 30 long, thin strips

30

asparagus spears

trimmed (big and fat is better than skinny)

frozen phyllo dough

thawed (I used about 1/3 of a one pound package)

Olive oil cooking spray or 1 tablespoon olive oil

salt and pepper

as desired
Instructions
Preheat oven to 400° F.

Wrap 1 prosciutto strip around each asparagus spear, barber polestyle, leaving the tip uncovered. Give it a squeeze and it should stay in place.

Place phyllo sheet on work surface and keep it covered with a barely moist towel to prevent it from drying. Cut dough into rectangles that are about 2x4 inches. You basically want them to be big enough to wrap around your asparagus while leaving both ends exposed. Coat phyllo with cooking spray or dip finger in oil and rub top of dough. Take 3-5 pre-cut sheets at a time and wrap around prosciutto covered asparagus. The oil will help seal the ends. Place on baking sheet, seam side down. Repeat procedure with remaining phyllo, asparagus, and cooking spray. Once done, give all of them a light spray of olive oil.

Bake at 400° for 15 minutes or until phyllo is golden and crisp. Serve warm.