Pretzel Wrapped Hot Dogs are surprisingly easy to make and a fun alternative to the boring bun. They can be made ahead and enjoyed while camping too!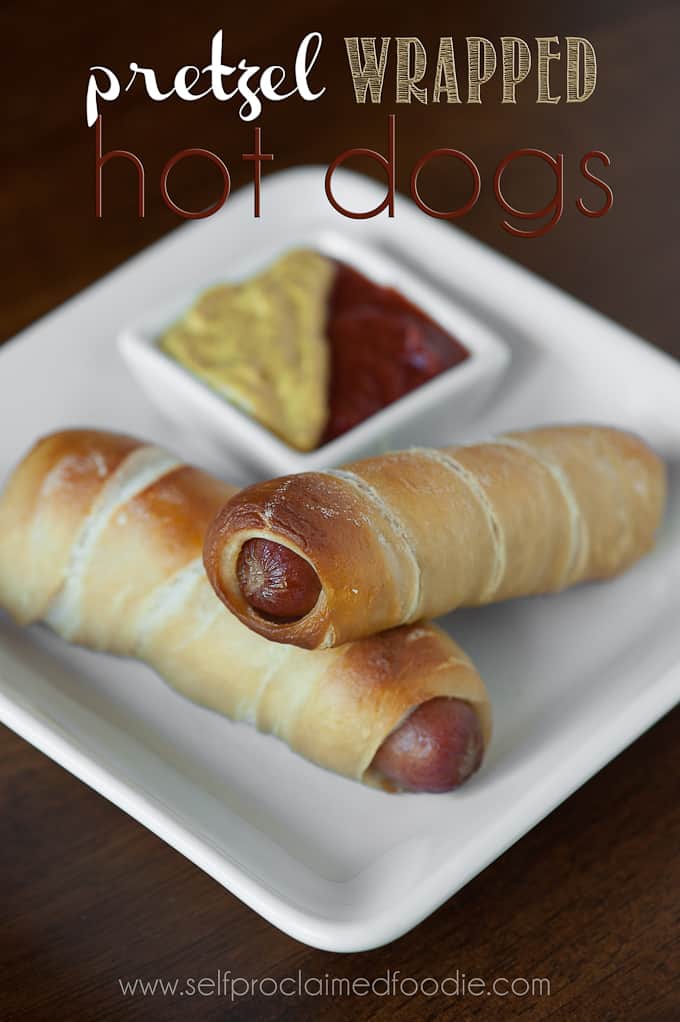 I was so proud of myself when I made these pretzel wrapped dogs. Want to know why? Well, despite the fact that I've always loved to cook, I had NEVER made any type of bread. I don't know why, but the thought of working with bread was totally intimidating to me. Same thing happened with canning until I tried it last year and went hog wild canning peaches once I saw how easy it was. If you're intimidated by making bread and/or canning, look at it like I did: people have been making bread and canning for decades, and even if you consider yourself of average intelligence, 50% of those people are dumber than you. So if they can do it, so can you! I'm horrible… but that's how I convinced myself to finally attempt to cook with dry active yeast.
These pretzel wrapped hot dogs were inspired by my foodie-in-training daughter. I was looking on pinterest for fun camping food ideas. I saw these dough wrapped hot dogs that you cook over the fire made from prepackage cresent rolls. That dough is so greasy, it sounded a bit nauseating. Then my daughter said "why not pretzel wrapped dogs?". She's a freaking food genius, I tell you. But wait, pretzel is bread and I don't know how to make bread! I'm happy to tell you I figured it out and now playing with fluffy stretchy pretzel dough is now one of my favorite past times. I might just make up another batch just so I can play with it and nothing more.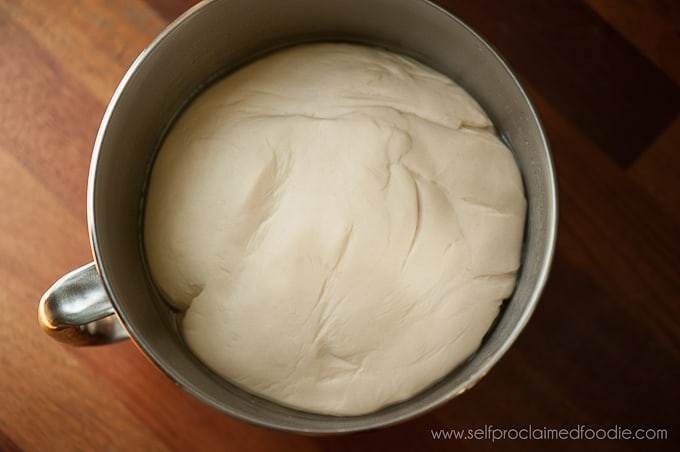 I made my pretzel wrapped dogs specifically to take camping, but I was hungry (when am I not?), I wanted to make sure they were good, and I wanted to photograph a couple at home in case I burned them on the campfire (extremely likely). Oh my god. Sooooo good. So so good. Of course, I used really good quality dogs as well as spicy mustard and our favorite ketchup (yes, there are distinct differences in brands of ketchup) and am positive that added to the amazing taste.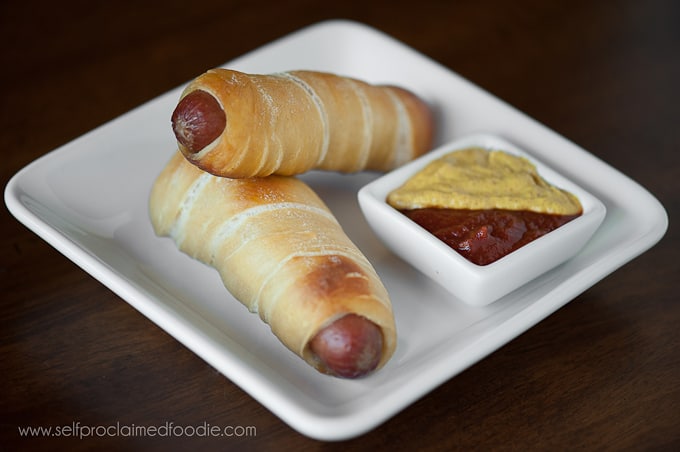 And proof that I successfully cooked them on the fire and didn't ruin them. See those beautiful hot coals on the lid?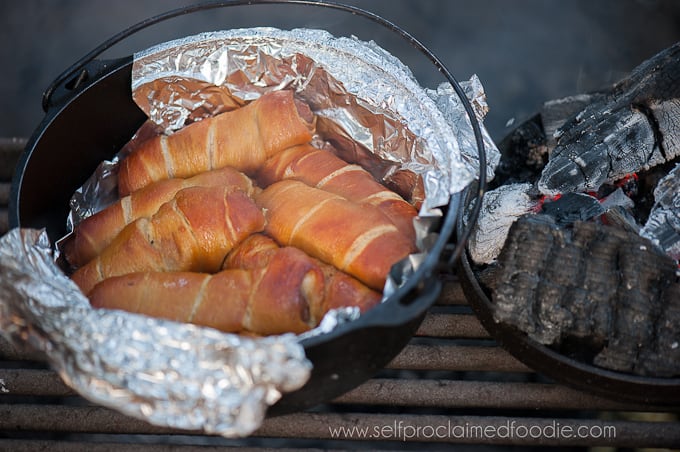 And an extreme close up after I took a VERY large bite. Wow, my nails don't look so bad when I have a super tight depth of field and they're out of focus.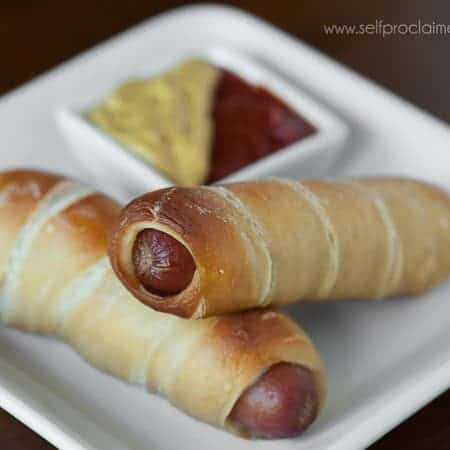 Pretzel Wrapped Hot Dogs
Pretzel Wrapped Hot Dogs are surprisingly easy to make and a fun alternative to the boring bun. They can be made ahead and enjoyed while camping too!
Print
Pin
Rate
Prep Time:
1
hour
30
minutes
Total Time:
1
hour
45
minutes
Ingredients
1 1/2

cups

warm water

105-115 degrees F, like hot bath water

1

tablespoon

sugar

2

teaspoons

kosher salt

1

package

0.25 ounce active dry yeast

4 1/2

cups

all purpose flour

4

tablespoons

unsalted butter

melted

1

tablespoon

olive oil

1

tablespoon

vegetable oil.

16

hot dogs

2/3

cup

baking soda
Instructions
In stand mixer bowl, combine warm water, sugar and salt and swirl to combine. Sprinkle yeast on top and allow to sit, undisturbed, for 5 minutes. Yeast should create a foamy top.

Add flour and butter and mix on low speed with dough hook until combined. Increase speed to medium and knead the dough in the mixture for 5 minutes. Dough will be smooth and pull anything sticking to the sides into the dough.

Remove the dough, wipe out the bowl, grease bowl with olive oil, and return dough to bowl. Cover tightly with plastic wrap and allow to rise in warm room for an hour until dough has doubled in size.

Boil 10 cups of water with baking soda.

Preheat oven to 450 degrees F. Prepare a baking sheet with parchment paper and a thin layer of vegetable oil.

Cut dough into 16 equal portions. Roll each portion, one at a time, into a long uniform log, at least 12 inches in length. Wrap hot dog, wrapping ends of dough under to secure, in a spiral pattern so that entire outside of dog except ends is covered. Gently place pretzel wrapped dog in boiling baking soda water for 30 seconds, remove with slotted spoon, and place on prepared baking sheet. Continue covering and boiling each pretzel dog, one at a time.

If freezing to make ahead, bake pretzels until just starting to brown. Remove from oven, cool, and freeze on baking sheet. Once frozen through, store in freezer storage bag until ready to cook.

If cooking immediately, lightly brush tops with melted butter and cook 12-14 minutes until golden brown.

If cooking over campfire, grease bottom of dutch oven with oil (or for easy clean up, line with foil and then grease). Place dogs in single layer (the best you can) in dutch oven. Prepare hot coals in fire pit. Arrange a flat layer of coals to place your dutch oven on. Be sure to allow ample air flow under dutch oven and do not place bottom of oven on coals or you will burn your dogs. Cover with lid, and place more hot coals on top of lid. To properly bake, you want 75% of your coals to be on top and only 25% below. Aim for at least 6 coals underneath and 18 on top but if you want them to cook faster, use 8 coals underneath and 24 on top. After 12 minutes, carefully open lid to check on dogs. They're done when golden brown in color.