This Poblano Jalapeno Chipotle Burger is a spicy mouthwatering piece of heaven with roasted poblano, chipotle aioli, jalapeno, pepper jack, and grass fed beef.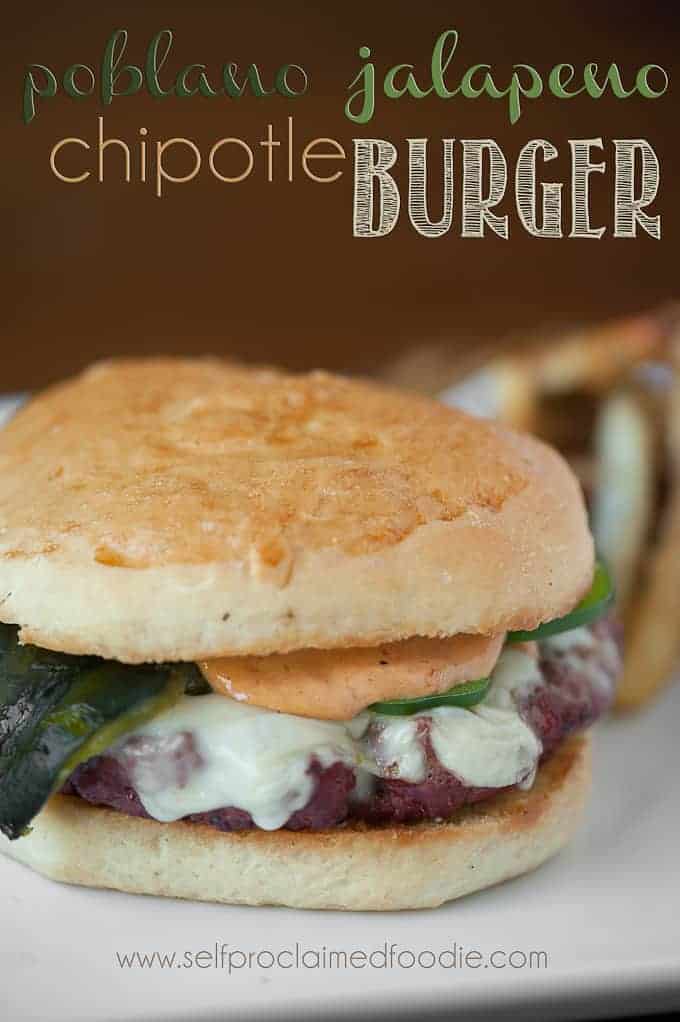 I'm not gonna lie to you. A lot of work went into this burger. It was a two day process for me since I made homemade buns, which are totally worth it. Every foodie will agree. My quest? Create the perfect burger. My convert-foodie husband LOVES hamburgers. What meat eating man doesn't? He would eat them every day if I served them to him. I am happy to say that he has deemed this exact burger the best burger he has ever eaten. I take that as quite the compliment seeing as how he always orders a burger if they're on the menu and we have searched high and low for the best burger joint wherever we go.
The perfect burger starts with good meat. Every year we buy a quarter cow. This pasture raised cow is born and raised in our beloved state of Oregon and the meat is grass fed and finished. It is beyond amazing. Its a little hard to see, but I put a small indentation in each patty. This allows all the juices to pool at the end of the cooking process and then absorb back into the meat. If you don't do this, you need to try it.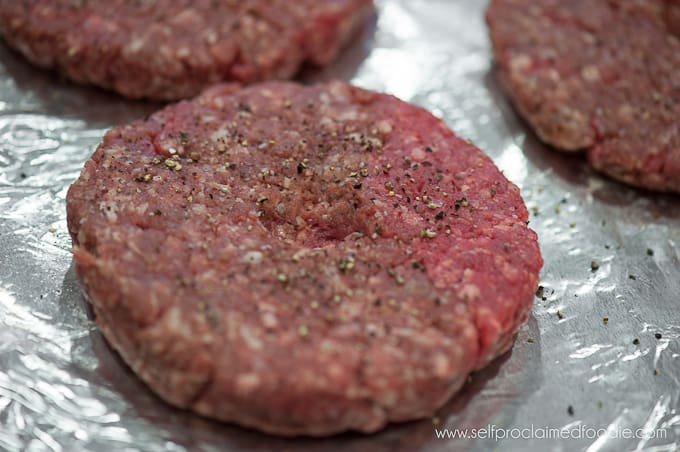 Roasting your own peppers is actually super simple. They're not as earthy and wonderful as fire roasted peppers and chiles, but this definitely works. Just oil them, broil them, sweat them, and clean them up.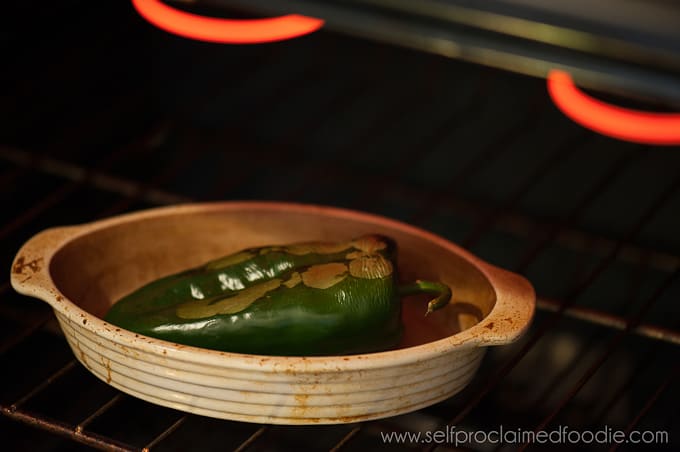 Here's an action shot below. Buns toasting, cheese melting, peppers warming. The recipe tells you how to make 8 burgers. We only made two spicy ones and the kids' burgers remained plain.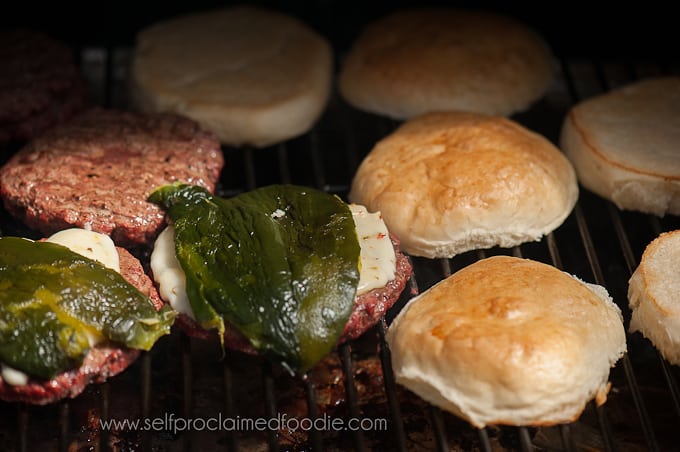 And the finished product. Oh my god. I slathered a thick layer of chipotle aioli on the bun. I thought it was more than enough, but I found myself dipping each bite in more. This burger had just the right amount of heat to make your forehead sweat but it didn't leave your mouth burning to the point where you couldn't take another bite. The homemade buns held up perfectly and didn't fall apart. A necessary attribute when making a burger of this magnitude.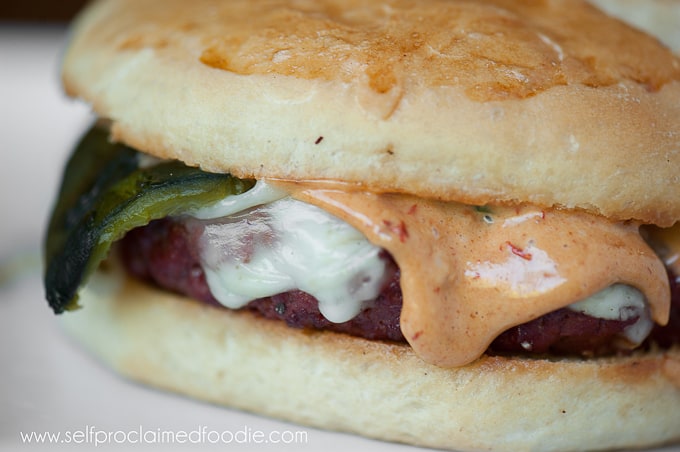 Serve with rosemary garlic fries and an abundant amount of chipotle aioli for dipping. I could only eat half my burger. I wanted to eat the whole thing, but the laws of physics prevented it and my lucky husband ate the rest of my burger the next day.
If you're wondering why the outside of my meat looks a bit red, its because we grilled them on our traeger. We still used high heat to cook the meat just as you would on a gas grill, but the wood smoke turns the outside of the meat red and makes everything outrageously delicious.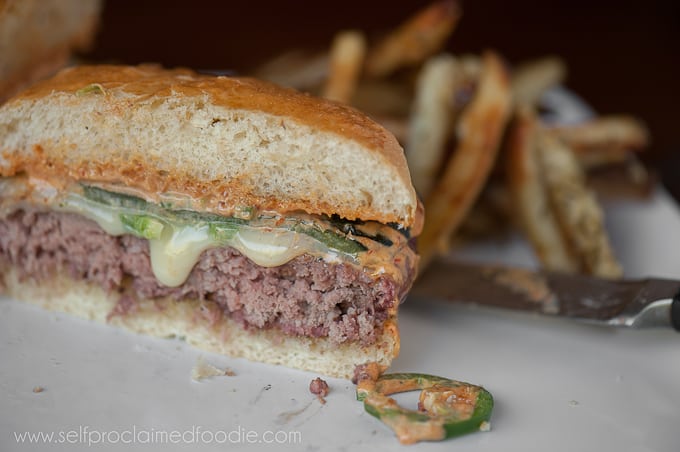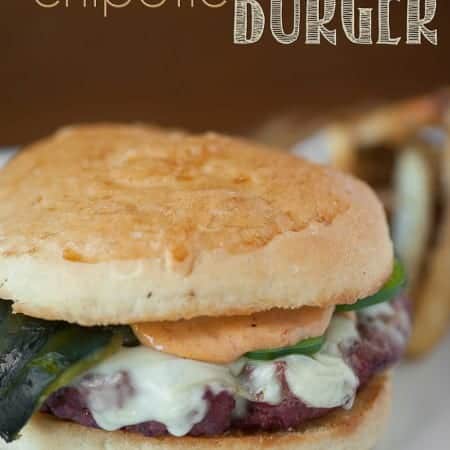 Poblano Jalapeno Chipotle Burger
This Poblano Jalapeno Chipotle Burger is a spicy mouthwatering piece of heaven with roasted poblano, chipotle aioli, jalapeno, pepper jack, and grass fed beef.
Print
Pin
Rate
Ingredients
8

homemade buns

2

tablespoons

butter

4

pounds

ground beef

pasture raised grass fed desired

Salt & Pepper to taste

4

poblano peppers

1

tablespoon

olive oil

4

jalapenos

thinly sliced keeping veins and seeds

8

thick slices jalapeno or pepper jack cheese

chipotle aioli
Instructions
Make hamburger buns, chipotle aioli, and roasted poblano peppers ahead of time.
How to roast your poblanos:
Lightly rub each pepper with olive oil and broil under high heat on baking sheet. Cook each side until light brown, about 5 minutes, then rotate until most of the poblano is lightly brown and crispy.

Remove from oven and while still hot, put in air tight glass container to sweat the peppers. Allow peppers to remain in air tight container for several hours or refrigerate overnight. Be sure not to open lid until pepper has fully cooled.

Under cool running water, gently peel off skin and discard top and seeds. Lay out on paper towel to dry. Divide each pepper into halves.
To make the burgers:
Split buns in half. Lightly butter both sides. Set aside.

Form 8 half pound patties. Handle meat as gently as possible. Form patty to have a circumference slightly larger than your bun and with even thickness. With your knuckle, create a slight indentation in the center of the patty. Season both sides with salt and pepper.

Heat grill on high. Cook burger, indentation side down, 8-10 minutes with the lid closed.

Flip patties. Allow to cook 5 minutes with the lid down. Juices will pool in the indentation.

Top with cheese and roasted poblano pepper. Place buns on grill, butter side down. Close lid. Allow burgers to cook another few minutes, allowing cheese to melt and buns to toast to a golden brown. Remove items from grill and allow meat to rest a few minutes.

To assemble your burgers, top patty with cheese and poblano with jalapeno slices. Coat top bun with a generous amount of chipotle aioli. Serve with rosemary garlic fries and additional chipotle aioli for dipping.
link
link