Pepperoni Pizza Pull Aparts take traditional pizza ingredients and turn them into a two bite appetizer perfect for any party or game day feast.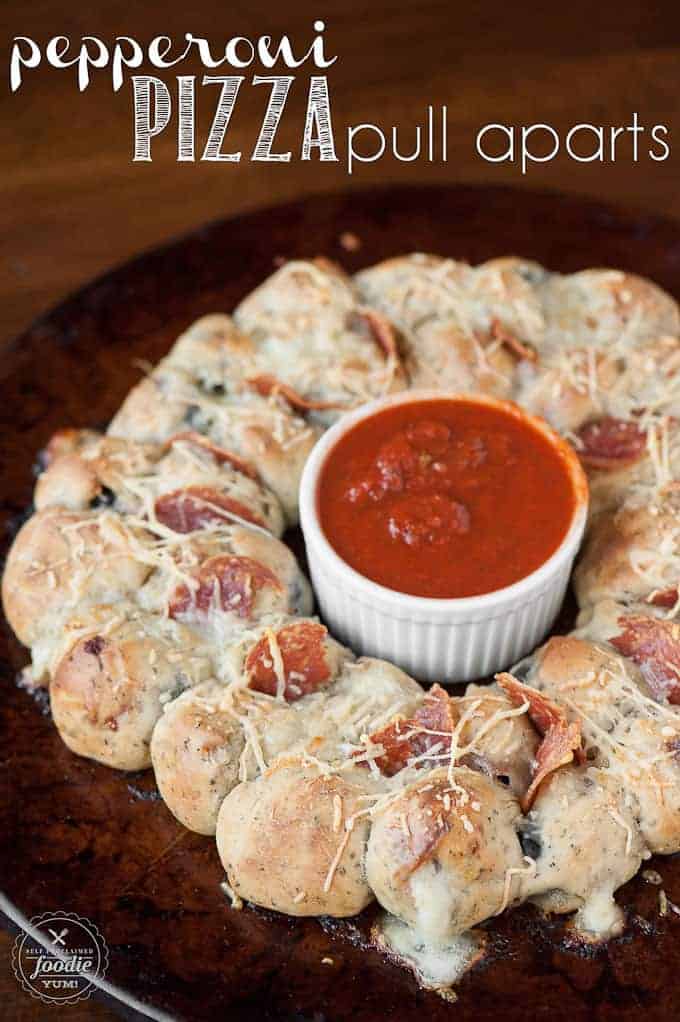 This was one of those recipes where I made it not really knowing what I was doing, but I was extremely pleased with the outcome. I didn't know if the ratio of ingredients I had purchased was correct, and my OCD brain was so excited when not only did everything divide perfectly between exactly 32 bites, but when placed in a double ring concentric circle on my pizza stone, they were perfectly spaced and nestled that little ramekin of marinara sauce in the middle perfectly. I'm so insanely weird about proper proportions that I may have found myself holding my knees, rocking back and forth in the corner had this not worked out.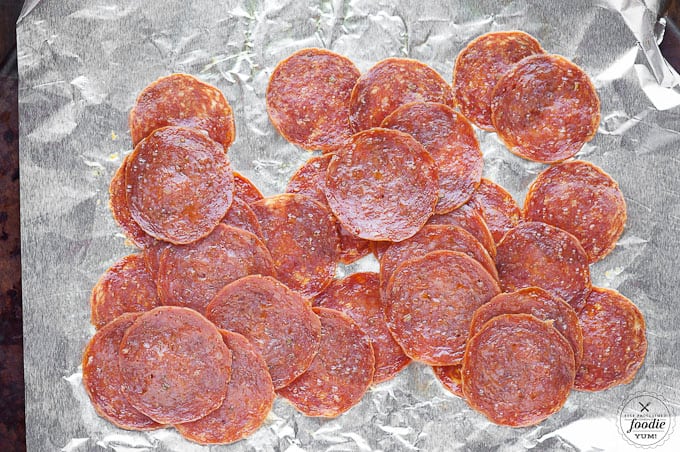 I've talked before about how much I love fat, but un-rendered fat makes me completely ill. Yucky. I feel the same way about floppy pepperoni. That's why, among like a thousand other reasons, you'll never see me buy one of those stuffed crust gargantuan floppy pepperoni filled Pizza Hut pizzas. No offence if you love those things. To prevent the floppy pepperoni, I laid mine out on a piece of foil and crisped them up in the oven for a few minutes first. In my weird brain, this made all the difference.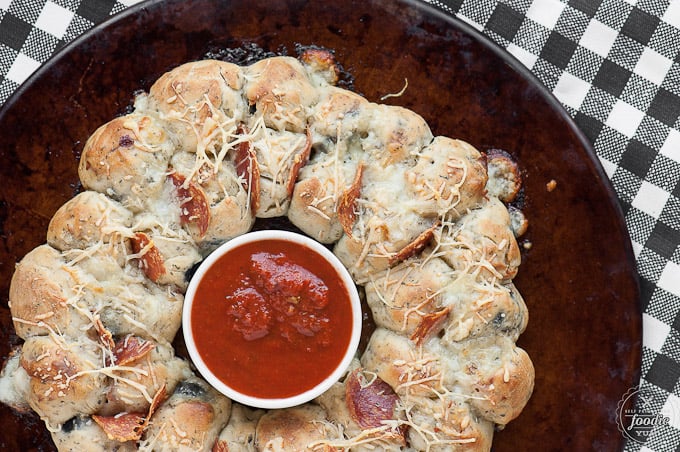 I wasn't sure if all of the ingredients would fit into each piece of dough, especially since I put an entire black olive inside each one, because everyone in our family loves olives. It worked out perfectly. Yeah, a couple of them had the ingredients peeking through a teeny bit and a few of them had the cheese leak out a wee bit, but that all adds to the final product. I had enough leftover pepperoni to tuck a piece in between every other ball. You'll also find that 32 is a magic number because you just keep cutting things in half until you get 32 pieces (1 x 2 x 2 x 2 x 2 x 2). Math is fun. I almost always make pizza with my homemade pizza dough, but I was lazy wanted a bunch of herbs in my dough and they're all dead in my garden right now, so I bought a pack of pre-made garlic herb dough at Trader Joe's. These little pizza bites make a great game day appetizer, but we ended up eating them for dinner with a ceasar salad because I was lazy we don't watch football and I didn't want to make a separate dinner.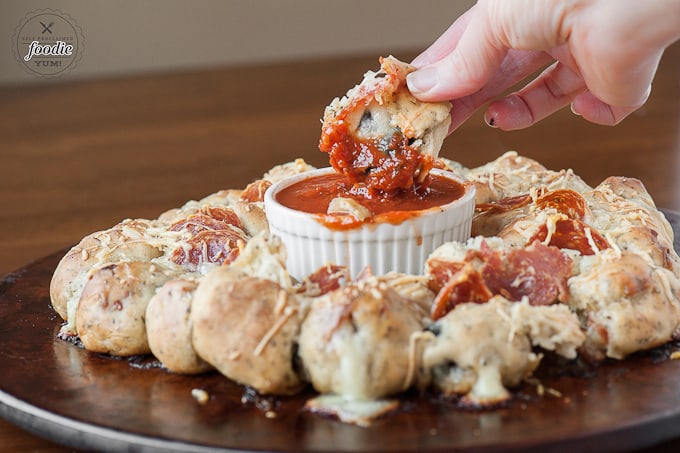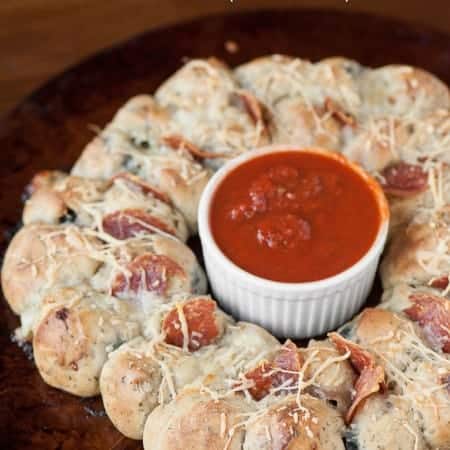 Pepperoni Pizza Pull Aparts
Pepperoni Pizza Pull Aparts take traditional pizza ingredients and turn them into a two bite appetizer perfect for any party or game day feast.
Print
Pin
Rate
Ingredients
16

ounces

pizza dough

5

ounces

pepperoni

8

ounces

fresh mozzarella

6

ounces

drained weight can of pitted black olives

1/4

cup

parmesan

grated

1

cup

marinara sauce
Instructions
Preheat oven to 450 degrees F with pizza stone in the oven. If using metal baking sheet, do not preheat in oven.

Arrange pepperoni on a sheet of foil and cook in preheated oven until crispy around the edges, about 5 minutes.

On a lightly floured work surface, cut pizza dough into 32 equal portions (cut it in half, then each piece in half to make 4, then again to make 8, then again to make 16, then again to make 32). Do the same thing with the mozzarella. Drain olives.

Flatten piece of dough and place pepperoni folded or torn into quarters, a piece of mozzarella, and an olive on dough. Wrap corners around and then press dough to completely cover ingredients. Squeeze to form into ball. Repeat with remaining ingredients. If you don't put a full piece of pepperoni in, you will be able to use the extra in between the balls in the cooking process.

Remove hot stone from oven. Arrange dough into two concentric circles that touch, making the inside whole big enough for a ramekin of marinara sauce. Tuck any unused pieces of pepperoni in between the dough balls. Sprinkle the wreath with the parmesan cheese. Put the oven safe container of sauce in the middle and cook everything all at once until the dough starts to brown, about 15 minutes.