These delicious and easy to make Pecan Pie Fun Cakes topped with cream cheese frosting and M&M's® Pecan Pie pieces are the perfect Fall dessert.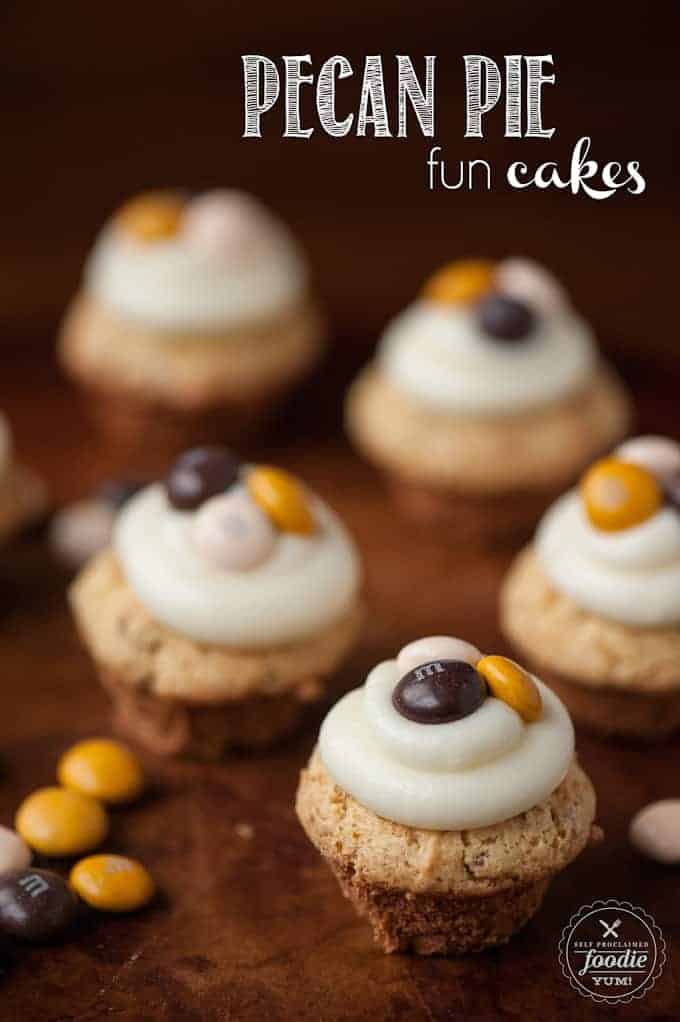 Oh boy, these little Pecan Pie Fun Cakes were so fun to make. I loved them so much, which is one of the many reasons you are about to see a lot of photos. If you haven't realized this about me yet, the amount of photos I share in a post is usually proportional to how much I love the recipe. First off, I should tell you how much I love pecan pie. Its my favorite fall dessert. I wanted to make a pecan pie inspired dessert, that wasn't actually pecan pie. I had to get creative for this one, and it ended up being one of the easiest desserts I've ever put together. I had never made cookies out of cake mix, but I've heard of people doing it, so that was my plan. I mixed up the package of the Pillsbury™ Moist Supreme® Golden Butter Recipe flavor – which I highly recommend for this recipe because the flavor really does make it taste like pecan pie – along with some pecan pieces, Mott's®  apple sauce, oil, and eggs.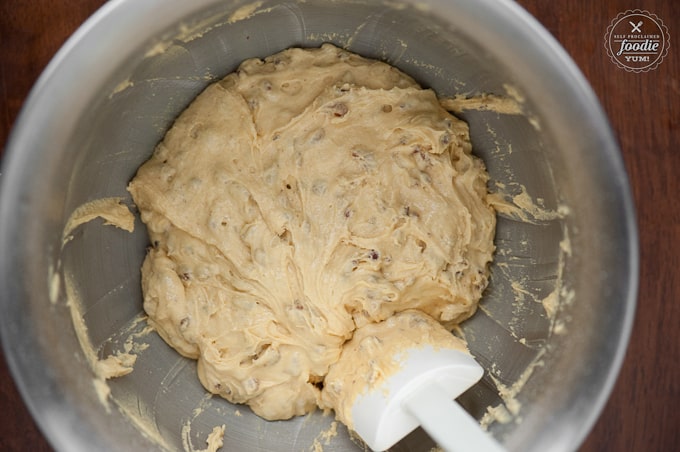 My goal was to put the batter in the mini muffin cups and create a perfectly shaped cookie that tasted like pecan pie.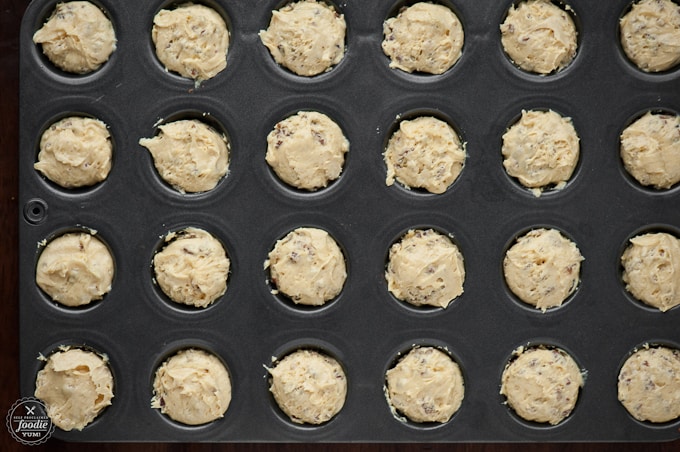 Did it taste like pecan pie? Oh yes. So much so that it really confused my taste buds. Did it feel like a cookie? Not completely. Did it feel like a cupcake? Not really. It was sort of the perfect combination of a cookie and a cupcake. I asked my husband what I should call these things and, I promised I'd give him full credit here, he suggested "fun cakes". Of all of his random ideas and suggestions, I actually really liked this one because that's exactly what they are: fun cakes!  I may have to call up a patent attorney… I think I'm on to something!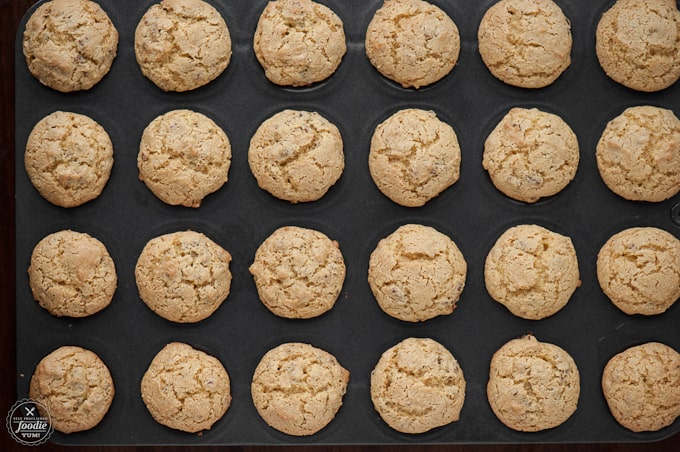 I whipped up a quick and easy cream cheese frosting because, well, cream cheese frosting makes everything better. Don't even try to argue with me on that one.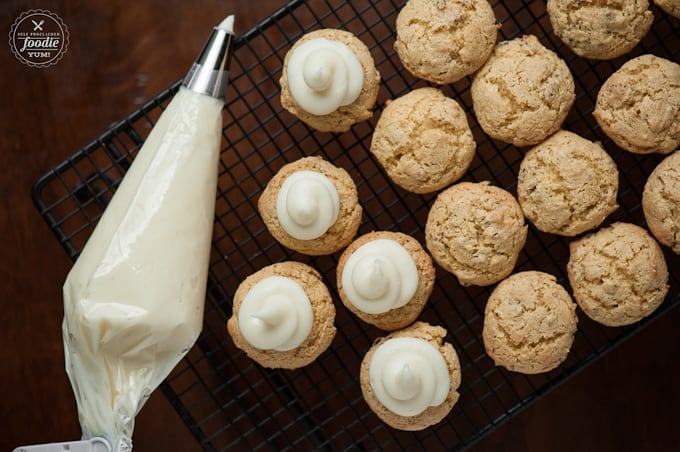 You can easily just spread the frosting on top or transfer it to a plastic sandwich bag and snip off the corner to pipe it out, but I was feeling particularly fancy and actually used a metal piping tip. It impresses my kids.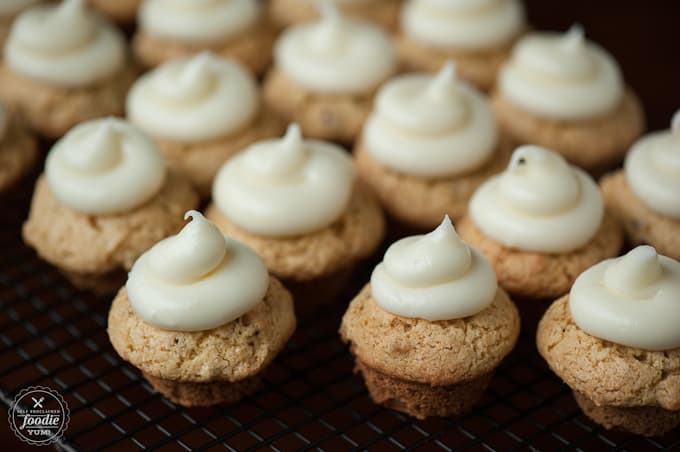 I really have no idea how they made these M&M's® taste so much like pecan pie, but they did, and I have to admit they did it quite well.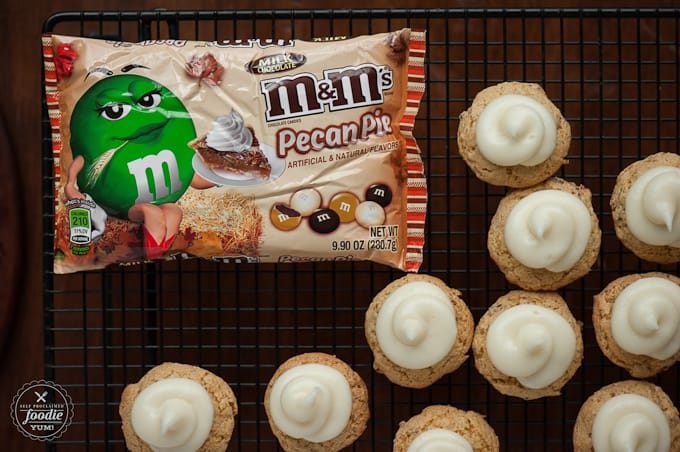 Now, the little fun cakes with their cream cheese frosting hats would have been mighty tasty on their own, but you know there's more to this story. Adding the M&M's® Pecan Pie pieces on top not only makes them more visually interesting, but it takes that pecan pie flavor over the top with the added bonus of chocolate!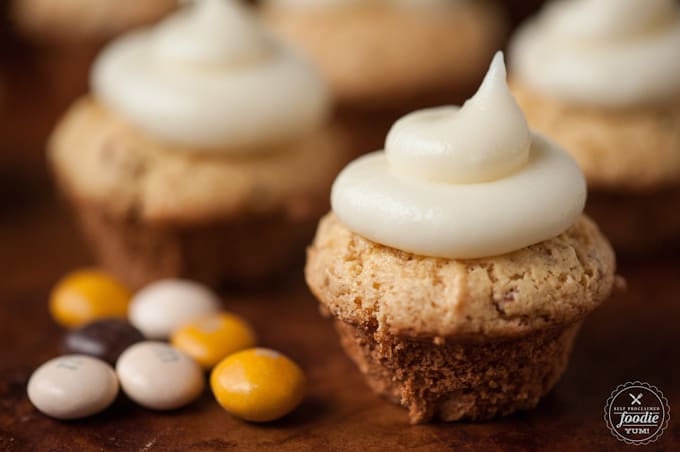 Since there are three different colors of M&M's® in the bag, I just took one of each color and stuck it to the top of each fun cake. Isn't that the perfect touch for these little desserts?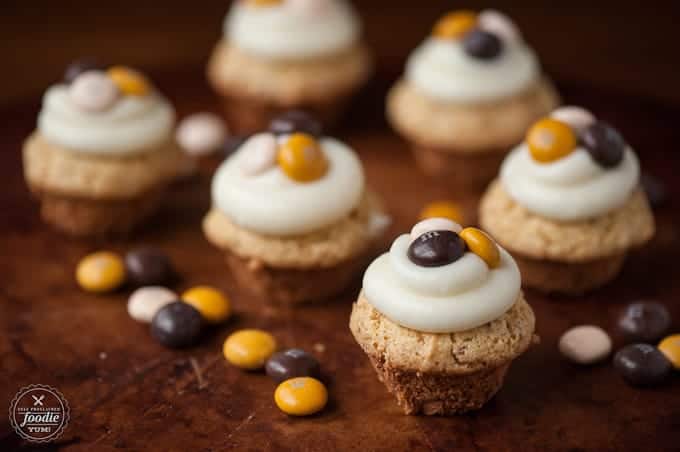 Now you're totally set to make a perfect little fall dessert that everyone will love!  You will be amazed at how much pecan pie flavor there really is!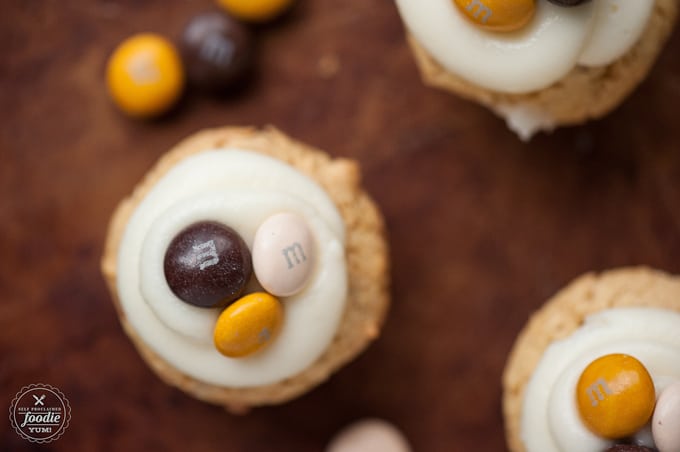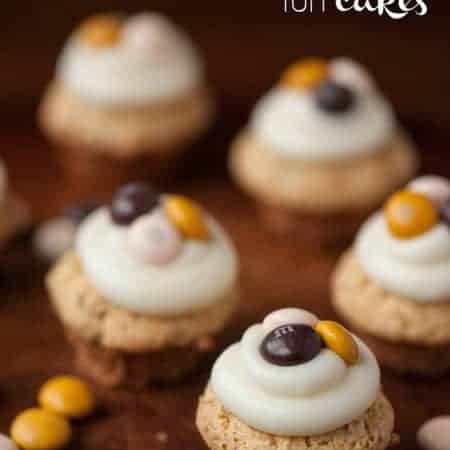 Pecan Pie Fun Cakes
These delicious and easy to make Pecan Pie Fun Cakes topped with cream cheese frosting and M&M's® Pecan Pie pieces are the perfect Fall dessert.
Print
Pin
Rate
Ingredients
fun cakes:
1

box Pillsbury™ Moist Supreme® Cake Mix

1

cup

pecan pieces

1/4

cup

Mott's® Apple Sauce

1/4

cup

vegetable oil

2

eggs
frosting:
1

8 ounce package cream cheese, softened

3

tablespoons

butter

softened

2

cups

confectioners' sugar
Instructions
fun cakes:
Preheat oven to 375 degrees F.

Spray mini muffin tin with nonstick cooking spray.

Mix cake mix, pecans, apple sauce, oil, and eggs in a medium mixing bowl.

Spoon into mini muffin tins and bake in preheated oven for 10-12 minutes.

Cool 10 minutes in tins, then remove to a cooling rack to cool completely.
frosting:
Using stand mixer with paddle attachment, cream butter and cream cheese together on medium until smooth, about 2-3 minutes. Add confectioner's sugar and blend slowly to incorporate, then quickly until well combined and smooth.

Pipe frosting onto cooled fun cakes. Top with M&M's® Pecan Pie pieces.