Pear Crumble with shredded parsnips and toasted hazelnuts is an easy fall dessert recipe that is similar to a cobbler, crisp, or pie.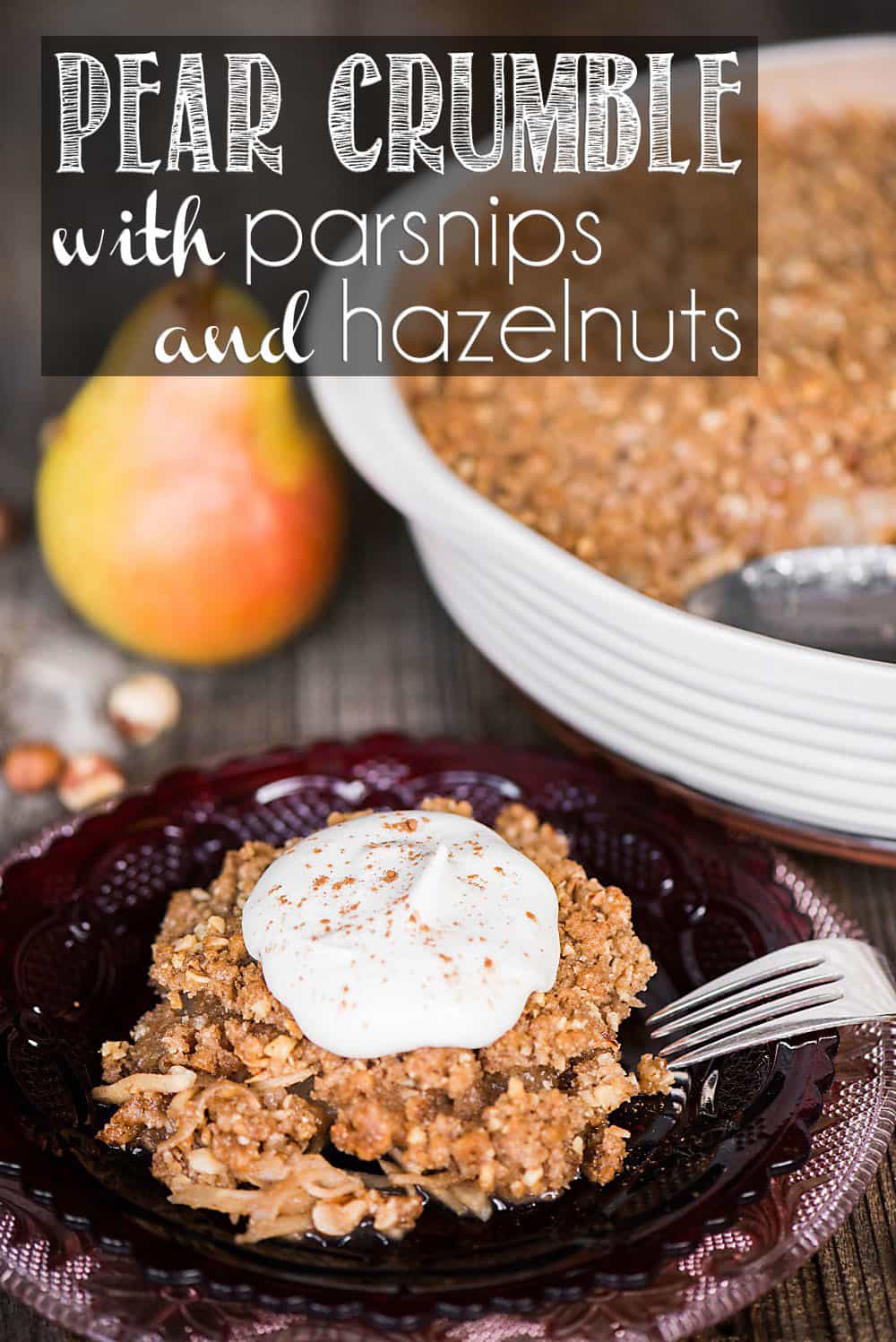 Pear Crumble with Parsnips and Hazelnuts might not be your typical first choice for a fall dessert. Pears often fall below apples on the preference list, but they are actually one of my favorite fruits to bake with. Hazelnuts might fall below walnuts, pecans, or even almonds, but they are one of my most favorite nuts to cook with. Besides, most hazelnuts enjoyed world wide come from Oregon and I always love to support my state's exports. And parsnips? Who in the world would put parsnips in a dessert? That would be me (and hopefully you, now).
I've actually never cooked with parsnips before. I'm sure I've thrown them into a stew at some point in my life, but never in a dessert. If you're like me and aren't even sure what a parsnip tastes like, it is very similar to a carrot.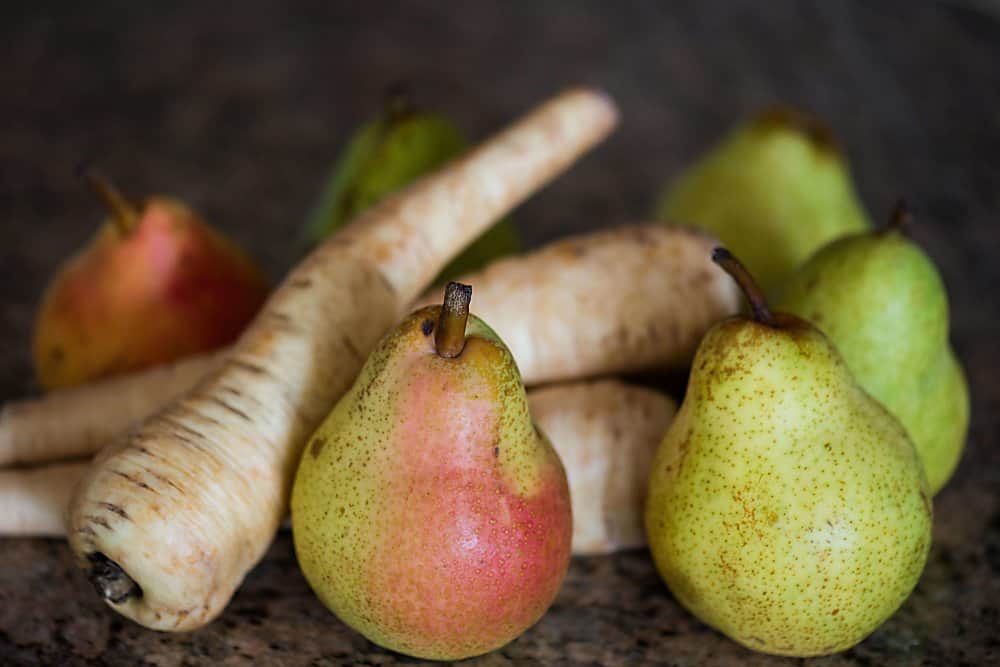 This recipe calls for a lot of parsnip. You can always increase the pear and decrease the parsnip to create a different ratio if you'd like. The pears end up being very soft once you cook them whereas the parsnips hold their firm texture a bit more. It's all about personal preference. Either way, the fall spices and naughty crunchy hazelnut topping on this pear crumble all amount to one tasty fall dessert recipe.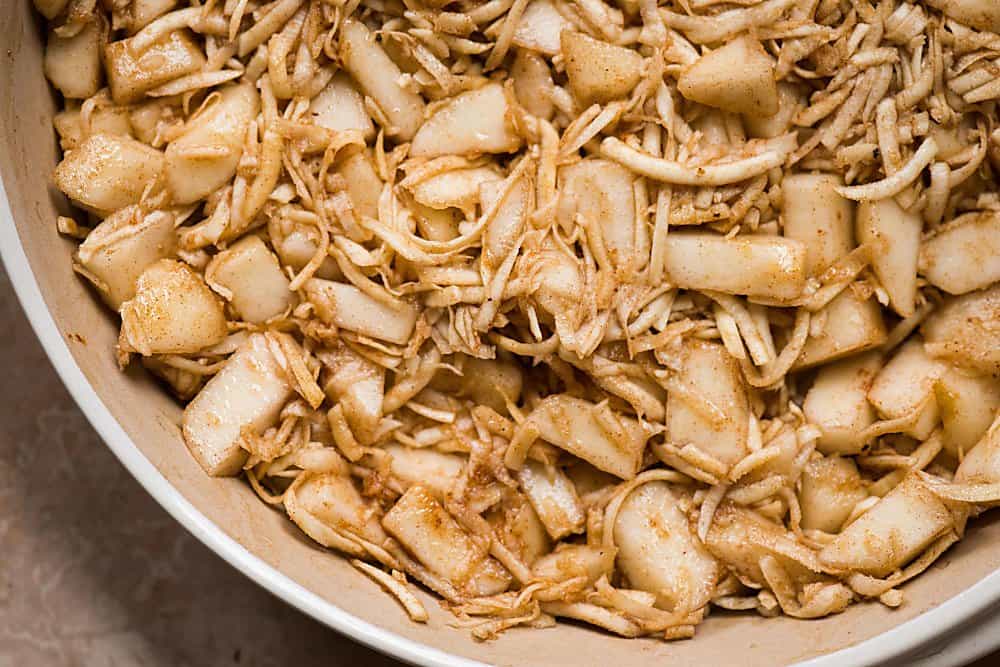 Rustic desserts like these aren't always the prettiest to photograph, but they're a great, easy way to showcase ripe fruit and serve a lot of people. In my opinion, the combination of warm fruit and pastry trumps all. Add a scoop of ice cream or a dollop of homemade whipped cream and I'm in heaven.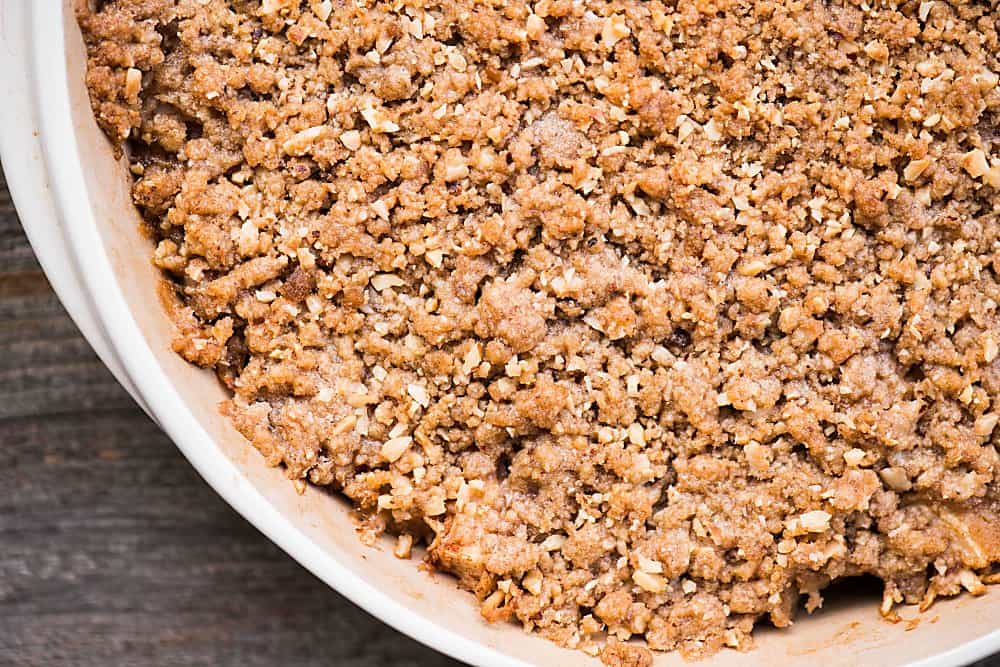 There is a reason I didn't call this Pear Crumble a crisp, a cobbler, and a pie. Do you know the difference between a crumble, a crisp, a cobbler, and a pie?
These rustic fruit desserts have many things in common which often lead people to get them confused. They are all baked desserts of fresh fruit with some kind of pastry. The fruit juices bubble up into the pastry as it bakes and creates pockets of delicious flavor.
A pie is the most obvious of the four. By my own definition, it includes a crust that is typically made of butter and flour that has been rolled out. Not to be confused with a galette. Oh boy, there are a lot of things you can make with pastry ingredients!
Crumbles and crisps are very similar and I even had to look up the difference before naming this Pear Crumble dessert. Basically, they both contain fresh fruit with a streusel-like topping that gets baked until the fruit is cooked. The difference between the two lay entirely in the streusel topping: crisps contain oats and crumbles do not. Crumbles, however, often do use nuts for added texture and richness. The names crumble and crisp are used interchangeably, but I'm a firm believer that if you name something a crisp it is because it has oats.
Cobblers have a biscuit topping on the fresh fruit. The biscuits are usually dropped onto the fruit in small rounds, giving it the appearance of a cobbled road and hence the name.
No matter what version you decide to make, vanilla ice cream or whipped cream is always a welcome addition!
Tools used to make this Pear Crumble with Parsnips and Hazelnuts:
Food Processor – I have a big one. Sure it's heavy and can sometimes be a pain to clean depending on the recipe, but it does the job and it does it well. It works perfectly for shredding the parsnips and crushing the hazelnuts!
Cutting Board: These are my go-to cutting boards. They are super easy to clean, never hold a smell (onion transferred to apple is gross), and because they are so thin, they are really easy to store.
Knives: There is nothing more frustrating than having to use a poor quality knife. I've been using this set for years. I found it to be affordable yet incredibly durable and versatile. Whether you're filleting a salmon or slicing a super ripe tomato, these are great knives for the everyday chef.
Citrus Squeezer: These are the best ways to quickly get all of the juice out of a lemon, lime or orange without the seeds!
Peeler: Growing up we only had horrible vegetable peelers that had not-very-sharp blades. It's amazing I made it to adulthood with all of my fingers. Once I moved out onto my own, I invested into this ceramic blade peeler and I've never looked back. It is amazing and I think everyone should have one in their kitchen.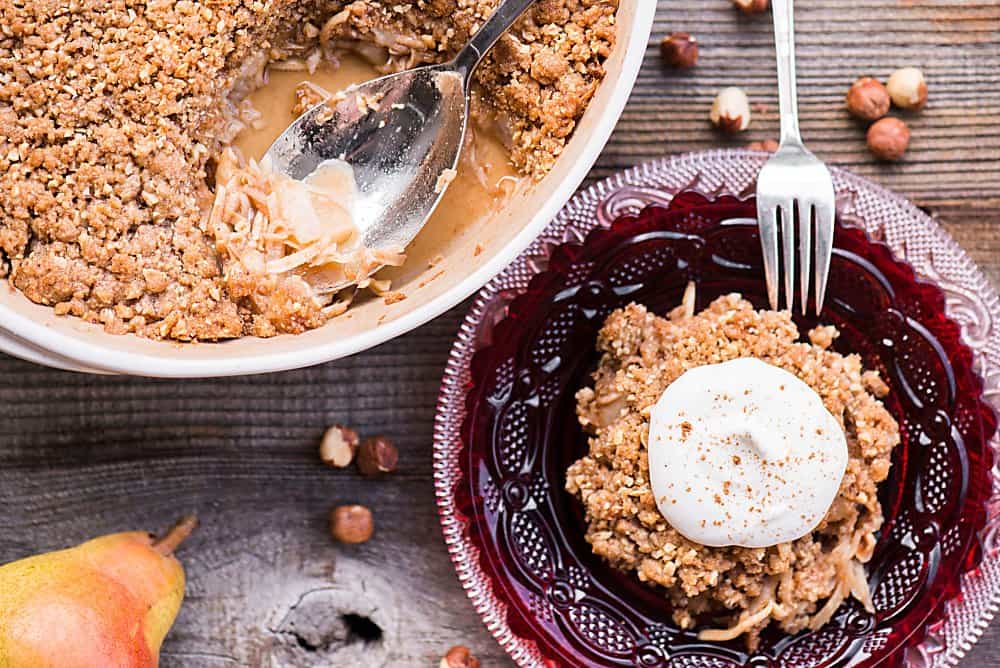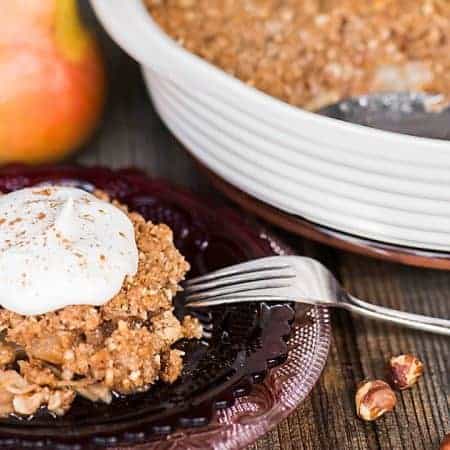 Pear Crumble with Parsnips and Hazelnuts
Pear Crumble with shredded parsnips and toasted hazelnuts is an easy fall dessert recipe that is similar to a cobbler, crisp, or pie.
Print
Pin
Rate
Ingredients
Crumble Topping::
1

cup

flour

1

cup

brown sugar

1

cup

salted butter

cold, cubed

1

cup

raw hazelnuts

lightly toasted

2

teaspoons

pumpkin pie spice
Pear Parsnip Filling:
5

pears

peeled, cored, and cubed

4

medium

parsnips

peeled, and grated (about 6 cups grated)

1/2

cup

brown sugar

1

teaspoon

vanilla

1

tablespoon

fresh lemon juice

2

teaspoons

pumpkin pie spice
Instructions
Preheat oven to 350ºF. To toast hazelnuts, place in a single layer in a baking dish and place in oven while its pre-heating. You'll know when they're done because you can smell them and they'll start to turn golden brown. Toasting should only take 5-10 minutes. Once you remove them from the oven, rub as much of the skin off as you can.

Pulse crumble topping ingredients in a food processor until a coarse crumb forms. Set aside. Combine filling ingredients in a medium bowl until well blended. Spread filling in a 9" x 13" baking dish.

Top with crumble. Place on middle oven rack and bake 30 to 40 minutes until cooked through and crumble is browned.

Serve warm with whipped cream, crème fraîche or ice cream.
Nutrition
Calories:
638
kcal
|
Carbohydrates:
87
g
|
Protein:
6
g
|
Fat:
33
g
|
Saturated Fat:
15
g
|
Cholesterol:
61
mg
|
Sodium:
224
mg
|
Potassium:
600
mg
|
Fiber:
9
g
|
Sugar:
55
g
|
Vitamin A:
737
IU
|
Vitamin C:
20
mg
|
Calcium:
105
mg
|
Iron:
3
mg