These slimmed down No Regret Cookies satisfy any craving because they are perfectly sweet but also loaded with extra goodies like fiber and omega 3s.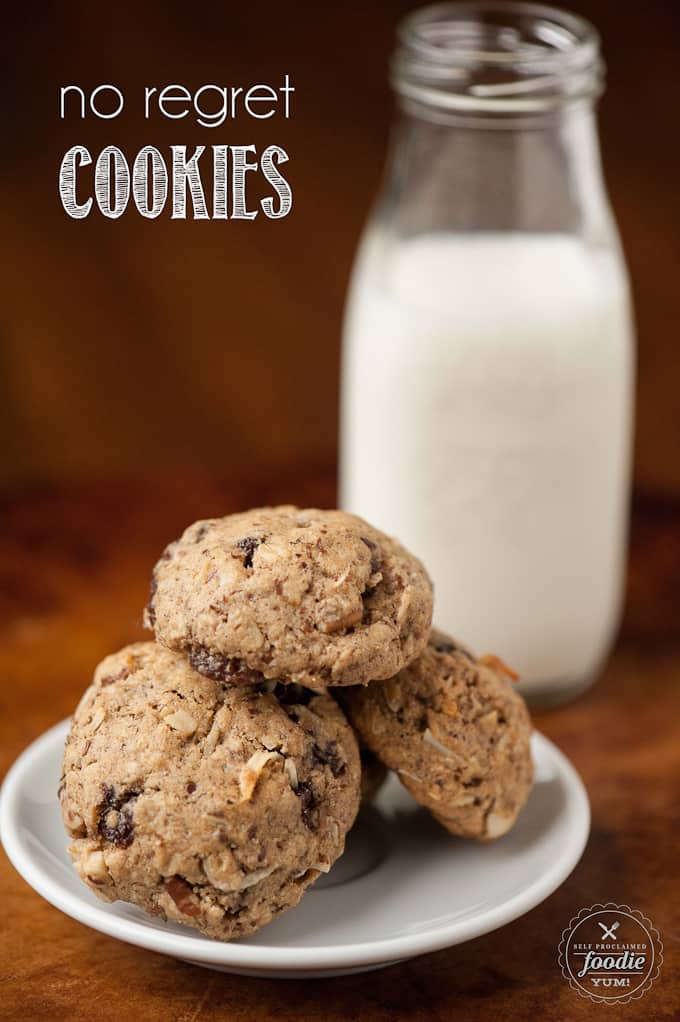 I don't know about you, but I've completely lost control of my normally pretty tame eating habits over the past month. For example, I had Thanksgiving dinner five times – once on Thanksgiving day followed by four (can you believe four?) full meals of leftovers. That was followed by non-stop holiday cookies and sweet indulging. What can I say? I love to eat. The problem, now, is that my poor decisions are starting to result in tighter jeans. I wanted to make a holiday cookie without regret.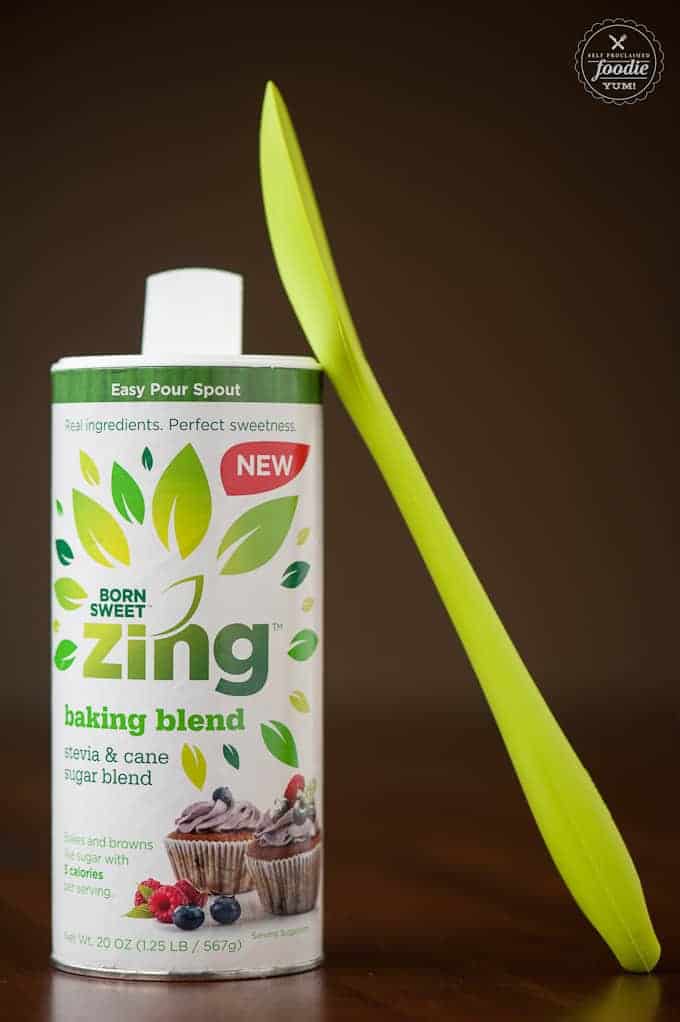 Fortunately, I have found a new product that I love. Born Sweet® Zing™ Baking Blend is made with stevia leaf extract and pure cane sugar, real ingredients with nothing artificial, and has only 5 calories per serving! It allows me to slim down my recipes by sweetening with fewer calories. SlenderiZing. Get it? But for me, the fact that it bakes and browns like sugar is ideal.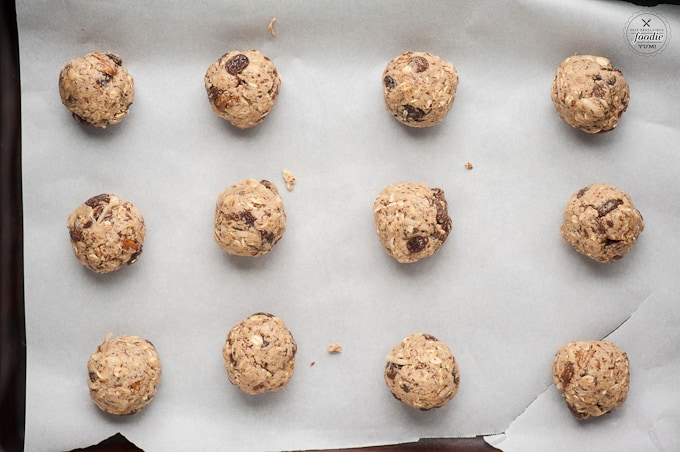 I'm normally not a fan of raisins in a cookie. Let me be a bit more accurate – I have always detested raisins in a cookie. If you're like me, you'll actually love these cookies. Wanna know why? My friend taught me a trick – boil the raisins first. This completely softens them up but retains their flavor. Once boiled, they end up giving the cookie a wonderful texture and flavor. You'll never go back!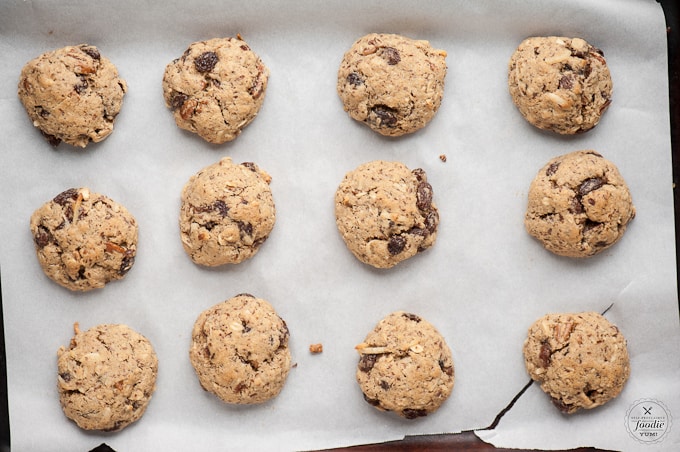 I put all sorts of yummy ingredients in addition to the Zing™ Baking Blend in these cookies to give them bonus points above and beyond your typical cookie. First, I used whole wheat flour because whole wheat flour has more fiber content, more vitamins, and has a better effect on your blood sugar than all-purpose white flour. I added flaxseed because it is a rich source of micronutrients, dietary fiber, and omega 3s. These cookies are also loaded up with nuts for some added crunch but also because they add a nice variety of vitamins and minerals.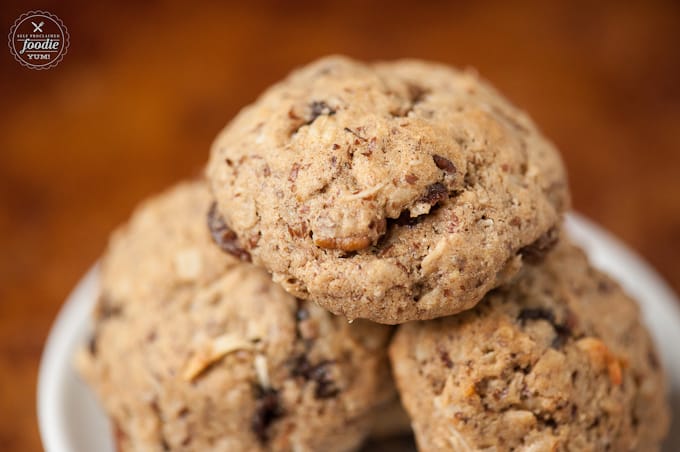 So, compared to your average cookie, these not only taste great but have some added benefits. That is why I called them No Regret Cookies.  I'm happy to have holiday treats that feel more like a reward than a long term punishment.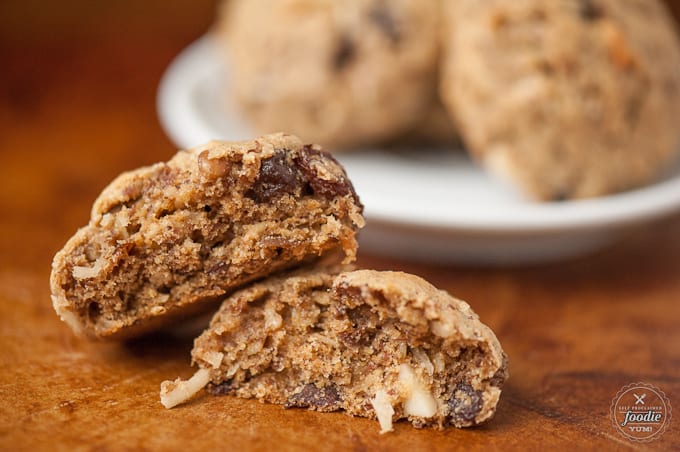 Be sure to visit the Zing™ website to find Zing™ Baking Blend in a store. For your own recipe conversions, use half as much Zing™ Baking Blend as sugar (i.e ¼ cup of sugar = 2 tablespoons of Zing™ Baking Blend).
This recipe uses pure vanilla extract. Did you know you can make your own homemade vanilla extract? It makes the perfect gift too. Watch how in the video below.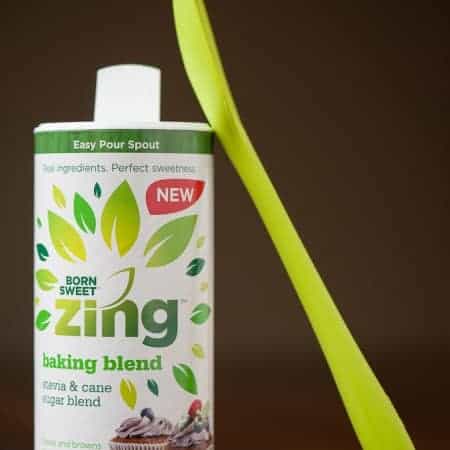 No Regret Cookies
These slimmed down No Regret Cookies satisfy any craving because they are perfectly sweet but also loaded with extra goodies like fiber and omega 3s.
Print
Pin
Rate
Ingredients
1

cup

unsalted butter

salted

3/4

cup

Zing™ Baking Blend

1/2

cup

brown sugar

1

tablespoon

vanilla

2

large eggs

3

cups

whole wheat flour

2

teaspoons

baking soda

2

teaspoons

cinnamon

ceylon recommended

1/2

teaspoon

salt

1

cup

whole ground flaxseed meal

2

cups

rolled oats

2

cups

raisins

boiled in water for 5 minutes, then drained

1/4

cup

slivered almonds

1

cup

pecan pieces

1

cup

sweetened flaked coconut
Instructions
Preheat oven to 350 degrees F. Grease baking sheets or line with parchment paper.

In a large bowl cream together butter, Zing™ Baking Blend, brown sugar, and vanilla until light and fluffy. Add eggs one at a time, beating well with each addition.

Combine flour, baking soda, cinnamon, and salt gradually stir into creamed mixture.

Fold in milled flax, oats, raisins, almonds, pecans and coconut. Mixture will be very thick.

Drop rounded spoonfuls onto prepared cookie sheets. Bake for 12 to 15 minutes.
I was selected for this opportunity as a member of Clever Girls and the content and opinions expressed here are all my own.