Mini Shrimp Tostadas, made with crisp corn tortilla rounds, beans, salsa, and sauteed jumbo shrimp, are an easy appetizer perfect for parties or game day.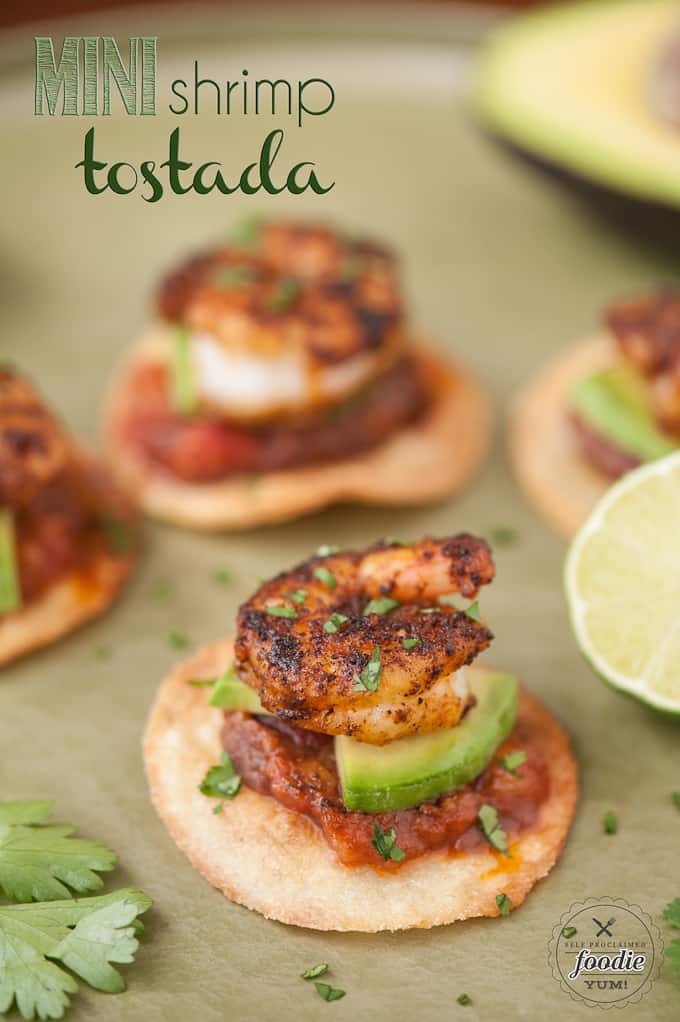 Who doesn't love shrimp? For that matter, who doesn't love a tasty little two-bite appetizer? Well, if the general population is anything like my family, then they will love these tasty little treats.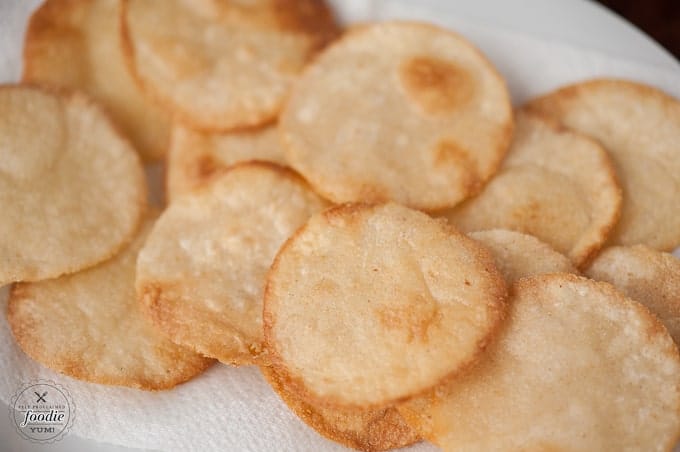 MY OTHER RECIPES
This recipe starts with little tortilla rounds that you cut out from corn tortillas. Don't throw away the scraps! Just put them back in the bag and fry them up for a different meal. Aren't they cute?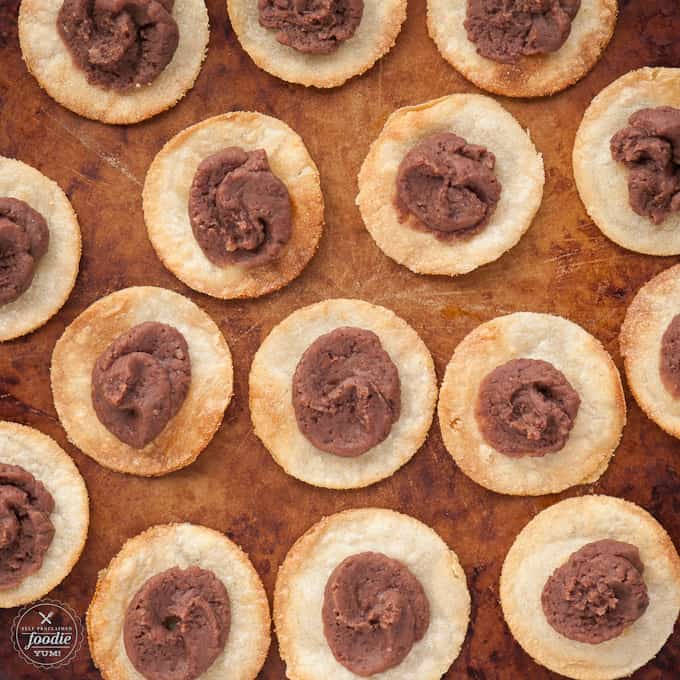 Next, add some refried beans. Now, you can just scoop them up, but I took what I felt was the easier route and added them to a plastic bag, snipped off the corner, and piped those beans on like I was frosting a cupcake! Now, your guests would be pretty disappointed if this were all that you served them. They deserve some flavor!  Enter the salsa. Today's families are exploring new flavors and new ways of creating meals. You may call these people "Flavor Seekers". LA VICTORIA® Brand now has the sweet and spicy flavors of Mango Habanero Salsa, Pineapple Salsa, and Roasted Pepper Salsa – all of which go great with seafood like shrimp.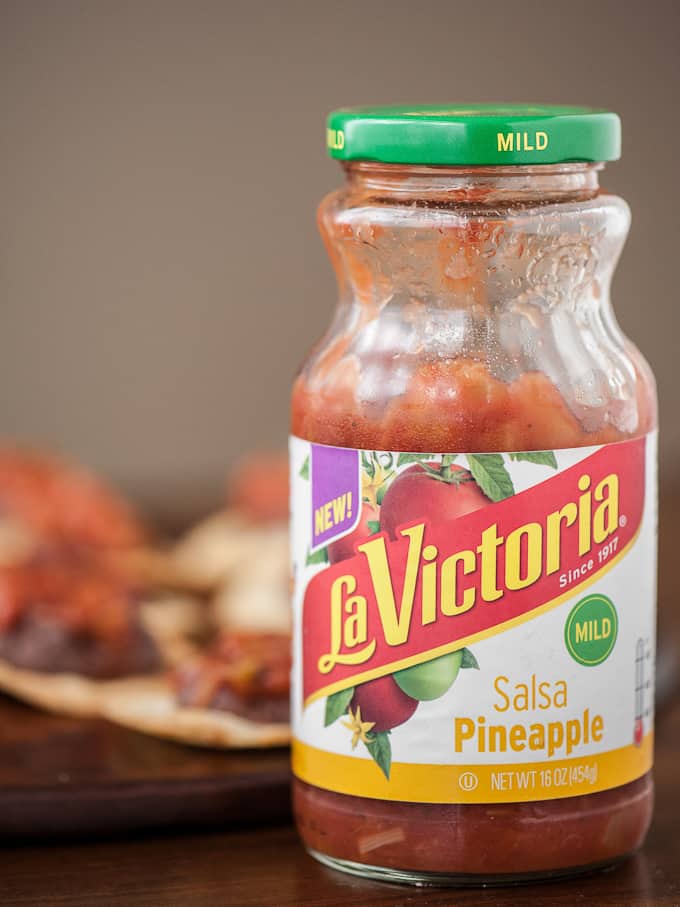 Everyone celebrates food with their own unique style. LA VICTORIA® Brand wants to celebrate with you! They are hosting a social giveaway called "Flavor Seekers."  They want to know where people seek out fresh summer flavor. Whether it's a trendy fish joint, a local dive, or your grandma's kitchen. Besides the fact that you get to eat some delicious food, you should totally capture a video and/or photo for a chance to win.
How:
1. Follow @LAVICTORIABrand on Instagram and/or like on Facebook
2. Share a video and/or picture showing where you seek out fresh summer flavor (whether a trendy fish joint, a local dive, your grandma's kitchen-you name it!)
3. Tag entry with #FlavorSeekers and #MangoHabaneroSalsa and tag handle @LaVictoriaBrand
4. "Follow" and "Like" @LaVictoriaBrand on platform entry was submitted (Instagram and/or Facebook).
Why: A chance to win prizes!
Grand Prize: One (1) Weekend Getaway for Two in Sunny San Diego (flight and hotel included, valued at $3,500)
Honorable mentions prizes: Number awarded at discretion of brand and may include a variety of the following: grill kits, branded t-shirts, cinch sack, lip balms, stickers, etc.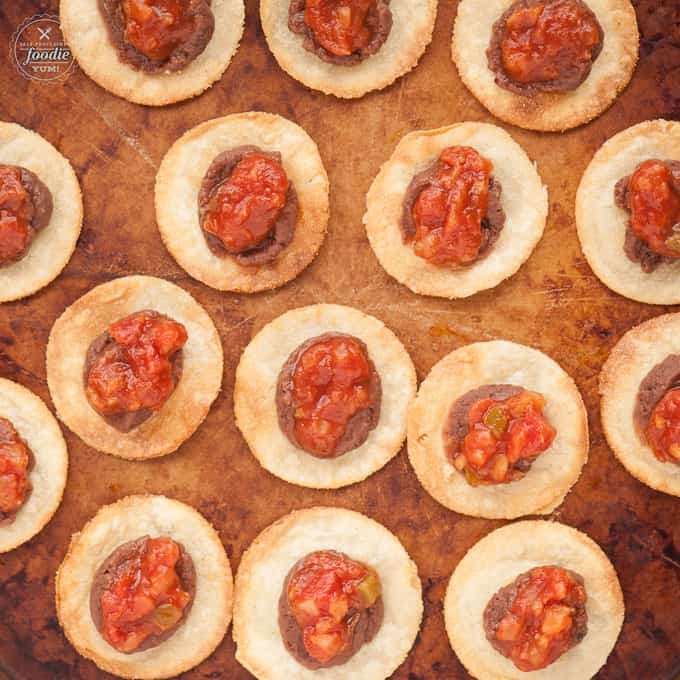 Don't these rounds already look better with some salsa on top?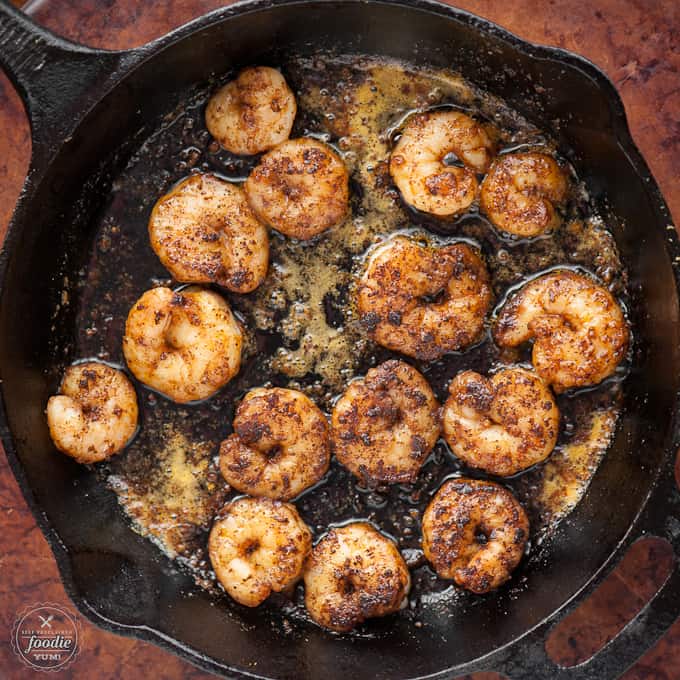 The shrimp is amazing. Kind of crazy what a little butter, garlic, and spices can do to wild caught shellfish. Stack them up with some avocado and a squeeze of lime and watch them fly off the platter!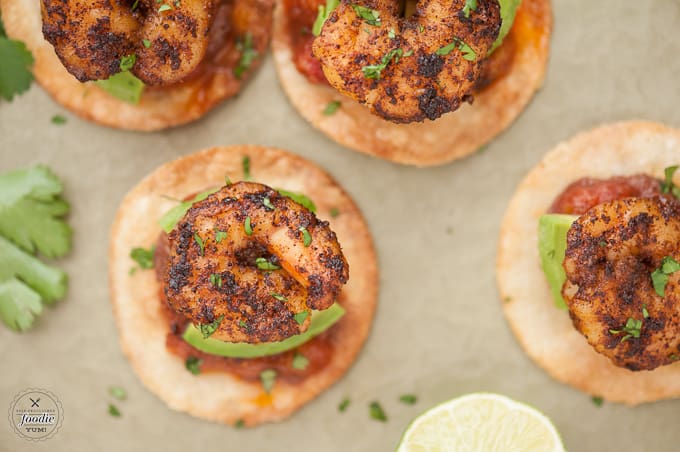 Mini Shrimp Tostadas
Mini Shrimp Tostadas, made with crisp corn tortilla rounds, beans, salsa, and sauteed jumbo shrimp, are an easy appetizer perfect for parties or game day.
Ingredients
15 corn tortillas (1 tortilla per shrimp)
1/2 cup vegetable oil
1 cup refried beans
1 cup mild salsa
1/2 large avocado
10 ounces raw jumbo shrimp, shells and tail removed, deveined
2 tablespoons oil
1-2 cloves garlic, minced
1 teaspoon chili powder
cilantro and fresh lime, for garnish
1/2 teaspoon cumin
1/4 teaspoon salt
Instructions
Using a round 3" cookie cutter or the rim of a glass, cut enough tortilla rounds for the amount of shrimp you have. Save tortilla scraps for another meal.
In a heavy 9" skillet, heat oil over medium high heat. Once the oil is hot enough where a small piece of one of your scraps boils when added (this is a good way to test), add a single layer of rounds and fry on both sides until golden brown, 2-3 minutes per side. Drain on a paper towel.
Add a small amount of beans to each tostada round. You can spoon them on, but I added them to a sandwich bag, snipped off the corner, and piped them on like I would frosting.
Spoon a layer of salsa on top of the beans.
Thinly slice the avocado and add some to each tostada.
To cook the shrimp, discard the oil from the tortillas (just pour it out, no need to wipe the pan). Over medium high heat, melt the butter with the chili powder, cumin, and salt. Add the shrimp in a single layer and cook until the tops start to look a very opaque pink, 4-5 minutes. Turn them over and continue cooking another 2-5 minutes until cooked through. Remove from heat and place one shrimp on each tostada.
These appetizers can be eaten cold or, if preferred, warm in 300 degree F oven for 10-15 minutes until heated through prior to serving.