Mini No Bake Raspberry Cheesecakes take only minutes to make and can be made ahead, yet create an elegant and delicious dessert perfect for Valentine's Day.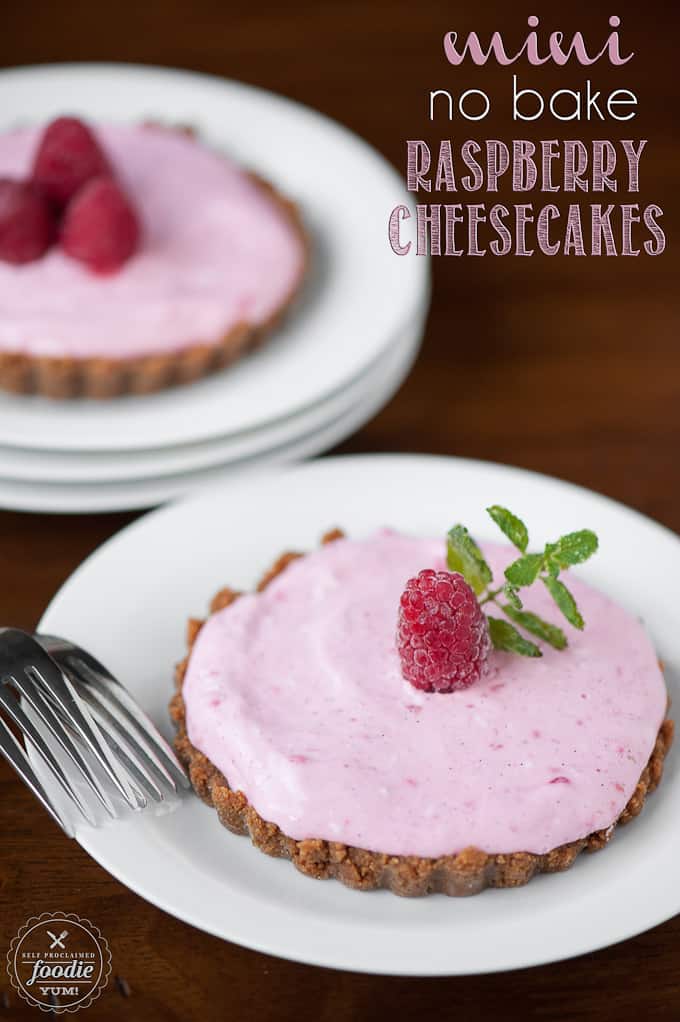 Fewer things are better than a delicious made from scratch cheesecake. But they do take some finesse as well as cook and chill time and we all seem to be overwhelmingly busy all of the time. So occasionally, I like to cheat. Enter the no bake cheesecake. These little beauties don't have the same exact taste and texture as a real authentic cheesecake, but they do fit in the "unbelievably tasty" and "sheesh that was easy to make" categories. I started with a box of Speculoos Cookies from Trader Joe's. They had been in my pantry for quite some time, teasing me to eat every last one. Instead, I decided they would make the perfect cookie crust for these little individual cheesecakes. You can use graham cracker crumbs instead if you prefer, I would just add a spoonful of sugar to the crumbs to bring them to the same sweetened level that these cookies delivered. But, if you have a TJ's nearby, I highly recommend using the Speculoos Cookies for the crust.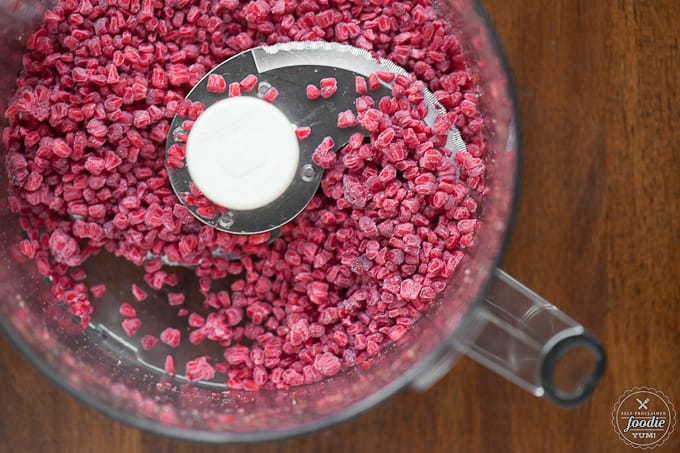 I decided to use raspberries in this recipe for a few reasons: 1) I love fruit in desserts. 'Nuf said there, as I'm sure you're in agreement. 2) I had a bunch of raspberries in my freezer because I went to town this summer at the berry farm less than a mile from my house this summer. 3) I wanted this dessert to be pink because Valentine's Day is just around the corner.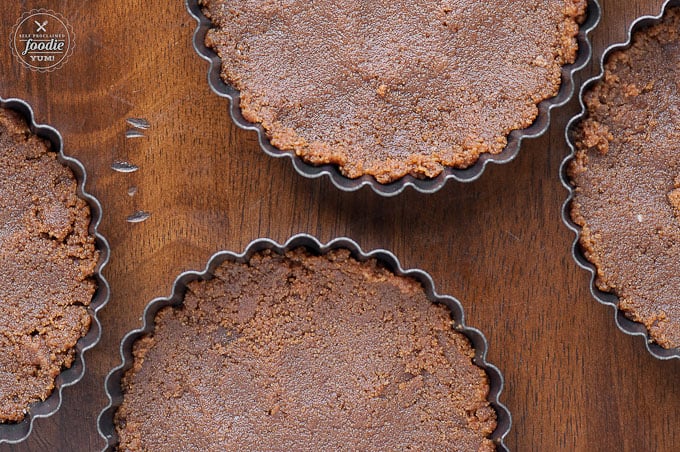 Because I totally made this recipe up on the fly, I wasn't really quite sure how the quantities and proportions would turn out, but with a little dumb luck I was able to create six perfectly sized mini cheesecakes. I used Wilton mini tart pans and once the cheesecakes were chilled, the centers lifted out perfectly.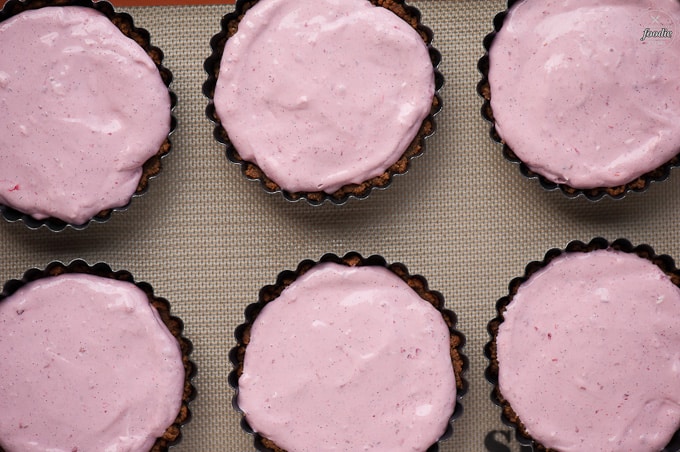 I gave one of these to my husband after dinner and he inhaled it. I particularly like the addition of the vanilla bean. How can one go wrong when adding vanilla bean to any dessert?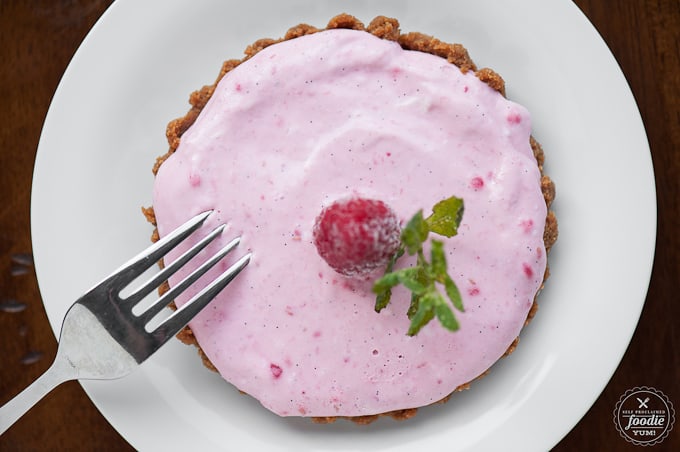 The end product: a decadent easy-to-make mouthwatering piece of heaven. These mini cheesecakes are perfect for entertaining too because you can make them ahead of time and serve them up cold. I'm all about not having to worry about a messy kitchen by the time friends arrive. Enjoy!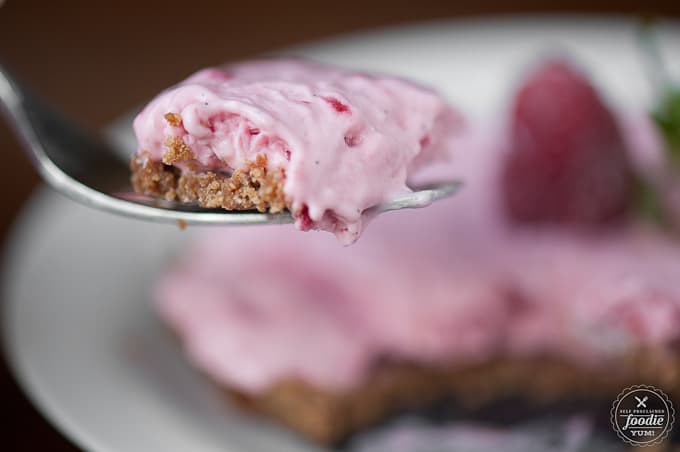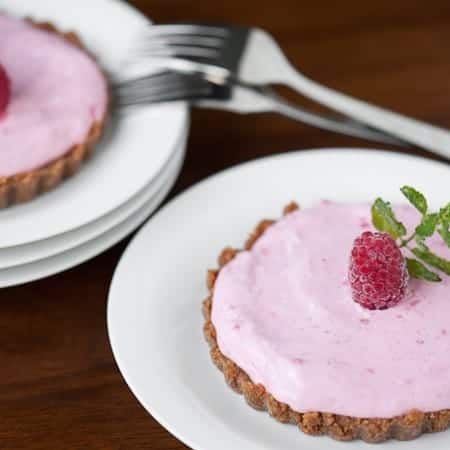 Mini No Bake Raspberry Cheesecakes
Mini No Bake Raspberry Cheesecakes take only minutes to make and can be made ahead, yet create an elegant and delicious dessert perfect for Valentine's Day.
Print
Pin
Rate
Ingredients
2

cups

cookie crumbs

7 ounce package Speculoos Cookies*

1/2

cup

butter

melted

pinch

of kosher salt

8

ounces

cream cheese

softened

1/2

cup

sour cream

1

cup

confectioners sugar

1

cup

raspberries

vanilla bean

scraped

1

teaspoon

vanilla extract

additional raspberries for garnish
Instructions
Cut round circles of parchment paper and line bottoms of mini tart pans with parchment rounds.

Use a food processor to process cookies into fine crumbs. Transfer to bowl. Add hot melted butter and salt to crumbs, stir to combine. Divide evenly between 6 mini round tart pans. Press crumb and butter mixture to create an even layer across bottom and up the sides.

Use food processor to break up the raspberries. Add the cream cheese, sour cream, confectioners sugar, seeds from the vanilla bean pod, and the vanilla extract to the processor and process until smooth and creamy, about 2-3 minutes.

Spoon the filling into each of the tart crusts. Refrigerate until firm, at least 4 hours. If you're in a hurry, you can freeze for an hour. Store in an air tight container in the refrigerator.
Notes
* You may substitute graham crackers with one tablespoon granulated sugar if desired.