Wishing you and yours a joyous holiday season full of good food and memory making laughter. Merry Christmas 2014!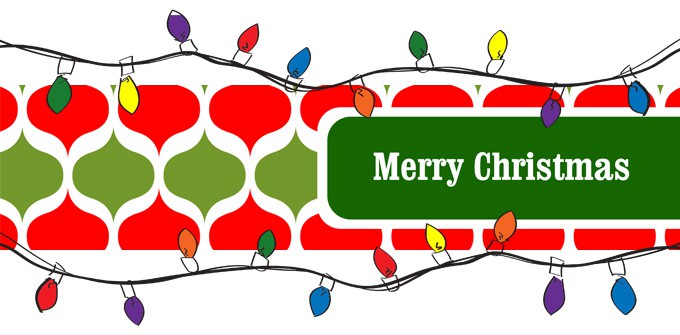 No recipe post today, folks!  I'm taking the day off, but wanted to make you smile in case you were taking a break from making that Christmas ham to browse the web. Every year my family takes great pride in our annual holiday card. We put something funny on the front and a good photo on the inside. The challenge gets harder and harder every year to come up with something funny and creative. The only thing that is the same year after year are the creepy glasses my husband wears.  Since my blog is new and you're still just getting to know me, allow me to take you on a walk down memory lane.
Here's the card we sent out this year. For the inside photo we had the camera on a tripod. It was beyond freezing outside and the wind was howling. I assumed the kids were smiling at the camera, but instead I got a wide variety of faces… which is why I loved it.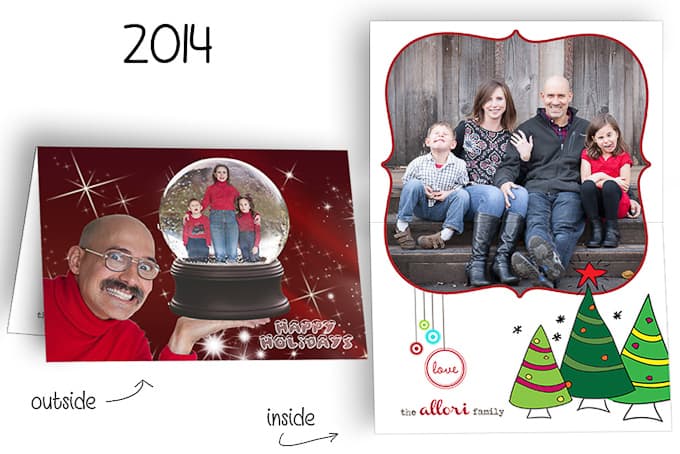 MY OTHER RECIPES
Last year's card still is and will always remain a favorite of mine, both inside and out. I was neither pregnant nor had I just had a baby (she was borrowed) for the cover photo. I don't smoke but thanks to the power of photoshop, the cigarette in my mouth appeared lit with a very long line of ash. And yes, my husband drank the Blue Ribbon beer after the photo was taken. For the good photo, my dear friend and make up artist Jein King made me purdy and I will forever be grateful her handy work was captured in my family photo with bright glowing fall leaves as the backgroud.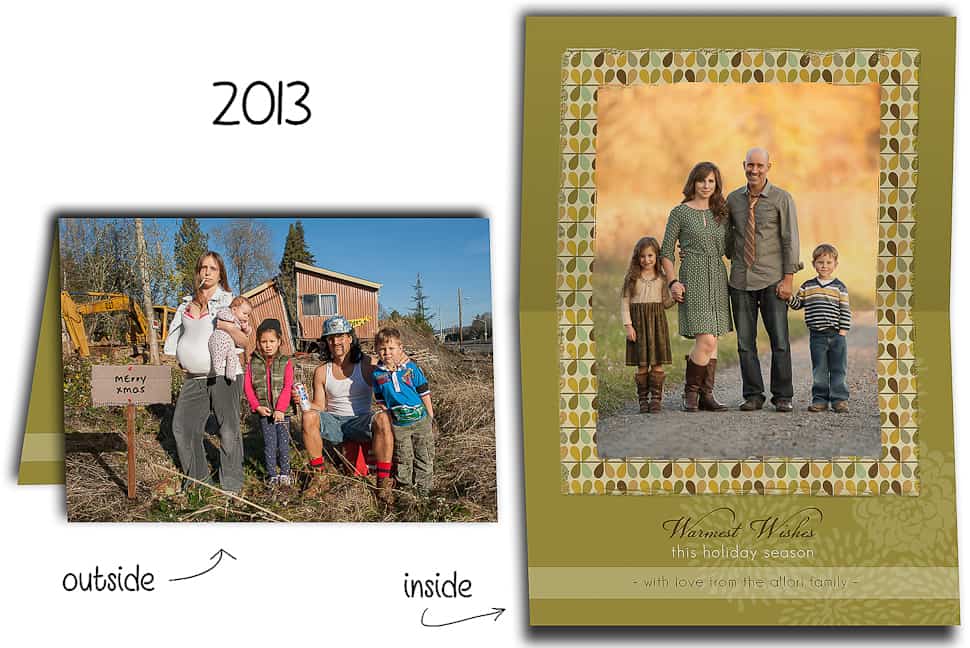 For 2012 we were fortunate enough to have my stepson in town for the photos. Also, we were fortunate to have my daughter cut her bangs down to her scalp after the good photo was taken but before the funny picture was captured to complete the look. Happy accident, maybe? I've heard its a right of passage for every kid to cut their own hair at some point… I had just wished the final product wasn't the most superior kind of mullet. Ah, memories.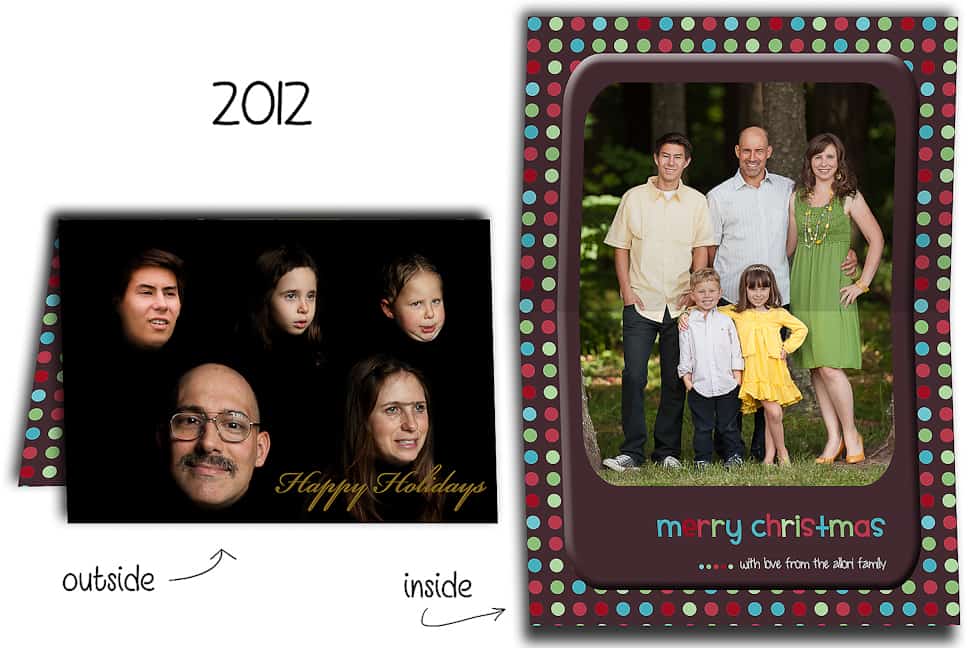 2011 was to make fun of all the family photos I couldn't stand where people all wore the same thing (matching button downs and jeans are possibly the worst offense next to khakis), almost black and white except for the over saturated blues, and the beyond awkward posing. Mission success.  The good photo, however, I adore. It was taken at one of my favorite Oregon photo spots where that wood structure behind us is a huge railroad bridge still in service. This photo hangs as a 16×24 on my wall.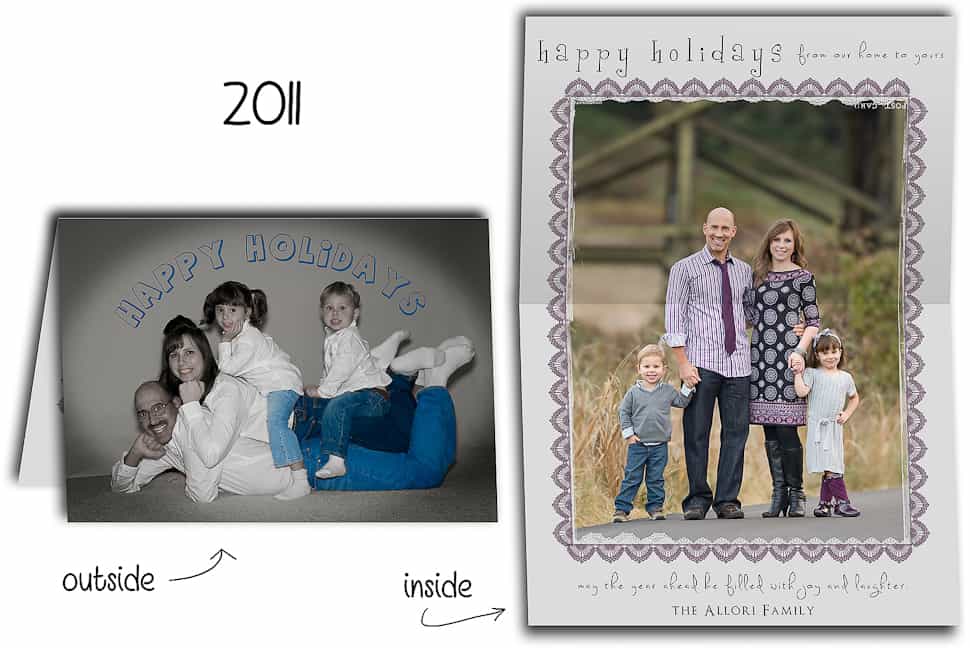 And now I take you tot he first year of funny cards. My stepson was horrified. My kids were watching Dora the Explorer – hence the zoned out expressionless faces, and my husband was wearing his house slippers. The good photo is still a favorite of mine, too, and it hangs as a 24×36 canvas on my wall by my kitchen.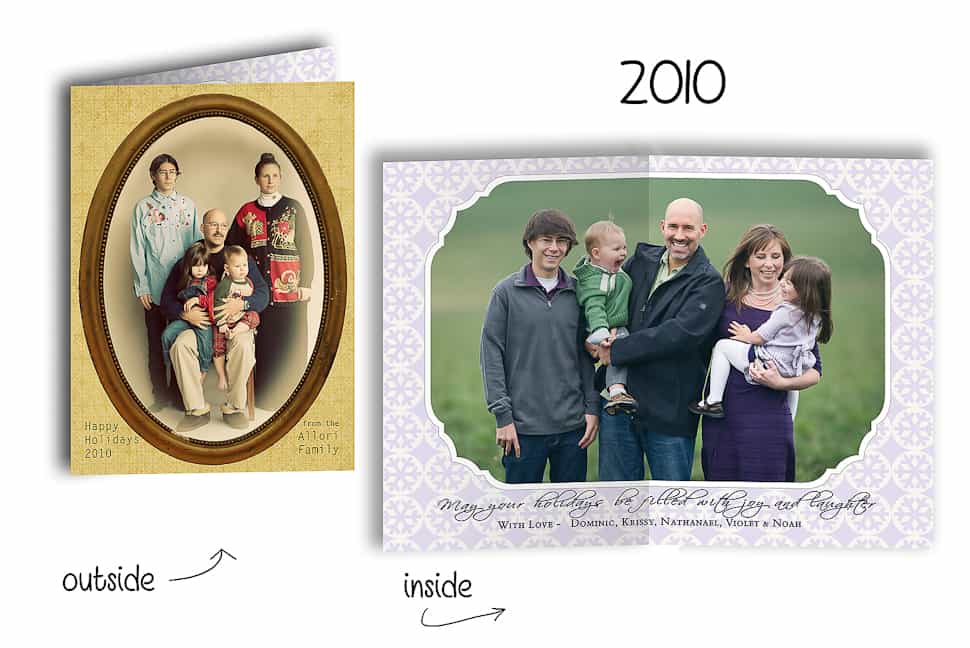 I hope you all have a great holiday. Some amazing recipes are in store for 2015 so please keep coming back and do me a solid and PIN, SHARE, LIKE, TAG (basically pimp me out) everything that looks delicious and I will love you forever!