Lemon Berry Cubes are super easy to make and are the best way to plan ahead to enjoy some delicious berry lemonade or any other citrus berry cocktail.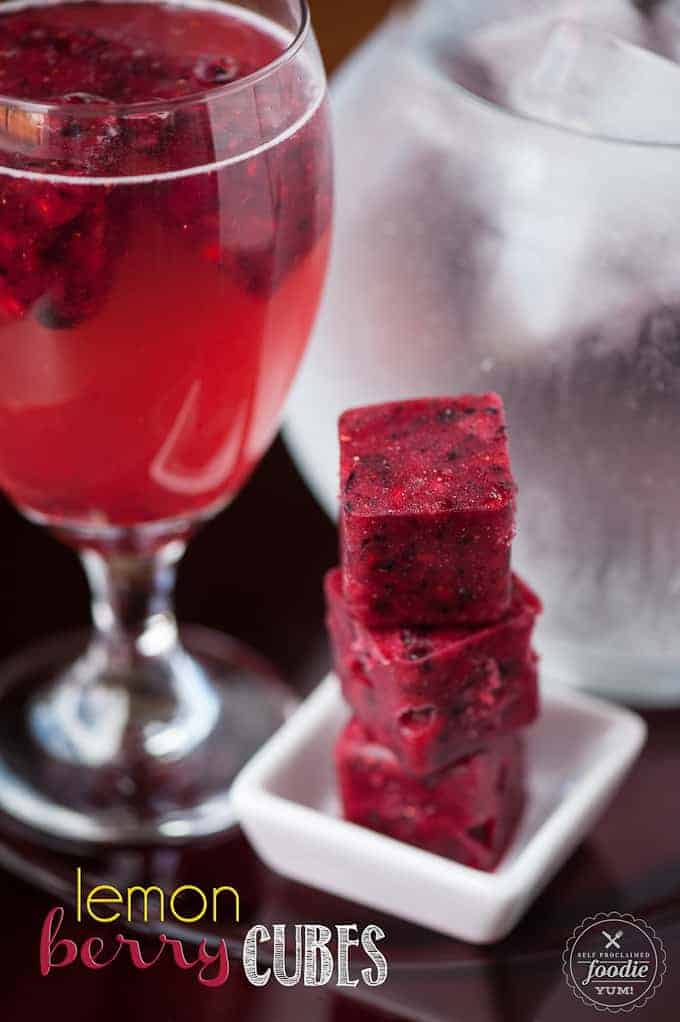 I sure do love me some frozen fruit and/or citrus cubes. We make refreshing lime water all the time in our house and we love popping out a cube or two to mix in with water. These lemon berry cubes are great, too, because you can drop them in a glass of water to have instant berry lemonade, or you can mix them with soda water for a bubbly version, mix them into some ginger ale or lemon lime soda if you want it a bit sweeter, or you can mix them with all of the above along with a healthy splash of tequila or vodka for what I like to call "mommy's lemonade".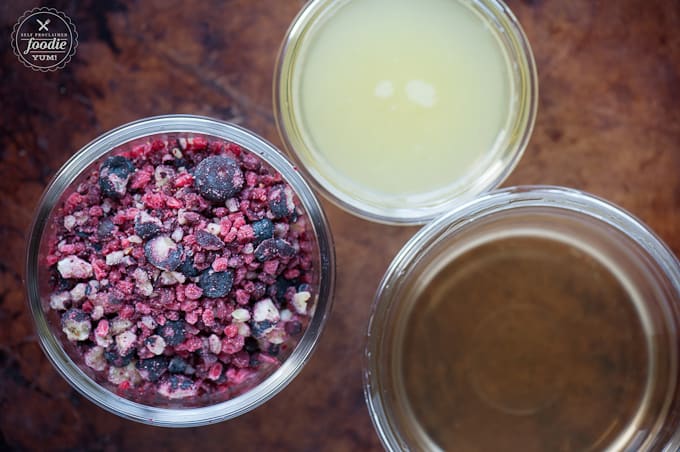 I have no shortage of frozen berries in my deep freezer. I live in Oregon, for crying out loud. One of my most favorite summer activities is to pick berries and freeze them for the remainder of the year. Let me tell you that you've have never really enjoyed a blueberry until you've picked a sun kissed perfectly ripe organic blueberry from an Oregon farm. Pure heaven. I ended up using frozen blueberries, raspberries, and marionberries for these cubes. I combined them with fresh squeezed lemon juice and some simple syrup that I had made.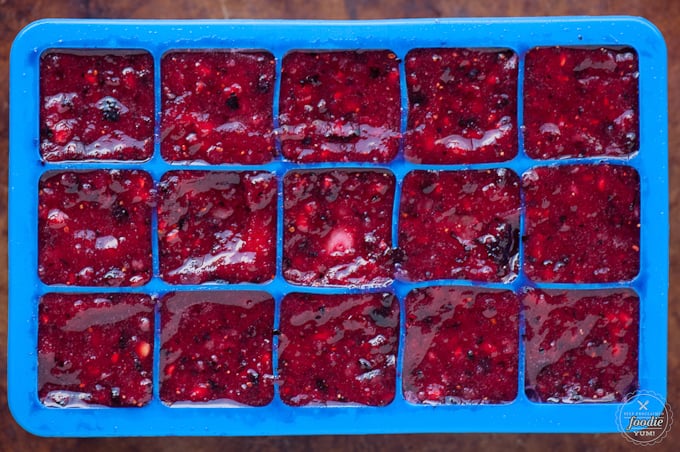 I love using my little silicon ice cube tray. It makes perfect cubes and that makes me happy. Even when these lemon berry cubes are totally solid, they're still a bit soft so be aware of that when you're sliding them out of the tray.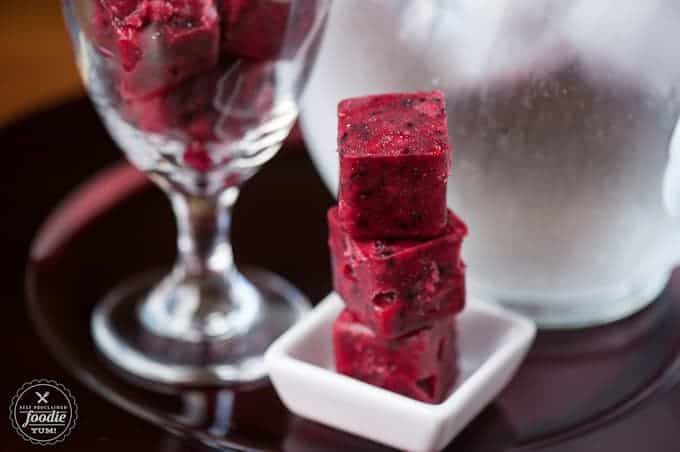 I personally don't mind the seeds, but if you can't stand them, you'll either need to use fruit with no or very small seeds like blueberries and strawberries instead of raspberries and blackberries, or you can go the extra mile and thaw the berries, process them in the blender, then press them through a fine mesh sieve. This is a step that I might do if I'm entertaining and really want to impress, but since my family likes it a bit chunky with seeds, I don't have to go the extra mile.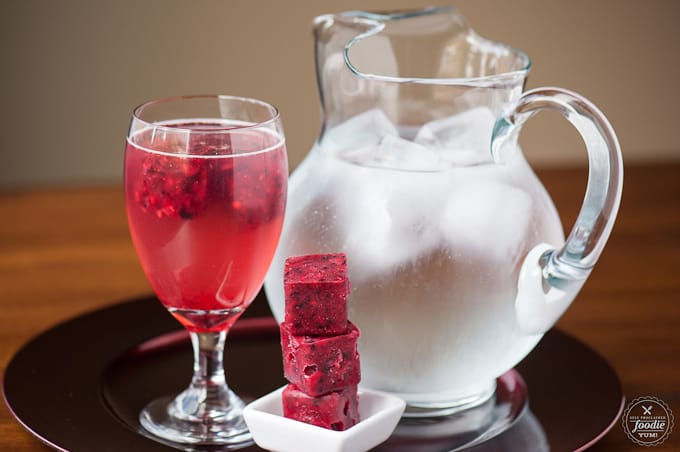 These cubes are basically concentrated lemonade mixed with a lot of berry. Because of that, they're on the tart side. I prefer them that way because super sweet lemonade makes me ill, and I like the option of being able to mix it with a lemon lime soda. I'm just letting you know so you don't think I tricked you. These are on the tart side. If you like them sweeter, add more simple syrup. Then, when you're ready to dilute them to make a fabulous drink, be sure to use a cute straw because its fun.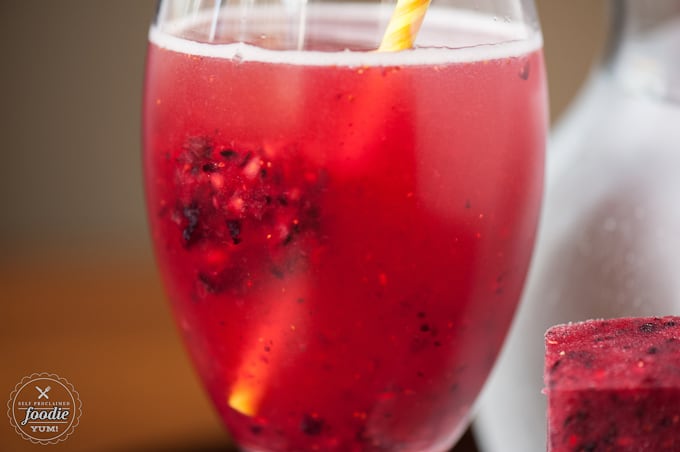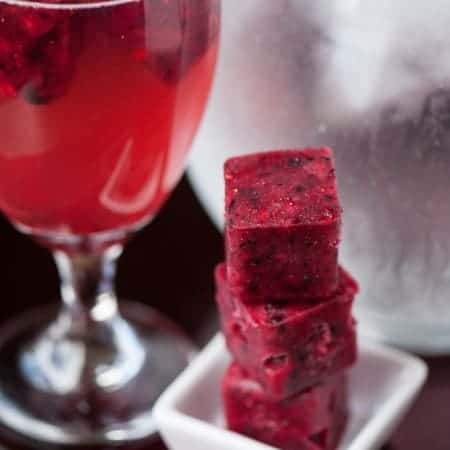 Lemon Berry Cubes
Lemon Berry Cubes are super easy to make and are the best way to plan ahead to enjoy some delicious berry lemonade or any other citrus berry cocktail.
Print
Pin
Rate
Ingredients
1/2

cup

freshly squeeze lemon juice

1/2

cup

simple syrup

1

cup

frozen berries

I used blueberry, raspberry, and blackberry
Instructions
To make simple syrup, just combine equal volumes of sugar and water in a saucepan and heat while occasionally swirling until the sugar dissolves. Cool before using and store in airtight container in the refrigerator until ready to use.

Combine lemon juice, simple syrup, and frozen berries in the blender. Pulse until you've achieved your desired consistency (I prefer some small chunks as opposed to smooth).

Spread into silicon ice cube tray and freeze until solid.

Serve with water to dilute and turn into berry lemonade, mix in some booze if you prefer, or add to a big punch bowl with water and soda. You get the idea...
Notes
* If you don't like seeds, you will need to either use fruit that has no or very tiny seeds (like blueberries and strawberries), or you will need to thaw your fruit and press it through a fine mesh sieve once blended.
* Also, this makes a very tart lemonade when blended with water because of the berries. I intentionally left it tart in case you want to mix it with a sweet soda. If you intend on just blending these cubes with water, you may want to add more simple syrup.