Add a spicy kick to some already delicious buttermilk mashed potatoes and serve up some Horseradish Mashed Potatoes as a perfect side dish for steak.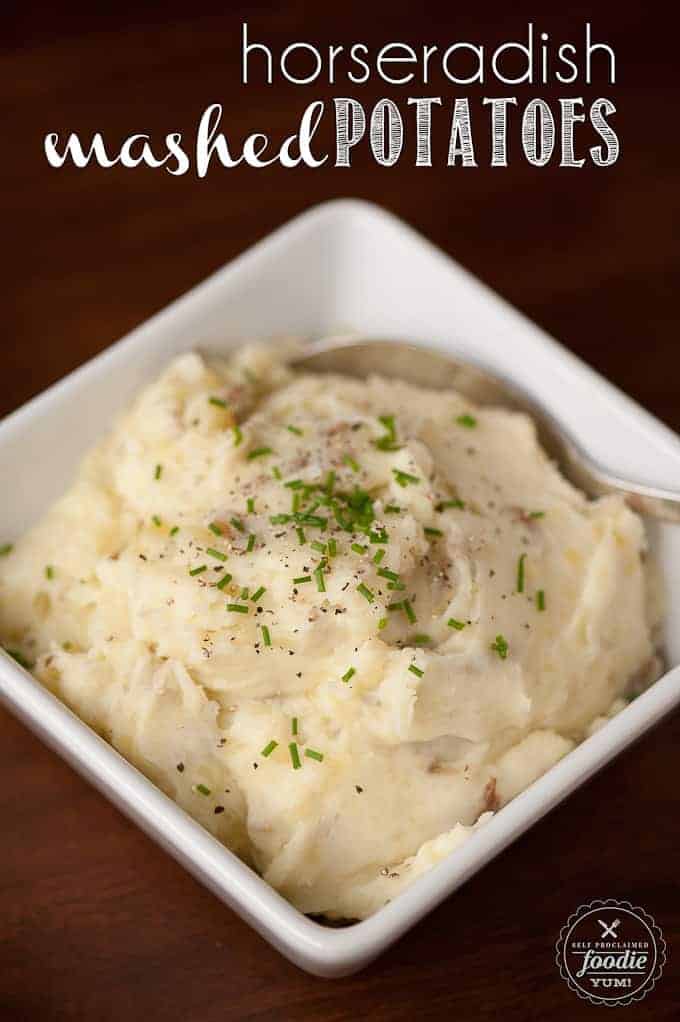 I do love me some mashed potatoes. Have I ever told you my mashed potato horror story? I always tell it to friends when they come over for dinner. So here's what happened… a long long time ago, we had some friends over for dinner. I made some mashed potatoes and they weren't exactly hot. Usually not that big of a deal, but what does my husband do? He makes a really super huge deal out of it, apologizing profusely to our friends about how much they suck because they are cold, completely pissing me off and embarrassing me at the same time. Most women would have killed their husband, but I took the constructive criticism and try my best to serve my mashed potatoes so damn hot now that they come close to burning my husband's mouth. I kid! I kid! Well, sort of. Although I can laugh at the mashed potato incident now, I honestly have never served anything less than piping hot mashed potatoes since. The trick? Make them ahead of time, either earlier in the day or the day before, and then keep them warm on the stove, covered, over low heat, until you're ready to serve. That way you're not waiting until the last minute to blend them up, therefore cooling them off, right before serving. It also helps your kitchen appear more clean if the entire mashed potato production is in the past.
I make my mashed potatoes all sorts of different ways. I use different kinds of potatoes as well as different add-ins to make them smooth and creamy. It always depends on what I have on hand. I made these delicious beauties my most favorite way – with yukon gold potatoes, butter, buttermilk, and wonderfully spicy horseradish. Did you know horseradish is considered a super food? It is cancer fighting and also helps with sinusitis, urinary tract infections, and other health benefits. Plus, the taste can't be meat when you pair this delicious side dish with a wonderful steak or meatloaf.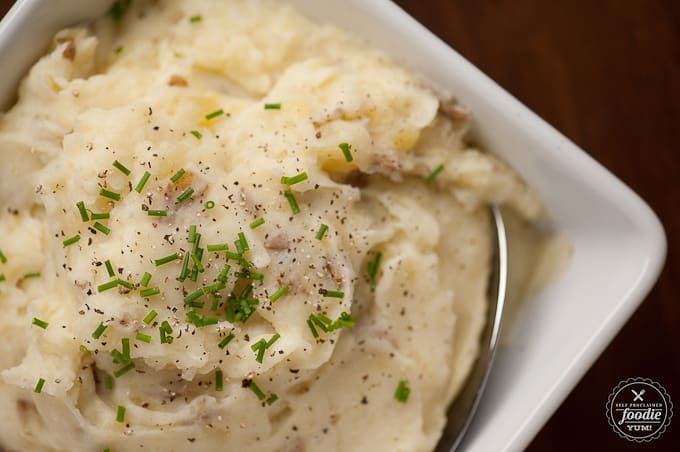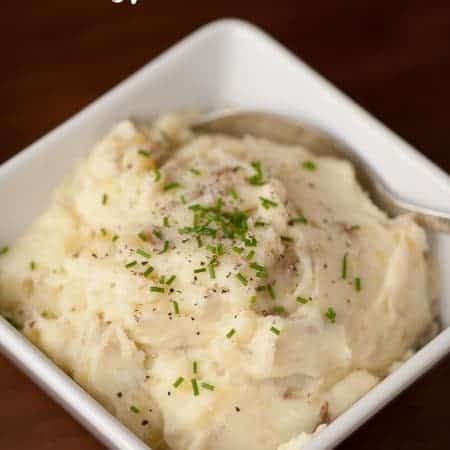 Horseradish Mashed Potatoes
Add a spicy kick to some already delicious buttermilk mashed potatoes and serve up some Horseradish Mashed Potatoes as a perfect side dish for steak.
Print
Pin
Rate
Ingredients
2-3

pounds

potatoes

peeled and sliced (peel on optional, yukon gold recommended)

4

tablespoons

butter

1/2

cup

buttermilk

more if needed depending on desired consistency

1-2

tablespoons

grated horseradish

depends on taste

salt and pepper
Instructions
How you make your mashed potatoes is completely dependent on how you like them. Adjust your buttermilk depending on how thick you like them and the horseradish depending on how spicy you want them.

To cook the potatoes, add to a large pot, cover completely with water, cover, and bring to a boil over high heat. Once the water is boiling, reduce heat to low and simmer until extremely tender, about 20 minutes.

Drain completely. Add potatoes to the bowl of a stand mixer with the paddle attachment. Add butter, buttermilk, and horseradish and blend until you reach your desired consistency. Add more of any ingredient, as well as a fair amount of salt and pepper, until desired result is achieved.

Serve immediately or refrigerate and heat up before serving if making ahead.