Start your day off right with this protein and fiber filled Healthy Chocolate Protein Smoothie breakfast that will keep you full and energized for hours.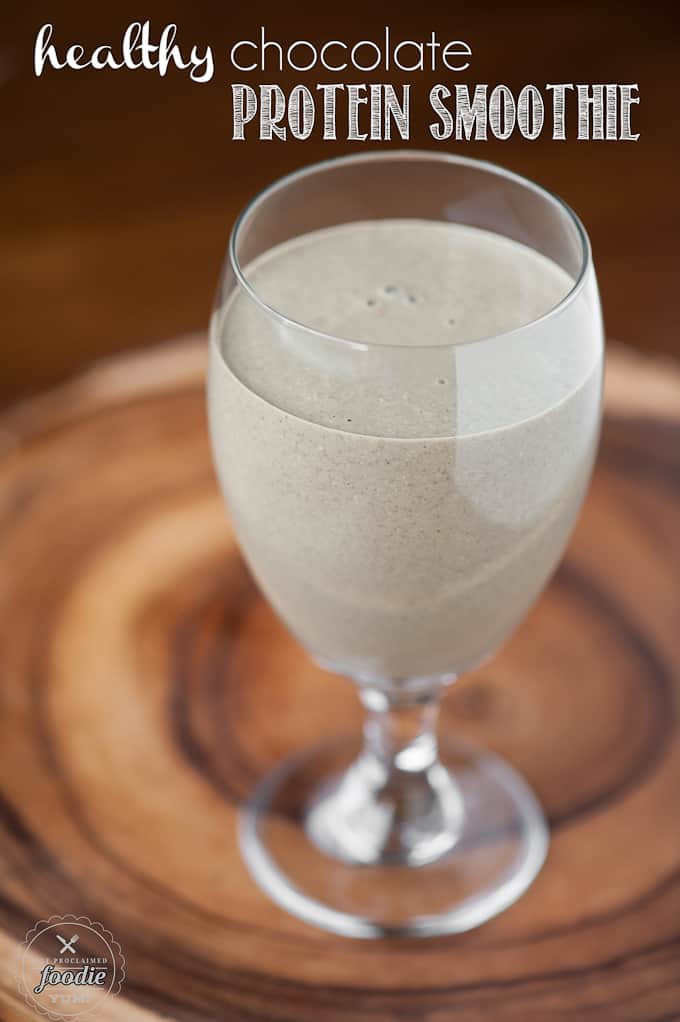 Allow me to share some personal information that I'm really not super enthusiastic to talk about. I've gotten fat. Would I consider myself obese? Nope. Am I heavier than I want to be? Yep. For the first time in my life, can I feel rolls of back fat when I sit? Unfortunately, yes. Let's just say that I'm not where I want to be mentally nor physically. Yes, having a food blog hasn't helped. I mean, you've seen the amazingly delicious and naughty treats I post, right? Well every single thing I make is eaten by our family, and I have enjoyed every single bite. For me, the real issue has to do with my mental health. I've been insanely stressed lately. I'll keep those details to myself, but I'm sharing my personal struggle with you just in case you can relate. When I get extremely stressed, I lose the happy person I want to be. I'm not a good mom. I'm not a good wife. And I let my body go to shit. I'm about 8 pounds over my average weight and am a whopping 18 pounds over the low I hit four years ago. That makes me very unhappy. I've been wanting to change my habits for quite some time but completely lacked motivation. You know how you have to be 100% committed to make a lifestyle change that requires consistency day in and day out? I was finally able to hit my mark and that was because my friend Aubrey, who runs the Real Housemoms blog, invited me to join a team of four to do a fitness/healthy living challenge. I think I *may* have finally found something that works for me. We're only 3 weeks in but it has been super easy for me to follow. I'll keep you all posted on how I do, but I already look and feel better. The best part? It feels like my head is out of a fog and I'm better able to handle the stress I've been dealing with since I've been eating well and exercising more.
I can't begin to tell you how much I love starting my day with this smoothie. I have always made my smoothies with fresh spinach, fruit, and a vanilla whey protein powder. They are definitely tasty and good for me, but they don't keep me as full as I like. I need something that will keep me full for a full three hours because of how my typical work day flows. I love the way this smoothie tastes and it makes me feel so good.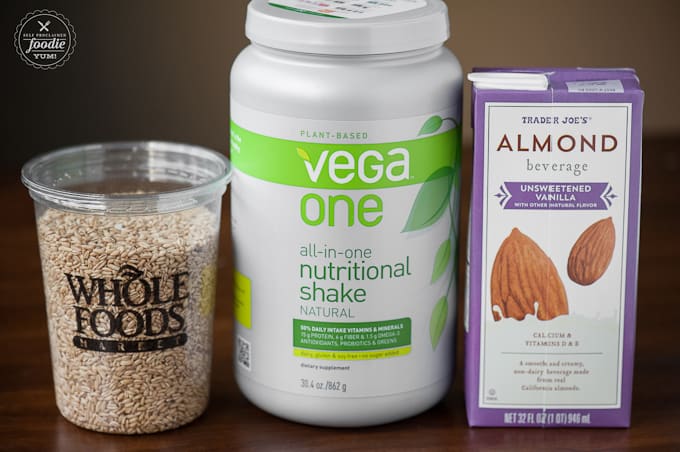 There are a few components to my new smoothie that I enjoy every single morning:
1. Groats. Do you know what a groat is? Its a whole oat. You know, before they roll it to make traditional oatmeal. Why do I add groats? An oat groat is the whole, unbroken grain of the oat with just the outer hull removed. Rolled oats, or oatmeal flakes, are groats that have been rolled flat and dried. Oats help you feel fuller longer, which helps control your weight. Oats are higher in protein and healthy fats, and lower in carbohydrates than most other whole grains. They contain more soluble fiber than any other grain. They also have the best amino acid balance of all the cereal grains. The oats give the smoothie a bit of chew, too, which is what I like.
2. Almond Milk. There's no cholesterol or saturated fat in almond milk. It's also low in sodium and high in healthy fats (such as omega fatty acids, typically found in fish), which helps to prevent high blood pressure and heart disease. It also has lots of vitamins like potassium and I just like the way it tastes. If I run out, I just use water.
3. Protein Powder. I found one that I really like. This isn't a sponsored post – this is totally my opinion. I really like Vega because its all veggie based and you can count it towards your servings of veggies. I just ran out of my last container that's pictured here, and the new formula has even more protein and good stuff than the original version. This stuff ain't cheap, though, and if I break the cost down per smoothie, I think its a good couple of bucks per scoop. I shall not be sharing that fun fact with my husband.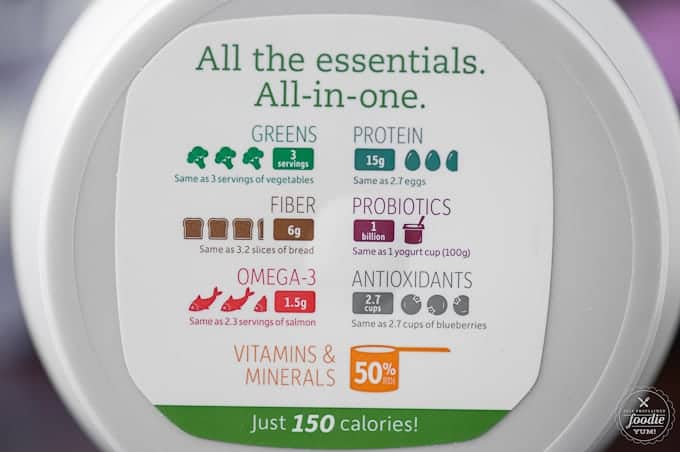 4. Chia seeds. I add chia seeds to boost the fiber, protein, calcium, antioxidants, and omega-3s. I also like how they thicken up my smoothie. If I wait too long, however, it gets too thick.
5. Honey. This smoothie definitely needs a sweetener. When I did this post I was using honey. I have since started using pure maple syrup. Both are natural sugars and taste great in this smoothie. I have forgotten to add my sweetener once and it was definitely missed.
6. Cocoa powder. I add the cocoa because I love the way it makes the smoothie taste, but there are all sorts of great health benefits. One tablespoon of unsweetened cocoa powder has 12 calories, 1 gram of protein and one-tenth of a gram of sugar. The same portion has 1.8 grams of fiber, which is 5 percent of the daily intake for men and 7 percent for women. Cocoa powder also contains lots of minerals and flavonoids.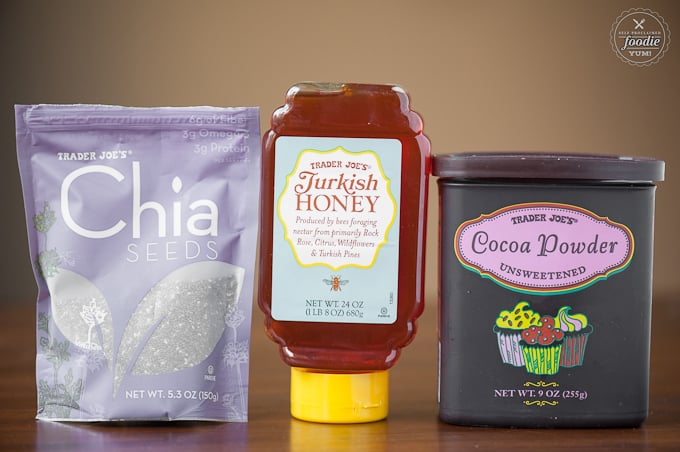 So there you have it. You now know what I've been having for breakfast every single morning and how I continue to keep my body healthy. You should try it!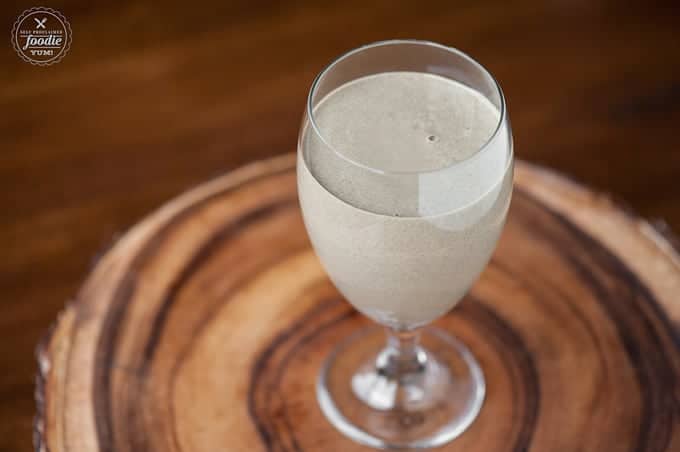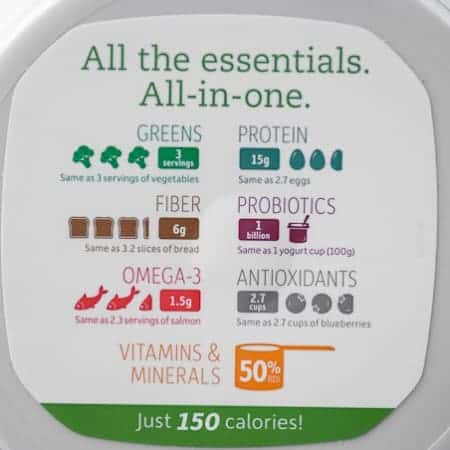 Healthy Chocolate Protein Smoothie
Start your day off right with this protein and fiber filled Healthy Chocolate Protein Smoothie breakfast that will keep you full and energized for hours.
Print
Pin
Rate
Ingredients
8

ounces

unsweetened vanilla almond milk

4

ounces

water

can use more almond milk

1

scoop

protein powder

I use Vega natural

1/4

cup

whole oats

groats, not rolled oats

1

tablespoon

chia seed

1

tablespoon

cocoa powder

1

tablespoon

honey

or substitute one tablespoon maple syrup

ice
Instructions
Add all ingredients to your blender and blend until smooth. Enjoy right away, otherwise the chia seed will begin to thicken it.
Nutrition
Calories:
242
kcal
|
Carbohydrates:
40
g
|
Protein:
7
g
|
Fat:
8
g
|
Saturated Fat:
1
g
|
Sodium:
306
mg
|
Potassium:
198
mg
|
Fiber:
9
g
|
Sugar:
18
g
|
Calcium:
358
mg
|
Iron:
2
mg