This Hazelnut Tea Cake with Moscato Pears is an elegant fall dessert made with freshly roasted hazelnuts, fresh pears browned in butter, and moscato wine.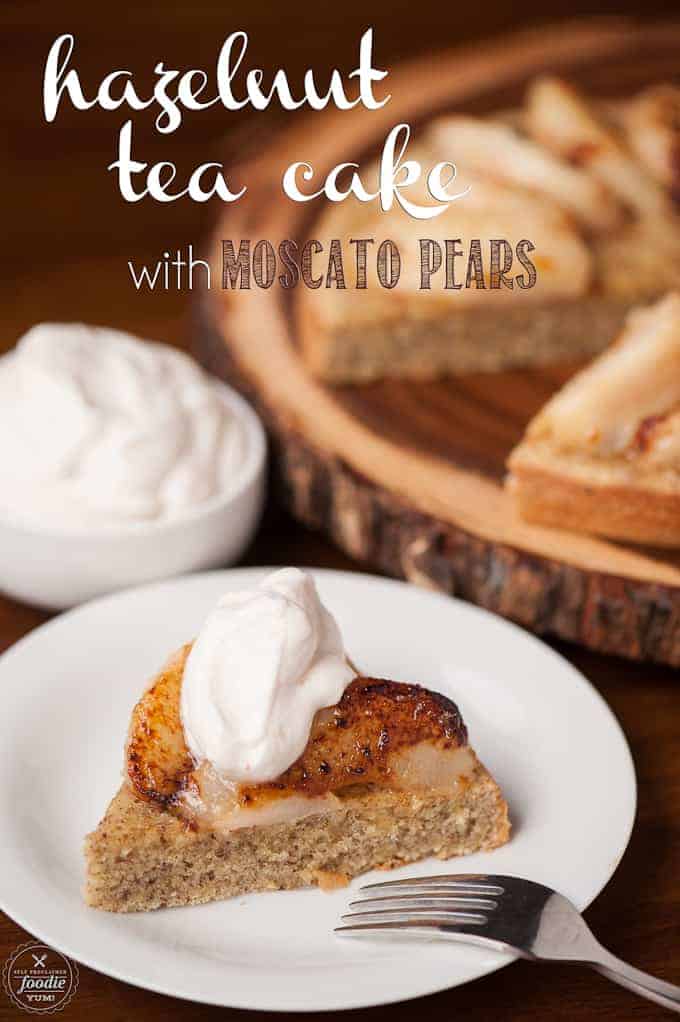 Words cannot begin to describe how wonderful this dessert was, so I'll let all of the photos do most of the talking. I'll start by saying that there couldn't be a more perfect Oregon dessert than this hazelnut tea cake with moscato pears. I didn't use just any pears for this recipe. I used Harry & David pears. If you've ever enjoyed them, you know exactly what I'm talking about. My Fruit of the Month box held eight of Oregon's finest Royal Rivera pears. I let them ripen to perfection in the box for a couple days. When I used them for this recipe, I had to peel them over a bowl because they were so incredibly juicy and I didn't want to lose a drop of that sweet nectar.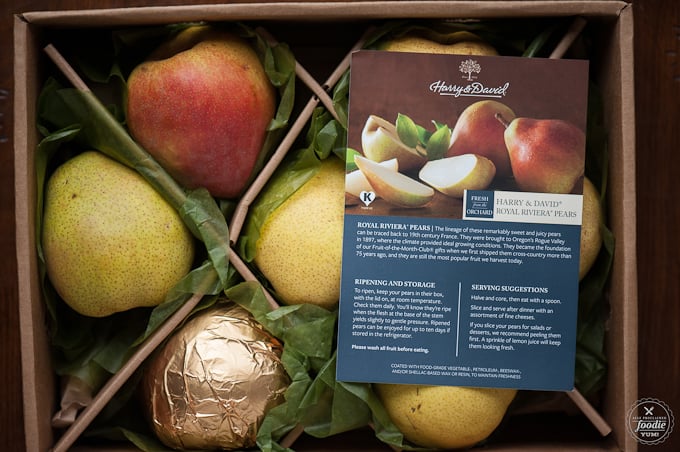 Despite already living in Oregon and having access to the most amazing produce in the world, my mom still sends us something from Harry & David every year for Christmas and its one of the gifts I look forward to most. How can you make one of these exquisite pears even better? Soak it in Moscato wine, of course. Doesn't wine make everything better?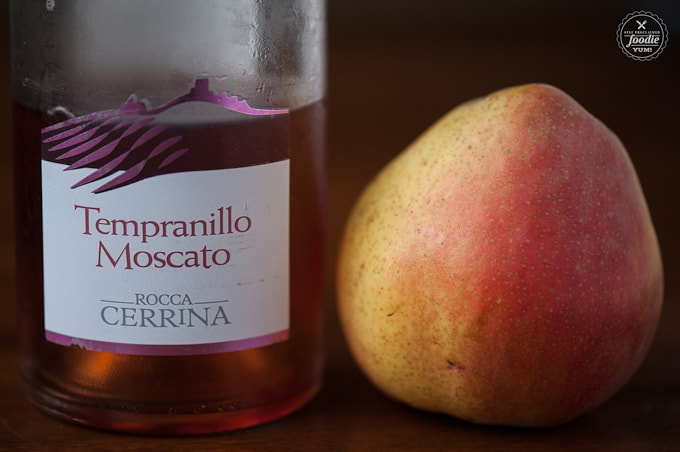 The other reason this is the perfect Oregon dessert because its made with hazelnuts. Lots of hazelnuts. Did you know that Oregon produces about 99% of the US hazelnut crop? Well, now you know. I love using hazelnuts in everything from breakfast to cookies. This is not a typical fluffy cake – its a tea cake. Its more dense and about half as tall, but its absolutely rich and decadent.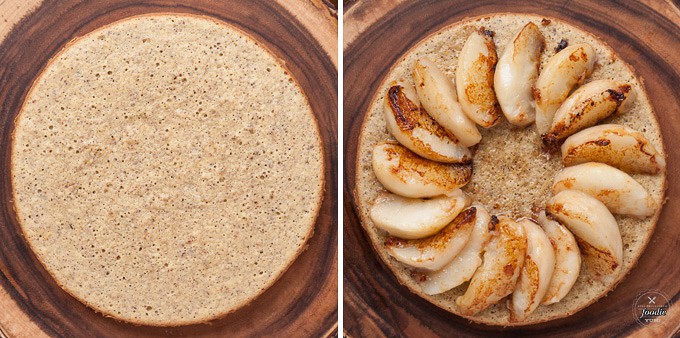 What's better than Harry & David pears soaked in moscato wine?  Answer:  Harry & David pears soaked in moscato wine and then browned in butter.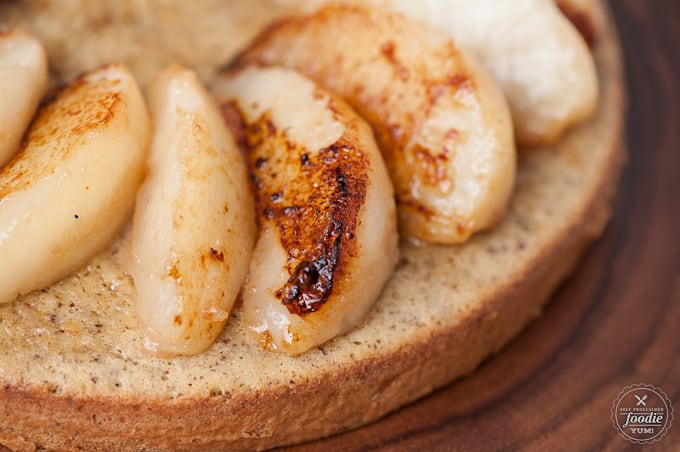 The final dessert has just the right amount of sweet to make it a dessert without making it too sweet. The final touch is to reduce the wine down to a syrup, stir in the melted butter from cooking the pears, and fold that into some freshly whipped cream.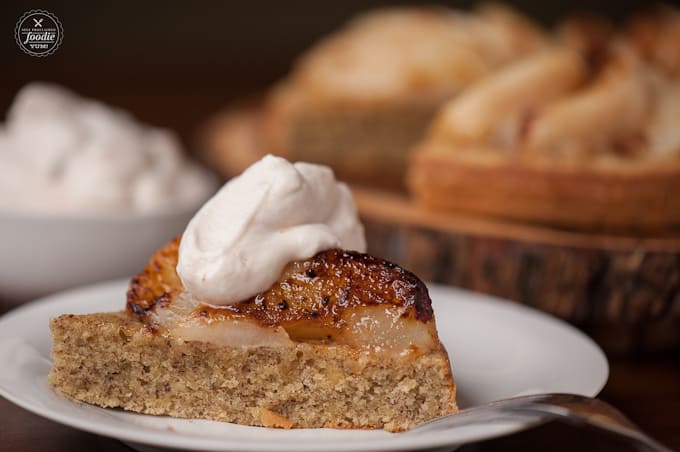 I make a lot of desserts and most of them get shared with my co-workers. Its how I avoid gaining 20 additional pounds a month. This dessert, however, was forbidden to leave the house by both my husband and my mouth.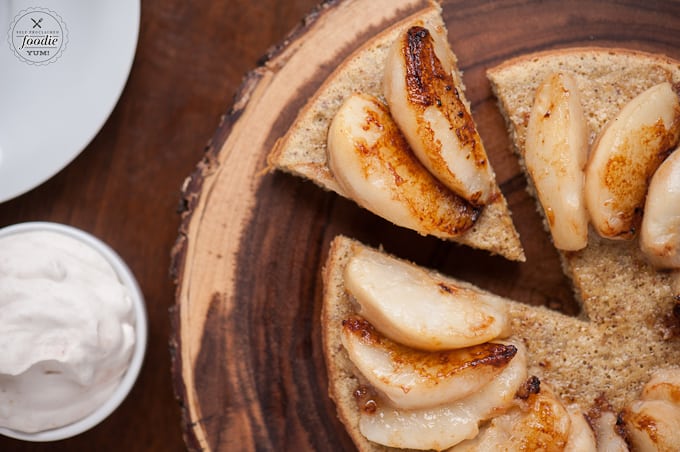 If that doesn't look like perfection, I don't know what does.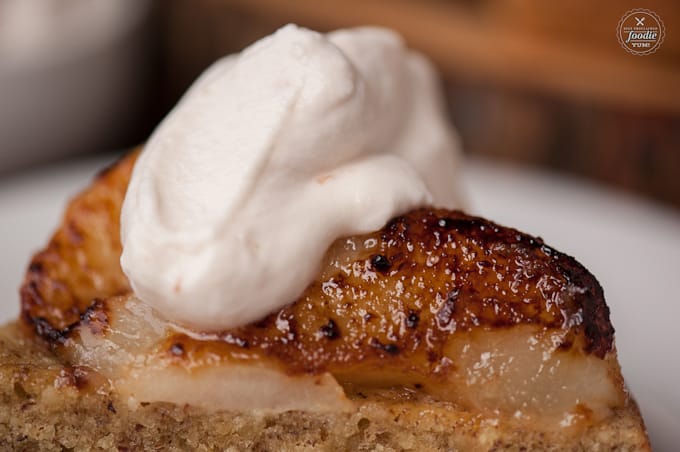 You want that bite, don't you? I can tell. Its okay to be jealous. Or, you can just make it yourself!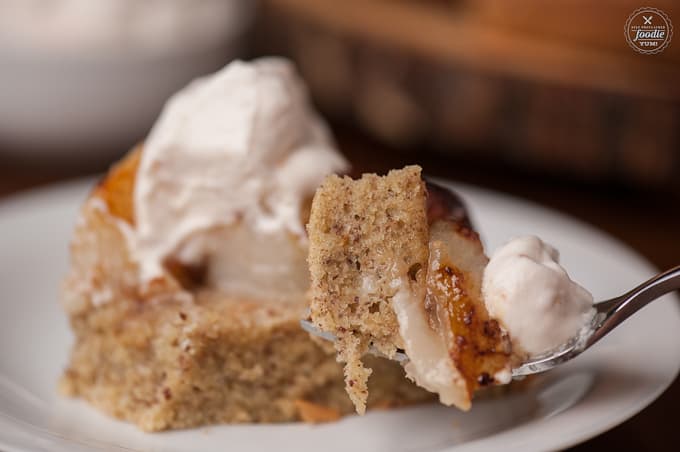 This recipe uses pure vanilla extract. Did you know you can make your own homemade vanilla extract? It makes the perfect gift too. Watch how in the video below.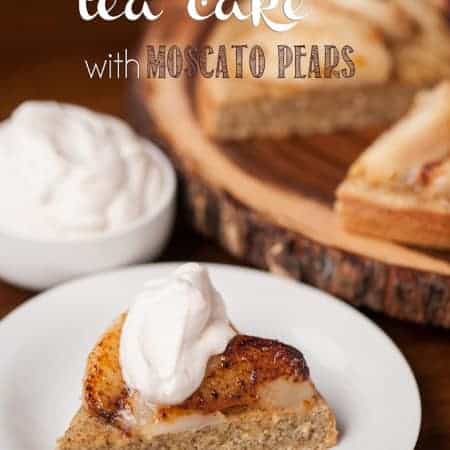 Hazelnut Tea Cake with Moscato Pears
This Hazelnut Tea Cake with Moscato Pears is an elegant fall dessert made with freshly roasted hazelnuts, fresh pears browned in butter, and moscato wine.
Print
Pin
Rate
Total Time:
1
hour
10
minutes
Ingredients
2

Royal Rivera Pears

peeled, cut into 8 wedges and cored

3/4

cup

Moscato d'Asti

1

cup

hazelnuts

6

tablespoons

unsalted butter

softened

1/4

cup

4

large egg yolks

1/2

teaspoon

pure vanilla extract

1/4

cup

all-purpose flour

3

large egg whites

2

tablespoons

sugar

2

tablespoons

butter

1/2

cup

heavy cream
Instructions
In a bowl, combine the pears with the Moscato d'Asti and let stand at room temperature for 2 to 4 hours. If pears aren't completely covered by wine, spoon wine over pears occasionally.

Preheat the oven to 350° F. Butter and lightly flour an 8 inch round cake pan.

Put the hazelnuts on a rimmed baking sheet and bake for 12-20 minutes, or until toasted and fragrant. Transfer the hazelnuts to a kitchen towel and let cool completely. Rub the hazelnuts in the towel to remove the skins. In a food processor, pulse the nuts until they're finely ground.

Using a stand mixer with the paddle attached, beat 6 tablespoons of the butter with 1/4 cup of the sugar until light and fluffy. Beat in the egg yolks, 1 at a time, until thoroughly incorporated. Add the vanilla, then fold in the hazelnuts and flour. Transfer to a separate bowl and wash stand mixer bowl.

Using stand mixer with whisk attachment, beat the egg whites until soft peaks form. Add 2 tablespoons of sugar and beat until almost firm shiny peaks form. Fold one third of the egg whites into the cake batter to lighten it, then fold in the remaining whites, taking care to not flatten the egg whites as much as possible. Scrape the batter into the prepared pan and bake for about 20 minutes, or until a cake tester inserted in the center comes out clean. Transfer the cake to a rack and let it cool slightly in the pan. As soon as the pan is cool enough to handle, run a thin knife around the cake, unmold it, and transfer the cake to the cooling rack. Cover loosely with a kitchen towel.

Drain the Moscato d'Asti into a small saucepan. Simmer over low heat until reduced to 3 tablespoons, about 10 minutes. Let the syrup cool.

In a large skillet, melt the 2 tablespoons butter over high heat. Add the pears and cook over moderately high heat until browned, about 4 minutes per side. Arrange the pear wedges on top of the cake in a spoke pattern. Scrape any remaining butter from the pan into your reduced wine syrup and stir well to combine.

In the bowl of your stand mixer with the whisk attached, beat the cream until it starts to thicken. Add the reduced Moscato d'Asti and beat until soft peaks form.

Serve the hazelnut cake with the moscato whipped cream.
Notes
Recipe adapted from Food & Wine
Nutrition
Calories:
356
kcal
|
Carbohydrates:
18
g
|
Protein:
6
g
|
Fat:
29
g
|
Saturated Fat:
12
g
|
Cholesterol:
148
mg
|
Sodium:
60
mg
|
Potassium:
193
mg
|
Fiber:
3
g
|
Sugar:
9
g
|
Vitamin A:
709
IU
|
Vitamin C:
3
mg
|
Calcium:
47
mg
|
Iron:
1
mg