These delicious Hazelnut Lemon Curd Thumbprints showcase a delicate balance between sweet and tangy lemon and the rich toasted hazelnut butter cookie.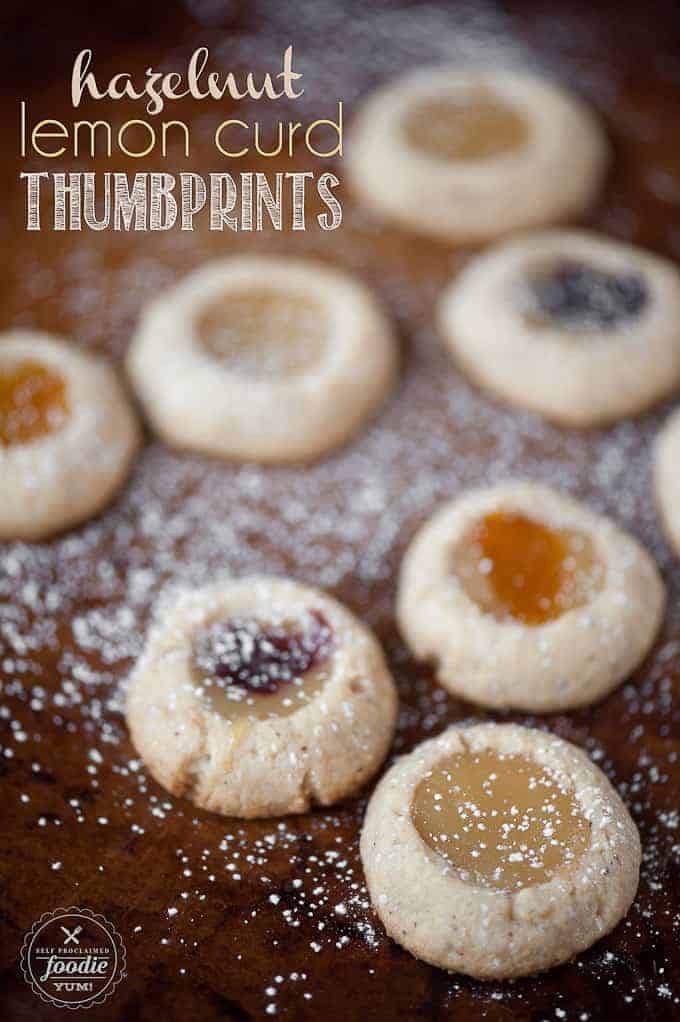 Hello and welcome to Day 4 of

I'll try not to write a novel with this post because tomorrow is Thanksgiving and like many of my foodie friends out there, I have a to do list a mile long. Oh, who am I kidding. I'm sure I'll babble on and on about this recipe like I always do.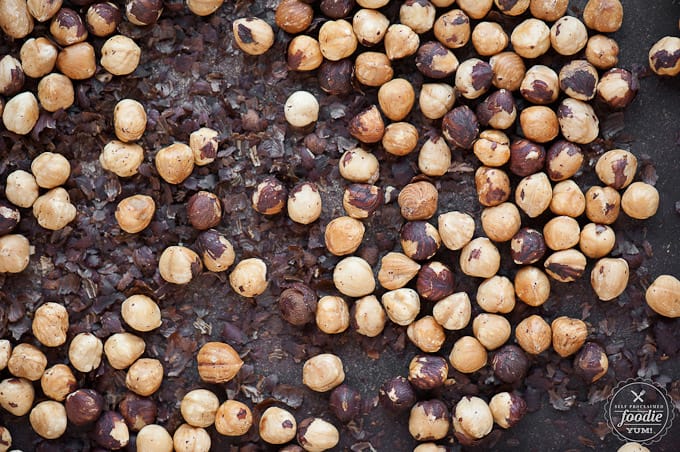 This recipe starts with toasted hazelnuts. Oh how I love toasted hazelnuts. Their flavor is so rich and delicious. Its hard to see all the skins that have come off in the toasting process because I toasted them on my well-loved well-seasoned baking stone that just so happens to be the same color as the skins. I think you get the idea though.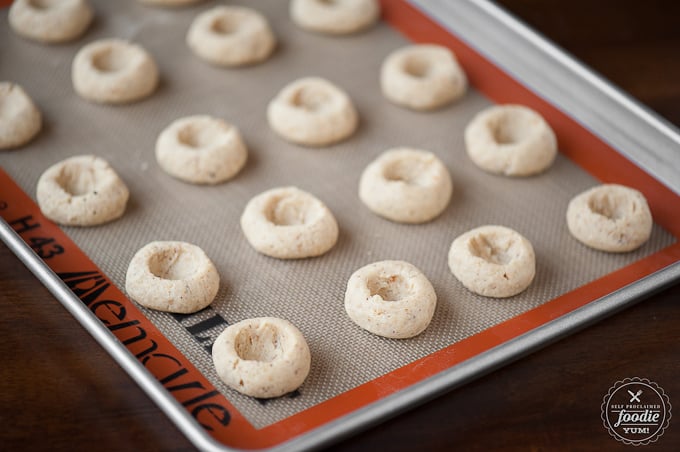 I wanted to show you what my little dough balls looked like before I baked them. When you bake your cookies, they flatten out just a bit, but never you fear. In the recipe I tell you to take them out of the oven half way through processing so you can reshape the wells and add the lemon curd. For my two baking sheets I used one large metal sheet with a silpat and one baking stone with parchment paper. I'll probably always love cooking with stone over anything else. Both made great cookies, but the cook time was shorter with the metal pan and the bottoms got a bit more brown.
One day I vow to make my own lemon curd, but for now, I see no reason when Trader Joes makes a wonderful lemon curd that isn't very much money.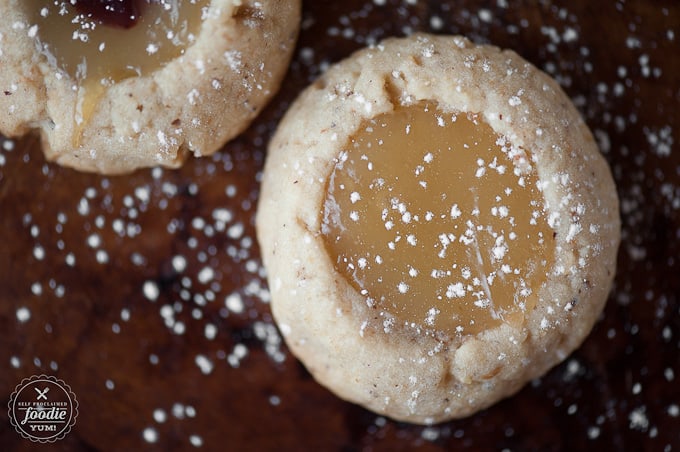 She those little brown specs in the cookies? Those are the toasted hazelnuts. YUM!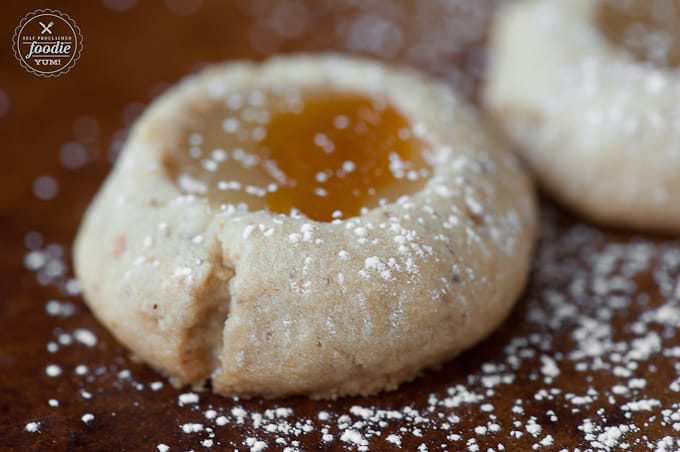 I've made these cookies for several years now and this was the first time I tried adding different kinds of preserves in with the lemon curd. This time, I used raspberry and I also used mango passionfruit. Both were awesome. Keep in mind that they don't melt the same as the lemon curd so you may need to swirl the preserves around in the well when you take them out of the oven. Or don't. It really doesn't matter. Oh, and don't do what I did and think you can eat one of these bad boys when they're hot. You will burn the hell out of your mouth. That lemon curd needs to fully cool before you start to shove them in!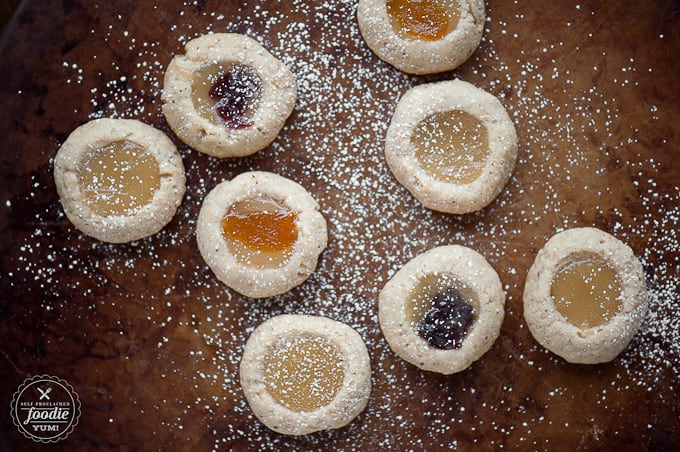 To see all of 2014's holiday treats, click the links below: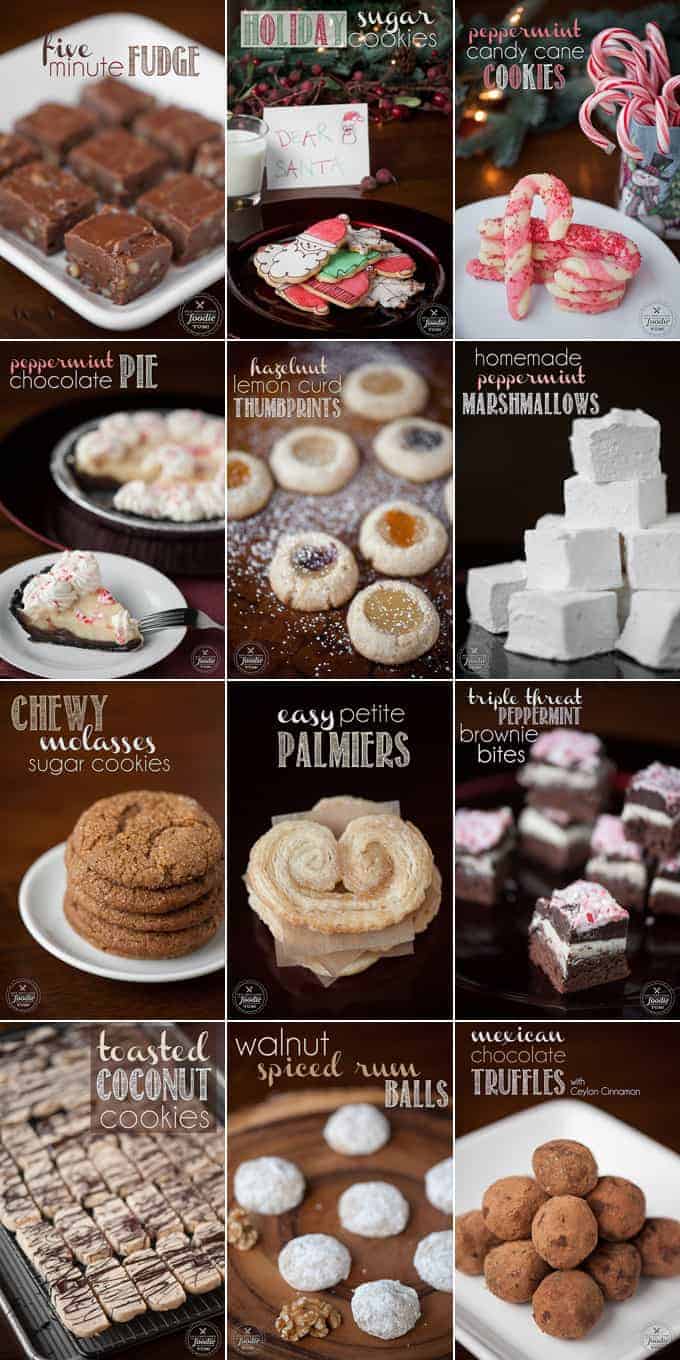 Five Minute Fudge | Holiday Sugar Cookies | Peppermint Candy Cane Cookies
Peppermint Chocolate Pie | Hazelnut Lemon Curd Thumbprints | Homemade Peppermint Marshmallows
Chewy Molasses Sugar Cookies | Easy Petite Palmiers | Triple Threat Peppermint Brownie Bites
Toasted Coconut Cookies | Walnut Spiced Rum Balls | Mexican Chocolate Truffles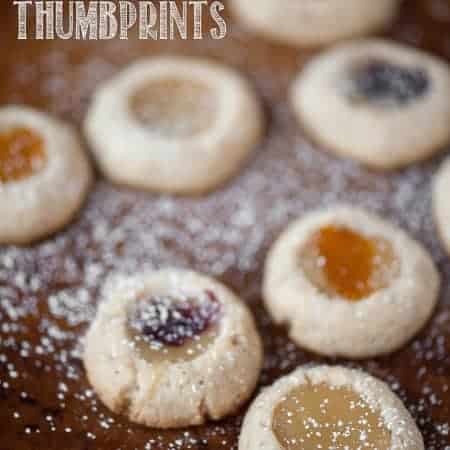 Hazelnut Lemon Curd Thumbprints
These delicious Hazelnut Lemon Curd Thumbprints showcase a delicate balance between sweet and tangy lemon and the rich toasted hazelnut butter cookie.
Print
Pin
Rate
Servings:
6
dozen cookies
Ingredients
2

cups

raw hazelnuts

toasted and skinned

3

cups

all purpose flour

1/4

teaspoon

kosher salt

1 1/2

cups

3 cubes unsalted butter, room temperature

1

cup

granulated sugar

3

large egg yolks

1

tablespoon

vanilla extract

10.5

ounce

jar lemon curd

can use preserves as well

Powdered Sugar

for dusting
Instructions
To toast the hazelnuts, lay them in a single layer on a baking sheet and toast in a 300 degree F oven for about 30 minutes (time may vary), shaking the pan every so often to rotate them. As soon as they start to turn golden brown and you can smell them, remove them from the oven (they can go from perfect to burnt very quickly) and swirl pan around to try and loosen the skins even more. When cool enough to handle, you can rub a handful in between both your hands to further remove the skins. Its really hard to get all of it off, but do your best and give up when it looks like anymore won't fall off.

Preheat oven to 350 degrees F. Line two baking sheets with a silpat or parchment paper.

In a large food processor, process toasted hazelnuts, flour, and salt until finely ground, 45 seconds to a minute.

In a stand mixer with the paddle attached, cream the butter and sugar together until very light and fluffy on high speed, 5-7 minutes. Scrape the sides, then add the egg yolks and vanilla and beat on low speed until fully mixed. With the mixer running on low speed, spoon in dry mixture one spoonful at a time until all of the dry ingredients have been added, then stop mixing as soon as all the ingredients have incorporated.

Use a tablespoon to scoop up an even spoonful of dough and place on your baking sheet. Roll each mound of dough into a ball. Use the back of a 1/4 teaspoon to press a well into each ball. I prefer my wells to be deeper than wide, but be sure to not go all the way to the bottom. Spread the cookies out so that you have at least an inch in between cookies. They don't spread much while cooking, but they do a bit.

Bake in preheated oven for 10 minutes. Remove from oven and while still hot, use that 1/4 teaspoon to reshape your wells. fill each well with 1/2 teaspoon of lemon curd.* Return cookies to oven but rotate the baking sheet from its original position to ensure even cooking. Bake until cookies are just turning golden brown around the edges, another 8-10 minutes.

Allow cookies to cool on the baking sheet for 5 minutes and then cool completely, another 45 minutes, on a wire rack. Dust with powdered sugar, if desired.
Notes
* You can use only lemon curd, or you can do what I did and add in other flavors of preserves with the lemon curd.