If you're looking for a delicious and flavorful dinner idea, serve up some Guinness Ribeye Steak.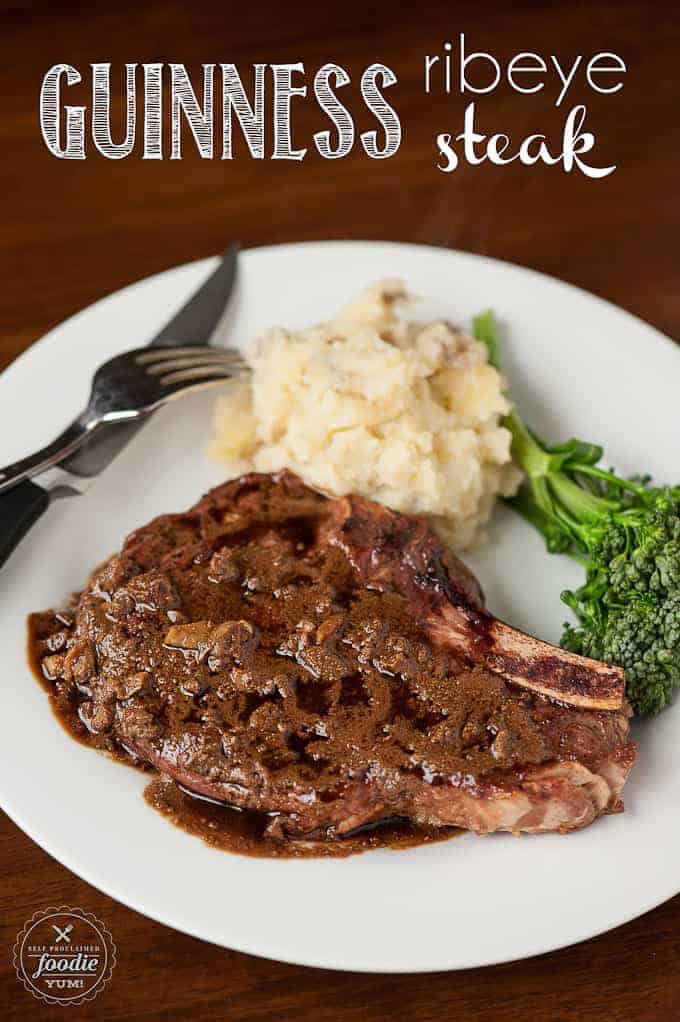 You ever watch cooking shows like Chopped? If you don't, let me tell you what the judges always look for: a good sauce. Whether it be on the appetizer, entree, or dessert, a good sauce is what ties everything together. I love beer. You'll probably never see me drinking it, but its one of my favorite ingredients to cook with in everything from main dishes to sweets. I tried drinking a dark beer once when I was enjoying a Whole Foods hamburger. I don't know if they do this at every Whole Foods, but at mine, you can go in at any time on the weekends, sit down at their burger bar, and get a half pound grassfed perfectly cooked burger, piping hot fresh cut fries, and a beer on tap for only $10. Considering their normal burger is already $9, I figured I'd go for the happy hour even though I knew I didn't like beer. I tasted all three on tap. The only one I sorta liked was the light fruity beer that had just run out. I was a dark stout virgin until I tried theirs and thought it was just disgusting. I still have a hard time accepting that people enjoy drinking that stuff. But, call me crazy, but beer tastes outstanding when mixed with other ingredients to create something new.
For this sauce, I sort of took an old favorite recipe I use to make beef jerky which combines soy sauce, Worcestershire sauce, brown sugar, and garlic. Then I added in some Guinness. Beer always does a fantastic job tenderizing meat. I used this marinade to flavor the meat, and once it was on the grill, I cooked it down into a thicker sauce. I served it up with some horseradish mashed potatoes, broccolini, and some chocolate Guinness cake for dessert. Oh my!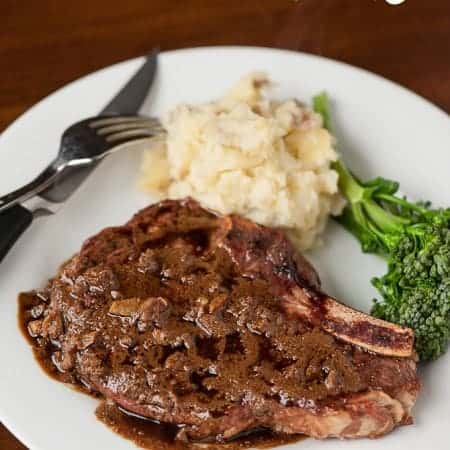 Guinness Ribeye Steak
If you're looking for a delicious and flavorful dinner idea, serve up some Guinness Ribeye Steak.
Print
Pin
Rate
Ingredients
4

bone in ribeye steaks

1

cup

Guinness

may use other stout beer

1/3

cup

soy sauce

2

tablespoons

brown sugar

1

tablespoon

minced garlic

2-3 cloves

1

teaspoon

Worcestershire sauce
Instructions
Combine all ingredients in a large plastic freezer bag and marinate the steaks for at least 2 hours to over night.

Remove steaks from marinade (do not discard the marinade) and grill steaks on a hot grill until done to your liking, flipping only once, about 10-15 minutes per side. I removed from the grill when the internal temperature reached 135 degrees F. Allow meat to rest at least 15 minutes.

While the steaks are grilling, cook down the marinade, uncovered, by bringing it to a boil and then reducing the heat to medium. Allow sauce to cook down the entire time the steaks are grilling and resting. Serve the steak with the sauce on the side or go ahead and smother it.