Gougères are French cheese puffs that are light and airy with a crisp outside. Made from scratch, they are great as an appetizer or served with a meal.
This post is sponsored by The French Ministry of Agriculture but the content and opinions expressed here are my own.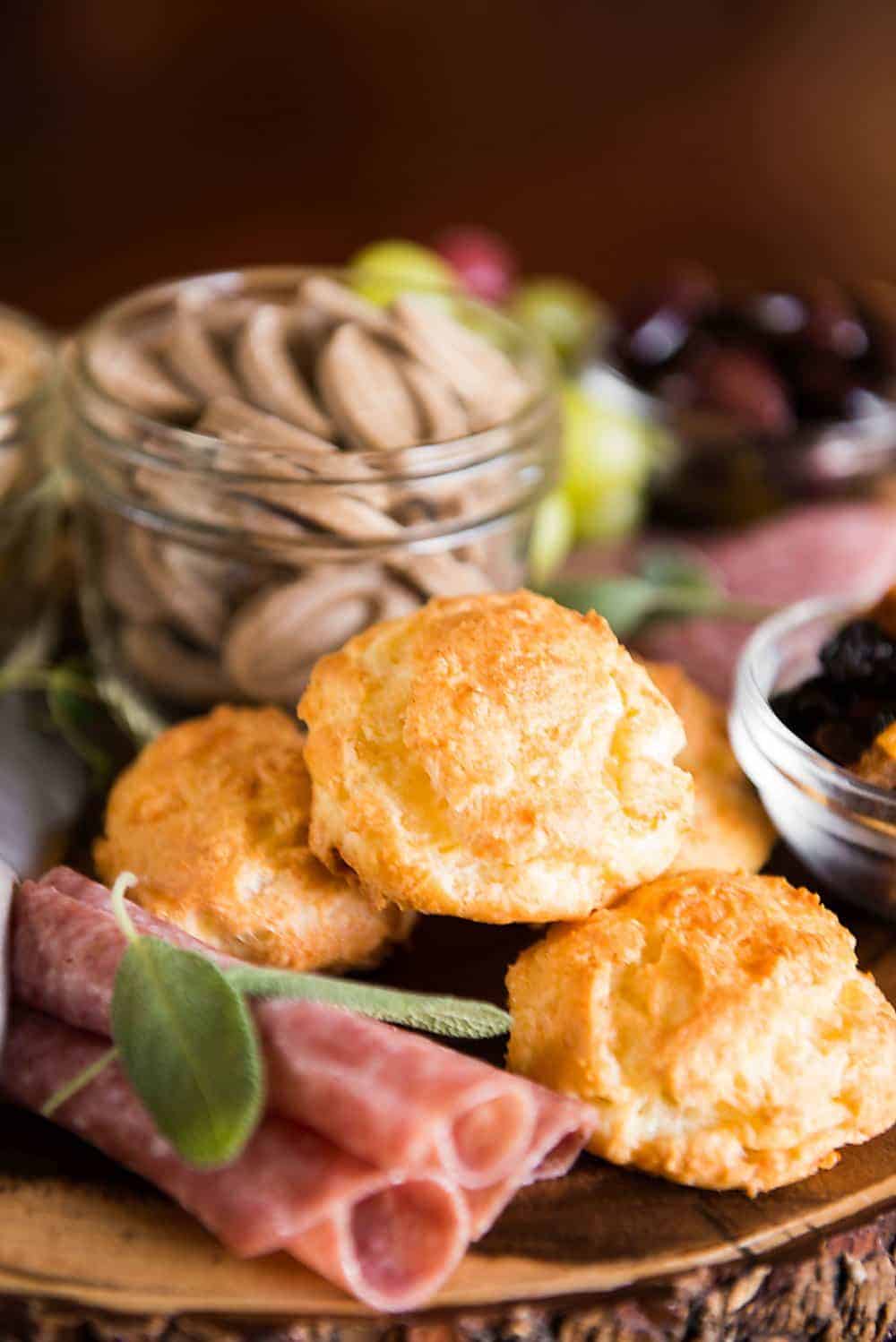 Gougères might just be my favorite savory treat to bake. They are French inspired, and I even made them with French Cheese and French butter. They are golden, puffy, light as air, and go perfectly on any appetizer platter.
I actually had to make these twice because the first time they didn't turn out. Don't worry, you can trust that the recipe I share in this post was tested and they turned out beautifully!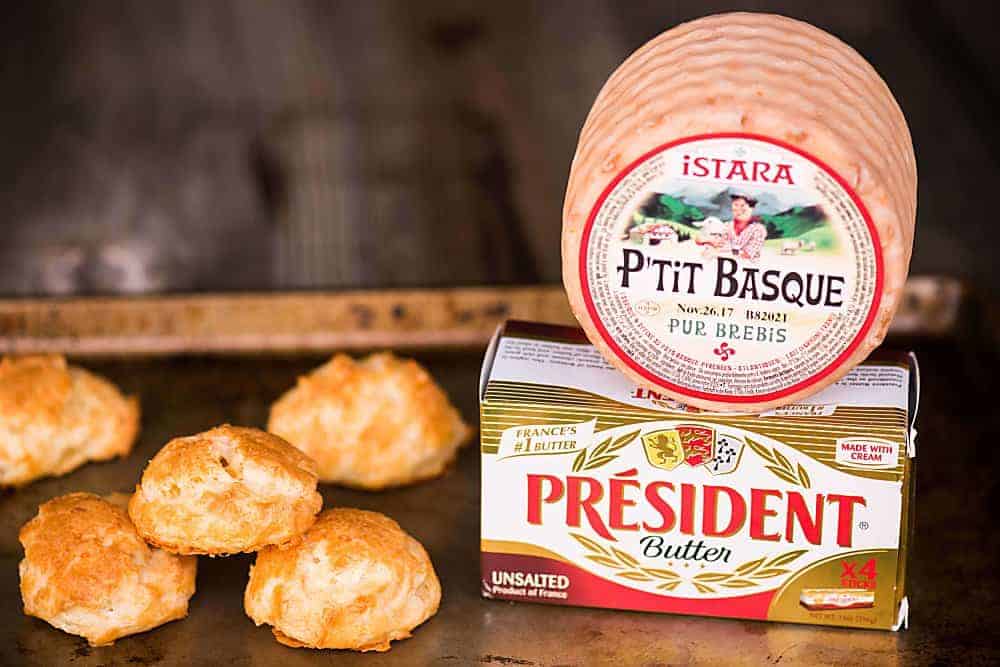 Everyone knows the French are known for many wonderful things, but their cuisine is probably their most notable. France produces so many great wines, cheeses and butter that it's easy to use their products to host a gathering with a "Made in France Made with love" theme. Anyone can bring France to their fall gatherings and celebrate the leaves changing.
I made these French cheese puffs using Président® Unsalted Butter Quarters and Istara P'tit Basque cheese. If you've never used either of these products, let me tell you about how great they are. Freshly crafted from cultured cream, this butter is made in the heart of Normandy, the "Grand Cru" among French dairy regions, well known for the outstanding quality of its milk, giving President butter an exceptional flavor. Super versatile and convenient for cooking, baking and spreading on a variety of foods, President Unsalted Butter Quarters gives you endless opportunities for delicious culinary creations. P'tit Basque is a 100% pure sheep's milk cheese produced in France's Basque region in the Pyrenees Mountains, the region that spans the border between France and Spain. Traditionally, it was handmade by shepherds from left over curds set aside from milking their ewes, and is still made by the same methods applied by the local shepherds even today.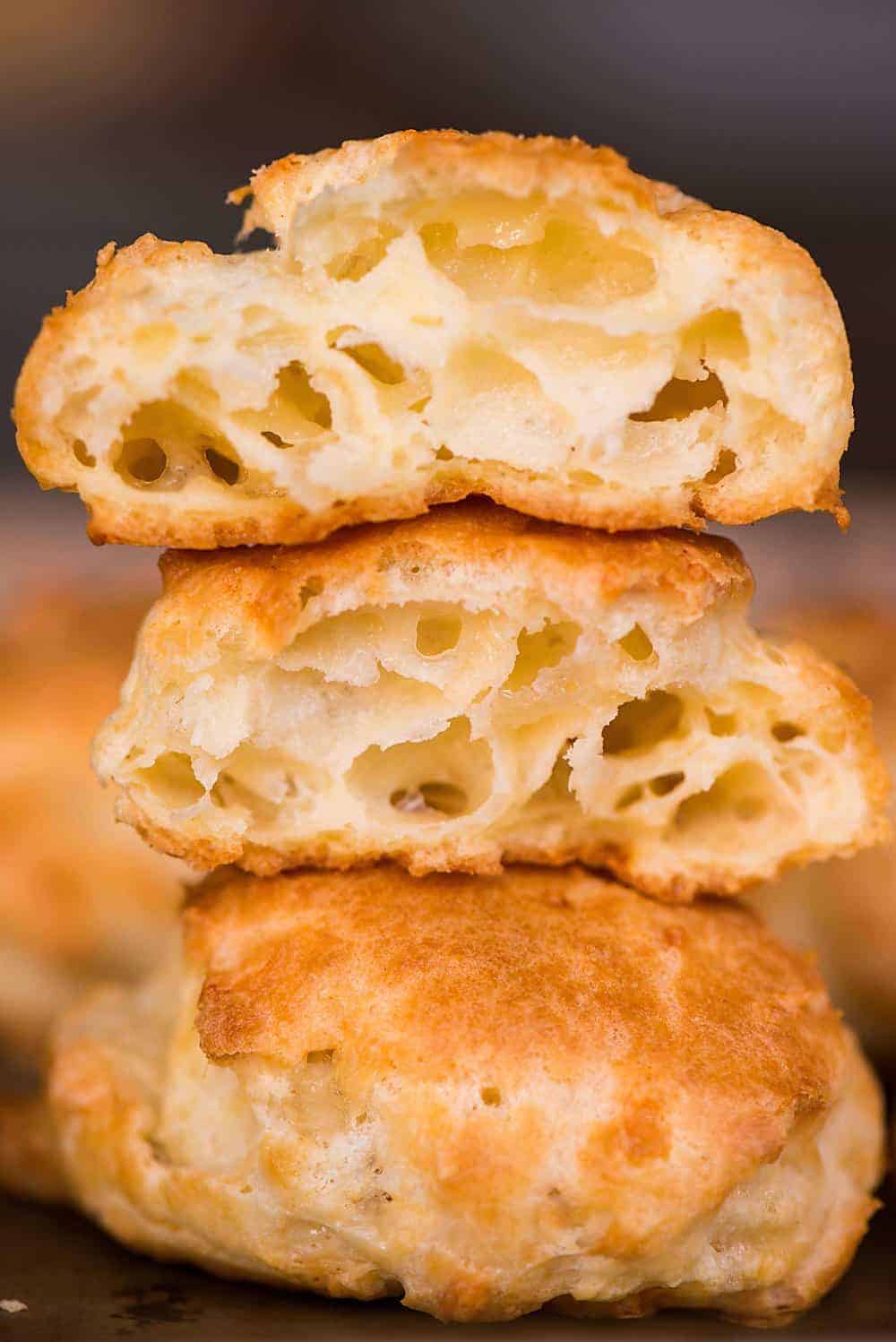 Some of the wines I'd like to share with you come from 2 distinct areas: Languedoc and Bordeaux. Let me tell you a little bit about the wines you see below:
The MOULIN de GASSAC GUILHEM rosé is a fun, approachable wine, made from Syrah & Carignan grapes. One single natural fermentation with indigenous yeast to retain all the fruit and freshness – with no sugar added. The free-run juice is fermented on its own in stainless steel tank (no oak) to retain all its natural freshness and vibrancy.
Les Vignobles André Lurton, currently one of the largest wineries in the Bordeaux region, is a family-run compagny of passionate wine-growers and wine-makers who are dedicated to producing exceptional wines from prestigious Bordeaux appellations.
Within 40 years, the Mas de Daumas Gassac wines, produced in the Languedoc region, have reached the rare status of «cult wine» that is only given to a limited number of exceptional estates in the world. Cultivated without any chemical or pesticide, Mas de Daumas Gassac remains a virgin land farmed with total respect of mother Nature to preserve its balance.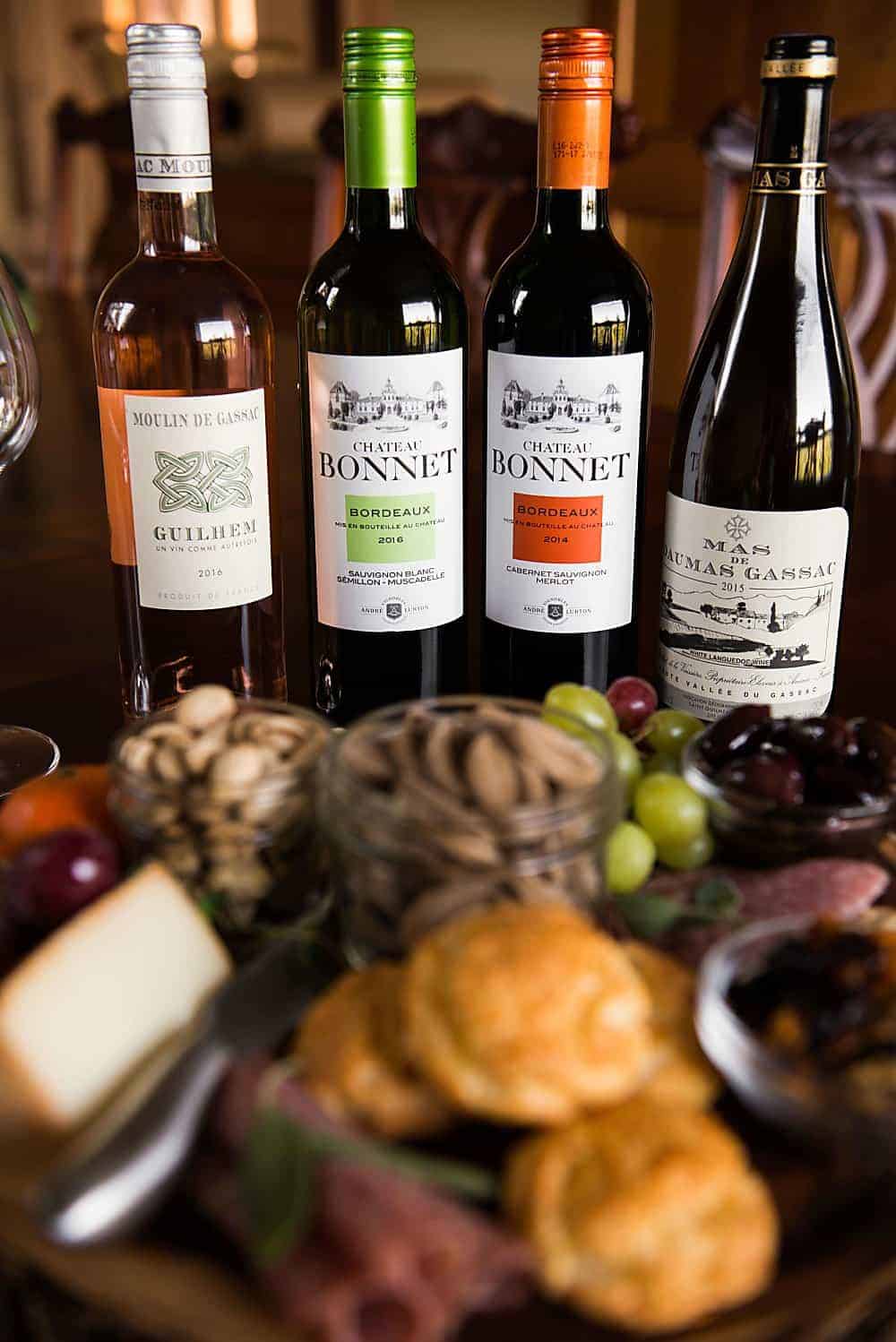 Isn't this platter gorgeous? Fancy cheese, crackers, fresh and dried fruit, cured meats, olives, and homemade Gougères paired with velvety luxurious French wine is my favorite way to entertain.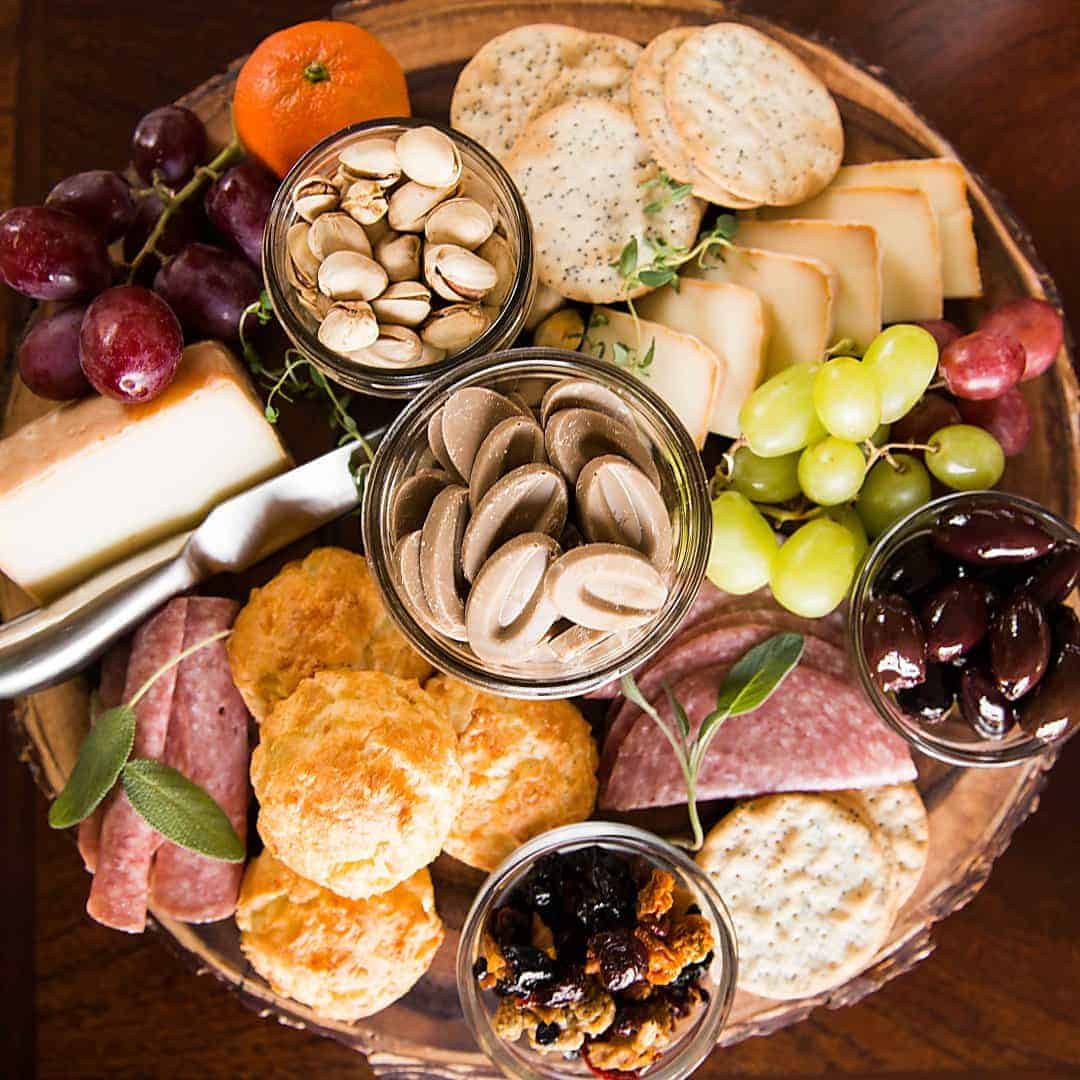 And every platter needs something a little sweet. If you haven't tried Valrhona chocolate, well then, you are in for a real treat. I'm typically a dark chocolate girl, but this lighter chocolate is absolutely divine for pairing with your favorite wine or for baking. Lucky for us, it's finally available in US markets! This gourmet chocolate's sweet freshness is clear from the very first bite thanks to its licorice notes. Hints of biscuit complement the freshness as you taste the chocolate. Because of its natural molasses content, muscovado sugar has a rich brown color and delicate licorice aromas.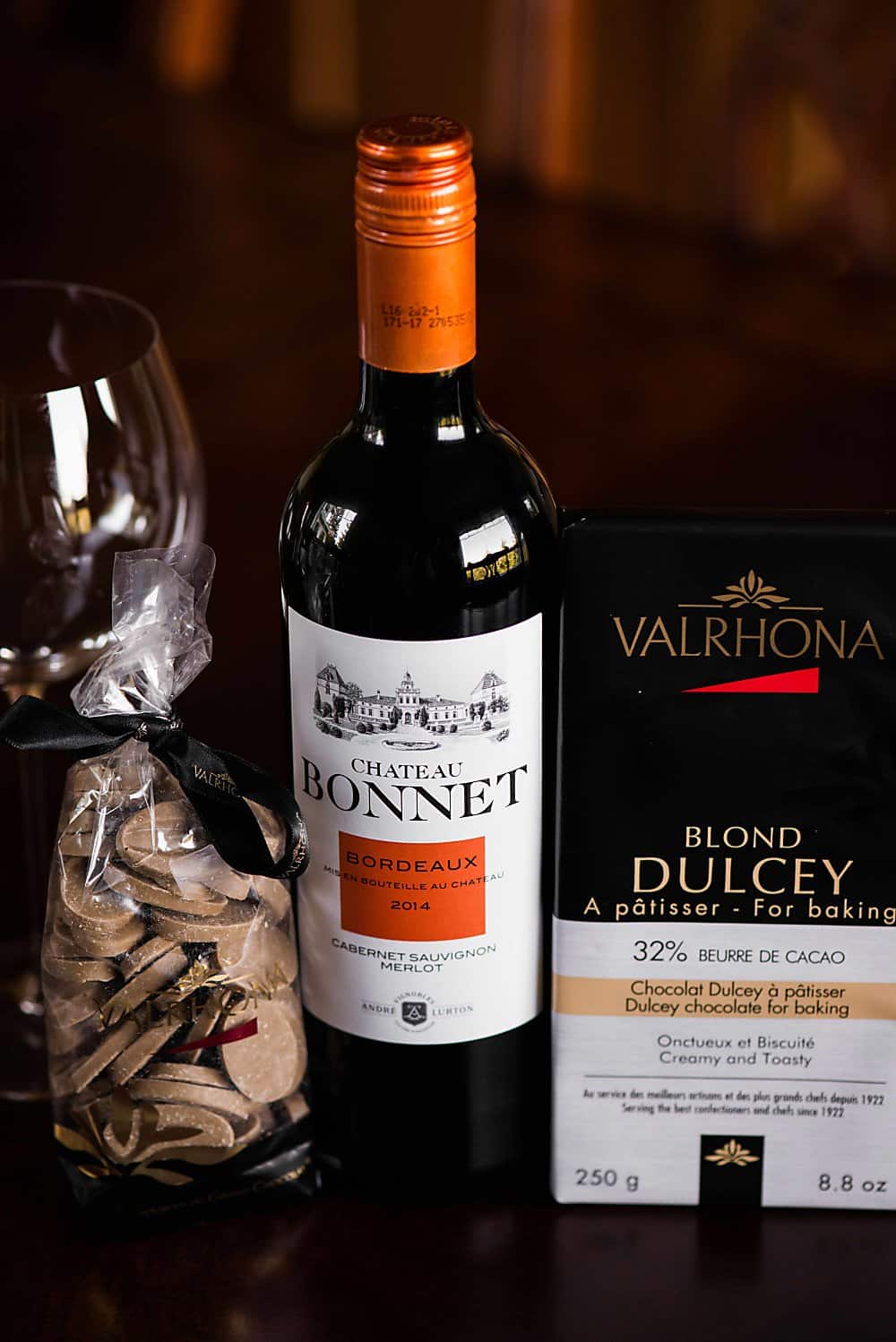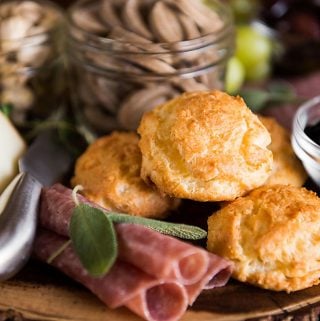 Gougères (French Cheese Puffs)
Gougères are French cheese puffs that are light and airy with a crisp outside. Made from scratch, they are great as an appetizer or served with a meal.
Print
Pin
Rate
Ingredients
4

tablespoons

1/2 stick unsalted butter

1/2

cup

water

1/2

cup

all-purpose flour

1/4

teaspoon

kosher salt

2

large eggs

3/4

cup

shredded cheese
Instructions
Step 1

Preheat the oven to 450°F and position racks in the upper and bottom thirds. Line a large baking sheet with parchment or a silicone baking mat.

In a large saucepan, combine the butter, water and salt and bring to a boil. Remove from heat, add the flour and whisk until smooth. Heat over medium low while stirring constantly for 2-3 minutes until the flour and butter smell wonderfully nutty. Let cool slightly at least 5 minutes. Then, using an electric mixer or a stand mixer at medium speed, beat butter and flour mixture for about 1 minute until its just warm to the touch.

Mix in the eggs 1 at a time, beating thoroughly so that the mixture is smooth between additions.

Beat in all of the cheese.

Step 2

Using a 1-tablespoon scoop, scoop level mounds of the dough onto the baking sheet, 1 1/2 inches apart.

Set on the upper third rack and bake for 5 minutes and then reduce heat to 350°F. Total cook time will be about 30 minutes, but plan on rotating the baking sheet and transferring down to the lower rack about half way through. Keep an eye on them to ensure even browning, until crisp and deeply golden.

Step 3

Transfer the gougères to racks to cool. Serve the gougères warm or at room temperature.